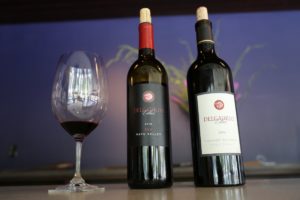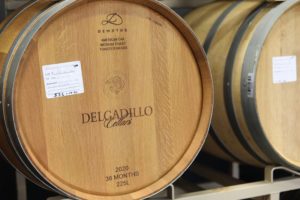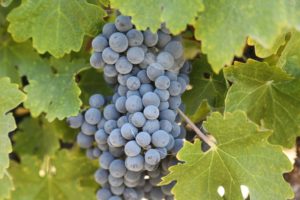 Delgadillo Cellars is owned by the father son team, Ignacio Sr. and Ignacio Jr (who we originally met with). Their partnership is ideal as Ignacio Sr. handles all the vineyard management duties as well as winemaking and Ignacio Jr. handles the marking and business side of the operations. Ignacio Sr. first came to Napa Valley in 1972 from Jalisco Mexico at age 17 and began working in vineyards in Rutherford. He then worked at Freemark Abbey and became their cellar master during the 1980s when they started developing a stellar reputation for their Cabernet Sauvignon Bosché, one of California's first vineyard designated wines. Over the years Ignacio developed a taste for older Cabernet Sauvignons but was not able to find a Napa Cabernet that specifically matched his palate.
Often winemakers who have small productions will produce wines they enjoy drinking and then their customer base often has similar tastes. Ignacio loves drinking older wines and decided to create a wine that would be aged before being released to the consumer, a wine that was smooth and elegant upon release. Delgadillo's first release was a 2001 Cabernet Sauvignon making this among the oldest current release wine of any producer we have met with through our work with the Napa Wine Project. This wine spent 3 years in oak and then another 5 years in bottle before being released in 2009.
Mill Creek Vineyard (located between St. Helena and Calistoga) provided the grapes for the first Delgadillo Cellars wine in 2001. The vines were mostly budded over from the famed Nathan Fay's Stags Leap Vineyard (an integral vineyard for Stag's Leap Wine Cellars). Ignacio Sr's expertise is among the vineyards, and he carefully manages each vineyard they source fruit from. He has been the winemaker since the first vintage. Today the two source vineyards for Delgadillo Cellars are their Coombsville Vineyard and the Mill Creek Vineyard which until 2022 had vines on site dating back to the early 1970s. Due to their age and virus issues they finally had to be replanted. Their releases each year are always 100% varietal Cabernet Sauvignon.
The Delgadillo's own a warehouse on a 12-acre site between Calistoga and St. Helena (Flynville) and is where they cellar their bottled wines. They have also been granted a winery permit here so eventually they may move their operations from the city of Napa to this site.
The wines are almost all sold direct to consumer other than at the Ritz Carlton in Dana Point, CA and at Chef Thomas Keller's La Callendra Restaurant in Yountville. For a small producer the personal relationships with their customers are extremely important and it's no different with Delgadillo Cellars. These are hand crafted wines from someone who manages both the vineyards and makes the wine (somewhat rare in the valley to have the same person doing both). Equally unusual are wines that are aged so long before being released. Their production is extremely limited and varies depending on the vintage and fruit sources; for example, in 2002 they produced only 92 cases.
Select Wines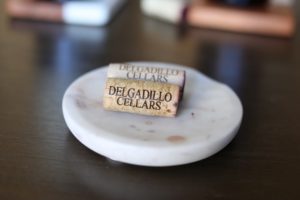 The 2019 Delgadillo Cellars Rosé is their first ever rosé produced; it is 88% Cabernet Sauvignon and 12% Cabernet Franc. This wine is noticeably dark in color (deep pink) and as it warms up especially, drinks light a light bodied red wine. The bouquet offers aromatics of wild strawberry, raspberry and as it evolves in the glass offers a watermelon jolly rancher like aroma, a light grapefruit like nuance and a hint of apple. Offers plenty of flavor across the palate, (red berries and strawberry) anchored by a supple and slightly creamy texture. Ignacio recommends pairing their rosé with summertime activities including a variety of BBQ meats.
In 2009 Delgadillo Cellars produced their first vintage of what they called 'red wine'. Their original intent was to produce a blended red wine but in 2009 they only had access to Cabernet Sauvignon, so they produced a 100% varietal wine; it has remained 100% varietal Cabernet Sauvignon for all subsequent vintages. However, they soon found that customers and retailers were confused by the name since it was always 100% varietal. As a result, its name organically evolved over the years to be called, The Red. It sees both French and American oak during its aging with the American oak coming from northern states bordering the Great Lakes. Ignacio has noticed this oak mimics some of the French oak they use due to its colder growing climate and tighter grain of the wood. Depending on vintage, this wine usually spends 24-36 months in oak barrels before being bottled.
The 2016 Delgadillo Cellars Big Red is dark ruby in color; the bouquet is elegant and offers aromas of boysenberry, cooked blackberry and dark plum along with notes of chocolate, mocha and light hints of clove and cardamom deeper in the aromatics. One immediately also notices a sweetness of ripe darker fruits. This wine offers a supple texture across the palate showing plenty of fruit initially on the attack. The finishing tannins are light, dusty and showcase a rounded texture. Ignacio Jr. recommends pairing this wine with a well marbled steak.
The 2014 Delgadillo Cellars Big Red Cabernet Sauvignon was entirely sourced from their Coombsville vineyard. It is dark ruby in the glass and almost opaque (with purplish tinges on the rim); the bouquet offers sweet and ripe fruit forward aromatics including of boysenberry, blackberry and blueberry along with dark licorice and hints of clove. We tasted 8 years post vintage date; this wine still seems youthful both on the bouquet and the palate. Ignacio Jr. noted that it's aromas still remind him of the freshness and similar aromas he notices every time they are about to press off wine before it goes into barrel. This wine offers lively flavors of blackberry and dark plum with light and gravelly textured but long-lasting tannins. The wine finish dark with a lingering hint of dried tobacco leaf.
The 2012 Delgadillo Cellars has held up well over the years (8 years post vintage date during our tasting of this wine). Initially brooding on the bouquet with darker fruit notes including plum along with mushroom, peat and tar. Savory. As it opens more fruit begins to show. Layered with good acidity shows flavors of plum, blackberry and boysenberry. Plenty of structure still and life ahead of this wine. Robust tannins anchor a long finish, tinged with some barrel spice.
The 2001 Delgadillo Cellars Cabernet Sauvignon has achieved the smoothness that Ignacio desires in his wines. Despite the additional aging this wine shows plenty of fruit, almost as if it were a younger wine. It is a higher alcohol wine coming in at just over 15%. The bouquet shows some floral notes as well as hints of graphite and vanilla leading to an entry that is extremely soft and lush (shows plum and red cherry flavors) which carries throughout the palate. The finish is smooth and long and shows velvety tannins.
From 2001 to 2004 the Delgadillo Cellars Cabernet Sauvignon was entirely from the Mill Creek Vineyard. Their only multi-vineyard vintage to date was in 2005 and from 2006 until the present, this wine has been made entirely from their Coombsville vineyard.
We also had a chance to try several barrel samples of the blending components used in their 2007 vintage. The vineyard they source from in Coombsville produces extremely concentrated dark black inky fruit and it will be very interesting to see how this wine develops considering that while being such a young wine it already has complex flavors.
Hospitality

From July 2015 until 2020, Delgadillo Cellars offered select wines at The Wine Thief, a multi vintner tasting room featuring wines from mostly Napa Valley based boutique producers. However, since 2020, production and hospitality is currently housed at a leased facility on Enterprise Lane in a business park south of the city of Napa. The previous tenant was Rollie Heitz of Midsummer Cellars who moved to Italy and began a new wine brand, Concinnate. Visits to Delgadillo Cellars are by appointment and are always hosted by Ignacio Jr.
Over the years they typically hold back about 10 cases of wines from each vintage for their wine library. These are sometimes re-released to Legacy club members. For more information, to schedule a visit to the winery or to join The Legacy Club, (offering allocation access to 6 bottles of their Cabernet Sauvignon per year), visit: www.dcellars.com
Wine Country Cases
Ignacio Sr. is also a founder of Wine Country Cases a premiere custom wood box and packaging company for shipping wine bottles. When he was working at Freemark Abbey the market for wooden shipping boxes was geared to larger companies and there wasn't an option for smaller made to order custom boxes. Seeing a need for this, Ignacio and his partner Dan Pina began hand crafting boxes on a small scale, founding the company in 1988.
The impetus for the founding of the company was because the shipping company they were working with at the time was no longer able to service the shipping needs of small wineries. They began their own business on a small scale – renting a space south of Calistoga where both men would make boxes as time permitted (a side job). They learned their craft one day at a time, refurbishing old machines to fit their needs. Their business has become a success story; eventually they moved out of their small Calistoga space, to a 10,000 square foot space in St. Helena and even outgrew that. Today they operate out of an 80,000 square foot space near the airport just south of the city of Napa. And while they began the business with the idea to serve small winery clients, now they are of a size they can handle orders from much larger wineries.
Today they can brand boxes with winery logos and create gift boxes. After more than 30 years since this company was founded, they employ a number of people and produce over 50 different styled boxes – primarily for the wine industry but also for the food industry and other retailers. Visit: www.winecountrycases.com for more information.
As expected, their own wines are packed in custom wooden boxes.
Guignis Deli, St. Helena
The Delgadillos own Guignis Deli (pronounced jooneys, on Main Street in St. Helena. They purchased this deli from the prior owners with the caveat that they would not change the store's operations. Guignis dates back to 1911, originally as an Italian grocery store; it was converted into a deli in the 1970s and was owned and operated by the Guignis family until 2002. Parking is curbside on Main Street (if you can find a coveted spot) or curbside on side streets.
This deli is well-known for their sandwiches, offering a wide diversity of meats, cheeses and breads. And their secret sauce, the 'guignis juice' absolutely elevates any of their sandwiches to the next level of culinary deliciousness. One can enter the store either from Main Street or those in the know will 'sneak' in from the rear entrance. A long line often forms around lunch time, especially on the weekends. While waiting in line, one can browse the visually stimulating posters and signs that cover parts of the walls; these depict both local and historical events. Seating inside is very limited to only two tables in the front.