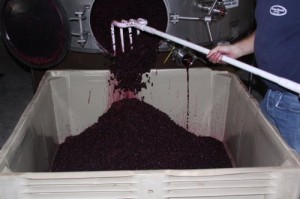 D Cubed Cellars: if you are looking for Zinfandel in Napa this is the winery for you. It is run by Duane Dappen, Napa ZinMaster, whose first vintage was in 1994. Duane had an interesting start and inspiration to become a winemaker. When he was in 4H one of his projects was to make wine. He used donated must from a local winery as well as made wine from blackberries. He entered some of this wine into the county fair and won a best of show. Well this was enough inspiration to study wine making and with a brother already at UC Davis he went to Davis and completed the oenology program.
Before Duane started D Cubed he worked at a variety of high end Napa wineries including Grgich Hills, Storybook Mountain (a top notch Zinfandel producer and grower), Rombauer and Frank Family. Besides his own winery, today he also consults for several other Napa Wineries. Duane is heavily involved in the vineyard management aspects of the vineyards that he sources fruit from.
D Cubed subscribes to the old adage that states "80% of winemaking is done in the vineyards" and as a result they take a very hands on approach to maintaining specific control of the vineyards.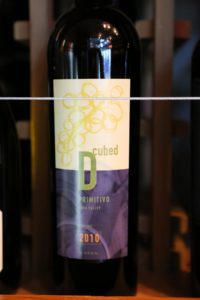 We loved their 2005 Primitivo. Primitivo is produced by only a handful of Napa area wineries and when we find a "winner" vintage, we definitely want to "toot" the horn in a good way! This varietal is a clone or cousin of Zinfandel and in general is not as peppery or cinnamony (if that is a word), as a normal Zinfandel. This wine is a bit more rustic than a Zinfandel especially in the aromas. The bouquet shows a bit of earthiness and moss characteristics; think damp forest floor. There are hints of strawberry on the palate and smokiness on the finish. Oh and we did not yet mention that the 2005 Primitivo was the first non Zinfandel wine made by D Cubed!
The 2005 Howell Mountain Zinfandel is sourced from two high altitude vineyards, one at 1800 feet and one at what is among the highest vineyards in the Napa Valley at 2400 feet. One of the vineyards contains some of the youngest Zinfandel on Howell Mountain. This medium to full bodied wine has great spice aromatics on the nose followed by notes of berry including raspberry and blackberry. A bit of dry cigar smokiness also follows on the finish. As of press time, D Cubed makes 4 different Napa Zinfandels plus one Zinfandel Port. You can taste D Cubed at the walk-in Vintner's Collective, near downtown Napa. Also visit: www.dcubedcellars.com
Cellar Angels Video of Duane

Note: this review has been identified as needing a major update.