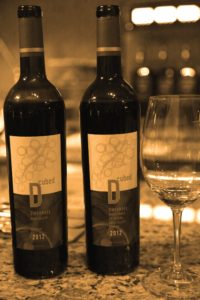 D Cubed Cellars – perhaps Napa's only exclusively Zinfandel producer, D Cubed Cellars was founded by winemaker Duane Dappen in 1994. And in case you are wondering about the cubed in the name, it represents the three D's in David's name – Duane David Dappen. Napa's ZinMaster spent his early years living in Los Angeles – his family moved to the Sierra Nevada foothills of El Dorado County when he was 9 years of age. Growing up on 8 acres of land he helped raise various animals on his family's property, learned how to care for bee hives (his father was an accomplished beekeeper) and joined 4-H.
Duane's original introduction to wine was perhaps a bit unorthodox; while in 4-H, one of his projects was to make wine. He used donated must from a local winery as well as made wine from blackberries. He entered his blackberry wine into the El Dorado County Fair Home Winemaking competition and won a best of show (taking higher honors then those who made wine from grapes). He recalls using bread yeast (a home winemakers trick) to ferment the blackberries – the fermentation stopped and the wine remained sweet. Winning this award was his early inspiration in the world of wine. Later his brother was at the University of California, Davis and told Duane about their well-regarded Enology program. Duane soon enrolled at UC Davis and completed his degree in Enology.
After graduating he took his first winery job at Grgich Hills where he recalls he learned that balanced wines are the ones that age. And despite working with Zinfandel, a variety that tends to be ripe with higher sugars and often styled as wines that are jammy and with residual sugar – Duane styles his wines to be enjoyed with food. When you pop a cork on a wine at a meal, as Duane says the words "a little longer" all of the sudden become a part of the meal. Instead of just trying to eat – wine helps stimulate conversation and prolongs a meal in a good way.
He creates balanced wines with good acidity. He considers the sweet spot for alcohol on Zinfandel to be somewhere between 14.5 and 15.5%.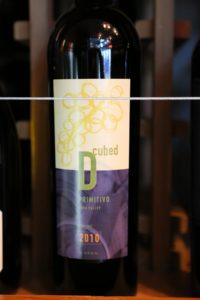 After working at Grgich Hills for 4 years he spent time at Storybook Mountain as their cellarmaster (a top notch Zinfandel producer and grower) – working with owner Jerry Seps who was one of the founders of ZAP (Zinfandel Advocates and Producers). Later he became assistant winemaker at Rombauer and then winemaker at Frank Family. While at Rombauer he was introduced to what is now one of Napa's most saught after Howell Mountain vineyards – Black Sears Vineyard. His first wine in 1994 was made with Zinfandel from Black Sears as well as select other Howell Mountain vineyards.
He was the founding winemaker for Brown Estate (another well-regarded mostly Zinfandel producer) and today he is the winmaker for Bravante Vineyards (on Howell Mountain) as well as D Cubed. Duane is heavily involved in the vineyard management aspects of the vineyards that he sources fruit from.
D Cubed subscribes to the old adage where "a large part of wine making is done in the vineyards" and as a result takes a very hands on approach to maintaining specific control of the vineyards.
Duane has been sourcing fruit from Korte Ranch since 1996. This is one of Napa's historic vineyards (in St. Helena) with vines that are on rootstock never effected by phyloxxera and they somehow survived being pulled out in favor of other varieties and newer vines which would be more profitable. The oldest of these vines were planted in 1910 and all are head pruned and dry farmed. The 2012 vintage shows dessert spices on the bouquet with notes of chocolate and brown sugar – the aromatics are lively with bright notes of blackberry and an elegant nuance of dried rose petal. The tannins are polished, slightly grainy in texture anchoring a palate that shows very good acidity.
Chiles Valley can be as warm as St. Helena during the day, but what Duane really likes about Zinfandel from this part of Napa are the cooler nights – often quite a bit cooler then on the valley floor – helping ensure good acidity in the grapes. The 2012 Brown Estate Vineyard shows dark fruit on the bouquet, a sweetness of fruit (and vanilla) including black licorice and hints of cedar box. Lively on the palate shows flavors of more red fruits then dark including red cherry with well integrated tannins and dessert spices that linger nicely for some time.
The 2012 Napa Valley Zinfandel is a blend of four different Napa based Zinfandel vineyards – one is immediately attracted to this wine because of the bright and lively aromatics (we were tasting nearly 6 years after vintage) with aromas of raspberry and red cherry and other red berries (also slightly floral with hints of chocolate). Very balanced from entry to end – seamless on the palate, there are no harsh edges. Shows good acidity and fairly polished tannins.
Primitivo (along with Zinfandel being a clone of a Croatian grape called Crljenakis) is produced by only a handful of Napa area wineries. This variety is a clone or cousin of Zinfandel and perhaps is not as peppery influenced as a normal Zinfandel. The bouquet on the 2005 vintage shows a bit of earthiness and moss characteristics; think damp forest floor. There are hints of strawberry on the palate and smokiness on the finish. Duane no longer makes wine from Primitivo.
The 2005 Howell Mountain Zinfandel is sourced from two high altitude vineyards, one at 1800 feet and one at what is among the highest vineyards in the Napa Valley at 2400 feet. One of the vineyards contains some of the youngest Zinfandel vines on Howell Mountain. This medium to full bodied wine has great spice aromatics on the nose followed by notes of berry including raspberry and blackberry. A bit of dry cigar smokiness also follows on the finish.
The 2013 Beatty Ranch Zinfandel was incidentally the highest alcohol Zinfandel Duane has made for D Cubed Cellars. After tasting this wine, one would be hard pressed to guess this wine comes in at 16.2% alcohol. Balance and good acidity is a big part of why this wine does not taste like a high alcohol Zinfandel. Somewhat savory on the bouquet it shows darker fruit notes, cedar box, a subtle hint of winter green. Intensely flavored with notes of plum and cracked pepper on the palate. Shows a tartness with long-lasting tannins on the finish lingering with mostly red fruit.
For many years D Cubed Cellars has been offered for tastings at Vintner's Collective – a multi winery tasting room in downtown Napa. Duane's wines certainly stand out here as most of the other winery clients do not make Zinfandel.
NOTE: website now offline (2020), need to verify if Duane is continuing to produce wine.
Cellar Angels Video of Duane