Cuvaison Estate Wines (Carneros) is located directly across from the Domain Carneros winery driveway. People who are not familiar with the Cuvaison label often stumble across their Carneros winery after visiting Domain Carneros. As a result, un-intentionally this turned out to be a good marketing decision as a related result of the winery being located here.
The original Cuvaison Winery was founded in 1969 by two engineers from the Silicon Valley. They sold Cuvaison in 1979 to the Schmidheiny family from Switzerland; this family continues to operate the winery and vineyards.
Along with the sale in 1979, the Schmidheiny family purchased 400 additional non-planted acres in Carneros; today about 288 of these acres are planted to vine. Prior to the winery being built on site, Cuvaison would truck grapes all the way up to their old facility in Calistoga (they have since sold that property, winery and tasting room to focus on their Carneros Estate).
The winery uses 100% recycled water in their operations. Several thousand solar cells are installed on site providing about 85% of their overall power needs.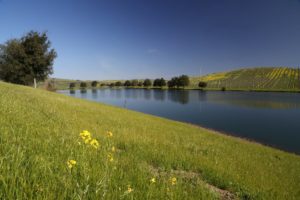 The word "cuvaison" is French and refers to the period of time during fermentation when the fermenting juice is kept in contact with the seeds and skins so as to transfer color, structure and aroma to the actual wine. This period of time takes place both during fermentation and after fermentation (maceration).
Drive up the hill about 1/4 of a mile to the parking lot next to what looks like a small fancy "shed" which serves as office. This winery is the location for Cuvaison's entire Carneros wine making operations.
Choose from several tasting flights which typically contain wines that are not nationally distributed. This tasting room focuses on their Carneros and Estate wines. Indoor tasting or outdoor table tasting available. Their tasting room is in a superb location as you are surrounded by the rolling hills of the Carneros region and there are great views overlooking the vineyards. The glass doors on the tasting room are large and open up on warm weather days so even an inside tasting has somewhat of a feel of tasting outside.
A tasting includes a wine glass. As a result of the great views, if the weather permits, we recommend the sit down tasting at the small table outside of the actual tasting room. Our wine recommendations are their Pinot Noir, Chardonnays the cool weather Syrah grown on site which makes an excellent wine (clay Carneros soils coupled with the moderating breezes from the nearby San Pablo Bay).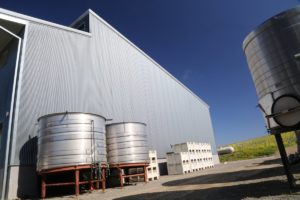 If you enjoy Port, ask for their Espiritu Vintage port (Petite Sirah Zinfandel blend / brandy based). Brandlin Wines from Mt. Veeder (the family purchased this mountain property in 1998) are also available to taste. The Brandlin Vineyard is all mountain grown fruit, located on a steep ridge at about 1200 feet. The focus on this label is mountain grown Cabernet Sauvignon with small amounts of other varietals blended in (all from the Brandlin vineyard).
Andy Warhol was a family friend who enjoyed wines but perhaps not their labeling at the time. As a result the family commissioned him in the early 1980's to create 50 labels, some of which Cuvaison has recently used for a collectible series of wine. These limited wines are bottled under the Andy Warhol by Cuvaison Collection and are available for purchase at the winery or online.
For more information, visit: www.cuvaison.com or www.brandlinvineyard.com
NOTE: this review has been identified as needing a MAJOR update.