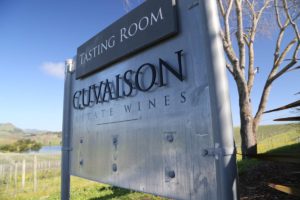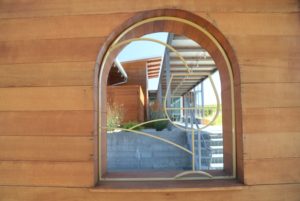 Cuvaison Estate Wines (Carneros) is located directly across from the Domain Carneros winery driveway on Duhig Road (the road is named after the family that farmed this part of Carneros). People who are not familiar with the Cuvaison label often stumble across their Carneros winery after visiting Domain Carneros. As a result, unintentionally this turned out to be a good inadvertent geographical location as a related result of Cuvaison being located across from such a well-known and popular winery.
The roots of Cuvaison began when Silicon Valley based engineer Thomas Parkhall began making home wine in the early to mid 1960s. He came to Napa Valley in 1967 looking to purchase premium grapes. In 1969 he partnered with Tom Cotrell (a Silicon Valley based laser physicist who would go on to become Pine Ridge's founding winemaker and at one point the city treasurer for St. Helena) to start Cuvaison. Rather than name the winery after themselves, they chose the French word referring to the period of time during fermentation when the fermenting juice is kept in contact with the seeds and skins so as to transfer color, structure and aroma to the actual wine. This period of time takes place both during fermentation and after fermentation (maceration).
Their first vintage was a 1969 Napa Valley Chardonnay – in the early years they produced a Chenin Blanc, a Napa Gamay and their first Cabernet Sauvignon was from the 1971 vintage. Any Napa winery still in existence whose first vintage is from the 1960s or earlier is in very rare company. Cuvaison was originally established on a hillside property just south of Calistoga off of the Silverado Trail in the northern part of Napa Valley.
Winemaker Philip Togni informed us of some intriguing history as it relates to Cuvaison. The winery had very strong ties with Marin County in those early days. In 1969 the parent company of Commerce Clearing House (CCH) built an impressive and highly visible 74,009 square foot building seen from the 101 freeway, located at 1 Thorndale in San Rafael. This was the world headquarters for Commerce Clearing House Publishing Company. The structure was designed by San Francisco based architects, Marquis and Stoller (a partnership between Robert B. Marquis and Claude Stoller, active from 1956-1974). The building is still being used today and houses a number of offices for various companies.
Overseen by Richard Duncan, who decided the grounds around the building needed some sort of landscaping, 8 acres of Cabernet Sauvignon were planted in 1968 (from Emmolo Nursery in Rutherford at the time) on the west facing steeply sloped hill below the building (not seen from the 101-freeway due to its location on the opposite side of the building. The vine rows are all terraced following the contour of the hills.
The first grapes harvested from this site called Quail Hill was in 1973, only 1/7th of a ton and then 2 tons in 1974. These grapes were trucked up to the winery in Calistoga and vinified. Cuvaison made their first wine from this property with the release of the "Lot 7374" Marin County Cabernet Sauvignon – a blend of both vintages from Quail Hill plus grapes from the 5-acre vineyard at Pacheco Ranch, also in Marin County right next to the 101 freeway. This was the first ever bottle of wine to display a Marin County Cabernet Sauvignon designation on the label. Incidentally Pacheco Ranch sold grapes to Cuvaison from 1973 through 1978 and their vineyard is still actively producing.
Remarkably, as of mid 2023 this vineyard is still growing although it is not being maintained very well at all. During a visit it appeared that a number of replants were added to the site in the last year or two. Numerous old vines had passed on, but a number were still living – albeit their fruit output was marginal at best with extremely tiny berries filled primarily with seeds.
1 Thorndale Building

Quail Hill Vineyard

Pacheco Ranch

Co-founder Tom Cotrell was hooked by the wine world in a big way; he would go on to have a long career in the wine industry including improving standards for winery wastewater management, became Cornell University's first Professor of Enology and helped provide guidance to various New York based wineries. In the late 1980s he was also instrumental in significantly increasing production at various wineries including as the founding winemaker at Sonoma County based Chalk Hill and also winemaker at Rhode Island based Sakonnet Vineyard. A prolific lecturer, author and wine judge his contributions to the wine industry have been significant.
Cotrell and Parkhall sold Cuvaison in 1973 to New York based CT Corp (founded 1892) including one of their owners, publisher Oakleigh Thorne. CT Corp is still in existence, a part of Netherlands based Wolters Kluwer (founded in 1836), an international information services-based company.
At the time of the sale, Tom Cotrell was the other shareholder in the company. After the sale, one of Napa's iconic well under the radar winemakers – Philip Togni began making some of Cuvaison's early vintages.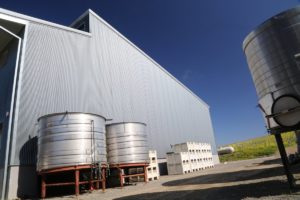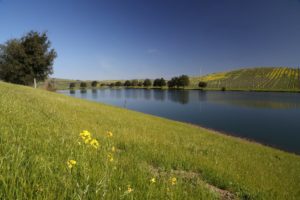 Cuvaison was sold again in 1979 as a result of a merger by CT Corp and the listed owner, Commerce Clearing House (also part of Wolters Kluwer) to Isenhold, Inc with owners Dr. Stephan Schmidheiny and Alexander Schmidheiny from Zurich, Switzerland. Alexander took over sole ownership in 1986 and after his untimely passing in 1992, the winery was transferred to his brother Thomas Schmidheiny (the current owner). The Schmidheinys' business empire traces its roots back to 1867 when Jacob Schmidheiny (great, great grandfather to brothers Stephan, Alexander and Thomas and their sister Adda) founded a brickyard in Heerbrugg, eastern Switzerland.
Over the decades the family has grown and diversified their operations among various family members; today they control businesses across a wide spectrum including significant investments in real estate and a major global construction materials business focused on concrete and bricks (reference Holcim/Lafarge-Holcim and the Eternit Group). Cumulatively, the family has also been associated with manufacturing cameras, Swiss watches (instrumental in the success of Swatch), sporting goods, steel production, beer, film, forestry & wood products (GrupoNueva, Costa Rica based), the banking industry, art collections and philanthropy among many other endeavors.
And the family has been involved in the wine business for many years; the siblings' grandfather Ernst Schmidheiny co-founded the Balgach wine cooperative in Switzerland. His son Max and his wife Adda Schmidheiny later produced their own wines. In addition to Cuvaison, Thomas also owns the following wineries: Finca Decero in Mendoza Argentina and in Switzerland, Weingut Schmidheiny in the Sankt Gallen Rhine Valley and Höcklistein WEIN & SEIN on the shores of Lake Zurich. He sold Australian based Chapel Hill Winery in 2019.
And Thomas has the world's largest collection of well-known Switzerland artist Ferdinand Hodler's works, overseen by the Schmidheiny's family office, Spectrum Value Management.
—
In 1978, Napa Valley based Wilson Daniels was founded, a still operating premier wine marketing and sales firm with both domestic and international representation. Winston Wilson, one of the founding partners of Wilson Daniels began working with Cuvaison in 1975 and after Wilson Daniels was founded, Cuvaison became one of their early clients, a relationship which lasted until 1983; Wilson Daniels was an integral part of Cuvaison's early success.
Along with the sale in 1979, the Schmidheiny family purchased 400 additional acres in Carneros and began planting vines in 1980; today approximately 220 of these acres are planted to vine with the majority of the vines being Chardonnay and Pinot Noir. Prior to the winery being built on site, Cuvaison would truck grapes all the way up to the original winery location in Calistoga. A 32,000 square foot state of the art winery was built on their Carneros estate in 2009. The winery includes an optical sorting system and tanks specifically selected to correspond to specific vineyard blocks.
In 2015 Cuvaison sold their original Calistoga property, winery (also known for being a custom crush facility where other wineries rented out space for their own wine making) and tasting room to San Francisco based Brandon Chaney and Anthony Zabit who soon after the sale, founded Fairwinds Estate on the site. Unfortunately, one of their primary winemaking buildings and the tasting room burned to the ground in the Glass Fire of 2020.
Cuvaison also produces Brandlin Wines from their Mt. Veeder estate that the Schmidheiny's purchased in 1998. Mt. Veeder is a rugged mountain appellation located northwest of their Carneros property. The historic Brandlin Vineyard (named after the Brandlin family who originally settled this part of Napa in the 1870s) is all mountain grown fruit, located along a steep ridge ranging in elevation from 900 to 1,150 feet. The focus on this label is on Zinfandel and Cabernet Sauvignon. Other much smaller blocks growing here include Malbec, Cabernet Franc and Petit Verdot. The total Brandlin estate is 170 acres of which slightly less than 50 acres are currently planted.
The winery uses 100% recycled water in their operations. Several thousand solar cells are installed on site providing about 85% of their overall power needs.
Hospitality
All visits to the winery are strictly by appointment. Guests can choose several tasting flights, typically containing wines that are not nationally distributed. Tastings focus on both their Carneros and Brandlin estate produced wines. In 2022 the tasting salon opened after being redesigned; its footprint was also significantly expanded to further take advantage of the exceptional vistas. All tastings are seated – either indoors or outdoors. Note the wooden stand-alone door containing the beautiful stain glass window located at the entrance to the tasting room; this is the old door from the original Cuvaison Winery.
Regardless of the weather, from their hilltop perch there are excellent views of the surrounding rolling hills of the Carneros region and overlooking the vineyards. The sizable and sliding glass doors on the tasting salon will open when the weather is pleasant so that a tasting inside the salon often feels like simultaneously being both indoors and outdoors. As a result of the great views, if the weather permits, we recommend a sit down tasting on the 2,500 square foot terrace referred to as the Vineyard Patio.
Other Cuvaison experiences include a Vineyard Hike and Tasting and Cuvaison & Caviar.
Select Wines
Cuvaison whites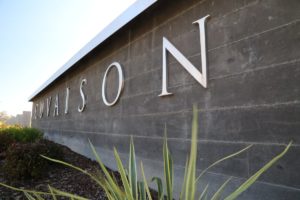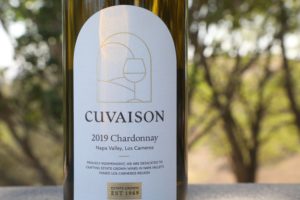 Cuvaison produces wide offering of various wines categorized bottled under Estate, Small Lot, Micro Lot, Legacy (limited production top wines named after members of the Schmidheiny family) and Brandlin (all red wines primarily from the Brandlin Estate on Mt. Veeder). Our wine recommendations are their Pinot Noirs, Chardonnays and the cool weather Syrah,all grown on site in the clay heavy Carneros soils coupled with the moderating breezes from the nearby San Pablo Bay.
The 2019 Cuvaison Los Carneros Chardonnay is deep gold in color; simply put, smells wonderful with aromatics showing springtime and summertime fruits including apricot, yellow peaches, mandarin and pineapple. The bouquet also reveals notes of honeycomb, caramel and vanilla; this wine is well endowed aromatically. Creamy, briny and saline in its textural feel, its richness and intensity of flavor is quickly evident. To borrow a line from Ravenswood Winery, "no wimpy wines" – this is not a wimpy Chardonnay. Offers flavors of cantaloupe, and peach with a darker note of desert spices on the long finish.
The 2019 Cuvaison Sauvignon Blanc Méthode Béton is medium yellow in color; immediately upon opening the bouquet offers bright and sweet floral aromas including honeysuckle, jasmine flower and plumeria. Also shows notes of honey and ripe yellow pineapple. This wine is clearly not a leaner, greener bottling with bracing acidity. Offers a rounded and creamy texture with flavors that are tropical including papaya, mango and Golden Kiwi. The finish is bright and citrus driven. This wine spent 23 days fermenting and 11 months aging; the wine is described as Méthode Béton or in English, the concrete method, referring to using concrete vessels for both fermentation and aging.
Cuvaison reds
A block of the Cuvaison Carneros estate is planted to Mariafeld Pinot Noir, a variation of this variety commonly planted in Switzerland. The 2015 Mariafeld Pinot Noir offers bright aromatics with hints aromas of raspberry, strawberry and hints of cedar spice. Soft on the entry and throughout – it is not a light wine, rather it shows an intensity of flavor (red and darker cherry) and depth on the palate. The tannins are fine grained, noticeable and slightly earthy. They linger nicely for quite some time – no harsh edges here.
Cuvaison produces a vintage Port-style wine (Espiritu) made from Petite Sirah grapes and blended with a Zinfandel based brandy. The 2014 saw a production of slightly less then 200 cases. It is very dark in the glass as wines from this variety often are – dark purple and red. A sweetness of fruit shows on the bouquet, hinting at the sweetness to come on the palate. Shows aromas of blackberry and bittersweet chocolate. There is a softness on the palate – it is very flavorful but with a noticeable lightness in feel. It is very sweet finishing with well-integrated slightly dusty tannins. This wine takes its name from Eduardo Espiritu, who worked at Cuvaison for some 30 years.
Brandlin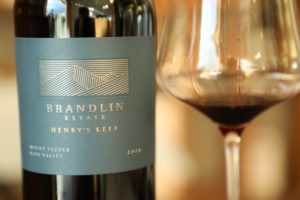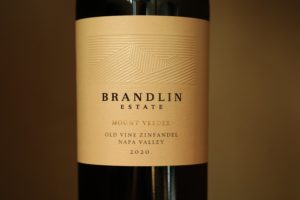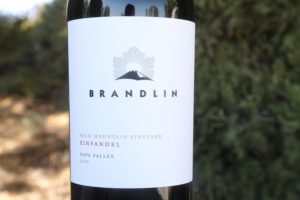 The 2019 Brandlin Henry's Keep is a blend of 85% Cabernet Sauvignonm 9% Malbec, 4% Petit Verdot and 2% Cabernet Franc. This wine is deep ruby and opaque in the glass; tasting this particular bottling while in Switzerland at Schmidheiny owned Höcklistein, following a tasting of their own Swiss wines, made us quickly realize how much the ripeness of Napa Valley sunshine shows. The bouquet is sweetly fruited including of blackberry and blackberry jam, boysenberry, Pakistani mulberry and Santa Rosa plum. Some floral tones are also at play including of violets and fresh rose petals. The palate doesn't necessarily showcase the ripeness like the bouquet – rather it offers primarily red fruits with flavors of plum, cherry, raspberry, blueberry and blackberry. We tasted this wine 4 years post vintage and it still shows as extremely youthful. The tannins are grainy and pixelated; they persist on a dry, earthy/dusty finish accompanied by a red-fruited tartness and a note of tobacco. This wine was aged for 22 months in French oak of which 50% were new barrels; it has lots of life ahead of it with the proper cellaring.
The 2018 Bald Mountain Vineyard Brandlin Zinfandel (Mt. Veeder) is named after a mountain at the end of Wall Road that is covered with grassland and is devoid of any trees. In the summer the top of this mountain is a bright contrast of dried grass with the vines growing on its lower slopes. This wine is deep ruby in color; offers aromatics of blackberry pie, or perhaps its boysenberry pie – either way shows both ripe berry fruits along with pie crust, old cedar wood, dark chocolate, mocha and espresso. Very expressive. Lightly savory across the palate, offers a sweetness of both fruit and dessert spices. The tannins are neatly integrated, supple and fine-grained. Lingers with flavors of plum and black licorice accompanied by some darker dessert spices. This wine is enjoyable to drink!
The 2015 Brandlin Vineyard Zinfandel is 100% varietal from a block of this vineyard planted in the 1960s. The wine shows bright and ripe fruit driven aromatics but not over ripe. Shows aromas of plum and blueberry. Balanced but big on the palate this wine offers flavors of plum and black cherry. It is lively in the mouth with big flavors anchored by good acidity. Drying slightly chewy tannins linger for quite some time.
The Warhol Connection:
Andy Warhol was a friend of Alexander Schmidheiny, one of several in the world of fine art Schmidheiny worked with including childhood friend and art dealer Thomas Ammann. This is not the first Napa Valley winery owner to have a connection to Warhol – reference Greg Gorman, founder of the no longer producing GKG Cellars who took the iconic black and white photograph of Warhol wearing dark shades. Alexander was a prolific collector of art; during a dinner party in Switzerland in 1981 hosted by Schmidheiny and attended by Warhol, Schmidheiny opened a bottle of Cuvaison wine and after Warhol made a disparaging comment about their existing label, he was challenged to create something better.
Ultimately Warhol created 50 labels, first used by Cuvaison for some magnum bottles of Merlot from the 1984 vintage. In 2014 these limited production wines were bottled under the Andy Warhol by Cuvaison Collection and are available for purchase at the winery or online.
For more information, to schedule a visit and tasting or to join their mailing list or one of several tiers in Club Cuvaison, visit: www.cuvaison.com or www.brandlinvineyard.com
Winery

Vineyard House

INTERNATIONAL PROPERTIES/FAMILY CONNECTIONS
Heerbrugg, Switzerland
Heerbrugg is the home of Weingut Schmidheiny, Schmidheiny Park and the Heerbrug Castle; is the ancestral home to a number of the Schmidheiny's over the decades. Their family has played an important role in both Heerbrug and nearby Balgach. This small city is located in the canton of St. Gallen in the lower Rhine Valley. This part of the country is referred to as the Four-Country Corner of Switzerland, Austria, Germany, and Liechtenstein. We first drove through here in 2008 and revisited in late 2023.
The town is located in a gorgeous part of the country in the lower Rhine Valley surrounding by mountains. Visitors without a car can take the train right to the center of town served by the Heerbrug Train Station. Schmidheiny Park (founded 1923) is located across from the train station; it is used for a variety of events throughout the year including the very popular Summer in the Park – an open air festival, various parties and music events. The city would do well to beautify and completely redo this park in order to make it more attractive; add raised flower beds, remove most of the concrete and install a central water fountain with a prominent sculpture – perhaps one of the iconic eyeball works of art by Tony Tasset.
And in honor of Max Schmidheiny, a short street named in his memory is in Balgach called Max Schmidheiney-Strasse.
Schmidheiny Park, Heerbrug

Weingut Schmidheiny, Heerbrug
This small family owned and operated winery is located in the lower Rhine Valley in the hills above Heerbrug; panoramic vistas from the vineyards planted above the winery overlook the valley below. Thomas Schmidheiny and his family took over the operations of the winery in 1998; in 2012 they built a modern winery and hospitality center. His daughter Lisa is also actively involved in the operations. His son Marc co-founded DCM, a film film distributor with offices in Berlin and Zurich.
Weingut Schmidheiny is less than 30 minutes driving from Vaduz, the capital city of Lichtenstein or about one hour and 15 minutes from Zurich. The property also contains the old Schmidheiny family home. Five hectares of grapes are planted including the following varieties: Johanniter, Chardonnay, Pinot Noir, Sylvaner and Zweigelt organized into 10 different blocks. One can drive or walk up the hill from the winery, passing among the vines along a narrow street. The views from here are worth the drive alone; also note the small painted red original house in the vineyard (the Rebhuttli).
Having visited Cuvaison Winery numerous times over the years, we were surprised to discovered the cellar at Weingut Schmidheiny is remarkably small. And so is their production, crafting approximately 30,000 bottles per year. Often their interns will make small amounts of personal wine including pet nats (which we tried during our visit).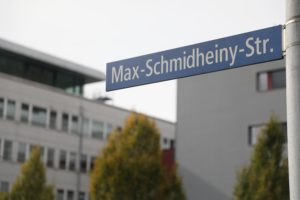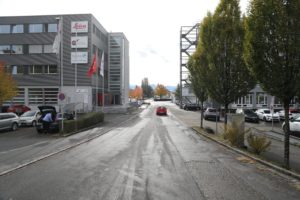 An underground parking garage is below the winery with steps leading up the entrance. The eye-catching sculpture in front of the main entrance is a stylized representation of grapevines. The architect is Switzerland based Spirig Partner AG (they won the contest for best design). An image of its likeness is used on all the Weingut Schmidheiny bottlings.
The winery is open for on site sales but does not host small groups for tours or tastings. Their wines are not exported internationally but wines from all of their vineyard properties are sold here including Cuvaison in Napa Valley and Finca Decero in Argentina. The property is used for private events including corporate gatherings, birthdays, anniversaries and weddings (a minimum of 25 people required for visits). The main room to the rear of the hospitality space can accommodate up to 120 people and the outdoor pergola can seat up to 200 people. Vineyard and cellar tours followed by tastings can also be arranged for larger groups.
Within a short walk of Weingut Schmidheny is the Heerbrugg Castle built in 1775. This was purchased by Jacob Schmidheiny in 1867 and remained in the Schmidheiny family until early 2005 when it was sold. Rooms inside are rented and the property may sometimes be used for concerts. The Schmidheiny Villa is located next door to the 'castle' built by Max Schmidheiny. And the Heerbrugg gatehouse at one point owned by the Schmidheiny family is also located on the property and was for sale as of 2024. It was built around 1905 and was completely renovated in 2019.
And Weingut Schmidheiny is a member of La Mémoire des Vins Suisses' (Memory of the Swiss Wines), an association of both wineries and wine experts focusing on promoting and raising awareness about Swiss grown and produced wines.
Select wines
The 2022 Weingut Schmidheiny Johann FR 117-68 Rebhof (100% varietal Johanniter) is light straw in color; this wine smells refreshing with aromas of pineapple, citrus, banana, slate rock and a hint of vanilla. The palate is balanced and features a creamy almost waxy texture. It offers flavors of melon, apple and citrus. Easy drinking, refreshing and brightly lit, this wine would pair well with a variety of white fish including halibut or shellfish. Johanniter is grown in parts of Switzerland and Germany and is prized for its early ripening and resistance to fungus and mold. This wine was aged for 6 months in stainless steel tanks with regular bâtonnage occurring throughout.
The 2020 Weingut Schmidheiny Chardonnay is medium gold in color. We rarely describe the bouquet of Napa Valley Chardonnays as savory, but this is not Napa Valley grown and that descriptor appropriately characterizes its aromas. It also offers scents of peach, pineapple, nectarine, a nutty nuance and dried apricot. And it contains an aroma often associated with this variety, hints of warm butter. Its texture is creamy with flavors of citrus including mandarin orange and red apple. Very well layered with loads of life from the bright acidity. This wine was macerated for 18 hours on the skins and then was fermented and aged for for 18 months in new French oak barriques with bâtonnage regularly occurring.
The 2017 Weingut Schmidheiny Pinot Noir (tasted 6 years post vintage) is medium ruby in color; its aromatics and palate reflect a cold vintage. The bouquet offers scents of saddle leather, a gamey character, grilled meats, barnyard, dried herbs and an earthy quality. The palate is lively and red fruited including flavors of cherry, cranberry, red currant, white pepper and dried herbs. It has finesse, is fresh, balanced and savory. The tannins are seamless, soft and well integrated into the bright finish. This wine was harvested from south facing fully exposed vines; it was aged up to two years in French barriques on the gross lees.
The 2019 Weingut Schmidheiny Pinot Noir Halde Unterhalbder Mauer was harvested from a section of their vineyard with a distinctive microclimate due to its proximity to a stone wall. This wine is medium ruby in color; the bouquet sports aromas of toasted oak, burnt toast, coffee beans and dried herbs including thyme. This bottling in particular needs time to fully express its fruit characteristics and when it begins to evolve, it offers aromas of blueberry and red cherry. The palate shows flavors of raspberry, cherry, currant, cranberry and some of the dried herb characters also present on the bouquet. This generous Pinot Noir offers layers of flavor and texture; it lingers with a brightness and notes of cardamom and cloves. It was fermented with the skins in stainless steel tanks and then transferred to 100% new French barriques for 30 months on the lees with bâtonnage. This is a very age worthy bottling. And 60 bottles of this wine were donated to the Treasury of Switzerland.
The 2019 Weingut Schmidheiny Zweigelt is medium to dark ruby in color; the bouquet is vibrant and fresh with aromas of dried herbs including sage, white pepper, dark cherries, assorted berries and chocolate. The palate is equally as bright as the bouquet with currant, sour cherry, red plum and white pepper. The finish is juicy, mouth watering and lingers with a texture of lightly grained tannins showing more on the front of the palate than the back. Balanced. This wine was aged for 3 years prior to bottling including 24 months in barriques and then another year in stainless steel tanks. Zweigelt is an Austrian red variety, widely planted in Austria and displays characteristics that can resemble Pinot Noir.
Winery

Vineyards

Höcklistein WEIN & SEIN, Switzerland
This space is located on the 'gold coast' of Lake Zurich on the north side of its waters. The area is known for its foehn, a dry and warm wind which blows down from the mountains during certain times of the year. Written records indicate grapes were planted around this upper part of Lake Zurich as far back as the 9th century. Driving time from the center of Zurich is about 30 minutes with no traffic. There is no winery here but the building hosts visitors for tastings by walk in and is located just below 10 hectares of their hillside vineyards (organized into 20+ unique vineyard blocks). Grape varieties growing here include Chardonnay, Pinot Noir, Sauvignon Blanc, Merlot and Räuschling (a white variety).
In addition to the main tasting space (both indoor seating and weather permitting outside on the terrace), the Rebhusli, another building used to host tastings, is located among the vines on the hillside, offering panoramic vistas of the surrounding landscape and Lake Zurich in the near distance. And like at Weingut Schmidheiny, private events are hosted here including wedding, anniversaries, birthdays or small corporate gatherings. Charcuterie plates are offered with the wines and lunches are also available seasonally. A commercial kitchen is located on site.
Thomas Schmidheiny took over the vineyards in 2009 as part of a long-term lease. Some of the steep hillside vineyards were rebuilt and replanted in the subsequent years. The first vintage bottled as Höcklistein was in 2013; the name Höcklistein refers to the hill the vineyards are planted on. All the wines are produced at Weingut Schmidheiny. The wine shop maintains a good selection of wines for sale from the other wineries under their ownership, and some of these bottles can be tasted here.
Select wines
The 2022 Höcklistein Rauschling Tradition is medium straw in color; the bouquet offers pretty aromatics including of white peach, melon, red apple, pineapple and a floral union of honeysuckle and jasmine. Its profile is open-knitted. This bottling is beautifully balanced between flavor, acid and a subtle sweetness (9 grams residual sugar). The palate offers flavors of nectarine, peach and light citrus note. If wines had vibes, the vibe of this bottling would be fun and fruity. Easy drinking. This wine was fermented and aged in stainless steel tanks and then typically bottled in early May following harvest. Pair with spicy Thai food.
The 2022 Höcklistein Rauschling is medium straw in color; the savory bouquet offers aromas of honeysuckle and jasmine, pineapple, pear and a zesty citrus nuance. Its scents are not as fruit forward as the same vintage bottling of the Tradition. Its texture is lightly creamy complementing flavors of comise pear, red apple, white nectarine, peaches in light syrup, and apricot. This wine finishes with a flavor note of mandarin orange. It also features a subtle sweetness from the light residual sugar. Perhaps pair this bottling with a white fish on the grill.
The 2021 Höcklistein Raschling Afenran was harvested from the highest block within their vineyards. It ferments in oak barrels for 10-14 days and then is aged for 18 months on the remaining gross lees. This wine is medium golden in color; the bouquet offers aromas of kumquat, a waxy character perhaps resembling saran wrap, lanolin, an orange peel zest and a flinty minerality. The acid is bright across the palate with flavors of pineapple guava, passion fruit, pear and red appl. The finish is energetic and mouth watering. And it has some aging potential with the proper cellaring.
The 2021 Höcklistein Sauvignon Blanc was fermented in stainless steel tanks and 40% was aged in barriques. The model behind this style of wine is the Loire Valley. This wine is straw in color; the bouquet is highly aromatic and sweetly fruited showcasing ripe pineapple, lychees in syrup, ripe melon and a note of elderflower. The acidity is bright but not tart, always an important distinction to make, especially in regard to this variety. The palate offer flavors of citrus including tangelo and pineapple.
The 2021 Höcklistein Sauvignon Blanc Fume spent 6-8 months aging in barriques. This wine is medium golden in color; the bouquet offers a diversity of baking and dessert spices including vanilla, crème Brule, a honeyed note, caramel, and honeycomb. One can smell the oak influence on this bottling. The beautiful mouth-feel offers a creamy, waxy and almost briny-like texture. The palate sports flavors of mandarin orange, passion fruit an da light note of toasted oak. The long and rich finish is energetic but not green or grassy.
The 2021 Höcklistein Chardonnay was harvested from vines between the age of 35 to 40 years. This wine fermented and then aged in 100% new oak barrels for 18 months. It is medium to dark golden in color; the bouquet reveals aromas of vanilla, warm butter, crème Brule, pineapple, toffee and caramel. Some of these aromatics are echoed on the palate including toffee along with some citrus notes including tangerine, a lemon zest, melon and toasted vanilla. The finish is long and supported by a bright acidity. This wine went through full malolactic fermentation. Nicely done.
The 2021 Höcklistein Chardonnay Egg is medium to deep golden in color; the bouquet features scents of light popcorn butter, melon and pineapple. The palate is brightly lit and accompanied by a creamy texture. It offers flavors of peach, pear, apricot and nectarine along with a light honeyed note. The hints of butter on the bouquet do not show up on the palate. Minerally, with also flavors of citrus and a finish showing a note of lightly toasted oak and an herbal note including thyme. This wine was fermented and aged 50% in both stainless steel tanks and barriques. The barriques were approximately 1/3 each of new, once year and used. It was aged for 18 months before being blended with the resulting blend then aged another 2 months in stainless steel tanks before being bottled.
The 2019 Höcklistein Pinot Noir is a slow and very thoughtfully crafted wine. Remarkably it was aged for 48 months before being released including a year in bottle. 50% was aged in barrels of which approximately 1/3 were new, 1/3 once used and 1/3 neutral and 50% in stainless steel tanks. It spent 18 months aging prior to being blended and then another 18 months in stainless tanks on its gross lees. Other Pinot Noir bottlings in the region are released much sooner. This wine is medium ruby in color; the bouquet offers aromas of mushroom, truffle, white pepper, Tonka bean and raspberry. It continues to throw out layers of scents including chocolate, dried herbs and a note of basil. Let this wine open as the fruit will continue to evolve. The palate offers a delicate texture but is richly flavored including of cranberry, currant, red plum and white pepper. It offers a savory character and an herbal freshness.
The 2019 Höcklistein Paradies (French clone) spent 18 months aging in 100% new oak barrels and then another 12-16 months aging in stainless steel tanks. This wine is pale ruby in the glass; the nose offers darker spices including a woodsy character, burnt toast and crushed pink peppercorn. The palate offers rich flavors of red cherry, cranberry, currant and a note of bittersweet chocolate. The tannins are lightly grainy, anchoring a savory finish with notes of pepper. The dancing acidity twirls across the palate like a ballerina in one of Degas's paintings, from the entry through to the finish.
The 2020 Höcklistein Merlot. Merlot is usually the last variety harvested in their vineyard. This wine is medium ruby in color; the bouquet offers higher toned red fruits along with a rose stem character, first described to us while we were tasting Opus One wines at Opus One with winemaker Michael Silacci. This is an elegant bottling both in terms of the aromatics and also the palate. It offers flavors of currant, red cherry, red plum and cranberry. The finish rings vibrantly with its red fruited notes, red vine licorice and an herbal note. The tannins are fine grained and seamless in their integration.
The 2020 Höcklistein Merlot Paradies is medium ruby in color; the generous bouquet offers scents of tobacco, chocolate, plum, rose petals, dried herbs and cloves. This is a richer bottling than their other Merlot of the same vintage. The palate offers flavors of cherry, raspberry and a lingering crushed peppercorn note. The tannins are grainy and broadly distributed and ultimately outpace the fruit on the finish. Fresh and bright.
We would love to revisit this very food friendly bottling in the next 10 to 20 years.
Hospitality

Vineyards

Finca Decero, Mendoza Argentina
This winery is located about 40 minutes driving south of the center of Mendoza. Visit, description and photography coming at some point. Decero in Spanish means 'from scratch' referring to the year 2000 when their Remolinos Vineyards was being developed. The word Remolinos refers to the little dust devils that form from the windows that blow through the vineyard in the afternoons.
Decero lies at the base of the Andes at an elevation of just over 1,000 meters. The winery is also home to a restaurant open daily for lunch. Finca Decero was a founding member of The Porto Protocol.
We have visited Mendoza several times in pursuit of wineries connected to Napa Valley through ownership or heritage. We will revisit at some point and update our notes and add photographs of this winery as time and budget permit.
Select wines
The 2018 Finca Decero Remonlinos Vineyard Cabernet Franc is 100% varietal; this wine is deep ruby in color. The bouquet offers a distinctive herbal freshness with scents of jalapeno, red cherry, and a thread of sweet ripe raspberries. Savory, the palate reveals flavors of red cherry, red plum and currants. It lingers with a noticeable red-fruited tartness brought about by its tense acidity. The tannins are lightly grainy and linger with a note of white pepper. Long finish. This wine is listed as 14.5% alcohol but we thought it was at least a percent lower due to its brightness and freshness.
The 2017 Finca Decero Remonlines Vineyard Petite Verdot is 100% varietal; this wine is deep ruby and opaque. The bouquet offers dark plum, mushroom, grilled meats and other gamey characteristics, stewed tomatoes and red cherry. /the bouquet needs time for the fruit to fully express itself. The palate includes flavors of cherry, plum, raspberry and strawberry with a lasting impression of crushed peppercorn and a dry character. The tannins are rounded with light to moderate but persistent trip. They show more on the front of the palate than the finish. We wanted something proteiny from the BBQ after tasting this wine.
Grand Resort, Bad Ragaz
This five-star property, owned by Thomas Schmidheiny and various shareholders is one of the more impressive resorts we have visited on the planet, due to its size and diversity of spaces within its large confines. It is located here because of the natural thermal waters flowing from the Tamina gorge; these were first discovered in the year 1242 and by the year 1350 wooden bath houses were built on site. Some of the bathhouses built between 1704-1718 are still partially preserved. A hike to Tamina gorge takes about one hour from the resort.
Allow about 10-20 minutes driving time from Vaduz in Lichtenstein or about 1 hour and 15 minutes from the center of Zurich.
The resort features several hotels, a diversity of food from the seven restaurants totaling 6 Michelin stars including the 3-star Memories, four bars, a wellness and spa (the Tamina Therme is complimentary for guests of the hotel but is also open to the public), a fitness center, a stand alone casino, plenty of shopping and two golf courses. One could spend a week here and never get bored. We only spent one day exploring the grounds and the interior. We wanted more time. During lunch at the Mediterranean restaurant, Olives d'Or, we noticed wines on the list from several of the Schmidheiny owned Swiss vineyards including Cuvaison.
Grand Resort

Spa/Wellness

Restaurants/Food

Golf

Daros Collection, Fondation Beyeler, Riehen Switzerland
Stephan Schmidheiny and his family own the Daros Collection, a significant collection of modern art. Part of the Daros Collection includes one the largest private collections of modern Latin art. Parts of the Daros Collection have been shown to the public at Fondation Beyeler, an art museum located about 15 minutes from the center of Basel. And Daros has donated generously to Fondation Beyeler to help fund their expansion and the construction of a new and larger museum space.
Park in a parking garage across the street and make the short walk through the grounds to the entrance to the gallery. Several works are located outside including "Snowman" by Fischli/Weiss, a permanently frozen sculpture contained within a 'cold box'.
The museum is open every day of the year including holidays. Admission is charged. The museum itself is not large and features several rooms containing a variety of works by prominent artists including a great selection of Picasso paintings. During our visit we also saw works by Joan Miro and Wayne Thiebaud (UC Davis professor).