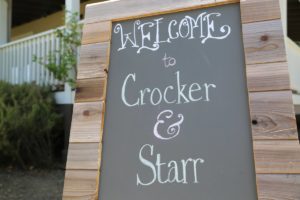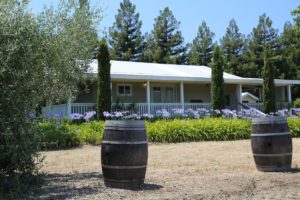 Crocker & Starr is a boutique winery with vineyards located on a historic 122 acre property (about 115 acres to vines) in the southern part of the town of St. Helena and was founded in 1997. This winery is a partnership between Charlie Crocker, and Pam Starr, Napa vintner extraordinaire. Crocker owns the land (Crocker Estate) and Starr helps with the vineyard management and of course is the winemaker.
After years of making their wines at Napa Wine Co, Crocker & Starr opened their own winery in 2016 (near their tasting room).
The Crocker & Starr property is very historic having been established in 1870 as Dowdell & Sons Winery. This land was originally owned by James Dowdell who first planted grapes on site in the early 1870's; the property has grown crops continuously since then although it has not always been planted to wine grapes. A section of the vineyard on site is planted to old heritage clones.
One of the few remaining walnut orchards on the valley floor still stands towards the back end of their property – a reminder of the valley's historical varied agricultural crops. The original winery building and brandy facility (not used in these regards today) are still standing and have been completely restored. There are several oaks on the property including the largest oak we have seen anywhere in Napa. Before crops were planted in the Napa Valley there were many oaks growing on the valley floor. With huge oaks you know the soil is deep and rich to support trees of this size for such a long time. Large oaks are good indicator species of fertile soils.
The Crockers have a long history in Northern California (Crocker Bank, Art Museum etc). Charles Crocker (Charlie's grandfather) was part of entrepreneurial group instrumental in the building of the Central Pacific Railroad in the 1860's. This group is generally referred to as the Big Four which also includes well-known names such as Stanford, Hopkins and Huntington.
In 1971 Charlie and his wife Lucinda purchased their current estate property on Dowdell Lane – a number of greenhouses came with the property. In a brilliant move at the time in the early 1970's (timing was everything) they converted the greenhouses to grow bench-grafts (to supply local vineyards). With Charlie's funding a new company was started called Vineyard Technical Services.
Incidentally, Charlie also played an early instrumental role in Duckhorn Vineyards – founder Dan Duckhorn used to work for Charlie at Crocker Associates – and was personally involved in overseeing Vineyard Technical Services. Charlie also was involved in helping Dan aquire the first Duckhorn property off of Lodi Lane in St. Helena.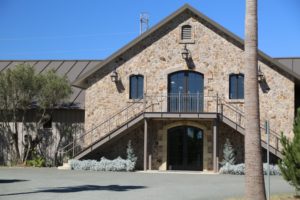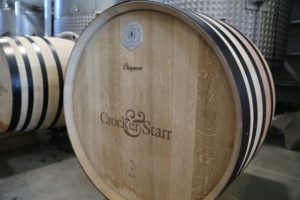 Starr's meeting with Charlie was originally by accident in regards to a misunderstanding about purchasing fruit…not a bad way to begin a wine making relationship. With 115 planted vineyard acres and a production hovering around merely 2500 cases they do sell much of the estate fruit to other high end Napa wineries. The grapes for their two red wines are sourced from the estate.
Pam has a long history in the winemaking industry having made wine for Adastra Winery for a number of years (still is their winemaker) as well as being a former winemaker at one of our favorite Napa Cabernet producers, Spottswood Estate. Her primary focus is in the vineyards and during a recent visit her passion and unbridled enthusiasm for terroir was clearly evident. When she entered the partnership with Crocker she immediately started working towards converting the estate vineyard to becoming organic and farming it as sustainably as possible. The true essence of sustainable farming is that what you take out of the land, you put back into it. Crocker & Starr focuses their efforts exclusively on three wines, Sauvignon Blanc, Cabernet Franc and Cabernet Sauvignon.
The 2004 Sauvignon Blanc was the 12th highest rated Sauvignon Blanc in the world by Wine Spectator. Their wines are always very highly rated and regarded but this rating was something special. We suspect that as a result of this very high rating, demand significantly increased which explained why this particular wine was not available during a trade tasting we attended! Fortunately during a recent visit to the estate we were able to try the 2007 Sauvignon Blanc. Starr's philosophy with this wine is to truly respect the variety and showcase this as a wine that is completely driven by its terroir. As Pam says, this wine is "vineyards to glass", essentially capturing "the essence of what we do best in Napa".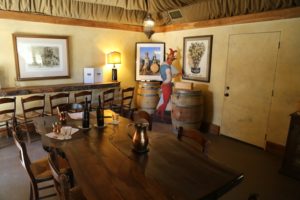 Some of the fruit for this wine comes from their only non estate source. In this case, Pam planted the vines in the well-regarded Hyde Vineyard in the Carneros region south west of the town of Napa. Both the estate and the Hyde vineyard are planted to the same clone (Sauvignon Musque), but different soils and climatic regions produce drastically different characteristics. Carneros is cooler and their estate vineyard in St. Helena is located in a warmer growing region.
The wine was entirely whole cluster pressed and then mostly aged in steel barrels on the lees. As Pam says this wine only had a "kiss of oak". Nice. The results are wonderful! The bouquet opens with glass filling aromatics somewhat tropical in nature including guava and hints of pineapple. The mouth feel is rounded with additional tropical flavors as well as citrus notes including tangerine and lime. The flavors carry throughout the long somewhat creamy finish. Without the dominance of oak, this is a perfect wine to pair with food. Oh and we must also mention that it is affordably priced for the quality.
The 2006 Cabernet Franc is one of the nicest Cabernet Francs we have tried coming out of Napa. This particular vintage is slightly blended with Petit Verdot (the blending variety tends to vary depending on the vintage). It is hard to tell how rich in flavor this wine is from the deceivingly elegant nose; exotic spice driven aromas, floral nuances and a touch of smoky tobacco round off the bouquet. The palate is full of complex layered ripe rich flavors including juicy blackberry with just a touch of tobacco on the finish. There is a core of fruit that continues from the entry all the way to the finish and then some! As with all Crocker & Starr's wines, this one is in perfect harmony and totally in balance including the delicate tannins that anchor the finish.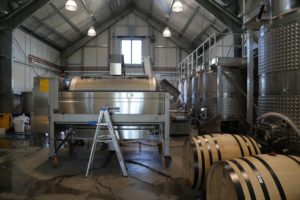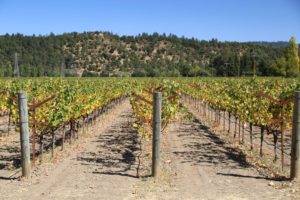 The 2005 "Stoneplace" Cabernet Sauvignon (named after the old stone ghost winery on the estate) is a winner. It is unfined and unfiltered for maximum flavor. This wine sees about 70% New French Oak. It is dark and dense with excellent concentration; the bouquet is a mix of aromas including blackberry, blueberry, some earthiness and cocoa power. This is an inspired wine with a soft lush entry that soon turns into layered black fruit flavors starting with the mid palate and continuing through to the long finish. The finish is slightly smoky with exotic spices and well-presented tannin structure.
Crocker & Starr is involved in several charity organizations including the Napa Valley Auction where in 2008 their donated barrel was the eight highest grossing wine of the event! You can find their wines locally at ACME Fine Wine Shop and also at Dean & Deluca, both located in St. Helena. Visit: www.crockerstarr.com