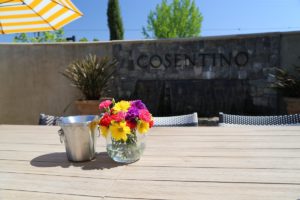 Cosentino Winery was founded by self-taught winemaker Mitch Cosentino; he sold several years ago and the winery and brand is currently owned by Vintage Wine Estates. Cosentino is the first "roadside" winery you will see as you drive up Highway 29 from Napa – and as a result of this prime location they often see first time visitors who are traveling to the Napa Valley without any set itinerary.
In addition the winery is right next door to the well-liked Mustards Grill and diners often drift on over for some tasting if they have to wait for a table. There is a small wooden bridge that connects the two properties passing above a very tiny creek that is most often dry unless there has been substantial rain recently.
This winery is what comes to mind when you think of a typical Mediterranean old style winery – it is in a building covered with ivy and tall cypress trees grow nearby. They have a nicely decorated tasting room and you choose from several tastings . They donate a percentage of some of their Cabernet wine sales to the V Foundation's Cancer Fund Research. This winery is very easy to find and as a result is often very crowded on the weekends, even starting at 10am when they open.
Out of more than 800 unique Napa wineries/producers visited to date, this is the only one that has sliding spittoons on a rail built into their tasting counter. Need to spit, the pourer will grab hold of the spittoon cart and slide it down to you – ingenious! Their wines have been served at special functions including a White House Dinner, Golf Tournaments and events for Heads of State.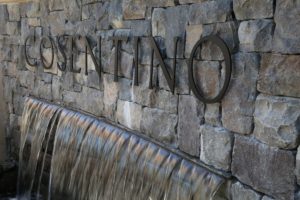 As of the time of this review Cosentino produces eight different labels including his Legends in which he teamed up with former basketball star, Larry Bird. We tried the 2004 vintage of this – it is a Bordeaux style blend with Merlot being the primary varietal as well as Cabernet Sauvignon and Cabernet Franc. There are some neat spices both in the aroma and on the palate including pomegranate and pepper.
A real treat during a recent tasting was a rare 1997 Reserve wine (rare in that you never see Napa wineries pouring older vintages like this!). The characteristic browning of the edges in the glass indicates this wine has had some aging behind it; it was very full bodied with fruit flavors that have come together well, plum and cherry with notes of smokiness and tobacco coating the finish.
Founder Mitch enjoys drinking and making wine from Italian varietals – look for Sangiovese and Nebbiolo. Their wildly popular, longtime produced "The Poet" was already sold out but we have a note to check back in after their next release of this Meritage wine. Also of mention is their very rich Hoopes Vineyard Cabernet grown just "around the corner" from the winery.
If you enjoy desert wines, the late harvest Viognier or Botrytis Semillon are good choices. Check out the Events & photo section on their website for photos of wine makers and owners with various celebrities. Visit: www.cosentinowinery.com
NOTE: this review has been identified as needing a major update.