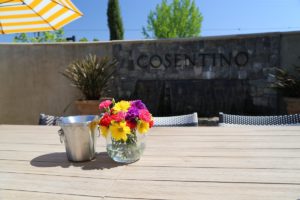 Cosentino Winery was founded by self-taught winemaker Mitch Cosentino in 1980. Mitch is the first person we have met born in Gustine, California (a small town south of Modesto). He discovered an interest in wine during college, prior to a career with wine he earned a degree in Broadcast Communications. Finding the job market in this field somewhat challenging in the mid to late 1970's he turned to wine. He signed on with a regional distribution company as their most junior salesman (Stanislaus Distributing Co). Within a year and a half his talents for sales was evident; he soon started managing this small company.
Part of Mitch's work at the distribution company involved wine maker dinners – where he met some of the icons in the industry – Myron Nightingale and Ed Spragia (both Beringer Winery veterans) and John Parducci (Mendocino County wine pioneer). Mitch considers all of these individuals as role models – they are the ones who helped encourage him to become a winemaker – recognizing his excellent sense of smell and taste.
Moving to the Napa Valley in 1990 he has since been responsible for creating, designing and building nine wineries in the Napa Valley and Lodi. Mitch was also the early winemaker for Napa brands such as Gemstone and Hoopes.
In 2011 Mitch he sold the winery and brand to current owners, Vintage Wine Estates. Today Vintage Wine Estates has become a significant player in the wine worlds of Napa and Sonoma – with the acquisition of a number of winery properties and vineyards in both counties. In Napa, as of our latest update – in addition to Cosentino Winery, they own Clos Pegase, Delectus, Girard, Swanson and the former Napa based Cartlidge & Brown.
Cosentino is one of the first "roadside" located wineries you will see as you drive up Highway 29 from Napa – and as a result of this prime location they often host first time visitors who are traveling to the Napa Valley without any set itinerary. The tasting room is often busy in the mornings when people drive into the valley or later in the afternoon – as people enjoy making a stop here to finish the day. And refreshingly compared to most area wineries who close between 4 and 5pm, Cosentino stays open daily until 6pm.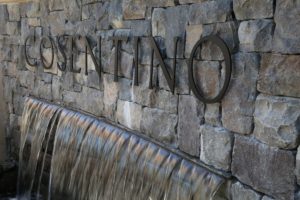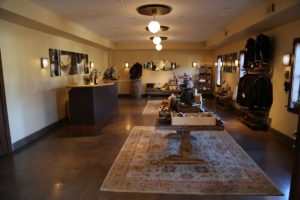 In addition the winery is directly next door to the well-liked Mustards Grill and diners often drift on over for some tasting if they have to wait for a table. There is a small wooden bridge that connects the two properties passing above a very tiny creek that is most often dry unless there has been substantial rain recently. And Cosentino is conveniently located near the southern of the two iconic Napa Valley welcome signs often a backdrop for tourists posing with their heads dramatically thrown back for selfies to make their Instagram followers jealous.
This winery is what comes to mind when you think of a Mediterranean old-world property – the exterior of the building is covered with ivy and tall cypress trees grow nearby. The tasting room is handsomely decorated; several tasting options are offered including indoor or patio experiences or wines paired with local chocolates and or small bites .
Out of more than 950 unique Napa wineries/producers visited to date, this is the only one that at one point featured sliding spittoons on a rail built into their tasting counter. Need to spit, the host would grab hold of the spittoon cart and slide it down to you – ingenious! And when the weather allows (which is most of the year), guests can enjoy wines outside on their contemporary looking patio.
Their wines have been served at special functions including a White House dinner, golf tournaments and events for Heads of State.
As of the time of this review Cosentino produces a variety of different wines including from both the Napa Valley and Lodi. At one point the Legends wine was created through a partnership with former basketball star, Larry Bird. We tried the 2004 vintage of this – it is a Bordeaux style blend with Merlot being the primary varietal as well as Cabernet Sauvignon and Cabernet Franc. Intriguing spices show both in the aroma and on the palate including pomegranate and pepper.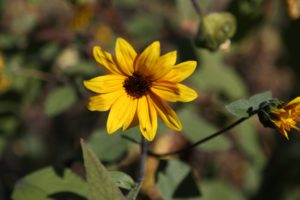 A real treat during a recent tasting was a rare 1997 Reserve wine (rare in that you never see Napa wineries pouring older vintages like this!). The characteristic browning of the edges in the glass indicates this wine has had some aging behind it; it was very full bodied with fruit flavors that have come together well – showing plum and cherry with notes of smokiness and tobacco coating the finish.
Founder Mitch enjoys drinking and making wine from Italian varietals – during his ownership he produced wines from Sangiovese and Nebbiolo (although Cosentino no longer makes wines from these varietals). Their wildly popular, longtime produced "The Poet" was already sold out during our most recent visit but we have a note to check back in after their next release of this wine. The Poet was the first designated Meritage wine in the country (blended with traditional red varietals grown in Bordeaux).
Cosentino used to produce several dessert wines including a late harvest Viognier and a botrytis Sémillon. Today they produce a single non vintage red dessert wine. In the past, Cosentino has also donated a percentage of some of their Cabernet Sauvignon wine sales to the V Foundation's Cancer Fund Research.
For more information or to join their wine club, visit: www.cosentinowinery.com
NOTE: this review has been identified as needing a **major** update.