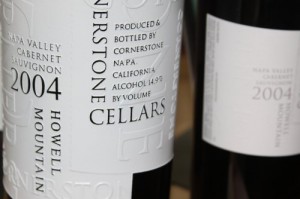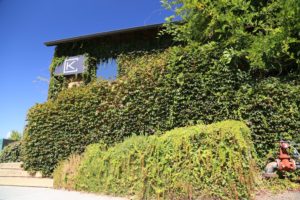 Cornerstone Cellars dates from 1991 which is when they released their first commercial vintage. This is one of the older Napa Wineries you may not have heard about; their public tasting room in Yountville certainly helps with additional exposure.
Two Memphis physicians Michael Dragutsky and David Sloas founded this winery (both are still practicing medicine). Today the winery is owned by Michael along with several investors from the Memphis area. Not only is their focus on the Napa Valley but in 2008 they started producing wine from Oregon's Willamette Valley. Their Oregon wines are also available in the tasting room.
This winery was founded with a trip to see the "wine master of Howell Mountain", Randy Dunn during the 1991 harvest and crush. Randy had a surplus of high end Cabernet Sauvignon grapes that were above and beyond what he had capacity for at the time. He offered to sell them to David Sloas who called his friend Michael back in Memphis to make the final decision. As it was, they ended up purchasing almost 5 tons of Howell Mountain Cabernet Sauvignon grapes.
This first vintage received excellent praise and publicity from wine writers and collectors and they decided to continue making wine commercially. They have been sourcing from the same vineyards since day 1 – today the vineyards are under ownership of another winery but Cornerstone has long term contracts to continue using the same fruit. These are all hillside vineyards at elevation, around 1700 to 2000 feet with nice red mountain clay that is so characteristic of the Howell Mountain Appellation.
Cornerstone is extremely careful about its vineyard sources – three noted Napa area winemakers are involved closely with any vineyard sourcing decisions and low yield high quality vineyards are a must. Cornerstone grapes are fermented in small lots, typically aged 20-22 months in French Oak, 90% of which is new.
Today they concentrate on 100% Cabernet Sauvignons, one from three vineyards throughout the Napa Valley and the other strictly from Howell Mountain. The 2005 Napa Valley Cabernet Sauvignon contains about a third fruit from three vineyards; Howell Mountain, Rutherford and Oakville. Fruit aromatics dominate the bouquet followed by a soft entry with a palate showing blackberry, cherry and hints of dark chocolate. The finish is slightly smoky and well structured.
The 2004 Howell Mountain Cabernet is a winner – this wine is typically released a year later then their Napa Valley Cabernet Sauvignon. The grapes for this wine come from a prominent vineyard with an eastern facing exposure on the back side of Howell Mountain. The elegant bouquet shows hints of cedar, spices and a mossy almost earthy characteristic. The entry is soft, focused and round – the rich, layered palate is all about berry type fruits; blackberry and raspberry. The finish is well structured. Great acidity, fruit and tannin structure will ensure excellent ageability to this wine. As Craig their general manager says, their wines "have that classic Napa Valley fruit but also have power with acidity". They are food friendly wines. Note that at their tasting room, you can often taste an older vintage for comparison to their current release.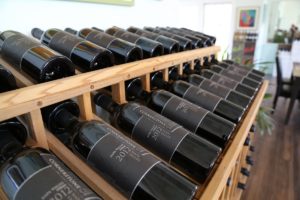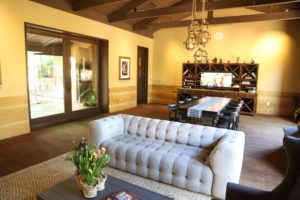 The tasting room evolution of Cornerstone: we have followed Cornerstone all over the valley since our initial visit at Tres Sabores years ago! They opened their original tasting room in mid 2009; this was called Yountville Tasting Station and was originally being shared with another winery. Both wineries moved out of their original location and then on April 1, 2015 Cornerstone moved "around the corner" to a new location just off of main street and within a 15 second walk of their original location.
By late 2017, Cornerstone moved out of this location and currently does not have an open to the public by walk-in tasting room although they still maintain an office here. JCB Collection continues to expand out the JCB Village and now occupy both of Cornerstone's former Yountville tasting rooms.
As of late 2017 tastings are now held in downtown Napa at the members only Kitchen Collective. Cornerstone is one of their select vintner members and can hold private tastings by appointment.
Vista Collina Resort, built across from the Meritage Resort (same owners) opens in July 2018. This prominent resort features 145 rooms and the Village – a collection of nine tasting rooms offering guests a change to taste wines from mostly boutique Napa wineries including Cornerstone. We will keep a close eye on the developments of this property and will update this review after our visit to the Village at Vista Collina.
And Cornerstone Cellars may be opening a new tasting room at the Wineman Building on the corner of Clinton and Main Streets in downtown Napa – sometime in summer 2018 (1300 Main Street). Again we will keep a close eye on this development and will visit once this new space is occupied and open to the public.
Look for their second label called Stepping Stone; this wine allows them flexibility as the grapes for this label are from various premium vineyards sources in Napa Valley. These are also red varietals, the vineyard sources vary from year to year and often they become available right at harvest. One year they may produce Zinfandel, the next year perhaps Cabernet Franc. For more information and to schedule an appointment, visit: www.cornerstonecellars.com
NOTE: this review has been identified as needing a **major** update.
Old Tasting Room: