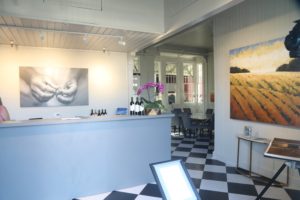 Cornerstone Cellars produced their first commercial vintage in 1991; this winery is not to be confused with Cornerstone Sonoma, an unrelated marketplace, also offering wine tasting experiences. Cornerstone in Napa Valley is one of the older producers one may not have heard about despite their now decades track record of continuing to produce stellar wines.
Cornerstone Cellars was founded by two Memphis physicians, Michael Dragutsky and gastroenterologist David Sloas (incidentally both are still practicing medicine). Today the winery is owned by Michael and his wife Beni along with several investors from the Memphis area. Besides his ownership of Cornerstone, Michael was one of the founders of Gastro One, with a group with physicians that focus on gastrointestinal health with 10 locations primarily within Tennessee and with their administrative office located in Germantown. Today Michael is currently their President and a Managing Partner. Michael is also an owner of Tennessee based, Phoenix Unequaled Home Entertainment (whose main office northeast of Memphis was obviously permanently closed when we last drove by in late 2020).
While the focus of Cornerstone Cellars is on red wines from Napa Valley for several years beginning in 2008, they produced wine from Oregon's Willamette Valley. Their Oregon wines used to be available for tastings in their tasting rooms. While they no longer produce wines from Oregon, they do craft several wines from outside of the Napa Valley including from Santa Barbara and Sonoma counties.
—
The inception of Cornerstone Cellars was through a visit with the "wine master of Howell Mountain", Randy Dunn during the 1991 harvest. Randy had a surplus of premium Cabernet Sauvignon grapes and due to production limitations at his winery, was unable to crush them in a timely manner. He offered to sell them to David Sloas who called his friend Michael back in Memphis to make the final decision. They ended up purchasing almost 5 tons of Howell Mountain Cabernet Sauvignon grapes.
This first vintage received excellent praise and publicity from wine writers and collectors; they decided to continue making wine commercially. They have been sourcing from the same Howell Mountain vineyards since the beginning – today the vineyards are under ownership of another winery, but Cornerstone has long term contracts to continue using the same fruit. These are all hillside vineyards at elevation, around 1700 to 2000 feet with red mountain soils so characteristic of the Howell Mountain Appellation.
Winemaking/Select Wines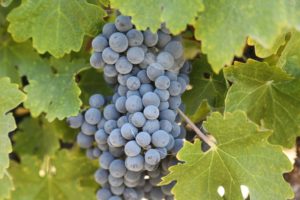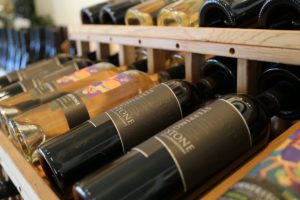 Cornerstone Cellars is extremely careful about its vineyard sources – their winemaker is closely involved with any vineyard sourcing decisions and low yield, high quality vineyards are critical to their portfolio. Cornerstone's grapes are fermented in small lots, typically aged 20-22 months in French oak, up to 90% of which is new. They focus on 100% Cabernet Sauvignon, from select vineyards throughout parts of the Napa Valley including from noted Cabernet Sauvignon growing regions such as Oakville, Rutherford and Howell Mountain.
The 2017 Cornerstone Cellars Cabernet Sauvignon (100% varietal), Rutherford (from a prominent vineyard on the Rutherford bench) is medium to dark ruby in color and refreshingly showcases both the characteristics of the variety and of the site. The aromatics are not fruit forward overly ripe and opulent – rather they are more restrained with notes of shishito, and jalapeno pepper complemented by red fruits including cherry. Also, some subtle notes of dust as the wine opens further. Features flavors of red cherry, hints of dried herbs and lingers with dried tobacco. An elegant showing both on the bouquet and the palate. Continues with bright acidity but not a tartness – a liveliness if you will. The medium bodied tannins are integrated, slightly dry and persistent. A very age worthy wine. Only 175 cases produced of this beauty.
The 2018 Cornerstone Cellars Oakville Station Cabernet Franc initially offers some savory nuances on the bouquet with old cedar box notes, a hint of dust along with red currant. Elegant aromatics with no greenness as one might expect from this variety if it was grown in a cooler site. Supple across the palate with a pleasing balance and interplay of both fruit, acidity, character and length on the finish. The savory characteristics on the bouquet also show on the finish with notes of tobacco smoke, some earth driven nuances, and some darker notes including white pepper. Packs plenty of flavor but very approachable in its youth; its tannins are slightly dry and fine grained.
Today the Oakville Station is one of two research vineyards in this part of Oakville owned by the UC Davis Department of Viticulture and Enology, the other being the Old Federal Vineyard. The Old Federal Vineyard was once overseen by the California Viticulture Commissioners in the 1880s and later the USDA through the end of Prohibition. UC Davis took over the operations of the vineyard in 1955. Any wines bottled from either of these two vineyard sites are extremely rare and limited.
The 2018 Cornerstone Cellars Sauvignon Blanc, Farina Vineyard (Sonoma County) is pale to medium yellow color in the glass; the nose is generous with aromas of yellow pineapple, golden delicious apple and as it continues to breathe, shows more citrus blossom along with a floral thread of sweetness. Lovely texture – almost creamy, very supple in its feel. Offers notes of lemon and lime on the palate with hints of pomelo on the finish. Persists with a noticeable brightness but without any tartness that this variety can show from cooler weather climes. This wine was fermented in both small concrete 'eggs', neutral French oak barrels and stainless-steel barrels. The texture of this wine is in part from the stirring of each vessel by hand during both its fermentation and its aging.
The 2004 Cornerstone Cellars Howell Mountain Cabernet Sauvignon is a beautiful wine; this wine is typically released a year later than their Napa Valley Cabernet Sauvignon. The grapes for this wine come from a prominent vineyard with an eastern facing exposure on the eastern slopes of Howell Mountain. The elegant bouquet shows hints of cedar, spices and an almost earthy characteristic. The entry is soft, focused and round – the rich, layered palate is all about a diversity of berry flavors including blackberry and raspberry. The finish is well structured. Great acidity, fruit and tannin structure will ensure excellent ageability to this wine.
The 2005 Cornerstone Cellars Napa Valley Cabernet Sauvignon contains about a third fruit from three vineyards, each in Howell Mountain, Rutherford and Oakville. Fruit aromatics dominate the bouquet (rather than secondary oak characteristics) followed by a soft entry with a palate showing blackberry, cherry and hints of dark chocolate. The finish is slightly smoky and well structured.
As Craig Camp, their former general manager told us many years ago, their wines "have that classic Napa Valley fruit but also have power with acidity". They are food friendly showings. At their tasting room, visitors can often taste an older vintage for comparison next to their current release.
Current Tasting Room
In late summer 2021 Cornerstone Cellars transitioned back to Yountville and are located in the JCB Village at 6505 Washington Street – sharing part of an indoor space with TINA Stephens, a lifestyle bouquet clothing store. Cornerstone Cellars has their own dedicated space inside the building with several tasting tables and a bar area and a separate semi-private room. They have their own prep kitchen and offer select culinary pairings with the wines.
As of the latest update to this review, two tasting flights are currently offered, the Taste of Cornerstone and the Reserve Tasting (which focuses on single vineyard Cabernet Sauvignon wines).
—
Trying to keep up with their planned tasting rooms, change of planned tasting rooms and multiple tasting spaces over the years has been an interesting and unique challenge. Few wineries in Napa Valley have moved their hospitality operations as much as Cornerstone Cellars. We keep our notes and photographs below for historical reference.
TASTING ROOM EVOLUTION, PRIOR TASTING ROOMS
Yountville Tasting Station Cornerstone moved out of this space in 2017
We have followed Cornerstone all over the valley since our initial visit at Tres Sabores years ago! They opened their original tasting room in mid 2009; this was called Yountville Tasting Station and was originally being shared with another winery. Both wineries moved out of their original location and then on April 1, 2015, Cornerstone moved "around the corner" to a new location just off of main street and within a 15 second walk of their original location.
By late 2017, Cornerstone moved out of this location; JCB Collection expanded out the JCB Village and now occupies both of Cornerstone's former Yountville tasting rooms.
Cornerstone on First Cornerstone moved out of this space in late summer 2021
Cornerstone Cellars opened another tasting space (Cornerstone Wine Bar & Tasting Room) on Wednesday August 29th, 2018, at 1465 First Street in downtown Napa – very conveniently located across from the popular Andaz Hotel and across the courtyard patio from Oenotri Restaurant. This was most recently the former space occupied by Studio M (a premium sometimes open shop that focused on some of Napa's most expensive wines). Their business model was ultimately not successful – but this valuable space was not vacant for too long before Cornerstone moved in.
Prior to Studio M, this was a former art gallery of prominent local artist, Gordon Huether. However, Gordon Huether left his mark (in a good way) in the tasting room before he moved out. Gordon designed an intriguing blue mosaic (which lights up) and weaves its way through the wooden floor. Astute locals may recognize this shape sooner than out of town visitors; it is in the form of the Napa River. One can spot the U shaped "oxbow" that the river makes – this is the location of the Oxbow Public Market located just east of here. Gordon also designed the cascading waterfall that one immediately notices when entering the space.
Cornerstone used this space to taste and promote their higher end wines, complemented by a comfortable environment. A private tasting room was able to also accommodate small groups. And select food pairings were offered by appointment from their neighbor across the tiny courtyard, Oenotri Restaurant.
Cornerstone at The Village at Vista Collina Cornerstone moved out of this space in late 2021.
In summer of 2018 a large parcel of land directly to the south and across the street from the Meritage Resort (southern Napa city limits) opened as Vista Collina Resort and the next door, The Village at Vista Collina – featuring a large green space (with environmentally friendly turf) surrounded by four stories containing 145 Tuscan-styled guest rooms, 9 standalone tasting rooms on the ground floor, a luxurious Vintner's Room (for special vintner member and other community and private events) and the Village Food & Wine Center where chefs teach a variety of culinary seminars and host other culinary related events. The Village at Vista Collina held its grand opening on August 4, 2018.
And the Fivetown Gourmet Grocery and Deli is an integral part of The Village experience. Named after the five towns within the Napa Valley including Yountville, Rutherford, Oakville, St. Helena and Calistoga – this upscale market features a variety of farm-fresh local ingredients and homemade products. Plenty of seating outside the grocery – one can also picnic on the lawn area.
The 'lawn' area is also ideal for hosting a variety of events including concerts. Umbrellas inserted into the ground can easily be moved and seating arrangements are highly flexible.
Cornerstone Cellars was one of the 9 stand-alone tasting rooms – like the others, their space was intimate focusing on the wines and personalized hospitality with limited indoor seating and several tables immediately outside.
Kitchen Collective (Cornerstone no longer offers tastings here; the Kitchen Collective is closed permanently)
In mid 2018, tastings for a short while were also held in downtown Napa at the members only Kitchen Collective. Different than their other tasting spaces, the Kitchen Collective was a private social club focused on unique culinary experiences and social events (with members having access to a state-of-the-art kitchen and the culinary team). Located in the building that used to house Cuvee Restaurant next to the River Terrace Inn (just north of the Wine Train Depot and the Oxbow Public Market).
Three levels of membership allowed various access to certain parts of the property, access to the culinary team and select events (membership capped out at 200 members in 2018 and a waiting list was started). Several Napa wineries who don't have their own tasting rooms were members and selectively held their tastings here and winery members often held special lunches or dinners on site. It was also a gathering place for select Napa vintners as the space was conducive for either business transactions or for pleasure.
Tastings held here were highly personalized and often combined a culinary element with the wines. The Kitchen Collective closed permanently in 2020.
—
Cornerstone's second label was called Stepping Stone; when it was being produced for several years, this wine allowed them flexibility as the grapes for this label were from various premium vineyards sources in Napa Valley – with a focus on red varietals. The vineyard sources varied from year to year and often they become available right at harvest. One year they produced Zinfandel, the next year perhaps it was Cabernet Franc. Stepping Stone was a reasonably priced brand based on the quality.
Total annual production of the Cornerstone Cellars wines as of our latest update to this review is around 10,000 cases. For more information or to join their wine club, visit: www.cornerstonecellars.com