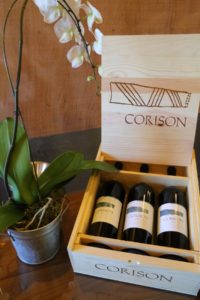 Corison Winery was founded in 1987 by wine maker Cathy Corison (her husband William Martin is also co-owner of the winery). Cathy first caught the wine bug when she was studying Biology at Pomona College in Claremont, CA. She took an elective course on viticulture and was hooked. As a result she ended up going to the University of California, Davis and graduated with Master's degree in Enology. Her first winery job in the Napa Valley was working in the tasting room at Sterling Vineyards.
Her wine making resume is impressive – working at premium Napa wineries including at Chappellet Vineyard (where she worked for nearly 10 years), Staglin Family Vineyard, York Creek Vineyards and Long Meadow Ranch). For 13 years she made her wines at other wineries (custom crushing) before opening the physical winery in 2000.
In 1995 Corison purchased the Kronos Vineyard (south of St. Helena) – this vineyard is where the winery is located. The Kronos Vineyard contains some of the oldest Cabernet Sauvignon vines in the Napa Valley; planted in 1971. From talking to various vintners, have heard the average age of a grapevine in the Napa Valley is somewhere between 22 and 25 years. Vines can certainly grow for many more decades but the production starts dropping after several decades and vines are then pulled out and replanted. And disease can certainly play a factor in when vines are pulled out and replanted. The old vines on the Kronos Vineyard only produce a minuscule 1.25 tons/acre each year.
The initial choice of rootstock has been extremely important in their longevity – they were are planted on St. George a Phylloxera resistant rootstock (a high percentage of Napa's grapes had to be replanted in the mid 1980's through the early 1990's because they were planted on non resistant rootstock).
And in 2015, Corison added a second estate vineyard, the nearby Sunbasket Vineyard – Cathy had been sourcing grapes from this particular vineyard for several decades prior to the purchase, so was already very intimately familiar with the vines. This vineyard was originally planted in the early 1950's by iconic winemaker and viticulturist, André Tchelistcheff – Cathy and William named the vineyard in tribute to André who Cathy remembers referring to this part of the world as the 'Sunbasket'.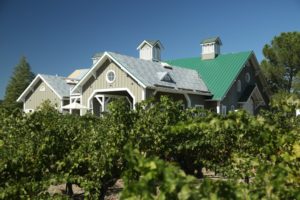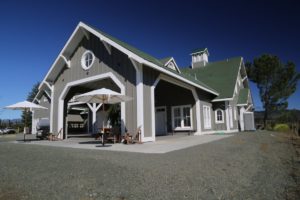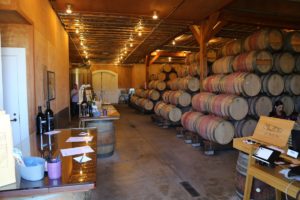 Corison's specialty is Cabernet Sauvignon and is the variety they are most known for; yes there are many Cabernet Sauvignon producers in the valley but there are several factors that separate Corison's wines from most of the other producers. One is style which as of our latest update all her wines are under 14% alcohol; they are elegant both in bouquet and on the palate, have good structure yet are balanced, feature natural acidity and are very food friendly. All her wines are 100% varietal. In addition not many wineries have previous vintages available for sale and you can choose from a number of older vintages especially in the larger format bottles.
The winery is easy to find as its located directly next to St. Helena Highway on the west side, just north of neighboring Delectus Winery. The actual tasting is conducted at a table inside the barrel room next to the main winery entrance through one of the large doors. William designed the winery – despite being located so close to Highway 29 it is remarkably quiet inside the winery. We have visited several times and have never heard the nearby traffic from inside. And in another smart design feature – taking full advantage of Napa's nearly always cool nights and warm days – the winery is vented in the evenings with warm air drawn out at the top of the building and cool air drawn in (with the venting then closing by morning to keep the cool air inside during the day).
Besides Cabernet Sauvignon, Corison makes several other labels including the play on words label, Corazón meaning "heart" in Spanish. These wines are limited production lighter style and include the Cabernet Sauvignon Rosé and a Gewürztraminer sourced from a vineyard located in Mendocino County's Anderson Valley. Not many Napa based wineries make a Gewürztraminer. The 2005 Corison Gewürztraminer is dry, made in the Alsatian style and is a perfect complement to food, especially seafood. The nose shows notes of pear and citrus followed by a palate that is moderately fruit driven with notes of crisp apple and pineapple. It has a great mouth feel with a creamy viscous finish.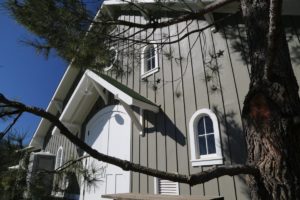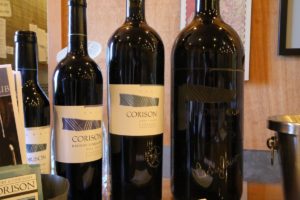 The 2007 Corison Cabernet Sauvignon Rosé is made from Cabernet Sauvignon and was made using the French saignée method in which juice is "bled" out of the red wine during an early stage in fermentation (rather than merely letting the juice sit on the skins for a set amount of time). This pale salmon colored wine has mild flavors of wild strawberry and peach. A great patio and pool sipper.
Helios is another label featuring a very limited production of Cabernet Franc from the Sunbasket Vineyard.
The "heart" of Corison's production is Cabernet Sauvignon. Both their estate vineyards are grown on western valley bench land which contain alluvial stony type soils…ideal conditions for growing this variety. The Napa Cabernet Sauvignon is by far their most produced wine; we tried the 2004 vintage. This is a wine that is sourced from multiple vineyards and best represents the varietal characteristics of Cabernet Sauvignon. Soft tannins anchor a juicy mouth watering palate with plum, cherry and even some spicy notes towards the finish.
The Kronos Cabernet Sauvignon represents the best of their estate vineyard. This is a wine that can be described as rich and soft at the same time. The several vintages we have tried have been rich with a generous depth in flavor (plums, blackberry and a number of interesting spices) with often a mouth feel like velvet – anchored by supple tannins.
All visits require appointments – at the time of our most recent visit and update they offer two experiences; Corison Library Experience (showcases both current releases as well as select older wines) and the Collector's Vertical Experience for serious Cabernet Sauvignon enthusiasts – offering a rare chance to taste older Corison vintages (some nearly 30 years old).
For more information and or to join the mailing list one of Corison's Collector Clubs, visit: www.corison.com