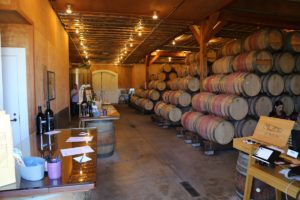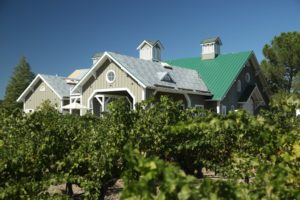 Corison Winery was founded in 1987 by wine maker Cathy Corison (her husband William Martin is also co-owner of the winery). Cathy first caught the wine bug when she was studying Biology at Pomona College in Claremont, CA. She took an elective course on viticulture and was hooked. As a result, she ended up going to the University of California, Davis and graduated with a master's degree in Enology. Her first winery job in Napa Valley was working in the tasting room at Sterling Vineyards.
Her wine making resume is impressive – working at premium Napa Valley wineries including at Chappellet Vineyard (where she spent nearly 10 years), Staglin Family Vineyard for several vintages, York Creek Vineyards and Long Meadow Ranch. For 13 years she made her wines at other wineries (custom crushing) before opening the physical winery in 2000.
In 1995 Corison purchased and then named the Kronos Vineyard (south of St. Helena); this vineyard is where the winery is located. The Kronos Vineyard contains some of the older Cabernet Sauvignon vines in Napa Valley; these still existing vines were planted by Leo Nachbaur in 1971, a World War II veteran who died in 2000. The Nachbaur's were deeply rooted in Napa Valley. Leo's father Gebhard was born in Austria and initially settled in Rutherford in 1890 before purchasing vineyard land and moving to St. Helena in 1902.
For reference there are not many older commercially producing Cabernet Sauvignon vines in the valley; other old Cabernet Sauvignon plantings in Napa Valley include by far the largest planting dating from the 1950s at Grgich Hills Estate (the vineyard is located west of Highway 29 north of Yountville), Scarecrow, MacDonald and Grace Family Vineyard. More recently other old Cabernet Sauvignon in To Kalon Vineyard (the Monastery Block) and Spring Mountain Vineyards have been pulled out in favor of newer plantings.
And the Nachbaur family built what is now called the Palm House (located near the winery) in 1898. This beautiful old structure was renovated in 2014 by William.
From talking to various vintners, have heard the average age of a grapevine in Napa Valley is roughly between 20 and 25 years. Vines can certainly grow for many more decades, but their production starts dropping after several decades and vines are then pulled out and replanted. And disease can certainly play a factor in the timing of when vines are pulled out and replanted. The old vines on the Kronos Vineyard only produce a minuscule average of 1.25 tons/acre each year. Of note, is that the bark on the trunks of these old vines have been denuded (removed) due to an initial issue with mealy bugs. Ants use these bugs for harvesting the honeydew they produce – and removing the bark exposes the trunk so that the bugs have no place to nest. A number of natural predators were introduced into the vineyard to also control the population; these 'bugs' have since become established in the vineyard and have kept the mealy bug population well under control.
The initial choice of rootstock has been extremely important in their longevity; they were planted on St. George a Phylloxera resistant rootstock (a high percentage of Napa Valley grapes had to be replanted in the mid 1980s through the early 1990s because they were planted on AXR, a non-resistant rootstock).
And in 2015, Corison added a second estate vineyard, the nearby Sunbasket Vineyard – Cathy had been sourcing grapes from this particular vineyard for several decades prior to the purchase, so was already very intimately familiar with the vines. This vineyard was originally planted in the early 1950s by iconic winemaker and viticulturist, André Tchelistcheff – Cathy and William named the vineyard in tribute to André who Cathy remembers referring to this part of the world as the 'Sunbasket'.
Their two vineyards are located on western valley bench land; the soils are alluvial containing plenty of rocks. Corison has always farmed their vineyards organically but in 2023 with the assistance of Cathy's daughter Grace, the vineyards were finally certified CCOF.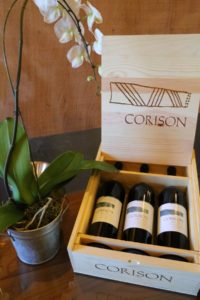 The winery is easy to find as its located directly next to St. Helena Highway on the west side, just north of neighboring Swanson Vineyard's tasting room. William designed the winery; despite being located so close to Highway 29 it is remarkably quiet inside the cellar. We have visited several times and have never heard the nearby traffic from inside. And in another smart design feature, taking full advantage of Napa's nearly always cool nights and warm days, the winery is vented in the evenings with warm air drawn out at the top of the building and cool air drawn in (with the venting then closing by morning to keep the cool air inside during the day). One other winery with a similar natural air conditioning system is Reid Family in the city of Napa.
Cabernet Sauvignon is the variety the winery is most known for; contemporary Napa Valley has built its reputation on Cabernet Sauvignon but there are several factors that separate Corison's wines from most of the other producers. One is style; all of Cathy's wines are under 14% alcohol (typically between 12.8% and 13.4%); the wines are elegant both on the bouquet and on the palate, are balanced, feature firm yet tannins with some finesse and are complemented by mouthwatering natural acidity. We have used mouthwatering to often describe the Corison wines over the years, but one could also just as easily use adjectives such as bright, lively, zippy, snappy and energetic.

These are food friendly wines that are a throwback to how wines were made in Napa Valley prior to the 1980s when styles began to change in favor of riper, more fruit forward showings (complemented and timed nicely by newer plantings of virus free material). All of Cathy's wines are very food friendly and all are 100% varietal.
Besides Cabernet Sauvignon, Corison makes several other labels including the play on words label, Corazón meaning "heart" in Spanish. These wines are limited production lighter style and include the Cabernet Sauvignon Rosé and a Gewürztraminer sourced from a vineyard located in Mendocino County's Anderson Valley. Not many Napa based wineries produce a Gewürztraminer.
Select Wines
The 2021 Corison Corazón St. Helena Cabernet Sauvignon Rosé is medium copper in color; the bouquet offers aromatics of strawberry, dried rose petals, a light lemon zest, hints of watermelon jolly rancher candy and gooseberry (reminded us of backpacking trips in the Sierra Nevada at a certain elevation and stumbling across ripe and red Sierra Gooseberries, breaking them open while trying to avoid their spines and smelling the mostly seed filled interior). This wine is lightly textured across palate showing a supple mouth feel. It offers flavors of pomegranate (these flavors are still fresh in the mind as we were at a pomegranate tasting at Tres Sabores Winery the day before we tasted this wine), a light citrus nuance, an herbal note, mineralities and red currant. The bright but not tart acidity along with the fruit contributes to the rich and long-lasting finish. This wine was bled off during the pressing of the grapes and was then fermented in older French oak barrels until dry before being aged sur lie for the next 6 months.
The 2021 Corison Corazón Cienega Valley Riesling is medium straw color in the glass; the beautiful and highly aromatic bouquet is immediately floral showing aromas of citrus blossom, star jasmine and honeysuckle along with ripe pear, lemon juice, grapefruit, pineapple, lychee, passion fruit and a flinty minerality. Balanced, crisp, dry and very refreshing, the palate offers flavors of pear, Golden delicious apple, lemon/lime and apricot. Its texture is supple and slightly creamy. Lingers with a richness of fruit and bright acidity. Very well done; for serious Riesling aficionados, this wine is highly worth seeking out. Cienega Valley appellation is located in San Benito County, one of California's least known counties whose largest community is Hollister. The family-owned Wirz Vineyard produces these old dry-farmed vines growing on their own roots in limestone and granite-based sands.
The 2005 Corison Corazón Gewürztraminer is dry, made in an Alsatian style and is a perfect complement to food, especially seafood. The bouquet shows notes of pear and citrus followed by a palate that is moderately fruit driven with notes of crisp apple and pineapple. It has a pleasing mouth feel with a creamy slightly viscous finish. The last few times we have stopped by the winery, they have been sold out of their current release of this wine.
The 2016 Corison Helios Sunbasket Vineyard Cabernet Franc features a very elegant bouquet with bright red fruit aromas complemented with a diversity of other aromas including cigar smoke, tobacco leaf, hints of cedar and hints of mushroom. The brightness of the bouquet continues onto the palate with flavors of red cherry and raspberry and currant. The wine dances across the palate with an increased liveliness on the finish – mouthwatering natural acidity along with a light but firm grip of tannins. Very balanced. Very tiny production.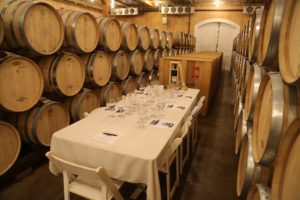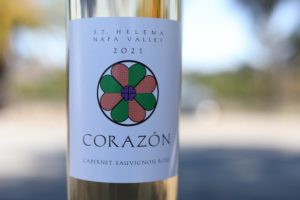 The 2016 Corison Sunbasket Vineyard Cabernet Sauvignon offers a diversity of fruit on the bouquet including plum, cherry and raspberry. Also hints of mocha, darker baking spices and old cedar box. The texture is an appealing part of this wine with refined and well-integrated tannins that slide smoothly over on the finish. Its texture is fine-grained and lightly chalky. The finish is mouthwatering and a little bit savory. In our opinion, this wine is the definition of the balance that Cathy strives to create in all her wines.
The Kronos Cabernet Sauvignon represents the best of the Kronos Vineyard. This is a wine that is approachable in its youth yet carries all the hallmarks to be able to age for many years. The several vintages we have tried have been balanced with a generous depth in flavor (plums, blackberry and a number of interesting spices) with often a mouth feel like velvet – anchored by supple tannins. The 2013 Corison Kronos Vineyard Cabernet Sauvignon offers intriguing aromatics including black currant, blackberry, bittersweet chocolate, menthol and a floral note. Quickly noticeable is the mouthwatering acidity with flavors of raspberry, red currant, red cherry and perhaps a hint of red licorice. Features a tight grip of tannins still (our tasting was 6 years after the vintage date) and a tartness of red fruit that lingers. This wine has many years ahead of it.
The 2007 Corison Cabernet Sauvignon Rosé was made using the French saignée method in which juice is "bled" out of the red wine during an early stage in fermentation (rather than merely letting the juice sit on the skins for a set amount of time). This pale salmon colored wine has mild flavors of wild strawberry and peach. An ideal patio and pool sipper.
The Napa Cabernet Sauvignon is by far their most produced wine; we originally tried the 2004 vintage. This is a wine that is sourced from multiple vineyards and best represents the varietal characteristics of Cabernet Sauvignon. Soft tannins anchor a juicy mouthwatering palate with plum, cherry and even some spicy notes towards the finish.
—
The image on the Corison labels blends in very well with the overall design; but deserves a close look for its significance. An expedition in what is today Iraq uncovered vases some 7,000 years old. During further testing of the vases, traces of tartaric acid/crystals were discovered lining the interior walls. This was evidence for some of the earliest winemaking on the planet: also reference the countries of Georgia, Iran, Armenia and China for other early winemaking heritage. Symbols on the vases represented rain and seeds and these are the images that appear on all bottles of Corison's wine.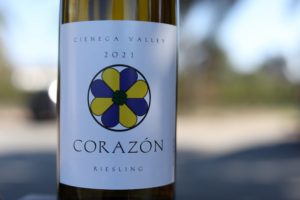 All visits require appointments – at the time of our most recent visit and update they offer two experiences; the Corison Library Experience (showcases both current releases as well as at least one older wine) and the Collector's Vertical Experience for serious Cabernet Sauvignon enthusiasts – offering a rare chance to taste older Corison vintages (some nearly 30 years old).
Not many wineries have previous vintages available for sale and visitors can choose from a number of older vintages especially in the larger format bottles. Making these older vintages available for consumers is a great opportunity to see how well the Corison wines will age.
Weather permitting, guests will walk through the back of the winery and visit part of the Kronos Vineyard followed by a seated tasting among the wine barrels or tanks within the winery. Tastings may also be held at one of several picnic tables located on the outside of the winery.
In 2023, Corison was named one of the Top 100 wineries in the world by Wine & Spirits Magazine. Total production each year varies but is usually around 2,500 cases. For more information, to join the mailing list for one of Corison's Collector Clubs, or to schedule an appointment, visit: www.corison.com
Winery

Kronos Vineyard

Sunbasket Vineyard
Photos coming at some point.