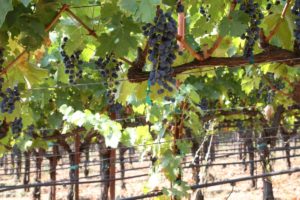 COHO Wines was founded by Gary Lipp (who we originally met with) and Brooks Painter both of whom are Napa wine industry veterans. Brooks was the founding winemaker and made all vintages until 2014, when he sold his share of the business and is no longer involved with COHO. Gary handles the business side of the operations. Gary has been involved with Napa winemaking since the early 1980's and over the years, has built a formidable resume in the wine business. He began his career working in the cellar at Heitz Cellars and then moved on to Robert Mondavi Winery where his career path moved out of the cellar and into sales (he was Mondavi's first Export Manager and lived in London for 5 years).
Brooks has made wine for over 30 years and is currently the director of wine making at both V. Sattui and Castello di Amorosa. He's a busy guy as both these wineries are well visited and have decent sized productions. He has also worked at Robert Mondavi and Stag's Leap Wine Cellars. Today, long time Napa veteran, Phillip Corallo-Titus oversees the winemaking for COHO.
COHO's specialty is cool weather vineyards and as a result they source fruit from Carneros and parts of the Coombsville area just east of the town of Napa as well as the Russian River area in neighboring Sonoma County. They find their inspiration from old world wines, namely wines coming from often cooler regions such as Burgundy, Bordeaux, and Alsace in France.
You may be wondering about COHO as a name, as it might appear COHO would be the initials of the owners names however in this case it is refreshingly a tribute to a species of Salmon (often referred to as 'silvers' by fisherman). You will see this Salmon theme carried out throughout their labels and marketing materials. This name stems from a Celtic legend regarding the first person to catch and eat salmon and from that meal poetry was born. It is also a poignant tribute to the difficult journey the spawning salmon make and how winemakers in their own way must farm sustainably.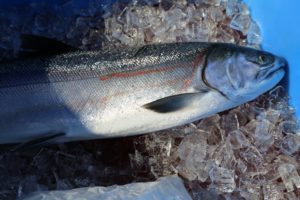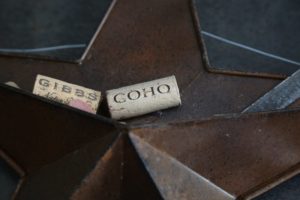 Speaking of difficult journeys, their first vintages were all but destroyed in the now infamous wine warehouse fire & disaster in Vallejo in 2005. A number of wineries were affected by this fire, but this disaster was most difficult on new winery's who were not yet well establised. We've visited several Napa wineries that were "new" during the time of this warehouse fire; they all lost their entire supply of wine but somehow bounced back. One vintner even made Marinade out of her boiled wine. 2002 was COHO's first release.
The Headwaters 2005 Merlot is primarily sourced from the Michael Black Vineyard in the Coombsville area (named after the viticulturist and vineyard owner). This is an unbelievably rocky vineyard with large boulders sitting right among the vineyards (poses problems for tractors). However, one puts up with these large rocks when the quality of fruit is top notch. This is a rich Merlot, with great color and a velvety mouth feel. Baking spices on the finish include hints of cinnamon. COHO has made wine from this vineyard for a number of years and continues to each vintage.
The 2005 Summit Vine Ranch Cabernet Sauvignon is still a young wine however it is full bodied, with a healthy tannin structure anchoring the finish. Grapes for this wine are from a hillside vineyard located at about 1800 feet in the Diamond Mountain appellation. COHO tends to lock up vineyard contracts so that each year they can continue to use fruit from these vineyards – and most variations in the wine would be due to the vintage rather than the vineyard.
The 2013 Headwaters is 87% Cabernet Sauvignon, 11% Merlot and 2% Petite Verdot. Dark ruby in the glass the bouquet is quite discernible offering earthy aromas, mushroom notes, black pepper and dark chocolate – it is meaty and savory on the bouquet – similar to the aromas we have noticed on a number of Syrah wines over the years. Mostly darker fruit shows on the palate including plum and black cherry. Hints of mocha along with cedar linger and darker spices show on the finish. One of the most pleasing aspects of this wine are the tannins – rounded but noticeable they complement rather then are gripping on the finish.
COHO also makes excellent Pinot Noir from both Sonoma and Napa.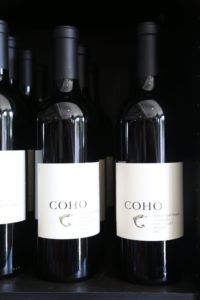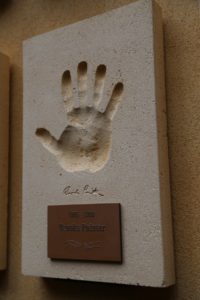 For a short time, COHO was one of up to eighteen vintners featured in The Studio by Feast it Forward (opened in June 2018). This showroom is located directly across from the Oxbow Public Market in downtown Napa and packs numerous experiences into a small space. This two story building houses an "experiential showroom", as founder Katie Hamilton Shaffer calls it – with a focus on wine, food and music.
Each vintner represented offers several wines – several of the showroom's sponsors have prominent placement including guitars from Gibson Brands, Inc. and furniture from Crosley. A Chocolate tasting is also offered oddly enough sponsored by Sherman Williams and a vinyl station if offered for playing a variety of old records. Upstairs features a demo kitchen – when shows are being filmed here, televisions downstairs broadcast the live feed. This kitchen can also be used for guest chefs to offer culinary classes.
And visitor's will want to stop by their bathroom – a television embedded in a mirror plays Feast it Forward culinary shows. The site can be used for a number of events – they have plenty of space in the back of the building. The Ultimate Airstream Film Lounge trailer is often be parked in the back – they use this trailer when they are on the road hosting unique lifestyle events and it also serves for private tastings on site or for special events. One such event at the showroom might be the "Terrible Tuesdays" in which bad films with cult like followings are shown.
The second floor has a sizable surround building deck – and features a swinging 'bed'. This is an ideal perch to watch passerbys going to Oxbow Public Market or those enjoying the park next to the Napa River. These are also some of the best seats in the area to watch live performances overlooking the nearby green.
Today COHO uses space at a local wine shop to host tastings. For more information, to join their mailing list or to request a tasting, please visit: www.cohowines.com