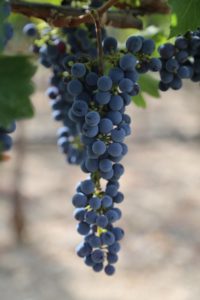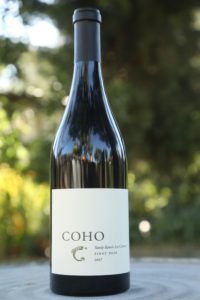 COHO Wines was founded by Gary Lipp (who we originally met at a trade tasting and followed up with for a private tasting 15 years later) and Brooks Painter both of whom are Napa wine industry veterans. The first vintage of COHO was in 2002 two bottlings of Pinot Noir, one from Stanly Ranch on the Napa side of Carneros and from the Del Rio Vineyard in the Russian River Valley (previously owned by Martini Winery but now owned by Gallo). Brooks was COHO's founding winemaker; he has made wine for over 30 years and is currently the director of wine making at both V. Sattui and Castello di Amorosa. He's a busy guy as both those wineries are well visited and have decent sized productions. Brooks made all vintages of COHO until 2014, when he sold his share of the business to Gary. Brooks is no longer involved with COHO.
Gary is originally from Cleveland, Ohio and first became interested in wine while living the life of a 'ski bum' in Steamboat Springs Colorado. He spent five years living there, sking during the days and working in various restaurants at night. With his curiosity piqued he began to read as many wine related books as he could. After the 1976 ski season he moved back to Cleveland where a select few restaurants were just beginning to focus on California wines. While working for one of these restaurants he remembers enjoying wines from Clos du Val and Robert Mondavi reserve bottlings in the back of the restaurant after his shift had finished.
His first visit to Napa Valley was because of a trip to Marin County to be the best man for his friend from Steamboat Springs. This was in August of 1981; he had already written about ten wineries asking for a job but only a few replied. One was Robert Mondavi who wasn't able to give him a job in the cellar but mentioned they might have a tour guide job available but not until Spring 1982. He moved on and visited Freemark Abbey but they also didn't have anything for him. His third stop was to visit Heitz Cellar on Taplin Road. He met directly with Joe Heitz who informed him that one of his cellar workers had just left and he needed a quick replacement. He asked Gary if he could start tomorrow. Gary's reply was "can I have tomorrow off and start the next day? Joe agreed – when he found out Gary and his wife were just visiting the valley and had not yet moved to the region, he and Alice offered their own house as accommodation. Gary lived with Joe and Alice for about 2 months in their house (still located on the Heitz Cellar property).
During that time Joe and Alice had to leave for a trip and they left him the key to their cellar with the instructions to be a bit judicious in any bottles he wanted to open. At one point during his time working at Heitz Cellar Joe and Alice hosted a wine writer from New York who claimed that California wines do not age well. So the Heitz's opened up some real special bottles including some Heitz Cellar Cabernet Sauvignon from 1968 and 1969, a 1941 and 1945 Georges de Latour Private Reserve private reserve bottlings. These wines proved that Napa Valley wines from that era did in fact age wonderfully. Later Joe asked Gary to prepare Port tongs to open a special bottle of Port wine. At this point in his career, Gary had no idea what port tongs were and of there use. Somehow with some instructions from Joe he figured out how to use them on the fly and successfully opened an 1819 bottle of Madeira.
Since his time working at Heitz Cellar, Gary has built a formidable resume working with some of the most iconic wine individuals in Napa and Sonoma. In 1982 he began work at Robert Mondavi Winery where his career path moved out of the cellar and into sales for the first time in his young career; he was Mondavi's first Export Manager and lived in London for 5 years. Later he was President of Chalone Wine Estates, worked for Jess Jackson and then Paul Hobbs. While at a spin class in Napa, Gary met Steve Tamburelli who at the time was General Manager for Chappellet Winery; this led to a job overseeing their direct to consumer sales. While at Chappellet he met long time Napa Valley vintner, Phillip Corallo-Titus who oversees the winemaking for COHO.
COHO produces balanced, approachable and food friendly wines from cooler climate vineyard sites, primarily located in the southern parts of Napa Valley including from Carneros and parts of Coombsville as well as the Russian River in neighboring Sonoma County. Their wines are inspired by old world bottlings, namely wines coming from often cooler regions such as Burgundy, Bordeaux, and Alsace in France. In the cellar they use a judicious amount of oak and limit post alcoholic fermentation maceration to shorter windows of time.
You may be wondering about the name COHO; it might appear as if COHO would be the initials of the owners names however in this case it is refreshingly a tribute to a species of salmon (often referred to as 'silvers' by fisherman). This salmon theme is used throughout their labels and marketing materials. COHO originates from a Celtic legend regarding the first person to catch and eat salmon and from that meal, poetry was born. It is also a poignant tribute to the difficult journey spawning salmon make.
Select Wines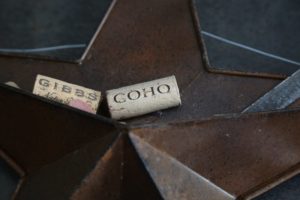 The source for their Napa Valley, Pinot Noir, the original Stanly Ranch on the Napa side of the Carneros sub appellation was founded in 1856 by Edward Stanly – a lawyer from San Francisco. The original size of the ranch was over 2,200 acres. The land was passed on to successive generations. A winery operated on the property until prohibition in 1919 and the family continued running the ranch until it started being parceled and sold to outside individuals in the 1930s and 1940s. In addition to being home for some of Napa's early grapevines the Stanly Ranch was also the site for both Pinot Noir and Chardonnay clonal trials – conducted by Louis Martini, the Wente Family and UC Davis in the 1950s.
COHO has been producing wines from this historic ranch since 2002. And until the 2007 vintage, had access to the oldest block of Pinot Noir, remarkably dating from around 1970 which certainly was some of the oldest Pinot Noir vines still producing in all of Napa Valley at that time. Unfortunately this small section of the vineyard has since been replanted to newer vines. The Haynes Vineyard in Coombsville had Pinot Noir dating from the late 1960s but like the old vines at Stanly Ranch these old vines have also since been removed.
COHO currently sources three different Pinot Noir clones (115, 667 and 777) from three different blocks on Stanly Ranch. The 2018 COHO Carneros Pinot Noir, Stanly Ranch offers a pleasing balanced between a Pinot Noir that shows more earthy notes versus a bottling that is more fruit forward. And we have had both styles from Carneros grown Pinot Noir. The bouquet offers aromas of raspberry, red cherry and darker baking spices. The palate shows notes of red plum, licorice, dried herbs, rhubarb and a rose stem like note on the finish. The fruit is bright and rich, yet well-balanced.
The 2017 COHO Carneros Pinot Noir, Stanly Ranch (a blend of three Dijon clones, 115, 667 and 777) is medium ruby in color; the aromatics are savory like the previous vintage although perhaps slightly less so. Offers aromas of mushroom, dried herbs, red licorice, sweaty leather along with a very pronounced meatiness. Looking for an elegant higher toned fruit forward bouquet, look elsewhere. This wine is very flavorful across the palate showing red berry fruits, iron, mineralities and plum. The tannins are very gentle and linger with flavors of raspberry and red cherry.
The 2016 COHO Carneros Pinot Noir Stanly Ranch, simply put, smells delicious. The bouquet immediately offers a melange of intensely aromatic fruit, darker baking spices and some savory characteristics. Shows notes of dried herbs, cedar, white pepper and hints of bacon fat. On the palate offers darker cherry, raspberry and blackberry. Earthy noticeable tannins (but not grippy) linger along with notes of toasted cedar and pepper. The oak presence is noticeable on both the aromatics and palate. This is a fairly rich Pinot Noir.
The first vintages of COHO were destroyed in the now infamous wine warehouse fire in Vallejo in 2005. A number of wineries were affected by this fire, but it was most difficult on new wineries who were not yet well established. We've visited several Napa Valley based wineries that were "new" during the time of this warehouse fire; they all lost their entire bottled wine production but most somehow bounced back. One vintner even made marinade out of her boiled wine. For an in depth look at this warehouse fire, read Frances Dinkelspiel's Tangled Vines: Greed, Murder, Obsession, and an Arsonist in the Vineyards of California.
When vintners in Napa Valley go through difficulties, they support each other. After the fire, two vintners in particular simply gave Gary and Brooks grapes gratis including Ernie Weir of Hagafen Vineyard and Paul Maroon of Maroon Vineyards. It was through their generosity along with some other purchased grapes that COHO produced their first vintage of Headwaters.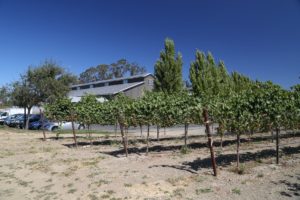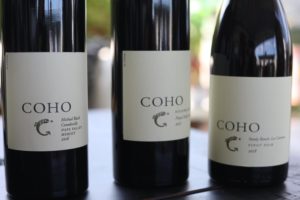 The 2013 COHO Headwaters is 87% Cabernet Sauvignon, 11% Merlot and 2% Petite Verdot. Dark ruby in the glass the bouquet is quite discernible offering earthy aromas, mushroom notes, black pepper and dark chocolate; it is meaty and savory on the bouquet similar to aromas we have noticed on a number of Syrah wines over the years. Mostly darker fruit shows on the palate including plum and black cherry. Hints of mocha along with cedar and darker spices linger on the finish. One of the most pleasing aspects of this wine are the tannins; they are rounded but noticeable and complement the finish rather then being overly gripping.
The 2017 COHO Headwaters is a Merlot and Cabernet Sauvignon driven wine with 39% Merlot, 37% Cabernet Sauvignon and 24% Petit Verdot. The bouquet offers aromas ripe blackberry, dark fig and black cherry along with dried herbs and light touches of old cedar box found deeper in the aromatics. Noticeable on the finish are the softness of very well-integrated and rounded tannins. This wine showed very nicely at the time of our tasting; it is approachable with great acidity and lingering flavors of red cherry and currant. Simply put, this wine is a crowd pleaser.
The COHO Headwaters 2005 Merlot was primarily sourced from the Michael Black Vineyard in the Coombsville area (named after the viticulturist and vineyard owner). This is an unbelievably rocky vineyard with large boulders sitting right among the vineyards (poses problems for tractors). However, one puts up with these large rocks when the quality of fruit is top notch. This is a rich Merlot, with dark color and a velvety mouth feel. Baking spices showing on the finish include hints of cinnamon.
From 2004 until 2016 COHO produced a Michael Black vineyard designated Merlot and was one of the wines that COHO certain became known for among its circles of customers. Michael was a native Napan who had a construction business (he remodeled the building that houses Vintner's Collective three time in his career) but was also deeply involved in viticulture. According to Gary he created his own clone of Merlot (the Black clone) with small cluster and berry sizes and a high skin to juice ratio. He planted the Black clone of Merlot on his property in Coombsville in the late 1980s and harvested his first crop in 1991. He sold the grapes to Bob Long (Long Vineyards on Pritchard Hill and also to Paul Hobbs). In 1994 after he stopped selling the fruit to Hobbs, Michael approached Gary and asked him what he thought of selling the grapes to Pahlmeyer. Gary said the grapes would probably be lost in some sort of blend rather than a vineyard designate. He then told Gary and he and a partner had recently started a small brand (COHO) and asked Michael if he would consider selling them his grapes (after dropping off two bottles of COHO Pinot Noir to let Michael taste the quality of wines they had already produced.
Michael passed away in 2015 and after 2016 the grapes from this vineyard were no longer available. The 2016 COHO Michael Black Coombsville Napa Valley Merlot is dark ruby in color with appealing aromatics that show as somewhat brambly. This wine continues to open and show more fruit as it breathes. The texture is noticeably soft with light and loosely woven tannins anchoring a bright finish. It also lingers with a note of dried tobacco leaf.
The 2016 COHO Napa Valley Cabernet Sauvignon is 94% Cabernet Sauvignon sourced from Sugarloaf Vineyard in south Napa and 4% Petit Verdot from the small Chinn Vineyard in Coombsville. This wine is dark ruby with purplish tinges on the rim in the glass; the bouquet offers dark plum, blackberry, bluberry, leather and licorice with additional aromatics of dark chocolate as the wine breathes further. The aromas are layered and alluring. This is a complex wine across the palate and features more dark fruits rather than red fruits. The finish offers excellent acidity, shows as somewhat savory and is anchored by gravelly, dusty and dark tannins.
In a break from cooler vineyard sites, for about 10 years COHO sourced grapes from the 1800 foot elevation Summit Vine Ranch located on the upper slopes of Diamond Mountain (near what is now Diamond Mountain Vineyards). The 2005 COHO Summit Vine Ranch Cabernet Sauvignon was still a young wine at the time of our tasting, however it is full bodied, with an ample tannin structure anchoring the finish. Grapes for this wine were sourced from a hillside vineyard located at about 1800 feet in the Diamond Mountain appellation.
COHO sources grapes by working with long-term vineyard contracts so that each year they can continue to use fruit from the same vineyards. As a result, variations in the wines are primarily due to the vintage rather than changing vineyards or winemaking practices. While no longer being produced, from 2014 through 2016, Gary crafted a second label called Old Poodle Dog. During its short production it built up a rather strong following among wine lovers/poodle dog owners.
Studio by Feast it Forward Napa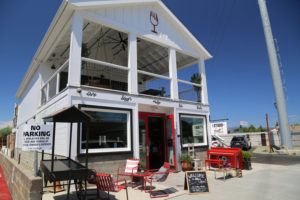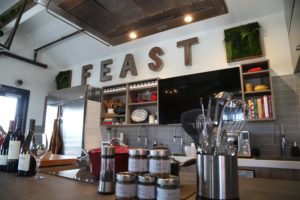 Select COHO wines are available for tasting or purchase at the Feast it Forward tasting room in downtown Napa. A private tasting can also be arranged by appointment, with Gary.
The studio is located directly across from the Oxbow Public Market in downtown Napa and packs numerous experiences into a small space. This two story building houses an "experiential showroom", as founder Katie Hamilton Shaffer calls it – with a focus on wine, food and music. Each vintner represented offers several wines and several of the showroom's sponsors have prominent placement including guitars from Gibson Brands, Inc. and furniture from Crosley. A chocolate tasting is also offered oddly enough sponsored by Sherman Williams and a vinyl station if offered for playing a variety of old records. Upstairs features a demonstration kitchen; when shows are being filmed here, televisions downstairs broadcast the live feed. This kitchen can also be used for guest chefs to offer culinary classes.
And visitor's will want to stop by their bathroom to read the latest in all the graffiti and words of wisdom that visitors mark on the walls. The site can be used for a number of events including the availability of plenty of space in the back of the building. The Yard is a sizable outdoor space featuring several stages, cute places to taste wines, a lemonade stand, a place for food trucks and a comfortable fake lawn. The Ultimate Airstream Film Lounge trailer is often be parked in The Yard; this trailer is used when the Feast it Forward team is on the road hosting unique lifestyle events and it also serves for private tastings on site or for special events. One such event at the showroom has included "Terrible Tuesdays" in which bad films with cult like followings are shown.
The second floor features a sizable surround building deck and a swinging 'bed'. This is an ideal perch to watch pedestrians walking to Oxbow Public Market or those enjoying the park next to the Napa River. These are also some of the best seats in the area to watch live performances at the nearby green. And the interior features a full kitchen used for various culinary TV shows.
—
Total production each year is around 3,000 cases. For more information, to join their mailing list or to request a tasting, please visit with Gary: www.cohowines.com