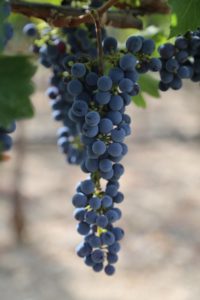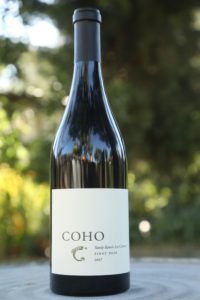 COHO Wines was founded by Gary Lipp (who we originally met at a trade tasting) and Brooks Painter both of whom are Napa wine industry veterans. The first vintage of COHO was in 2002. Brooks was the founding winemaker and made all vintages until 2014, when he sold his share of the business and is no longer involved with COHO. Gary handles the business side of the operations. Gary first became interested in wine while working in restaurants and wine shops during the 1970s (he is originally from Cleveland). He has been involved with Napa Valley winemaking since the early 1980's and over the years, has built a formidable resume. He began his career working in the cellar with Joe Heitz at Heitz Cellars and then moved on to Robert Mondavi Winery where his career path moved out of the cellar and into sales (he was Mondavi's first Export Manager and lived in London for 5 years). Gary also worked for Chappellet Winery.
Brooks has made wine for over 30 years and is currently the director of wine making at both V. Sattui and Castello di Amorosa. He's a busy guy as both those wineries are well visited and have decent sized productions. He has also worked at Robert Mondavi and Stag's Leap Wine Cellars. Today, long time Napa Valley vintner, Phillip Corallo-Titus oversees the winemaking for COHO.
COHO's specialty is producing balanced wines from cooler climate vineyard sites; they source fruit from Carneros and parts of the Coombsville area just east of the town of Napa as well as the Russian River area in neighboring Sonoma County. Their wines are inspired by old world wines, namely wines coming from often cooler regions such as Burgundy, Bordeaux, and Alsace in France.
You may be wondering about the name COHO – as it might appear COHO would be the initials of the owners names however in this case it is refreshingly a tribute to a species of salmon (often referred to as 'silvers' by fisherman). This salmon theme is used throughout their labels and marketing materials. COHO originates from a Celtic legend regarding the first person to catch and eat salmon – and from that meal, poetry was born. It is also a poignant tribute to the difficult journey spawning salmon make.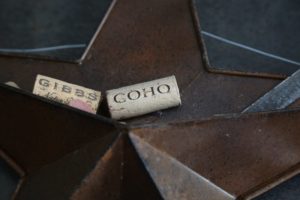 Speaking of difficult journeys, the first vintages of COHO were all but destroyed in the now infamous wine warehouse fire & disaster in Vallejo in 2005. A number of wineries were affected by this fire, but it was most difficult on new wineries who were not yet well established.
We've visited several Napa Valley based wineries that were "new" during the time of this warehouse fire; they all lost their entire supply of wine but most somehow bounced back. One vintner even made Marinade out of her boiled wine. For more information about this event, read Frances Dinkelspiel's Tangled Vines.
Select Wines
The Headwaters 2005 Merlot is primarily sourced from the Michael Black Vineyard in the Coombsville area (named after the viticulturist and vineyard owner). This is an unbelievably rocky vineyard with large boulders sitting right among the vineyards (poses problems for tractors). However, one puts up with these large rocks when the quality of fruit is top notch. This is a rich Merlot, with dark color and a velvety mouth feel. Baking spices on the finish include hints of cinnamon. COHO has made wine from this vineyard for a number of years and continues to each vintage.
The 2005 Summit Vine Ranch Cabernet Sauvignon was still a young wine at the time of our tasting, however it is full bodied, with an ample tannin structure anchoring the finish. Grapes for this wine were sourced from a hillside vineyard located at about 1800 feet in the Diamond Mountain appellation.
The 2013 Headwaters is 87% Cabernet Sauvignon, 11% Merlot and 2% Petite Verdot. Dark ruby in the glass the bouquet is quite discernible offering earthy aromas, mushroom notes, black pepper and dark chocolate – it is meaty and savory on the bouquet – similar to the aromas we have noticed on a number of Syrah wines over the years. Mostly darker fruit shows on the palate including plum and black cherry. Hints of mocha along with cedar linger and darker spices show on the finish. One of the most pleasing aspects of this wine are the tannins – rounded but noticeable they complement rather then are gripping on the finish.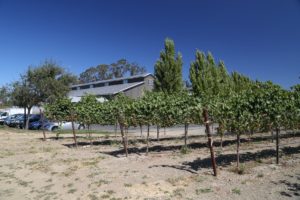 COHO also makes excellent Pinot Noir from both Sonoma and Napa.
The source for their Napa Valley, Pinot Noir, the original Stanly Ranch on the Napa side of the Carneros sub appellation was founded in 1856 by Edward Stanly – a lawyer from San Francisco. The original size of the ranch was over 2,200 acres. The land was passed on to successive generations. A winery operated on the property until prohibition in 1919 – the family continued running the ranch until it started being parceled and sold to outside individuals in the 1930's and 1940's. In addition to being home for some of Napa's early grapevines the Stanly Ranch was also the site for both Pinot Noir and Chardonnay clonal trials – conducted by Louis Martini, the Wente Family and UC Davis in the 1950's.
COHO has been producing wines from this historic ranch since 2002. And they have access to the oldest block of Pinot Noir, remarkably dating from around 1970 (certainly some of the oldest Pinot Noir vines still producing in all of the Napa Valley. In Napa, we know of only the Haynes Vineyard in Coombsville as having slightly older plantings of this variety and perhaps School House Vineyard on Spring Mountain.
The 2016 COHO Carneros Pinot Noir Stanly Ranch, simply put, smells delicious. The bouquet immediately offers a melange of intensely aromatic fruit, darker baking spices and some savory characteristics. Shows notes of dried herbs, cedar, white pepper and hints of bacon fat. On the palate offers darker cherry, raspberry and blackberry. Earthy noticeable tannins (but not grippy) linger along with notes of toasted cedar and pepper. The oak presence is noticeable on both the aromatics and palate. This is a fairly rich Pinot Noir.
The 2017 COHO Carneros Pinot Noir, Stanly Ranch (a blend of three Dijon clones, 115, 667 and 777) is medium ruby in color; the aromatics are savory like the previous vintage although perhaps slightly less so. Offers aromas of mushroom, dried herbs, red licorice, sweaty leather along with a very pronounced meatiness. Looking for an elegant higher toned fruit forward bouquet, look elsewhere. Very flavorful across the palate showing red berry fruits, iron, mineralities and plum. The tannins are very gentle and linger with flavors of raspberry and red cherry.
COHO tends to lock up vineyard contracts so that each year they can continue to use fruit from the same vineyards – and most variations in the wines are due to the vintage rather than changing vineyards or winemaking practices.
—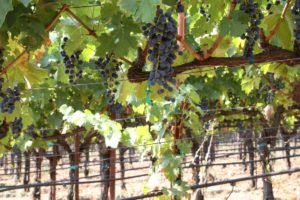 For a short while, COHO was one of up to eighteen vintners featured in The Studio by Feast it Forward (opened in June 2018). This showroom is located directly across from the Oxbow Public Market in downtown Napa and packs numerous experiences into a small space. This two story building houses an "experiential showroom", as founder Katie Hamilton Shaffer calls it – with a focus on wine, food and music.
While no longer represented at Feast it Forward, COHO uses space (availability and schedules permitting) at a local wine shop to host tastings. Total production each year is around 3,000 cases. For more information, to join their mailing list or to request a tasting, please visit with Gary: www.cohowines.com
NOTE: this is one of the earlier reviews on this site: we originally met Gary at a trade tasting in San Francisco many years ago. Of the 1100+ Napa Valley based wineries or producers we have visited or met with and reviewed on this site, this is one of the last two reviews originally written based on attending a tasting (albeit updated numerous times over the years). This review has been identified as needing an update.