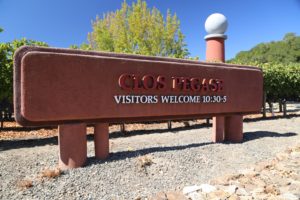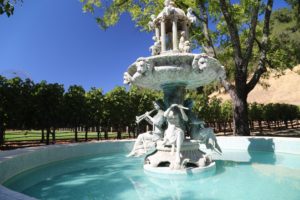 Clos Pegase is a very contemporary looking winery despite being over 30 years old, is often called the Napa Wine Temple due to its Greek styled architecture and several statues of Bacchus which used to be prominently displaced on the grounds. Clos Pegase is located in the northern part of the valley on Dunaweal Lane just down from the Silverado Trail. We first visited this winery 20+ years ago when it opened in 1987; it was such an ultra modern looking winery which really stood out so that when it first opened it received much publicity.
Founder, Jan Shrem was born in Columbia, and spent most of his youth either there or in Jerusalem. Over the years, he built a hugely successful publishing business in Japan and during this time married a Japanese woman named Mitsuko (and were married for 41 years before she passed on). She introduced Jan to the art of wine and after 25 years in the publishing business Jan entered the enology program at the University of Bordeaux in France. Eventually he moved to Napa and enlisted the help of famed winemaker, Andre Tchelistcheff. 50 acres in the Napa area quickly turned into 450 acres.
Clos means "enclosed vineyard" in French and this winery is a blend between open space, an interior courtyard and the nicely landscaped gardens. It is a uniquely designed complex which can be popular with larger group tours. Note the similar looking architecture of the house on top of the hill next to the winery – Jan and Mitsuko used to live here and it was designed by the same architect.
The winery and on site vineyards (four acres of Cabernet Sauvignon) were sold in 2013 to prominent Napa vintner Leslie Rudd and the wine group, Vintage Wine Estates (owners of several Napa and Sonoma wineries).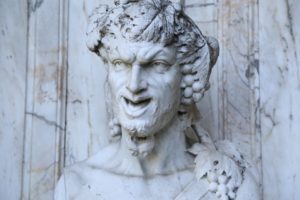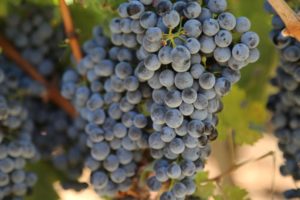 Clos Pegase owns four vineyards in the Napa Valley, the small vineyard on site, a vineyard almost across the street and slightly south of the winery, 40 acres to the northeast of the winery, and their largest holding, Mitsuko's Vineyard, 365 acres in the Napa Carneros (next to Carneros Creek).
The grounds are beautiful and well landscaped especially the large cypress lined inner courtyard. For many years various statues graced the property, some were quite bizarre like the one of a thumb sitting next the grape rows (this was probably their most photographed piece!). One of the few pieces of art on the grounds left from prior ownership is a marble statue of the god Bacchus and the impressive Torino Royal Bacchus fountain made from Carrara marble – this used to be owned by Italian royalty and dates from the 17th century – perhaps it is the oldest fountain at a Napa winery. It was a gift to Jan from Mitsuko. And what became an iconic piece in their collection, the Hanging by a Thread – is a massive looking ball that still hangs from what appears to be frayed threads in a side room next to their original tasting room.
However nearly all the artwork that was on display has been donated to the Manetti Shrem Museum of Art at the University of California Davis (Jan provide significant financial support for this museum).
Tours are offered daily at 11am and 3:00pm daily, which includes a tasting of several of their current release wines. The tour lasts about 45 minutes and as with most tours asking a bunch of questions helps liven things up for the audience as well as the tour guide who gives the same tour every day. The tour starts with an explanation of how to properly pronounce the name of the winery (no French accents needed) and then proceeds to through their Heritage Garden.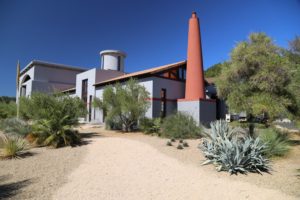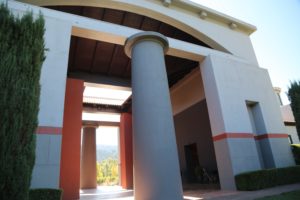 Tours include a visit through the "functional" part of the winery including the crush pad with a quick overview of their bladder and basket presses. Next you walk through the 20,000 square foot caves with the highlight being the sit down room Cave Theatre. A number of marble sculptures are nestled in various grottos within the cave. One of the cave portals exits the hillside on the Dunaweal Lane side and if you know where to look as you drive by you can spot it.
Clos Pegase offers a variety of tasting experiences including their walk in Daily Flight (held in their main tasting room featuring a welcome wine and several of their current releases, usually two whites and a two reds), the Garden Flight – includes several current releases with a self guided tour of their Heritage Garden and for a more in depth experience, the Connoisseur Cave Tour & tasting in which guests are on a guided tour, learning about the Clos Pegase history along with tasting current wines and a charcuterie pairing.
In mid 2017 Clos Pegase moved their long time tasting room to a room near the main entrance. The focus now is not tasting wines at the bar, but rather a more personalized and relaxed experience – with tastings held at tables, either indoors or weather permitting, outdoors. Their primary tasting room (with the bar) is used for larger groups (all appointment only).
And Girard Winery, located on the opposite side of Dunaweal Lane is also owned by Vintage Wine Estates.
For more information and to join their wine club, visit: www.clospegase.com
Note: This review has been identified as needing a major update.
Winery & Grounds

Manetti Shrem Art Museum, UC Davis