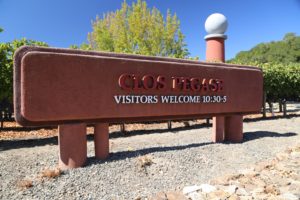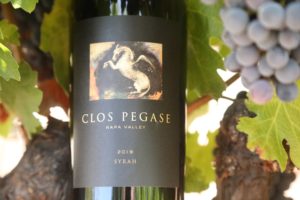 Clos Pegase is a very contemporary looking winery despite being over 30 years old, is often called the Napa Wine Temple due to its Greek styled architecture and several statues of Bacchus which used to be prominently placed on the grounds. Clos Pegase is located in the northern part of the valley on Dunaweal Lane just down from the Silverado Trail. We first visited this winery 30+ years ago when it opened in 1987; it was such an ultra-modern looking winery which really stood out so that when it first opened it received much publicity. This may have been the first ever Napa Valley winery we visited. Their first vintage was actually produced at Rombauer Vineyards prior to the Clos Pegase winery being built.
Founder, Jan Shrem was born in Columbia, and spent most of his youth either there or in Jerusalem. Over the years, he built a hugely successful publishing business in Japan and during this time married a Japanese woman named Mitsuko (and were married for 41 years before she died in 2010 – we were fortunate to have met her before she passed). She introduced Jan to the art of wine (one of her many hobbies was working with ceramics) and after 25 years in the publishing business Jan entered the enology program at the University of Bordeaux in France. Eventually he moved to Napa and enlisted the help of famed winemaker, André Tchelistcheff. 50 acres in Napa Valley quickly turned into 450 acres.
Clos means "enclosed vineyard" in French and this winery is a blend between open space, an interior courtyard and the nicely landscaped gardens. It is a uniquely designed complex which can be popular with larger group tours. Note the similar looking architecture of the house on top of the hill next to the winery – Jan and Mitsuko used to live here and it was designed by the same architect.
The winery and on-site vineyards (four acres of Cabernet Sauvignon) were sold in 2013 to prominent Napa vintner Leslie Rudd, founding partner Pat Roney and the wine group, Vintage Wine Estates. The company is headquartered in Santa Rosa, Ca and are owners of numerous wineries and wine brands – with a focus in both Napa and Sonoma but also other locations within California, Oregon, Washington and Argentina. Vintage Wine Estates went public in mid 2021 and is traded on the NASDAQ under the symbol, VWE.
Clos Pegase has employed a remarkable number of winemakers or consulting winemakers over the years (many of whom have had successful careers at other wineries including Chris Howell and Paul Hobbs).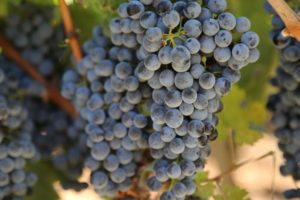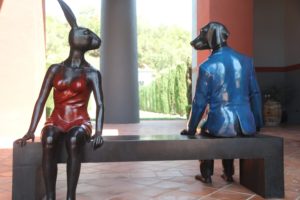 Clos Pegase owns two vineyards in the Napa Valley, the small vineyard on site, a vineyard almost across the street and slightly south of the winery and 40 acres to the northeast of the winery. What was their largest holding, Mitsuko's Vineyard, is 365 acres in the Napa Carneros (next to Carneros Creek) and in 2019 was sold to Gladstone Land Corporation – despite the sale, Clos Pegase will continue farming these vines and using the grapes.
The grounds are beautiful and well landscaped especially the large cypress lined inner courtyard. For many years various statues graced the property, some were quite bizarre like the one of a thumb sitting next the grape rows (this was probably their most photographed piece!). One of the few pieces of art on the grounds left from prior ownership is a marble statue of the god Bacchus and the impressive Torino Royal Bacchus fountain made from Carrara marble – this used to be owned by Italian royalty and dates from the 17th century – perhaps it is the oldest fountain at a Napa winery. It was a gift to Jan from Mitsuko. And what became an iconic piece in their collection, the Hanging by a Thread – is a massive looking ball that still hangs from what appears to be frayed threads in a side room next to their original tasting room.
However nearly all the artwork that was on display has been donated to the Manetti Shrem Museum of Art at the University of California Davis.
Tours are offered daily at 11am and 3:00pm daily, which includes a tasting of several of their current release wines. The tour lasts about 45 minutes and as with most tours asking a bunch of questions helps liven things up for the audience as well as the tour guide who gives the same tour every day. The tour starts with an explanation of how to properly pronounce the name of the winery (no French accents needed) and then proceeds to through their Heritage Garden.
Tours include a visit through the "functional" part of the winery including the crush pad with a quick overview of their bladder and basket presses. Next you walk through the 20,000 square foot caves with the highlight being the sit-down room Cave Theatre. A number of marble sculptures are nestled in various grottoes within the cave. One of the cave portals exits the hillside on the Dunaweal Lane side and if you know where to look as you drive by you can spot it.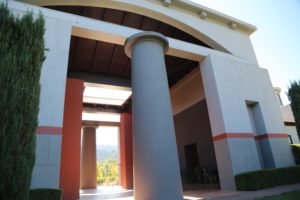 Clos Pegase offers a variety of tasting experiences including their walk in Daily Flight (held in their main tasting room featuring a welcome wine and several of their current releases, usually two whites and a two reds), the Garden Flight – includes several current releases with a self-guided tour of their Heritage Garden and for a more in depth experience, the Connoisseur Cave Tour & tasting in which guests are on a guided tour, learning about the Clos Pegase history along with tasting current wines and a charcuterie pairing.
In mid 2017 Clos Pegase moved their long-time tasting room to a room near the main entrance. The focus now is not tasting wines at the bar, but rather a more personalized and relaxed experience – with tastings held at tables, either indoors or weather permitting, outdoors. Their primary tasting room (with the bar) is used for larger groups (all appointment only).
And of note; part of the Napa Valley Vine Trail runs past the west side of Clos Pegase's property leading to Calistoga. This bike and pedestrian path offer a relaxing respite from driving and passes near several wineries, the Calistoga reclamation plant and through vineyards. Following some of our visits to Clos Pegase, we've taken 15-30 minutes to hike this trail.
Select Wines
The 2017 Clos Pegase Napa Valley Merlot offers powerful fruit focused aromas – intense and ripe yet simultaneously elegant at the same time. Aromas of plum, blackberry along with subtle herbal notes, old cedar box and mocha. A little bit savory, especially as the wine breathes. The bouquet is mostly about the fruit rather than secondary characteristics from oak aging. More red fruits then darker fruits on the palate including red cherry, currant and cranberry. Bright acidity. Medium bodied with assimilated tannins that are fairly seamless. Balanced throughout. A lingering hint of clove shows after the fruit has dissipated on the finish. This wine is enclosed with a Diam 5 high quality processed cork.
The 2017 Clos Pegase Estate Chardonnay, Mitsuko's Vineyard is golden in the glass similar to a ripe pear skin color; offers rich and diverse aromatics including initially a flinty nuance, opening to yellow pineapple, hints of caramel, ripe peach, kumquat and an orange peel zest. A very pretty bouquet. Rounded and slightly creamy across the palate, this texture is immediately noticeably upon the entry – has some depth and character with flavors of nectarine, cantaloupe and mandarin. Offers depth of flavor complemented with nice acidity. A very balanced showing with a clean finish and long-lasting fruit.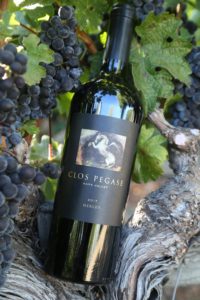 This Chardonnay was fermented using both inoculated and non-inoculated yeasts – fermentation began in tank and then was transferred to barrel to complete. The wine went through full secondary fermentation in barrels – regular battonage helps contribute to the pleasing mouth feel.
The 2018 Close Pegase Estate Grown Pinot Noir, Mitsuko's Vineyard Carneros is pale ruby in color; the bouquet shows plenty of spice influences – imagine grinding peppercorn on top of toasted cedar. As the bouquet evolves, the spice notes persist but the fruit aromatics become more pronounced. Shows plenty of red fruits on the palate including red cherry, red licorice, rhubarb and cranberry. This wine is very flavorful and has great acid. The fruit is complemented by some darker spice notes which linger on the finish including hints of pepper and some Asian spices. Offers a light but persistent kiss of tannins. If one were to taste this wine blind, perhaps one could tell this is Pinot Noir more from the palate rather than the bouquet.
The 2019 Clos Pegase Napa Valley Syrah, Mitsuko's Vineyard is medium to deep ruby in color; offers dark fruit (blackberry and plum) wrapped in a blanket of cedar box, cardamom, black pepper and milk chocolate. Slightly savory, but not overtly so. Shows plenty of fruit on the palate including spicy plum and a brightness of cherry. The well-integrated tannins linger with dark spicy note. Not grippy nor course, they persist with notes of toasted cedar on the finish and peppercorn. Also, a final lingering note of dried tobacco leaf. The varietal spice of Syrah clearly shows on this wine both on the bouquet and the palate. For such a young wine at the time of our tasting, it is already very approachable.
The Clos Pegase Non-Vintage Portico Napa Valley (tasted in 2021) is made from Petit Sirah grapes. The wine is medium ruby in color; shows powerful aromatics of ripe dark cherry along with a diversity of sweet dessert spice notes including brown sugar, chocolate, mocha, vanilla and Graham Cracker. This wine is extremely sweet which is only slightly tempered by the bright red fruit flavors and acidity. A light creaminess runs the breadth of the palate. Lingers with rich berry driven fruit flavors, slight menthol notes and brown chocolate notes. The light but noticeable tannins are well integrated into the smooth finish (no harshness of tannins nor oak). The Portico is generally bottled every few years in several hundred case increments as needed.
And Girard Winery, located on the opposite side of Dunaweal Lane is also owned by Vintage Wine Estates.
Jan Shrem and Maria Manetti Shrem Museum of Art, UC Davis.
This museum opened in November 2016 and is named after Jan Shrem and his wife Maria Manetti who in 2011 donated $10 million towards funding the museum. Margrit Mondavi also donated $2 million to the museum and in tribute to the Mondavi's, the lobby is named the Robert and Margrit Mondavi Lobby.
The art collection at UC Davis was established in 1964 and today contains more than 5,000 objects with a focus on Old Master Prints, East Asian Prints, Ceramics and art produced by UC Davis Faculty (current and previous) and Alumni. This 50,000 square foot museum is easily seen by drivers usually whizzing by on the next door 80 freeway (but also often stuck in traffic). The museum rotates collections typically every 2-6 months in one of two rooms – often closing for a period of several weeks in between installations. Also, one room contains art from the permanent collection. In 2016, former UC Davis professor and world renown painter, Wayne Thiebaud donated several of his paintings to the museum. Wayne began teaching at UC Davis as an assistant professor in 1960 and continued to teach on campus until 1991. As of 2019 he is 98 years old.
Several outdoor pieces of art are located near or next to the museum including works donated by other Napa Valley based vintners, Donald Hess of Hess Collection and Craig and Kathryn Hall of Hall Wines. Plenty of parking is located on site including a surrounding open-air lot as well as a nearby parking garage. Some 2-hour coin metered spaces are also available. From the southern edge of the parking lot look south at the bank below the railroad tracks during a number of our visits to campus and parking here, we have always seen what look like gophers chirping at each other – sometimes standing vertical in front of large holes dug into the embankment!
Manetti Shrem Art Museum, UC Davis – Exterior

Manetti Shrem Art Museum, UC Davis – Interior

UCSF Jan Shrem and Maria Manetti Shrem Neurology Clinic, San Francisco
This clinic opened in late 2020 inside the Joan and Sanford I. Weill Neurosciences Building (on the first floor). This building is located on the UCSF campus – just south of Oracle Park (home of the San Francisco Giants) and near to Chase Center (home of the Golden State Warriors). Jan and Maria donated $18 million to help fund the clinic which is focused on neurology, neurosurgery and psychiatry.
—
Jan and Maria were married in 2012 (after Jan's wife Mitsuko passed in 2010). Italian born and a native of Florence Maria was involved in the world of fashion for decades including in the 1980s as director of Gucci franchises and later managing distribution for Mark Cross and Fendi. For many years she owned one of the most beautiful private estates in Napa Valley, Villa Mille Rose on Money Road in Oakville (a short drive north of Saddleback Cellars slightly south of the Rutherford appellation). The 60-acre estate produces Olive Oil and balsamic style vinegar. She has long enjoyed wine and was one of the co-founders of what is now Festival Napa Valley, focused on bringing performance arts events to the Napa Valley combined with wine and food.
The Schrem's founded the Manetti Shrem Opera Program at UC Davis which provides a tuition-free summer residency for college students a vocal arts series of concerts and the Manetti Shrem Opera Prize. This program is also associated with the annual Festival de Sole in held in Napa Valley every July.
—
For more information about Clos Pegase and to join their wine club, visit: www.clospegase.com
Estate & Grounds

Cave/Winery

Videos Clos Pegase

Video: Manetti Shrem Art Museum

=