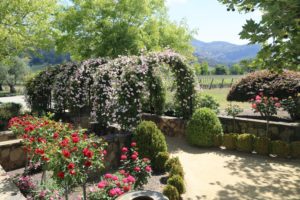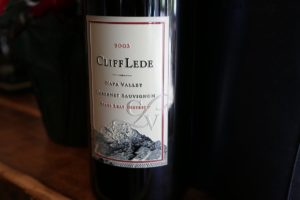 Cliff Lede Vineyards (pronounced "LayDee") was founded in 2002 (used to be S. Anderson Vineyard). Cliff Lede is Canadian (note the Canadian flag also flying in front of this winery) and he helped run one of the world's largest construction companies, Ledcor from Alberta Canada.
This winery is in a gorgeous location off of Yountville Cross Road in the northern part of the famous Stags Leap District. The main hospitality center is not located at the actual winery. The physical state of the art winery sits south west of the tasting room perched on the side of one of the small knolls that rise above the valley floor. A tour once a day is offered in the morning – because the tour is limited to merely 9 people, many of whom come from their Poetry Inn, it is recommended to make tour reservations at least a month in advance.
The tour does not enter the caves but starts in the vineyard, proceeds through the winery and ends in their private tasting room. Picturesque statues, fountains and gardens surround the building. If its a nice day you may want to take your glass outside of the tasting room and enjoy the sun. The original winery on site was S. Anderson (founded 1971) and their specialty was sparkling wines and in the tradition of Shramsberg, they had a riddler turn the wine by hand (today wineries typically automate that process). Cliff Lede bought the entire sparkling collection and as a result this wine was sold and tasted at the winery; it's supply lasted through about 2010. Once this was gone, it was gone forever as Cliff Lede does not make Sparkling wines. Their focus is on Bordeaux-style red wines, specifically Cabernet Sauvignon.
They have 60 acres both with valley floor and hillside land. From a viticulture aspect, this is the best of both worlds. All blocks in their vineyards are named after famous Rock and Roll songs. With vineyard blocks called "Walk on the Wildside", "Light my Fire" and "American Girl", these are the only Napa vineyards we've come across with this very unique naming system! They do make a very nice unfiltered Chardonnay – most wineries in Napa Valley will tell you their Chardonnay is significantly different from the rest of the Napa Chardonnays, this one is. You won't always find an unfiltered Chardonnay and their version is a bit more fruity and the actual wine is not clear like your typical filtered chardonnay.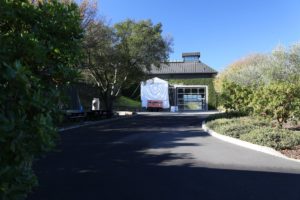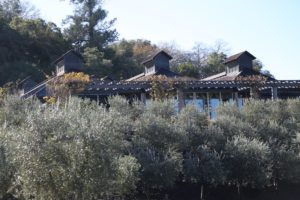 We tried the 2007 Sauvignon Blanc – flinty and stone fruit aromas jump out of the glass with some citrus, honey and toasted almond on the palate. Another wine worth mentioning is their 2005 Claret. It contains four Bordeaux varietals with the majority being Cabernet Sauvignon. This is a voluptuous wine and you will know what we mean when it first hits your palate. It has a very well rounded mouth feel, blackberry and cherry flavors anchored by smooth lingering tannins. The 2004 Diamond Mountain Cabernet Sauvignon is a bigger wine with pleasing fruit and chocolate aromas.
Cliff purchased Poetry Inn and has totally renovated it – it is the only resort along the Silverado Trail in the Stags Leap District and is perched high above the Cliff Lede vineyards in the eastern hills mere minutes from the tasting room. Private west facing porches overlooking the vineyards and valley floor are completed with postcard like sunsets that duck behind the Mayacamas mountains in the west.
One other note is with excellent terroir, and big names such as Michel Rolland as a consultant and David Abreu as vineyard manager, Cliff Lede has managed to keep most of their wines very affordably priced. The "Backstage" is a separate building which features rotating art exhibits – tastings in here are available only via an prior reservation. A former USA president has enjoyed their wine and it has also been served at White House functions.
For more information and or to join their wine club, visit: www.cliffledevineyards.com
NOTE: this review has been identified as needing a major update.