Cliff Lede Vineyards (pronounced "LayDee") was founded in 2002 on site of what used to be S. Anderson Vineyard; in 1971 Stanley (a dentist from Pasadena) and Carol (winemaker) Anderson (both now deceased), purchased 28 acres of land and by 1979 had built a winery and began producing sparkling wines with their first release in 1983 – in part using Chardonnay that was planted on site. Over the years, the name S. Anderson became synonymous with fine sparkling wines.
Proprietor, Cliff Lede is from Leduc, Alberta (a small town just south of Edmonton), Canada (note the Canadian flag in front of the parking lot). Along with his brother David, Cliff helped run the company their father founded in 1947 (Leduc Construction), renamed to Ledcor Construction in 1982. They ultimately built the business into one of the world's largest construction companies. And through Cliff, the company established business in the Napa Valley focusing on wineries, restaurants, premium resorts and private residences. Some of their more notable works include Morimoto Restaurant, Davis Estate Winery, Lokoya Winery, Marciano Estate and the Riverfront Residences along the Napa River in downtown Napa.
After several decades of working at Ledcor, Cliff decided to pursue his passion for wine. His first introduction to wine was at an early age – helping his mother make home wine. Later he became interested and began collecting wines from Bordeaux, and even considered purchasing property in the region. However, he fell in love with Napa Valley after a business trip took him to Northern California.
Cliff's son Jason would help out at the winery in early summer during his late teenage years; he worked his first harvest at Cliff Lede in 2007 and in 2015 he joined the winery team helping manage wholesale sales; today he is their Director of Communications. Growing up with his father's love of music certainly inspired his own enjoyment. He often DJ's at events around Napa Valley for fun.
Vineyards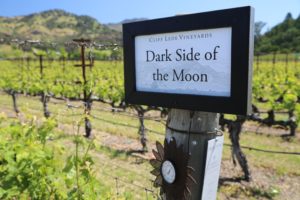 Cliff Lede owns 60 acres of vineyards in the Stags Leap District; this includes the Twin Peaks Vineyard surrounding the winery and tasting room (named for the two prominent hills rising from the valley floor, in geological terms referred to as toeslope hills). The Poetry Vineyard, formerly the Richard Chambers Vineyard was acquired a year after Cliff established Cliff Lede Vineyards. It is planted on steep hillsides stretching down to the Silverado Trail – entirely to red Bordeaux varieties (mostly Cabernet Sauvignon). The soils here are extremely rocky and it was challenging to plant; during the replant some of the vines took up to 5 and 6 years to produce enough fruit to use (on the valley floor 3 years is more of a standard). Despite being so close to the Poetry Vineyard, the soils in the Twin Peaks Vineyard are dramatically different – they are gravelly loam and deeper and richer.
From a viticulture aspect, this diversity of terroir is a good representation of what the Stags Leap District has to offer – ranging from its upper most reaches of 400 feet to the valley floor. Even among their two Stags Leap properties, there are micro-climates – the west facing vineyard hillsides become quite warm during the day in the summer but cool off significantly in the evenings. This diurnal temperature swing is important for growing premium grapes including maintaining acidity.
The winery also owns a 20-acre vineyard in Calistoga at the base of Diamond Mountain planted primarily to Cabernet Sauvignon as well as petit Verdot, Cabernet Franc, Merlot and a small block of Sauvignon Blanc. In 2020 Cliff Lede purchased an 87 acre property on the Napa side of Carneros, previously planted to Chardonnay but was completely replanted by the Lede's that same year to a diversity of varieties.
And until early 2023, Cliff Lede owned the 42 acre Savoy Vineyard in Anderson Valley to the north of Napa Valley in Mendocino County. They sold this vineyard to Carneros (Sonoma side) based Donum Estate. Savoy Vineyard is planted mainly to Pinot Noir along with Chardonnay and through the 2022 vintage, provided the grapes for their FEL Wines – a name that Cliff chose to pay homage to his mother, using the first three initials of her full name Florence Elsie Lede. While Cliff Lede sold the Savoy Vineyard they retained the rights to the name FEL.
As an extension of Cliff's passion for rock and roll, all the blocks in their Stags Leap District vineyards are named after famous rock and roll songs or albums such as "Dark Side of the Moon", "Walk on the Wildside", "Light my Fire" and "American Girl" among others. Collectively these are referred to as the "Rock Blocks" and number more than 45.
Noted viticulturist, David Abreu quickly realized the exceptional terroir of the Poetry Vineyard (as did Cliff when they initially tried some of the S. Anderson wines from this site). Abreu oversaw its replanting using clonal material sourced from a number of premiere Napa Valley vineyards. While Abreu was the original vineyard architect, he is no longer involved in the management of the vines – their vineyards are controlled entirely by their in-house vineyard team.
Winery & Winemaking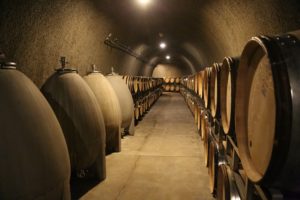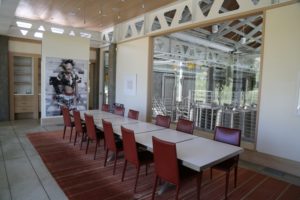 2005 was an important year for Cliff Lede; it was the year the winery was completed, the tasting room opened as did the nearby luxury Poetry Inn. Prominent architect Howard Backen of St. Helena based Backen, Gillam, & Kroeger Architects was hired to design the winery. Cliff's background in construction and architectural preferences certainly influenced its design. Visually impressive inside, like most Backen winery projects are – it has a more contemporary feel rather than some of his more 'rustic' looking designs. And like most area Backen projects it features inspirational views of Napa Valley.
Inspired by the shape of tanks during a visit to Château Latour in Bordeaux, Cliff commissioned Missouri based Paul Mueller Company to create special truncated tanks (during fermentation to help submerse more of the cap). Each tank corresponds to a specific vineyard block. And in what is a fairly unique delivery system, during harvest, a specially designed crane gently moves and lowers a hopper full of whole berries into each tank.
Sorting is a big part of their attention to detail before fermentation – after the grapes come into the winery they are sorted by hand, then using an optical sorter and finally doing one more hand-sort.
Conveniently, a 20,000 square foot cave connects directly to the winery.
Michel Rolland was brought on in the early years as a consultant, Philipe Melka also made the wine for several years and today Christopher Tynan is the winemaker (formerly assistant winemaker at Colgin Cellars).
Wines
Focusing on Bordeaux varieties, Cliff Lede produces a variety of wines from the Stags Leap District, from other vineyards in Napa Valley including under their ownership, and several single vineyard wines including since 2012, the coveted Beckstoffer To Kalon Vineyard Cabernet Sauvignon. Several small lot production wines are availble for wine club members only.
Whites
The Sauvignon Blanc is a wine that former Cliff Lede Chief Operating Officer Remi Cohen called, "a thoughtful style of Sauvignon Blanc" referring both to the varietal composition of this wine and how it is made in the vineyards and winery. It is certainly a unique Sauvignon Blanc for Napa. While Sauvignon Vert (also called Muscadelle) is the variety generally used in the smallest amount it is perhaps from a local historical perspective, the most interesting variety in the blend. It was sourced from a dry-farmed block of vines originally planted in 1946 from Napa's Chiles Valley. Both the Sauvignon Blanc and Sémillon are also from old-vine vineyards. The wine is aged in both oak barrels, concrete eggs and stainless steel – remaining in each respective vessel until bottling. During fermentation the lees are stirred weekly in barrel and during the aging less frequently.
The 2017 Cliff Lede Sauvignon Blanc is golden straw color in the glass; it shows bright floral notes on the bouquet including jasmine and honeysuckle and as it opens becomes more citrus like. Offers some textural weight complemented by excellent acidity. Not tart on the palate but balanced nicely between flavor and acidity. Shows notes of wet stone and flinty nuances along with lingering flavors of mandarin.
The 2022 Cliff Lede Napa Valley Sauvignon Blanc is a blend of 78% Sauvignon Blanc and 22% Sémillon from their estate vineyards in Calistoga and Carneros, the Nichelini Vineyard in Chiles Valley and another vineyard in Calistoga. This wine is medium gold in color; there is nothing shy about this bouquet, it is confident and expressive of both sweetly floral and fruited aromas. It offers scents of lychee, mango, honeysuckle and ripe pear in light syrup. The palate mirrors the bouquet in terms of flavor, offering notes of lychee, pear, apricot, kiwi, peach and pineapple. A perceived sweetness of ripe fruit continues across the palate. The finish is rich and long lasting. We sometimes refer to certain Napa Valley white wines as sunshine in the glass; this bottling certainly fits that description. This wine was fermented 86% French oak barrels and 14% stainless steel tanks with occasional battonage conducted on the lots in barrel.
Reds

The 2020 Cliff Lede FEL Pinot Noir, Savoy Vineyard Anderson Valley is medium ruby in color. The focus here is clearly on its fruit character, showcasing wide open and expressive aromatics as soon as this wine hits the glass. It offers scents of violets, sage, lavender, currant, cranberry, red plum and cherry with a thread of white pepper. We referred to its diversity of flirtatious fruit driven aromatics as, "opulent elegance". The palate is equally filled with fruit, offering flavors of cherry, cherry cola and licorice. It's texture is gentle lingering with persistent fruit a light dryness on the finish. This wine was aged 16 months in French oak barrels of which 24% of which were new.
The 2019 Cliff Lede High Fidelity, Napa Valley is a blend of 53% Cabernet Franc, 43% Merlot, 3% Cabernet Sauvignon and 1% Petit Verdot. The Cabernet Sauvignon and Merlot are from their Twin Peaks estate vineyard and the Cabernet Franc from David Abreu owned Madrona Ranch (near Spottswoode and below Newton Vineyard in St. Helena). This wine is deep ruby and nearly opaque in the glass. The bouquet is sweetly fruited including of blueberry along with plenty of secondary aromatics including of ripe tobacco, milk chocolate, cardamom, chocolate brownie, mocha and espresso. The palate offers plenty of fruit including flavors of cherry and plum along with a note of clove. A light persistent grip of grainy textured tannins continues to parallel the fruit before both eventually dissipate. This wine was aged for 22 months in 44% new French oak barrels.
The 2009 Cliff Lede High Fidelity, Napa Valley is a blend of 36% Cabernet Franc, 28% Merlot, 27% Cabernet Sauvignon, and 9% Malbec. This wine is deep garnet and opaque in color with a light brickish color on the rim in the glass. This wine initially shows some bottle bouquet before it continues to evolve. The bouquet offers a sweetness of dried fruits including of cherry and blackberry along with darker baking spices. There are also additional aromatic layers of chocolate and a light cocoa powder. It offers flavors of plum and black raspberry. Medium acidity. The tannins still show plenty of grip, but are rounded with no angular edges in their textural feel. Their gravelly grip continues to persist for quite some time on the finish. This wine lingers savory with darker spices including of tobacco, earthy and pepper. There is still plenty of energy in this bottle. It was aged for 18 months in 83% new French oak barrels.
The 2019 "Roundabout Midnight" Cabernet Sauvignon rock Block Series, Stags Leap District is a blend of 85% Cabernet Sauvignon, 7% Merlot, 6% Petit Verdot and 2% Cabernet Franc. This wine is deep ruby and opaque; the bouquet immediately brought us back to our grandmother's velvet lined old cedar box that use used for storing some of her old jewelry. She gifted this box to us more than 20 years ago, and every time we open it, it still smells the same. The bouquet also offers scents of violets, ripe dark plum, boysenberry and blackberry (smells like harvesting blackberries in mid summer on a hot dusty day when the fruit is the peak of their ripeness). The palate is opulent and dark fruited with flavors of blackberry, boysenberry, mulberry and dark licorice. This wine's texture is creamy, a finely woven weave of rounded tannins. Its easy to get geeky about wine but anyone will understand the term, "crowd pleaser" which we noted after tasting this bottling. This wine is always a barrel selection within their cellar.
The 2019 Cliff Lede "Poetry" Cabernet Sauvignon Stags Leap District is dark ruby and opaque with an amaranthine rim; the bouquet is elegant with a diversity of aromas including dried herbs, sage, fresh rose petals, licorice and as the wine evolves, a note of mint is revealed. The nose is focused on its freshness and fruit with the oak playing a supporting role. We also noted a light savory thread here. This wine reveals flavors plum, cherry, blueberry, black raspberry and dark chocolate. Its juicy across the palate. The tannins are defined, yet simultaneously plush, rounded and resolved and linger more on the front of the palate than the back. It also shows a light dustiness on the finish. This wine was crafted to be exceptionally enjoyable in its youth but with the characteristics to carry it for many more years. The grapes for this wine are exclusively from their best lots harvested from hillside blocks within the Poetry Vineyard located to the east of the winery. The majority of the Poetry Vineyard is within Stags Leap District but three blocks are above the 400 feet elevation limit. This wine was aged for 21 months in 80% new French oak barrels. This wine like their other reds is not racked until right before bottling – with the philosophy of less movement, manipulation and SO₂ produces better wines.
The 2014 Poetry Cabernet Sauvignon Stags Leap District is their flagship wine; every year it is made with fruit entirely from the Poetry Vineyard. This wine is noticeably dark in the glass with a very appealing bouquet showing aromas of blackberry, cassis and a darker spice nuance, perhaps a hint of white pepper. A powerful wine on the palate, it is richly layered with flavors of blackberry, cedar box spice along with being somewhat savory. The wine finishes strong with great length, anchored by grippy long lasting tannins and oak spice. This certainly is an age-worthy specimen.
The 2015 Cliff Lede Cabernet Sauvignon, Stags Leap District was made with grapes from both of their Stags Leap District vineyards as well as from a few neighboring vineyards. The wine shows nice depth on the bouquet with mostly darker fruit aromatics including blackberry along with a sweetness of mocha and a subtle hint of dust. Medium bodied, the wine shows a pleasing roundness on the entry lingering with nicely integrated tannins.
The 2014 Scarlet Love Cabernet Sauvignon Stags Leap District is highly aromatic with notes of bittersweet chocolate, blackberry, boysenberry, dry dirt and as it opens more sweetness of mocha and vanilla show. Has a wonderful depth of flavor – a very rich showing. Luscious. Somewhat chewy, earthy and long last tannins anchor the pleasing finish. Fruit for this wine was sourced from both of their Stags Leap vineyards.
Hospitality/Experiences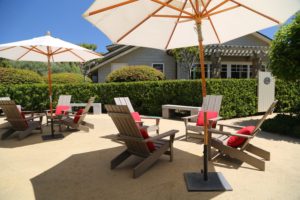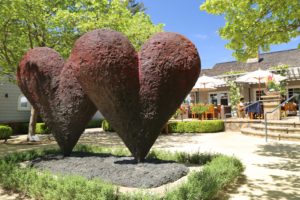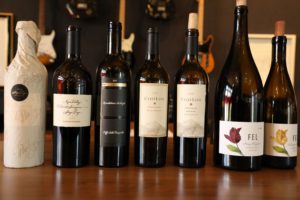 This gorgeous property seamlessly blends four of Cliff's primary passions; wine, architecture, art and rock & roll. Several sculptures are located in the tasting room courtyard including what is probably the most photographed piece – bronze painted Twin 6' Hearts by pop artist Jim Dine.
Guests can taste in the tasting room without needing an appointment (all other tasting experiences require an appointment). The tasting room used to be Carol Anderson's home (the prior owner) before it was significantly remodeled. Guests can also buy a glass of wine in the tasting room and then visit the FEL Pinot Garden – a very relaxing outdoor space. And reservations can be customized based on your wine preferences; longer experiences are offered, often for collectors or serious wine enthusiasts who desire a more intimate tasting as well as a tour of the property and winery. And a Library tasting is also offered allowing guests a rare chance to taste older Cliff Lede wines.
Veranda tastings overlook the courtyard – incidentally, mid Spring is a great time to be here especially with the blaze of color from the nearby gardens.
And the Backstage Tasting Lounge is for serious wine enthusiasts and or those looking for a more intimate tasting experience. Formerly a walk-in art gallery, it is now a private space featuring rotating works of art typically relating to rock & roll musicians. The lounge is also home to the Platinum Playlist – an allocation membership with access to three of their most acclaimed wines, Poetry, Songbook and Cabernet Sauvignon from Beckstoffer's To Kalon Vineyard.
Regardless of where you taste on the property, the sounds of classic rock & roll will invariably be a part of your experience.
Poetry Inn
Formerly known as the CrossRoads Inn (founded in the late 1980s) this luxurious 5-room boutique hotel re-branded and opened in 2005 as the Poetry Inn. It is the only accommodation along the Silverado Trail in the Stags Leap District and is perched on the hillsides directly above Cliff Lede's Poetry Vineyard and is mere minutes from the tasting room.
Each room is named after a prominent poet including Emily Dickinson, Walt Whitman, Robert Frost, Robert Louis Stevenson and e.e Cummings – and each author's books are available in their particular room. One settled in, guests can enjoy the seasonally heated pool and Jacuzzi, spa and use of the highly personalized concierge services. Each room features a wood-burning fireplace, a private balcony, and both indoor and outdoor showers. And guests enjoy a luxurious breakfast made by the Poetry Inn chef (in-room dining available).
We have visited the property several times; regardless of the time of year, the views are stunning of the valley floor below. Private west facing porches overlook the vineyards and are complemented with postcard like sunsets that slowly fall behind the Mayacamas mountains to the west.
In 2021 St. Helena based interior designer Erin Martin redesigned the interior of the guest rooms.
Mas Doix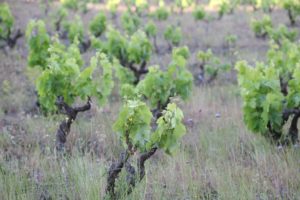 In early 2019 Cliff Lede entered into a joint 50/50% partnership with Mas Doix, a family-owned winery in the D.O.Q region of Spain – located about a 90 minute drive from the Barcelona–El Prat Airport (BCN) with the roads hugging the coastline before turning inland to the steep rocky landscape of the Priorat. And remarkably, Mas Doix is only located about an 8-minute drive from another Napa Valley owned winery, Perinet (owned by Alpha Omega).
Located as the crow flies within a fairly short distance from the Balearic Sea (part of the Mediterranean Sea) the region is influenced by the nearby water including a diurnal drop in temperature between day and night as well as receiving fog. Winters tend to be cold and summers hot and dry. The region also features plenty of microclimates. The most prominent red grapes grown in the region are Garnacha tinta (Grenache) and Cariñena (Carignan). The earliest records of vineyards in the region date back to the 12th century.
Brothers Valenti and Ramón Llagostera and Josep Maria Doix and his wife, Maite Mora began Mas Doix in 1998 when Valenti encouraged the families to produce their own wines rather than selling their grapes to the cooperative. The first vintage of Mas Doix was from 1999, produced in an old stone cellar room in a family home in the village of Poboleda. Valenti and Ramón later bought out the shares from the Doix's but kept their family name of the winery since it was already well established.
The partnership between Mas Doix and Cliff Lede came about through interesting channels. Remi Cohen had previously tried one of Mas Doix wines at La Taberna Tapas Restaurant in Napa. She told us during a vacation to Spain she visited the Priorat where she met Valenti. Timing was perfect – Cliff Lede was looking for an international investment and Mas Doix was looking for an investor to help finance the construction of their new winery. And Lede was already in Europe at that time and pivoted his trip to be able to visit Priorat and Mas Doix.
For many years Mas Doix made their wine in their small cellar. In 2018 construction began on a beautiful new winery perched on a hillside overlooking Poboleda and surrounded by their own vineyards. This winery opened in early 2020.
During our time in the Priorat we visited a number of steep hillside vineyards – with vines growing in very rocky slate (schist) dominated soils. Valenti showed us a vine that had been removed from a vineyard years ago including the roots. These roots were almost flat and were very thin from having to work their way in between the vertical fissures of the rocks searching for water – the deeper the roots, the older the vines.
The 2017 Mas Doix La Crestes is made from much younger vines then their other showings. Valenti calls this his 'wake up wine'. Offers mostly red fruit aromas on the bouquet including red cherry and raspberry. Very approachable in its youth, this lighter style showing features excellent acidity and softer style tannins – this is a wine that dances across the palate with its freshness.
The 2016 Mas Doix Salonques is a blend of 65% Grenache, 25% Carignane and 10% Syrah. Dark ruby color in the glass, immediately shows darker fruit aromatics including blackberry, a minerality component. There is a freshness and liveliness to the bouquet that is certainly appealing. Good acidity forms the backbone of all their wines, and this is clearly evident in this wine. A thread of acidity runs the length of the palate – juicy with flavors of red cherry. The red fruit continues onto the finish with a noticeable grip of tannins – moderate in their texture and not course.
The 2015 Mas Doix, Doix Costers De Vinyes Velles is a blend of 55% Carignan and 45% Grenache (both from old vines ranging in age from 85 to 110 years old). This is a wine that according to Valenti, "asks for a little attention". Elegant on the bouquet with aromas of herbs and darker fruits – slightly savory with a hint of cocoa powder. Offers a wonderful balance across the palate – generous with its taste profile but not heavy at all. The texture is certainly an appealing characteristic – the way it feels across the palate with seamless well-integrated tannins. Offers flavors of raspberry and plum and a long-lasting finish. Good acidity. An impressive showing.
Two very special and very limited production wines are the 1902 (Carignan) and the 1903 (Grenache) named after the year these vines were planted. Valenti calls these tiny vines the 'wise men' – short and growing very low to the ground with extremely tiny yields, these are among the oldest vines in the Priorat.
Poboleda, the closest village is located only about a 5-minute drive from Mas Doix. Like other villages in Spain, the streets are narrow. Park your car in the car park at the entrance to town and make the short walk down. The town features several cafes and restaurants including Hostal-restaurant i Apartaments Populetus, a small 3-star hotel (where we stayed) and restaurant with clean and comfortable rooms with breakfast included along with ear plugs (perhaps to block out the aggressive church bells that ring several times an hour). Oh, and the nearby Happy's Bar is a great place to catch up with some of the village elders for local gossip (conversations in Spanish or perhaps some broken English if you are lucky).
All visits are by appointment, typically with Valenti or Ramón; guests can choose from several tasting options as well as being able to visit select vineyards. And for those who are unable to make it out to the Priorat, tastings can also be arranged in Barcelona. For more information or to schedule an appointment, visit: www.masdoix.com
—
Total annual production for Cliff Lede is typically between 18,000 and 20,000 cases with the majority of this from two wines, the Napa Valley Sauvignon Blanc and the Stags Leap District Cabernet Sauvignon. For more information, to schedule a tasting and or to join their one of their wine clubs, visit: www.cliffledevineyards.com
Hospitality

Twin Peaks Vineyard

Backstage Tasting Lounge (current & previous look)

Poetry Inn (photos coming soon)

Mas Doix, Original Cellar

Mas Doix, Winery & Vineyards

Mas Doix, Old Vine Grenache & Carignan Vineyard

Poboleda Village

View Sommelier Amanda McCrossin's visit to Cliff Lede: