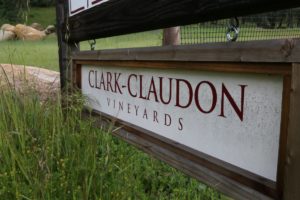 Clark Claudon was a Napa area vineyard management company until 1989 when they formed Clark Claudon Winery. Their son built upon their vineyard contacts and runs his own vineyard management company, leaving the owners Laurie Claudon & Tom Clark to concentrate on growing premium grapes for their wine. Cabernet Sauvignon is their main focus and typically about 1400 cases are produced annually. They also make a very small quantity of Sauvignon Blanc which is made from fruit they source from area vineyards. This wine, called Wild Iris, is named after the types of flowers which grow in their vineyards. They have 18.5 acres of Cabernet Sauvignon, planted with clone 7 which grows well in hillside rocky soil and produces small berries with concentrated flavors.
Their vineyard is located in the hills east of the Howell Mountain district. It is a vineyard that is farmed sustainably and great care has been made to preserve all of the surrounding natural vegetation on the property. Parts of the vineyard ripen much differently than other parts and as a result each ripe "block" is picked separately and also fermented and aged separately.
While they no longer make their wine at Miner Family, they were the the first custom crush winery at this particular winery. One year they made approximately 650 cases of wine – but felt the quality was not up to their standards so they did not bottle this particular wine. They are a boutique winery with small production, premium yields. Rather than put this "under achieving" wine in their final blend, they elected not to use it so as not to compromise the integrity of the wine.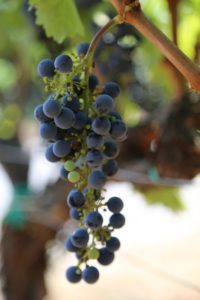 They place the quality of their wine as the highest priority – and rightly so.
Their Cabernet is typically aged in 65-70% New French Oak using a variety of coopers. We tried their 2004 vintage. It is a very elegant soft silky wine. The nose is completely full of 100% ripe black cherry aromas. There is excellent structure on the mid palate and it is very full bodied with the flavors lingering in your mouth well after you swallow. You can find their wine locally at Dean & Deluca in St. Helena. Clark Claudon is involved in more than 20 Charity organizations ranging from Cancer Research to Nicaraguan Housing for the poor.
In addition, they sponsor an annual "harvest party" which raises money for a scholarship for our alma mater, Cal Poly in San Luis Obispo. Visit: www.clarkclaudon.com
NOTE: this review has been identified as needing a major update.