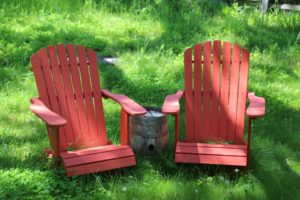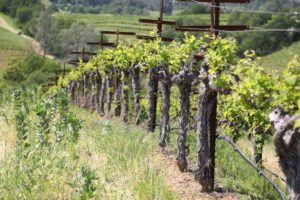 Clark Claudon Founders Laurie Claudon & Tom Clark focus on growing premium grapes from their hillside vineyard in Pope Valley while their son Josh runs a vineyard management company his parents founded in 1978 (Clark Vineyard Management). Driving through Pope Valley one might easily miss their vineyard – a sign next to the road is the only indication of their vineyard site (which is well off the road).
The Clark's story in the Napa Valley begins in 1974 – following a Peace Corp assignment to Columbia (South America), Tom and Laurie came to the Napa Valley. They learned grape growing from others already doing so in the valley and eventually turned their knowledge into starting their own vineyard management company. Some ten years after they founded their company, they looked at a piece of property on the 'backside' of Howell Mountain – never planted to grapes, the Clarke's took a chance on this land, and initially leased the property and developed part of it to vineyard.
Laurie and Tom are very much actively involved in all aspects of the business – Laurie manages the business operations while Tom with the help of their son Joshua oversees and manages the vineyard.
Cabernet Sauvignon is their primary focus – typically around 1000 cases are produced annually of all their wines although they have been as high as 2,000 + cases a year. They also produce a very small quantity of Sauvignon Blanc which is made from fruit they source every year from a tiny privately owned vineyard (managed by Clark Vineyard Management of course). This wine, called Wild Iris, is named after the types of flowers which grow in their vineyards.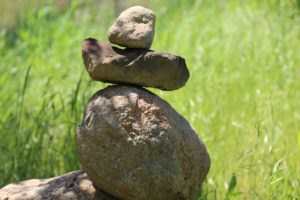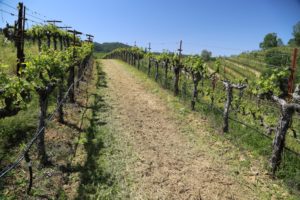 The 2017 Wild Iris Sauvignon Blanc (100% varietal) is immediately inviting aromatically – showing tropical aromas including honeysuckle, citrus blossom, an orange peel zest and mineralities. Shows an excellent depth of aroma which keeps changing as the wine is allowed to breath. It is a very balanced from start to finish with flavors of mandarin. Very clean finish. Two clones of the same varietal are blended together – the wine sees both stainless steel and oak during its aging, including a little bit of acacia wood.
About 17 acres of Cabernet Sauvignon are planted on their 117 acre piece of property, all planted with clone 7 which grows well in hillside rocky soil and produces small berries with concentrated flavors. A small vineyard block is planted to Petite Verdot. The vineyard is at about 1,700 feet above sea level.
Their vineyard is farmed sustainably and great care has been made to preserve all of the surrounding natural vegetation on the property. Parts of the vineyard ripen much differently than other parts and as a result each ripe "block" is picked separately and also fermented and aged separately.
One of Tom's hobbies is bird watching – their property attracts a number of birds in part due to all the bird houses that Tom builds and then installs in and or near the vineyard.
While they no longer make their wine at Miner Family, they were the the first custom crush winery at this particular winery. One year they made approximately 650 cases of wine – but felt the quality was not up to their standards so they did not bottle this particular wine. They are a boutique winery with small production, premium yields. Rather than put this "under achieving" wine in their final blend, they elected not to use it so as not to compromise the integrity of the wine.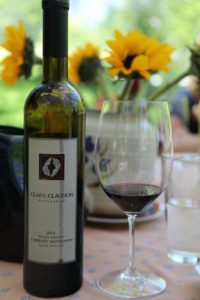 They place the quality of their wine as the highest priority – and rightly so.
Their Cabernet Sauvignon is typically aged in 65-70% New French Oak using a variety of coopers. We tried their 2004 vintage. It is a very elegant soft silky wine. The nose is full of ripe black cherry aromas. There is excellent structure on the mid palate and it is very full bodied with the flavors lingering on a very long finish.
2014 Clark-Claudon Estate Cabernet is noticeably dark in the glass with a very aromatic layered bouquet. Bright fruit aromatics show along with dessert spices, cassis, cedar box and mocha. Offers mostly dark fruit on the palate including dark cherry and blackberry. Fairly supple in its approach, well integrated somewhat dry tannins make for a pleasing finish.
Eternity is a wine that was originally made from grapes at their home vineyard located on the slopes of Howell Mountain (about 1000 vines). Those vines eventually became diseased so they were removed and they began sourcing the grapes for this wine from some of the best blocks at the Pope Valley vineyard. Today it is a very limited production wine that is predominately Cabernet Sauvignon blended with a small percentage of Petite Verdot. The 2014 Eternity shows an opulent bouquet with various dessert spices, aromas of ripe blackberry, dust and notes of mocha. Intense with great depth and mostly dark fruit on the palate showing robust long lasting tannins along with a lingering wood spice. Somewhat savory on the palate. Has the hallmarks of being able to age for quite some time.
Tastings are held at Vintner's Collective in downtown Napa. Vintner's Collective showcases wines from a select group of mostly Napa winemakers – most of which do not have their own tasting rooms. The tasting flight differs everyday which is certainly part of the appeal for visitors. Unless you are acutely tuned into the world of boutique Napa producers, you probably will never have heard of any of the labels that are being poured – this is not a bad thing. These wines represented are typically from producers who have a maximum production of 1000 cases.
The collective is located in Napa's oldest stone surviving commercial building – over 140 years old. This building used to house a brothel, saloon & a deli.
Clark Claudon is involved in more than 20 Charity organizations ranging from Cancer Research to Nicaraguan Housing for the poor.
NOTE: Clark Claudon is possibly no longer producing and if so, we will archive this review.
For more information or to join their wine club, visit: www.clarkclaudon.com