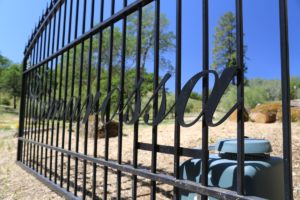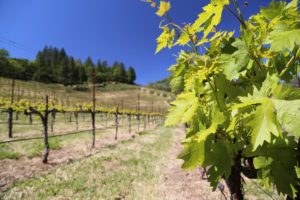 Cimarossa Vineyards (pronounced Chimarossa), is one of Howell Mountain's more secluded estates and vineyard gems. The vineyards are located at an elevation of between 1800 to about 2300 feet and respective of the owner Dino's heritage as well as the terroir, Cimarrosa is an Italian word that means "Red Hill Top". This is an appropriate name as the the entire vineyard sits 360 degrees around the sides of a knoll and much of the vineyard is a reddish soil.
Over centuries a lava cap has blocked soils from washing down the slopes and in some parts of the vineyard the soils are rather deep. The lava cap actually comes up right to the surface and the vines that grow here do so with with the additional burden of having to send roots into this very rocky soil. From a geological point of view the terroir here is very interesting. Soils range from a white chalky ash, to lava caps to deep red loam.
Fifteen acres on the 60 acre estate are planted to vines – other than a few rows of Nebiolo the entire vineyard is planted to Cabernet Sauvignon. Nearby neighbors include vineyards from O'Shaughnessy, Turley and White Cottage Lane Winery. With 15 planted acres Cimarossa certainly has additional fruit and they sell to several top producers including Tor Kenwar Wines (which is where we first discovered a Cimarossa Vineyard wine).
Cimarossa's first vintage dates from 2003 and until recently all vintages were made at the nearby O'Shaughnessy Winery. With the introduction of 3 new wines from the 2007 vintage production has increased and moved to a different winery and Mia Klein is now their winemaker.
The owner Dino Dina was born in Italy and grew up on his families' small commercial farm surrounded by fresh fruit and vegetables. He remembers walking with ox's to plow the land by hand. When you grow up with this connection to the land it never leaves you.
He purchased the property in 1997 which at that time was used for grazing. His initial interest was to plant a small hobby vineyard but Pina Vineyard management conducted some soil and other tests on the site and soon he was growing 15 acres of vines. The Pina Family have lived in the valley for several generations, have their own vineyard on Howell Mountain and commonly manage a number of the smaller Howell Mountain vineyards.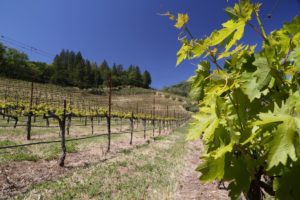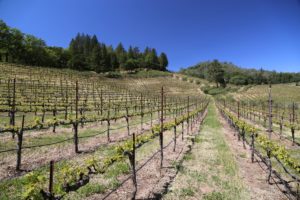 As with other Howell Mountain vineyards growing in these diverse ranges of soils, tannin management is always an issue. Managing tannins always starts in the vineyards including row orientation, canopy management, harvest time etc. Cimarossa wines are "big" with good structure, acidity and fruit and are meant to be enjoyed with food and will certainly age well. In addition, most importantly they are very expressive of the vineyard site and terroir. This is an important characteristic to their wines – as Dino told us, "it is important to have diversity and uniqueness in this business, especially among small producers".
Cimarossa produced a small amount of Nebiolo in 2005 and may release their 2006 vintage commercially. In Italy Nebiolo is a variety that is slow to the market. It makes a rather large wine that has to be tamed over time and typically sees 36 months in oak and then additional bottle aging before even being released to the public. We tried the 2005 "foglet" (a play on words as Nebiolo in Italian means fog, referring to the Piedmont region in Italy where these are grown. This region experiences fog late in the growing season). The bouquet shows sweet notes of cherry, think aromas of warm cherry pie as well as a pleasant floral characteristic. This wine definitely has some weight, lively acidity and meaty tannins; when drinking Nebiolo young, it is best paired with food and this particular wine is a good candidate for aging.
It is hard to find an Italian styled Nebiolo from a Napa producer (true to the varietal characteristics) and this wine is a good candidate. If released commercially, production will remain very small.
The 2005 Cimarossa Riva Di Ponente Cabernet Sauvignon is very dark in the glass. Dino indicated that his newer vintages are even darker than this wine. This is 100% Cabernet Sauvignon, clone 8. There is a definite terroir aspect to the bouquet with aromas of crushed rock and freshly tilled earth mingled among beautiful notes of spices and berry fruit. The entry is soft and rounded but quickly gains in complexity from the mid palate to the finish. Dark fruit shows including blackberry and black cherry and is anchored by broad dusty tannins.
Note that the label for each vintage changes – and contains the image of a native plant that grows in and or on the edge of their vineyards. With such a diversity of wildflowers growing on the property there won't be a shortage of labels.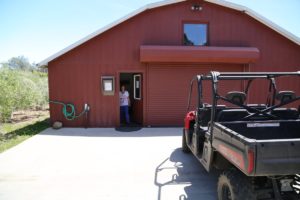 The Cimarossa vineyard backs right up to 3000 acres of natural forest and rugged terrain. This land will never be developed as in part property from Cimarossa, Dunn vineyards and O'Shaughnessy was donated to the Napa Land Trust, a Napa County organization that has preserved over 52,000 acres of agricultural and natural land to date.
You can find their wines locally at Backroom Wines in Napa and ACME wine shop in St. Helena. With approximately only 300 cases produced each year from the first few vintages, the Cimarossa wines are distributed in select locations, mostly within California.
Tastings are all by appointment and are private for your party. You will be driven around the vineyards learning about some of the history of the property, and micro climates on the property. Your visit culminates with a tasting inside their small restored "guesthouse".
While the focus of our reviews are on the wine it should be mentioned that we also tried their olive oil. The estate is planted to a number of Tuscan varieties which when blended together create a delicious olive oil. This is one of the higher in elevation olive orchards in all of California. It is always refreshing to try olive oil that tastes as nice as this one, especially when you sometimes find the nearly rancid store olive oils for comparison. Both the wine and the olive oil can be purchased directly through their website.
For more information visit: www.cimarossa.com