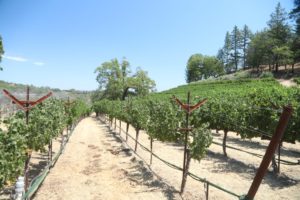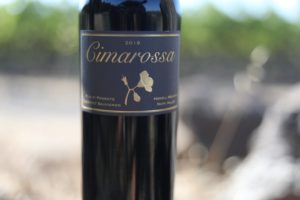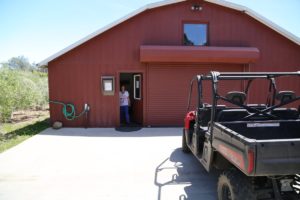 Cimarossa Vineyards (pronounced Chimarossa), is one of Howell Mountain's more secluded estate vineyards. The vineyards are located at an elevation of between 1600 to about 2100 feet and respective of the owner Dr. Dino Dina's Italian heritage as well as the terroir, Cimarrosa is an Italian word that means "red hilltop". This is an appropriate name as much of the vineyard is planted in reddish volcanic soil oriented 360 degrees around the sides of a knoll.
Over centuries a lava cap has blocked soils from washing down the slopes and in some parts of the vineyard the soils are rather deep. The lava cap extends all the way to the surface and the vines that grow here do so with the additional burden of having to send roots into this very rocky soil. The berries are small with thick skins and concentrated flavors. From a geological point of view the terroir here is very interesting. Soils range from a white chalky ash to a lava cap to deep red loam. And the property offers numerous exposure and elevation differences.
Fifteen acres on the 60-acre estate are planted to ten unique blocks of vines; other than a few rows of Nebiolo and a small block of Malvasia, the entire vineyard is planted to Cabernet Sauvignon. Nearby neighbors include vineyards from O'Shaughnessy, Turley and ADAMVS. With 15 planted acres Cimarossa has a surplus of fruit each year – which is sold to several top producers including TOR Wines (which is where we first discovered a Cimarossa Vineyard designate wine).
Cimarossa vineyard backs right up to 3000 acres of natural forest and rugged terrain. This land will never be developed parts of Cimarossa, Dunn Vineyards and O'Shaughnessy's properties were donated to the Land Trust of Napa County. This nonprofit has preserved over 87,000 acres of agricultural and natural land to date within Napa Valley (approximately 16% of Napa County). In 2020 the Glass Fire burned through this part of Howell Mountain including parts of the Cimarossa property. Some of the vines on the exterior of the property were burned and had to be replaced but fortunately most of the vineyard survived intact. And even more remarkable is the fact that the homes on the property also survived – saved by workers who for a time were not able to leave the property because it was surrounded by flames.
Cimarossa's first vintage dates from 2003; for the first few years all vintages were made at nearby O'Shaughnessy Winery. With the introduction of 3 new wines with the 2007 vintage production increased, and winemaking was moved to a different winery (as there is no winery located on the property). Well respected Mia Klein has been their winemaker since 2009.
Dino was born and raised in Genoa, Italy and grew up on his families' small commercial farm surrounded by fresh fruit and vegetables. He told us that he remembers walking with oxen to plow the land by hand. When one grows up with this connection to the land it never leaves you. But his professional career took a detour between being raised on his family's farm to when he returned to his roots, so to speak with his vineyard ownership. His career involved working with virus and infectious diseases. He established the Vaccine Group at San Francisco based Chiron Corporation (eventually acquired by Novartis) where he oversaw early AIDS and Hepatitis B research. Later in his career, he served as President and Chief Executive Officer at Dynavax Technologies, a biopharmaceutical company focusing on developing and bring to market, select vaccines.
He purchased this property in 1997 which at that time was used for grazing. His initial interest was to plant a small hobby vineyard, but Pina Vineyard Management Company conducted some soil and other tests on the site and advised him to plant grapes. The Pina family have lived in the valley for several generations, maintain their own vineyard on Howell Mountain (among other vineyards in Napa Valley) and commonly manage a number of smaller Howell Mountain vineyards.
As with other Howell Mountain vineyards growing in these diverse ranges of soils, tannin management is always an issue. Managing tannins always starts in the vineyards including row orientation, canopy management, harvest time etc. The Cimarossa wines are robust with a noticeable richness of fruit and always well-managed tannins. In addition, most importantly their wines are expressive of the vineyard site and terroir. This is an important characteristic to their wines, and as Dino told us, "It is important to have diversity and uniqueness in this business, especially among small producers."
Select Wines/Winemaking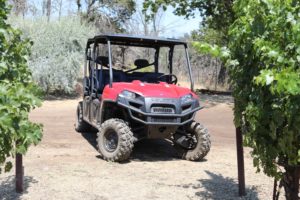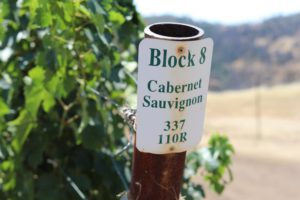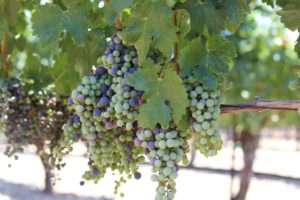 The 2018 Cimarossa Vineyards Rive di Cimarossa is crafted from grapes growing throughout various parts of the property and sourced from all 10 vineyard blocks. This wine is dark ruby in color; the bouquet is elegant and focused on darker fruit aromas including blackberry and dark plums along with dried rose petals and deeper into the aromatics, a hint of dust, mocha and old cedar box. The palate offers broad flavors of darker fruits including cherry and plum. The tannins are dusty, slightly dry with a gravelly texture that persists for quite some time on the finish. The wine was aged for 22 months in French oak barrels of which 35% was new oak.
The Riva di Ponente block is located on the upper slopes of the property and faces west as a result of its exposure it is one of the warmer parts of the property. Appropriately named, riva di ponente translates from Italian to English as, 'west bank'. The 2018 Cimarossa Riva di Ponente is dark ruby in the glass; the bouquet offers ripe Santa Rosa plum, blackberry, violets, milk chocolate, chocolate brownie and mocha. The aromatics are like dessert with an abundance of both ripe fruit and barrel influences. The palate offers intense flavors of primarily darker fruits including dark plum and baked blackberries. The finish is savory with notes of crushed pepper, cedar box and other darker lingering spices along with some warmth of alcohol. The tannins are also dark with a gravelly texture. This wine is 16.4% alcohol and is one of the higher alcohol red wines we have sampled from Napa Valley.
The 2017 Cimarossa Buriana is dark ruby in color and almost opaque to look at in the glass; the aromatics initially are of sweeter fruit including ripe cherry and plums and as it evolves in the glass reveals even more fruit including ripe blackberry. It also offers aromas of rose petal. The bouquet is bright, lively, brambly and generous. This is arguably the most complex of the Cimarossa wines. The palate is very well-layered with plenty of flavor and a density of still tightly woven dusty mountain tannins which persist for quite some time. And there is also a noticeable note of accompanying dried tobacco leaf. This is a big, but balanced and beautiful bottling highly worth seeking out for serious Napa Valley Cabernet Sauvignon collectors. This wine is named after the Genovese word to describe a storm of a large magnitude bringing rain and flooding to Genova in late summer.
Cimarossa produced a small amount of Nebiolo in 2005 and 2006 but did not release the wines commercially. In Italy, Nebiolo is a variety that requires significant amount cellar and bottle age before being released. It makes a rather robust wine that has to be 'tamed' over time; it typically spends up to 36 months in oak. Dino chose the name "foglet" for his Nebiolo as Nebiolo in Italian means fog, referring to the Piedmont region in Italy where Nebiolo is primarily grown and the fog that this region often experiences much later in the growing season. The 2005 Cimarossa Vineyards Foglet Nebiolo shows sweet notes of cherry, aromas of warm cherry pie as well as a pleasant floral characteristic. This wine definitely has some weight, lively acidity and meaty tannins; when drinking Nebiolo young, it is best paired with food – this particular wine is a good candidate for aging.
The 2005 Cimarossa Riva Di Ponente Cabernet Sauvignon is very dark in the glass. Dino indicated that his newer vintages are even darker than this wine. This is 100% varietal Cabernet Sauvignon, clone 8. There is a definite terroir aspect to the bouquet with aromas of crushed rock and freshly tilled earth mingled among beautiful notes of spices and berry fruit. The entry is soft and rounded but quickly gains in complexity from the mid palate to the finish. Dark fruit shows including blackberry and black cherry; the finish is anchored by broadly distributed dusty tannins.
An extremely rare and limited production estate red wine, Il Circolo (the 'inner circle') is produced only during extra special vintages. As of our latest update to this review, this wine was produced only in 2014, 2016 and 2017. In our opinion, the hallmark character of the 2017 vintage is its texture, featuring chalky, rounded and densely woven tannins. Only two barrels of this wine were produced from Block 3, the coolest part of their property; it is available only to members of their allocation list.
While Cimarossa focuses almost entirely on red wine, until 2016 they produced one white wine, a thoughtfully made Napa Valley Sauvignon Blanc which was sourced from Hyde Vineyards on the Napa side of Carneros. In 2019, Cimarossa planted a small block of Malvasia white grapes and harvested their first usable crop in 2022. All wines produced are from the estate.
—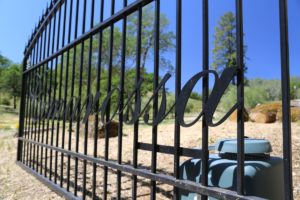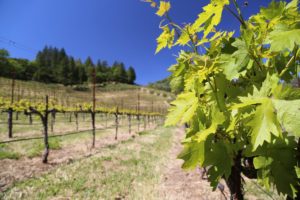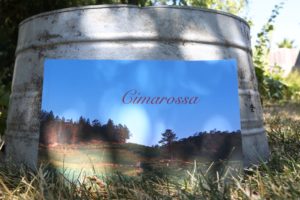 The label for each bottling changes every vintage and always contains an image of a native plant growing in and or on the edge of their vineyard. Each year Dino photographs flowers and then presents his images to a label designer. With such a diversity of wildflowers growing on the property there won't be a shortage of labels. And every wine has a proprietary name in Italian.
While the focus of our reviews are on Napa Valley produced wines, it should be mentioned that we have also sampled their olive oil over the years. The estate is planted to Tuscan varieties (approximately 1,200 trees) which when blended together create a delicious and fresh tasting olive oil. This is one of the higher elevation olive groves in all of Napa Valley. Sometimes the leaves on their olive trees are whiteish because they are sprayed with a type of organic compound which discourages olive flies from laying eggs on the olives. It is always refreshing to try olive oil that tastes as nice as this one, especially when sometimes one has grown up on generic and bland tasting mass-produced store olive oils. Both the wine and the olive oil can be purchased directly through their website.
Visits are by appointment for existing members and are private for your party. Guests will be driven around the vineyards; it is an unscripted tour with a focus on learning about the property including basic viticulture, soils and its microclimates.
Cimarossa published a booked titled, A Circolo di Cimarossa (available for sale on their website) which highlights a number of seasonal family recipes including several especially mouthwatering meals: sliced grilled steak with arugula, veal and roasted artichokes and shrimp, tuna, bean and olive salad.
The wines are primarily sold direct to consumer through an allocation membership. One may sometimes find select Cimarossa wines locally at Backroom Wines in Napa and ACME wine shop in St. Helena. Production in the early years was very small with approximately only 300 cases produced each year. Today their average annual production is around 1,200 cases.
For more information, to join the Il Circolo allocation membership (including two options differing in number of bottles shipped each year, the FOCACCIA and PORCINI), the mailing list or to schedule a visit, see: www.cimarossa.com