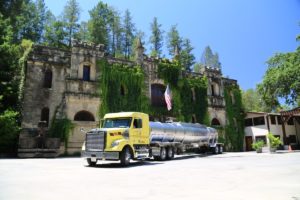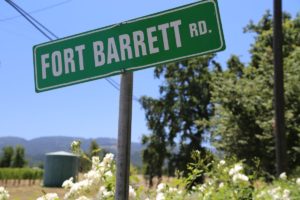 Chateau Montelena is located in the north part of Napa Valley off of Tubbs Lane in between the old Faithful Geyser and Highway 29. They are located a bit farther outside the typical Napa Valley wine route but it is well worth the drive to come here.
This very historical winery is located in the shadow of Mt. St. Helena which is the tallest mountain towering above the northern Napa Valley. There is a lot of history here; you can feel this as soon as you step out of your car and glimpse over at the old stone ivy covered winery. A visit here is far from the busy wine strip south of St. Helena.
The winery is located on the side of a hill and is surrounded by native vegetation. Its a very relaxing, peaceful and quiet location. Alfred Tubbs (who Tubbs Lane is named after) was a successful businessman in San Francisco. He had the "rope market" cornered by supplying rope to gold miners as well as to the thriving clipper ship industry. After he retired, he fell in love with the French wine industry while touring in France and decided to build a winery in Napa. He purchased 254 acres for what today sounds like peanuts – $16,000.
The winery was established in 1882. He hired a French architect and French winemaker and started making wine – unfortunately prohibition came along and the winery shut down in 1920. Full time wine making operations resumed in 1972 when James Barrett purchased the property. The winery was to be sold (based on their history at the 1976 Paris tasting) to a French wine company. As of late 2008 this sale fell through and Chateau Montelena is still owned by the Barretts.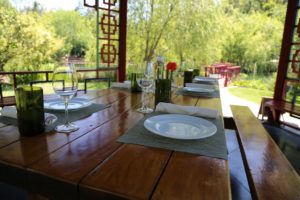 Chateau Montelena in fact helped put themselves and Napa Valley on the International wine map when their 1973 Chardonnay won hands down at the major tasting in 1976 in Paris, France. This was the first major wine tasting event on an International stage that showed California wineries could produce just as high quality wine as their French counterparts. Mementos of this event are on display and you can purchase journalist George Tabor's book, "Judgment of Paris," at the winery which describes this historic tasting. The film Bottle Shock loosely recreates the events that led up to this historic tasting.
The actual winery sits on the edge of a hill above approximately 110 acres of planted vineyards which are located to the north. You drive up a short hill on their winding driveway to the small parking lot. From the parking lot it is mere steps to the the main entrance; look for the massive vine covered trellis. Note that tours are no longer offered but you can still make an appointment for their 3x a day sit down private Library tasting. These tastings are conducted in an intimate room of no more than 8 people and your wine guide. A self guided map and brochure are available so that you can walk around the estate at your own leisure hitting the various highlights listed on the map.
A must see is the Chinese themed Jade Lake and islands directly behind and below the main winery building. As you face the winery walk to your right down two sets of stairs and follow the path to the lake. Small red Chinese style bridges connect to several of the islands, large koi swim in the pond and if lucky you may see a beautiful white egret. The bridges are all constructed crooked as Chinese legend tells that evil spirits only travel over water in a straight line. Nice! Bread for feeding the ducks is usually available in containers located next to the pond. You can see part of their Estate Vineyard just to the north east of the lake.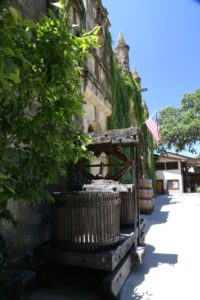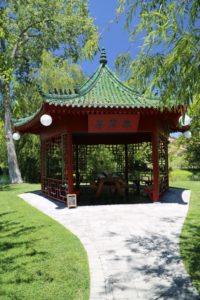 The winery successfully converted to solar power with the installation of a number of raised solar panels in 2007. Great attention is given to the vineyards – they farm as sustainably as possible and introduce cover crops then tilling them into the soil at the proper times (no herbicides used). In addition, rather than using pesticides they introduce beneficial insects into the vineyards such as ladybugs. As in parts of France, they irrigate new vines to get them established and then dry farm as much as possible. Experimentation with rootstalk, clones and trellising systems are part of the continuing learning process at Chateau Montelena.
No appointment is required for a tasting and typically they will serve 3 or 4 wines. If one were to generalize Chateau Montelena's wines in one word it would be "balance". They put significant effort into their vineyards using the best of California fruit while creating a wine that is not overly high in alcohol, jammy, or tannic – i.e. out of balance. Rather the wines are refined, elegant and soft with good acidity and backbone for aging.
They are one of the few Napa wineries to serve a Riesling. While this varietal used to be very common in the Napa Valley most Napa wineries who make this wine today source from areas better suited to growing this varietal. Case in point is Chateau Montelena's Riesling which is sourced from Potter Valley about 50 miles north of the actual winery. The 2007 vintage has a nice golden color. It is a fairly dry, clean crisp wine with great acidity and a finish that contains lots of good fruit flavor. While typically requiring an appointment for the Library tasting, if you happen to be here during the times they offer this tasting, you may be able to get in at the last minute if its not fully booked. We highly recommend this tasting as you taste and discuss their older releases and it is a great opportunity to see how the wines age and evolve.
The Chardonnay is reserved for their sit down tasting – we tried the 2006 vintage. Nice color, acidity and structure make this a delightful wine. It shows notes of green apple, but is not too tart, with hints of kiwi and notes of caramel on the finish. During our latest visit they still had a select number of cases of their 1997 Estate Merlot – the only Merlot made in their history!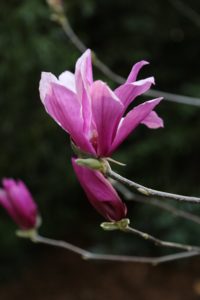 They are known for Chardonnay and Cabernet Sauvignon but the 1997 vintage was so nice that eventually the owner James Barrett consented to make this one time wine and release it to the wine club only. After 11 years, this wine still had beautiful fruit, is soft, supple and rounded in the mouth. Their Zinfandels age very well but drink beautifully even young. We tried a current release and a 2003 Estate Zinfandel – age has been good to this wine. It is rounded and soft on the mouth with delicious notes of blackberry, raspberry and plum. Nuances of spice and smokiness are well balanced among flavor.
Chateau Montelena sells "futures" on their Estate Cabernet Sauvignon available to members of their wine club. This is one way to secure these always highly rated wines well in advance at a cost of 30 to 40% lower than the normal release day pricing. We tried the 2001 Estate Cabernet Sauvignon. It is a dark wine; the intensity of color hints at its depth of flavor and concentration. There are nice notes of dark cherry and just the right amount of tartness so that this wine will pair very well with a variety of food. The tannins are structured but in balance with a mouth feel that is soft and rounded.
We have been here many times but one of the most memorable was a late harvest warm day watching visitors watch Bo Barrett (they had no idea he is the owner) busy supervising some of the crush operations when long time Napa farmer Charlie Wolleson drives onto the crush pad in his spotless antique green flatbed truck carrying loads of plastic t-bins piled high with fruit from the Wolleson Vineyard in Calistoga.

Charlie was in his mid 80's at the time, still sporting a crew-cut, looks like he was cut of a cloth from decades ago and appeared to have the energy of someone far younger. His family has been farming the valley since the early 1900's.
Should you be in San Francisco you can look Chateau Montelena up at the "urban tasting room" called the Press Club. As of the time of this review, only 8 wineries are represented here (4 from Napa), each with their own dedicated tasting counter. NOTE: the format of the Press Club has changed since it's opening – Chateau Montelena is still represented but wineries no longer have dedicated tasting counter space. Visit: www.montelena.com
Video