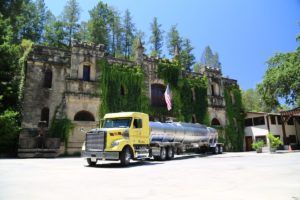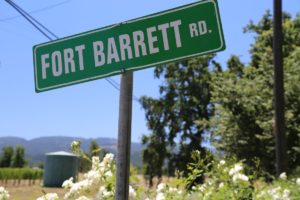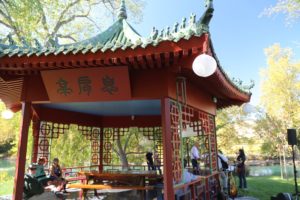 Chateau Montelena is located in the northern part of the Napa Valley off of Tubbs Lane (in between old Faithful Geyser and Highway 29). The property is located a bit outside the typical Napa Valley wine route but is well worth the drive to come here. A visit feels far removed from the busy wine strip south of St. Helena (although it can get very busy here in the afternoons, especially on summer and fall weekends).
The winery is located in the 'shadow' of Mt. St. Helena – the tallest mountain in the region, prominently rising above the northern part of the Napa Valley. There is a lot of history here; you feel this as soon as you walk up to the old stone ivy covered winery.
Alfred Tubbs (who Tubbs Lane is named after) was a successful businessman in San Francisco. He had the "rope market" cornered during California's gold rush by supplying rope to gold miners as well maritime rope to the thriving clipper ship industry. His business, Tubbs Cordage Company was founded in 1849 but didn't produce their first rope until 1856 – remarkably the business operated until 1962. The original office building was located in what is now the Dogpatch neighborhood in San Francisco and has since been moved to the Hyde Park Pier in San Francisco (where visitors can view the outside – the inside is closed to the public because the building is currently being used for office space).
After Alfred retired, he fell in love with the French wine industry while touring in France and decided to build a winery in Napa. He purchased 254 acres for what today sounds like peanuts – $16,000 in 1882, began planting grapes, hired a French winemaker and built a wooden winery he named Hillcrest Estate (the first vintage here was in 1886). This winery soon burned down and Afred oversaw the construction of a new stone winery which was completed in 1888. Alfred renamed the winery after himself, the A.L Tubbs Winery. The winery was constructed with the cellar built into the side of the hill (good for maintaining cool temperatures). Unfortunately with the beginning of prohibition the winery shut down in 1920 although the Tubbs family kept growing grapes during those 13 discouraging years.
After Prohibition ended, Alfred's son Chapin (who had been overseeing the property for many years after his father died) renamed the winery to Chateau Montelena in 1934. After Chapin died in 1947, the property sat vacant until a couple from Los Angeles (Yort & Jeanie Wing-Frank) purchased the site in 1958 with plans to retire to the country. The couple originally purchased Hotel Calistoga in Calistoga before purchasing the Chateau Montelena property.
Yort born in China; he was an electrical engineer and operated a successful TV repair business (built to resemble a Television set, including the exterior look of the building) on 1041 E. Colorado Street in Pasadena named Wing Company. He first came to the U.S. as a child with his parents; he later graduated with a degree in engineering from New York University in 1928. He returned to China and worked as a radio engineer and then returned to the U.S. permanently in 1941. During his years living in Los Angeles, he was also a lecturer and gave a number of speeches to various organizations about Communism. And it was during their time on the property that they created Jade Lake (Jeanie's nickname) on a site that was previously flat land. The lake even contained a teakwood fishing junk, complete with a diesel engine.
The Wing Franks sold the property to Lee & Helen Paschich in 1968. The Paschich's owned a business called Shades, Inc focusing on bamboo wooden window coverings. They also owned a vineyard on Picket Road at the time in Calistoga – Lee made a commercial vintage of some Cabernet Sauvignon in 1968.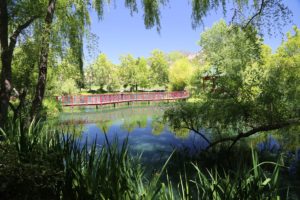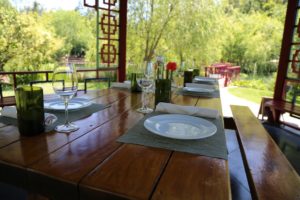 Full time wine making operations resumed in 1972 when lawyer James Barrett & his business partners purchased at the time, majority ownership in the property from the Paschichs (Lee Paschich remained on board as their General Manager). One of the partners, Ernie Hahn of The Hahn Company was a major shopping mall developer. The first vintage released under Chateau Montelena was a white wine, a 1972 Riesling, the grapes purchased from the Muir-Hanna Vineyard in what is now the Oak Knoll sub appellation, just north of the city of Napa. They did produce a 1972 Cabernet Sauvignon but it wasn't of a desired quality so they bottled it under the name, Silverado Cellars.
Chateau Montelena's founding winemaker and limited partner for 5 years was Mike Grgich (who later founded the iconic Grgich Cellars. During the Barrett's ownership, 25,000 square feet of cave tunnels (which visitors are not able to see) were drilled into the side of the mountain. In 2008 the winery was to be sold to Château Cos d'Estournel in Bordeaux but fortunately the sale fell through and Chateau Montelena continues to be owned and operated by the Barretts.
Jim died in 2013; today his son Bo Barrett is one of the owners and winemaker (incidentally, Bo is married to Heidi Peterson, arguably the country's most famous winemaker). Bo has been a part of the operations since he was hired to work in the cellar in 1972. And in 2010 he was responsible for helping create the Calistoga American Viticulture Area (one of 16 sub appellations in addition to the primary Napa Valley Viticulture Area).
The old winery sits on the edge of a hill above approximately 110 acres of planted vineyards located to the north of the winery. Visitors park below the winery and walk towards the lake and then up the wooden steps which lead to the tasting room. Several silver Walking Liberty half dollars (the dates long since worn off by thousands of footsteps) are embedded in the concrete, placed there by the company that poured the concrete for good luck.
Note the prominent sign that declares "Parking for Irish Only" located between the first and second flight of steps up to the winery. Bo often parks his truck here – just look for the license plate, El Ogre.
Experiences
The winery is open for tastings (during normal times) without needing an appointment and guests can choose from several current releases (usually Sauvignon Blanc, Chardonnay, Zinfandel and Cabernet Sauvignon). Several tour options are offered including an estate tour; this very basic tour starts with a tasting in the rear tasting room, a brief history of the property and a walk to their crush pad, to Jade Lake and a stop at Bo and Heidi's helicopter pad directly to the north of the lake. A vineyard tour is also offered where guests are driven out into the vineyards on a golf cart and provided more information about the farming and vineyard management practices at Chateau Montelena.
Private Library tastings can be arranged by appointment. These tastings are conducted in an intimate room of no more than 8 people and your wine guide. While typically requiring an appointment for the Library tasting, if you happen to be here during the times they offer this tasting, you may be able to get in at the last minute if its not fully booked. We highly recommend this tasting as you taste and discuss their older releases and it is a great opportunity to see how the wines age and evolve.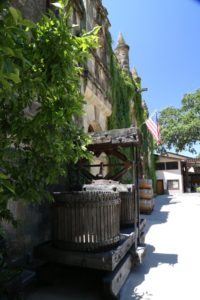 For visitors to the property without appointments, a self guided map and brochure are available so that you can walk around the estate at your own leisure hitting the various highlights listed on the map.
A must see is the Chinese themed 5-acre Jade Lake and islands directly behind and below the main winery building. As you face the winery walk to your right down two sets of stairs and follow the path to the lake. Small red Chinese style bridges connect to several of the islands, large koi swim in the pond and if lucky you may see a beautiful white egret. The bridges are all constructed crooked as Chinese legend tells that evil spirits only travel over water in a straight line. Notice the green colored water – a natural dye is added to the lake at times to keep algae from spreading. Bread for feeding the ducks is sometimes available in containers located next to the pond. You can see part of their estate vineyard just to the north east of the lake.
The winery successfully converted to solar power with the installation of a number of raised solar panels in 2007. Great attention is given to the vineyards – they farm as sustainable as possible and introduce cover crops then till them into the soil at the proper times (no herbicides used). In addition, rather than using pesticides they introduce beneficial insects into the vineyards such as ladybugs. As in parts of France, they irrigate new vines to get them established and then dry farm as much as possible. Experimentation with rootstalk, clones and trellising systems are part of the continuing learning process at Chateau Montelena.
If one were to generalize Chateau Montelena's wines in one word it would be "balance". They put significant effort into creating healthy and balanced vineyards while crafting wines that are not dominated by high alcohol, over ripe fruit or tannins – i.e. out of balance. Rather the wines are refined and elegant featuring good acidity and offering a significant backbone for aging.

Their style of wines is more fruit forward then the wines of Napa Valley in the 1960s and 1970s, understandable as palates have evolved and vines are fairly virus free these days, yet still certainly a throwback to a time when wines were created to be enjoyed with food rather then be enjoyed as a cocktail like beverage.
Select Wines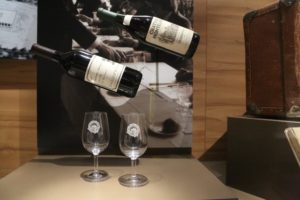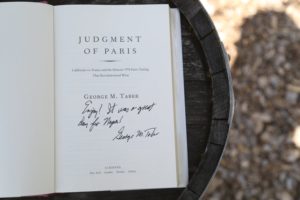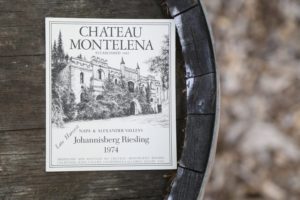 Chateau Montelena is one of few Napa wineries to produce a Riesling. While this varietal used to be very common in the Napa Valley most Napa wineries who make this wine today source from areas better suited to growing this varietal. Case in point is Chateau Montelena's Riesling which is sourced from Potter Valley about 50 miles north of the actual winery in Mendocino County. The 2007 Chateau Montelena Riesling is golden color. It is a fairly dry, clean crisp wine with great acidity and a finish that contains a richness of fruit.
The 2006 Chateau Montelena Chardonnay shows good color, acidity and structure. It offers notes of green apple, but is not too tart, with hints of kiwi and notes of caramel on the finish.
The 2015 Chateau Montelena Napa Valley Chardonnay is more Burgundian style then a Napa Valley style – one can easily understand this while tasting this wine side by side with a Rombauer produced Chardonnay. The difference is night and day. This wine sees no secondary (malolactic fermentation). It is a clean crisp presentation of the varietal characteristics. Pleasing aromatically – offers citrus blossom and as it breathes tropical nuances. Not heavy on the palate, the wine sings, it is lively from start to finish. A dancing acidity if you will. Lingers with notes of green apple, kiwi and a lemon/lime citrus nuance.
During one of our earlier visits they still had a select number of cases of their 1997 Estate Merlot – the only Merlot made in their history – today certainly a collectors wine. They are known for Chardonnay and Cabernet Sauvignon but the 1997 vintage was so nice that eventually James Barrett consented to make this one time wine and release it to the wine club only. After 11 years, this wine still had beautiful fruit, is soft, supple and rounded in the mouth.
Their Zinfandel wines age very well but also drink beautifully even young.
The 2006 Cabernet Sauvignon Montelena Estate shows both fruit and secondary spices on the bouquet – but mostly fruit. Offers aromas of plum, blackberry, sweet red licorice along with hints of cocoa powder. While the bouquet smells like it has some age, the palate does not taste like a wine 12 years old at the time of our tasting. In a blind tasting one would be very hard pressed to pick this wine out of a lineup of current release Napa Valley Cabernet Sauvignon wines produced of a similar style. Savory on the palate and fairly soft on entry the wine shows mostly red fruits, red cherry and currant. Great acidity – causes one to immediately salivate. The tannins are still very much noticeable, firm but not big and are slightly dusty. This wine still has loads of life ahead of it.
The 2001 Cabernet Sauvignon Montelena Estate is a dark wine; the intensity of color hints at its depth of flavor and concentration. Shows pleasing notes of dark cherry and just the right amount of tartness – good acidity to help ensure this wine will pair very well with a variety of food. The tannins are structured but in balance with a mouth feel that is soft and rounded.
Chateau Montelena sells "futures" of their Estate Cabernet Sauvignon – available to members of their wine club. This is one way to secure these always highly rated wines well in advance at a cost of 30 to 40% lower than the normal release day pricing.
1973 Chateau Montelena Chardonnay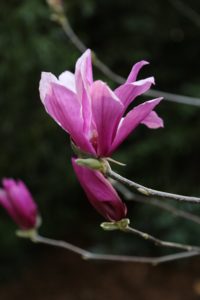 Chateau Montelena helped put themselves and Napa Valley on the international wine map when their 1973 Chardonnay won hands down at a tasting in 1976 in Paris, France. This was the first blind wine tasting event on an international stage that showed California wineries could produce just as high quality wine as their French counterparts. Mementos of this event are on display and you can purchase journalist George Tabor's book, "Judgment of Paris," at the winery which describes this historic tasting. The film Bottle Shock (released in 2008 starring Alan Rickman and Chris Pine) loosely recreates the events that led up to this historic tasting.
The vineyard sources used in the historic Chateau Montelena 1973 Chardonnay that the winery entered and won in the Paris Tasting of 1976 unfortunately are no longer being used for their Chardonnay. Of the 39 total tons of Chardonnay used to create that award-winning wine, 14 tons came from trellised Chardonnay vines in the Bacigalupi Vineyard (Russian River Valley of neighboring Sonoma County).
The majority by tonnage (20) came from Belle Terre Vineyards in Alexander Valley, also in Sonoma County farmed by the Dick family. Four tons came from the Muir Hanna Vineyard – located just north of the city of Napa. Today this vineyard is overseen by the great grandson of noted conservationist and founder of the Sierra Club John Muir (who also helped establish the founding of Yosemite National Park). Rounding out the Chardonnay was a ton of fruit from Lee Paschich's vineyard in Calistoga. The majority of the 1973 Chardonnay was from Sonoma County. Incidentally a bottle of that award winning vintage is in the Smithsonian National Museum of American History, right next to Mike Grgich's old suitcase he came to Canada with and his old beret (see our photos of this exhibit below).
Helen and Charles (a former dentist who died in 2013 and whose family used to own Bacigalupi Market near downtown Santa Rosa) Bacigalupi purchased what is now the Goddard Ranch or referred to as the 'home ranch' in 1956. At the time it was planted to Zinfandel, Mission, and Golden Chasselas. They initially farmed these grapes before planting Pinot Noir and Chardonnay in 1964. When they decided to remove the existing vines and replant, they sought the advice of the University of California farm adviser for Sonoma County at that time, Bob Sisson and also family friend Paul Keck of Korbel Wine Cellars (whose daughter Pam would later marry Helen & Charles' only child, John). Both men recommended they talk to Karl Wente of Wente Vineyards in Livermore – and it was Karl who provided them the budwood to start their Chardonnay block (grafted onto St. George rootstock). Whenever the family needs to replant or re-graft Chardonnay vines, they always take cuttings from some of the strongest/healthiest original vines.
Pam, who we met with, recalls Helen contacted UC Davis about the type of trellis system they should implement – UC Davis recommended one type, but she and Charles chose a different style that ultimately was more conducive for their site and vines. Charles planted these first vines with field budding help from another old timer vintner, Joe Rochioli Jr. The soil difference between this old Chardonnay block and the neighboring hillside block is dramatic – the soils from the Chardonnay block are alluvial – we spotted some rounded river cobble during our visit – while the Pinot Noir block is planted in iron rich reddish soils.
While at college Pam's daughter Nicole read the first edition of George Tabor's book, "Judgment of Paris", but noticed that there was no mention of Bacigalupi Vineyard and the family's involvement in the historic 1973 Chardonnay. She eventually contacted Tabor, and in his second edition he updated to include relevant information about the Bacigalupi Vineyard contribution to that wine.
Interestingly Chateau Montelena only sourced Chardonnay from Bacigalupi Vineyard the one time in 1973. But Chateau Montelena winemaker at the time, Mike Grigich later approached the Bacigalupi's about purchasing more Chardonnay – but by this time it was to late; the family had already begun selling their Chardonnay to Chateau St. Jean.
This coveted block was contracted to the Rudd family from 1998 through 2017 – a period when they were the exclusive producers of wine from this old site. Starting in 2018 the Bacigalupi family, for the first time in their history began producing Chardonnay under their own label from this block (calling the wine Renouveau, French for 'renewal' in tribute to Helen). Because yields are so low, they only produce around 100 cases each year. The several vintages we have enjoyed over the years from this block always have great texture, richness of fruit and excellent acidity – all hallmarks of this site and these vines. And attributes that are certainly helpful for aging.
And we've heard that Chateau Montelena only has about 10 of these 1973 bottles left in their private collection.
—
We have been to Chateau Montelena many times but one of the most memorable was a late harvest warm day watching visitors watch Bo Barrett (they had no idea he is the owner) busy supervising some of the crush operations when long time Napa farmer Charlie Wolleson drives onto the crush pad in his spotless antique green flatbed truck carrying loads of plastic t-bins piled high with fruit from the Wolleson Vineyard in Calistoga. Incidentally, Charlie is one of the valley's long time collectors of old cars and antique trucks.

Charlie was in his mid 80's at the time, still sporting his trademark crew-cut, looking like he was cut of a cloth from decades ago while appearing to have the energy of someone far younger. While several years later, Charlie told us he no longer sells fruit to Chateau Montelena, his family has been farming the valley since the early 1900's.
Chateau Montelena also maintains a small tasting room in San Francisco inside the Westin in Union Square (open 7-days a week). Found to the left just before reaching the reception.
Chateau Montelena also offers older vintages for sale (usually larger format bottles). During our visits we have seen vintages dating back up to 18 years for sale. Production each year usually runs between 35,000 and 40,000 cases. For more information and or to join one of their wine clubs (membership offers one discounts on wines), visit: www.montelena.com
Estate/Exterior

Interior/Hospitality

Chateau Montelena Tasting Room, Westin San Francisco

Tubbs Cordage Company Office Building, San Francisco

FOOD: Transforming the American Table 1950–2000, Smithsonian Museum

Harvest Picnic