Caymus Vineyards is one of Napa's older family owned and operated wineries. From the 'midpoint' of the Napa Valley at their home in Rutherford (the winery is located near the "T Intersection" of Rutherford Road and Conn Creek Road), their story is one of extremely hard work – they are one of Napa's true success stories.
There are numerous reasons why Caymus and it's affiliated brands have become the go to wines for many people – the quality and price point of the wines are certainly a very important reason, but it is the Wagner Family story that is so appealing. They are farmers with strong historical ties to the land, helped in part by timing who have followed a formula of hard work, perseverance and creativity to build a thriving business literally from the ground up.
HISTORY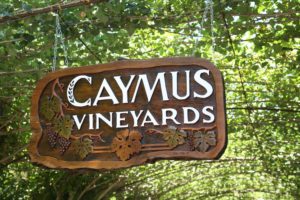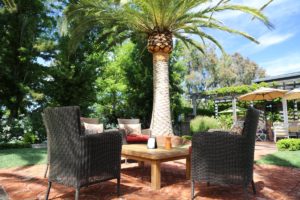 Today Chuck Wagner (and his children) continue to grow and expand the company he founded with his parents. The winery begins with Chuck's parents – Charles (Charlie) Wagner (passed away in 2002 at age 90) and his wife Lorna Belle Glos Wagner (passed away in 2013 at age 97) but their family history in the Napa Valley extends much further. Lorna's grandparents were the Glos and Stice family. Her Glos grandparents first came to Napa in the mid 1880's having homesteaded 150 acres up on Howell Mountain. Her Stice relatives first came to Napa in 1857 as part of a wagon train following a route across the country from Bible Grove, Missouri. Lorna's grandfather actually made wine in Napa in the late 1800's at an old stone winery called Brun & Chaix (today known as Ladera Winery, located on Howell Mountain).
The Wagners' moved to Napa in 1906, purchased 70 acres and by 1915 began a winery on what is now their neighbor's property, the Honig Winery. In January of 1919 Prohibition became reality when it was signed into law and this destroyed their young winery business.
Fast forward to the 1960's – Chuck remembers a much different Napa Valley then – a childhood often accompanied by his dog, a gun or a fishing pole. And it is with a certain element of nostalgia that he talks about his formative years. Farms were planted to prunes and walnuts rather than wine grapes. He recalls a number of farmers 'just getting by' and at times remembers his mother telling his father to get a real job like some of her family had at Mare Island (a shipyard to the south of Napa in the city of Vallejo) – with job security and benefits.
Chuck also remembers people's perspectives were often just limited to their immediate surroundings and neighbors – a product of the times whereas today there is a greater perspective fueled in part by technology. It is a broad perspective that Chuck has brought to Caymus over the years which would ultimately grow and expand Caymus Vineyards to areas much further abroad than the Napa Valley.
Perhaps Lorna's prodding paid off – both she and Charlie approached Chuck in 1971 about helping them begin a winery – putting to use their family's decades of farming knowledge and time in the wine business. Chuck remembers his father's words being something like, "your mother and I want to start a small winery – would you be interested in being a part of this?" Chuck decided he would – at the time he was already attending Napa Valley College but he stopped going to classes and started pruning grapevines alongside his father and their one employee.
By this time the family had already replaced some of their fruit crops with wine grapes and were selling the grapes to Inglenook Vineyards, among others. They planted their original Cabernet Sauvignon from cuttings from the now well-known Fay Vineyard in the Stag's Leap District.
The early 1970's was certainly a different time in the Napa Valley to be starting a winery as compared to today – Chuck remembers being worried about telling his friends that he and his parents were starting a winery – afraid they would think this wasn't going to amount to much or would not be a viable business. He recalls one of his friends on the football team even drove out into the vineyard to find him and demanded to know why he gave up playing football for pruning vines. How times have changed – in 1971 there were approximately 20 wineries who are still in business today – currently there are over 1,100 individual producers in the Napa Valley making wine commercially (from a list we continue to maintain).
The name Caymus is not a family name derived from the owner's last name as you commonly find used at other wineries, rather it is taken from the name of a group of Native Americans who lived in the Yountville area. Much later this name was used for the Mexican land grant known as Rancho Caymus which was given to George Yount in 1836, after whom Yountville is named. Yount is also one of the earliest vineyard managers in Napa, having planted wine grapes near Yountville sometime in the 1830's.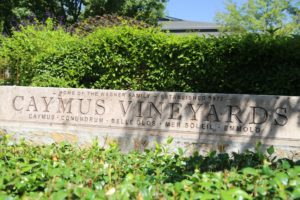 Today Caymus owns 70+ acres in the Rutherford appellation and manages several other Napa area vineyards. However this is just a small part of the entire 2,400 vineyard acres under the portfolio of vines that they manage in California. These are predominantly vineyards they have developed and planted – and all are managed by their own employees. These include sizable vineyards in Monterey, Santa Barbara and neighboring Solano and Sonoma County. Along with the winery in Rutherford they operate a second winery in Monterey County (production facility, no hospitality).
Unlike many wineries that outsource their vineyard management duties to vineyard management companies, Caymus employees their own vineyard workers.
Caymus has been involved in several International ventures over the years. For 16 years they ran a table grape growing operation in the Sonora Dessert in Mexico. They developed and managed 400 acres of these grapes – shipping the grapes back to the states for consumption. Ultimately they sold this business.
A more recent International endeavor is a wine called Red Schooner (first release was 2015). This is an *extremely* unique wine for a Napa based winery. It is a non vintage red wine with the grapes chilled and then shipped from the foothills of the Andes Mountains in Mendoza Argentina (where they are grown) to the winery in Rutherford where they are then processed. Once it is bottled and released, it is labeled as "Red Wine of the World" and given a release number designate, IE Voyage 1, Voyage 2 etc. As a side, this is also a great use of their winery during the non peak months – as the bulk of the harvest in Mendoza is during February and March (a time when normally there is no active harvest related wine making in the Napa Valley).
HOSPITALITY
During the Spring and Summer months as you pull into the parking lot you will be treated to wonderful vegetable and flower gardens. A gardener is employed on site but in reality Chuck is the property's 'landscape architect' – helping decide what should be growing where. Arrive early and take a few minutes to walk around the grounds and or pose for photos in front of their sign. Also visit Chuck's memorial to his father – a small plaque is located here along with two French Prune trees – a tribute to the crop that used to be widely planted in the valley.
Walk-in tastings are welcome and are held at their tiny wine bar indoors or outside at any of a number of tables or chairs. The appointment only sit-down tastings are limited to small groups (no more than 10 people) and as a result are very intimate.
If you plan on visiting during busy summer weekends or weekdays it is highly recommended you call several weeks in advance to make your appointment. NOTE: if you are looking to visit during harvest – especially in September advance notice of at least several months is recommended and often longer in advance. These seated private tastings tend to fill up extremely quickly.
The seated tastings are held in one of their private rooms; the host leads the group in the tasting from the head of the table and discusses the winery, wines, history and family heritage. It is very personal and the conversation will flow as the group dictates. You will taste through at least three wines including a current release of their Special Selection.
Not only are Caymus wines represented, sold and tasted here but so to are several of the other brands produced under the Wagner Family of Wines.
A small gift shop is located directly behind their main tasting room in front of the barrel room. This shop features a selection of the various wine brands produced as well as shirts, hats and other winery wear.
Because the winery is so popular on the weekends, parking is valet only on Friday through Sunday. And during some busy days (especially later in the day), sometimes potential visitors may be turned away and or asked to return later or another day because they are completely full. Even when completely full, weather permitting – there is enough outdoor space for people to spread out on – so that it often doesn't feel to crowded.
SELECT WINES REVIEWED
The Wagner Family of Wines includes Caymus Vineyards, Mer Soleil Conundrum, Belle Glos, Emmolo and Red Schooner. The labels are creative and some very easily recognizable including the prominent red waxed Bella Glos Pinot Noir and the grey ceramic bottles used for the Mer Mer Soleil Chardonnay.
During our initial visit, we tried the 2005 Napa Valley Cabernet Sauvignon. This is a dark wine in the glass with generous fruit aromas which carry into similar flavors (black cherry & plum) on the palate. This wine is well balanced, with good acidity and structure – yet it retains a smooth elegance. This wine can be consumed now and or certainly aged.
Two wines can only be purchased at the winery and have no distribution in the United States – the Zinfandel and Pinot Grigio. The vintages we initially tried were both quite well balanced.
The 2014 Conundrum White Wine (their 25th anniversary vintage) is a blend of Chardonnay, Sauvignon Blanc, Sémillon, Muscat Canelli, and Viognier. It shows a deep golden hue in the glass. Immediately upon opening the wine – it is appealing on the bouquet with tropical notes including honeysuckle and stone fruit (apricot). On the palate it is creamy and rounded with noticeable residual sugar. Flavor lingers for quite some time on the finish.
The 2013 Conundrum California Red Wine is extremely dark in the glass with bright aromatics of darker fruit including blackberry and blueberry tinged with notes of vanilla. This wine drinks smoothly with fine grained tannins anchoring a flavorful finish – plum, cherry and sweet vanilla. This is an easy drinking every day red wine.
The Red Schooner Voyage 2, simply put is mouth filling deliciousness. The bouquet is ripe yet elegant – it shows a mineral component, graphite, cigar smoke and is somewhat briary (think ripe blackberry juice). Ultimately the fruit dominates the aromatics, especially as the wine has time to breathe. It is soft through the palate with just a kiss of tannins – (more oak then grape tannins). The finish is rather quick.
The Caymus Vineyards 2013 Cabernet Sauvignon reveals ripe and dark fruit (black currants, black cherries); it is extremely aromatic. This wine is made in a riper style yet is nicely balanced for being young and drinks very well just by itself. The palate is soft and supple throughout including the finish with delicate grape and oak tannins showing more in the front of the palate rather than the back.
The "Special Selection" is their premium Cabernet Sauvignon – typically it is not on the tasting menu at the bar but you can purchase it at the winery or online or may be able to try a sample if they have a bottle open. This wine was first produced in 1975 when Chuck and his father noticed that several barrels tasted better then the rest so they separated and bottled those barrels separately from the rest. They still do so today; this wine has earned high praise from consumers and critics alike. The Special Selection focuses on only the highest quality lots from the vineyards – which then in turn receive additional barrel aging.
For the 2007 Special Selection Cabernet Sauvignon, Caymus created what may well be the largest wine bottle ever – a 570 Liter behemoth that was commissioned for Crystal Cruises. This single bottle holds over 60 cases of wine!
—
Today as Chuck reflects on his 40+ years in the business he says he still enjoys it (with a spark in his eye) – he loves the fun of the wine business, the competition and the fact they have been able to adapt and grow as times have changed. He started working in the vineyards and it is the vineyards that still excite him – especially unique sites featuring differences in weather, soils, and topography.
He hasn't come far physically from where he grew up – the small home he was raised in and where his parents lived is a short walk from the winery and tasting room. walking into this house is like walking into 'rural America' from the 1950's or 1960's". It smells homey, pictures of family hang on the refrigerator and furniture from when it was lived in still decorates the home. A giant avocado tree towers above this tiny home with a number of fruit trees growing nearby.
For more information about their wines, heritage and hospitality, visit: www.caymus.com
Caymus Vineyards, Rutherford Estate

Caymus Vineyards, Cordelia Winery
Photos coming soon!