Caymus Vineyards is one of Napa's older family owned and operated wineries. From the 'midpoint' of Napa Valley at their home in Rutherford (the winery is located near the "T Intersection" of Rutherford Road and Conn Creek Road), their story is one of extremely hard work; they are one of Napa Valley's true success stories.
There are numerous reasons why Caymus and its affiliated brands have become the go to wines for many people – the quality and price point of the wines are certainly a very important reason, but it is the Wagner family story that is so appealing. They are farmers with strong historical ties to the land, helped in part by timing who have followed a formula of hard work, perseverance and creativity to build a thriving business literally from the ground up.
HISTORY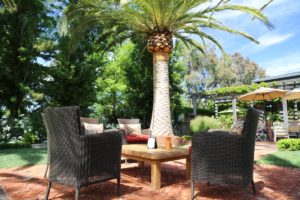 Today Chuck Wagner (and his children) continue to grow and expand the company he founded with his parents. The winery begins with Chuck's parents – Charles (Charlie) Wagner (passed away in 2002 at age 90) and his wife Lorna Belle Glos Wagner (passed away in 2013 at age 97) but their family history in Napa Valley extends much further. Lorna's grandparents were the Glos and Stice family. Her Glos grandparents first came to Napa in the mid 1880s having homesteaded 150 acres up on Howell Mountain. Her Stice relatives first came to Napa in 1857 as part of a wagon train following a route across the country from Bible Grove, Missouri. Lorna's grandfather actually made wine in Napa in the late 1800s at an old stone winery called Brun & Chaix (later Chateau Woltner, then Ladera and today known as Cade at 13th Vineyard), located on Howell Mountain.
The Wagners moved to Napa in 1906 from San Francisco, purchased 70 acres and by 1915 began a winery on what is now their neighbor's property, Honig Winery. In January of 1919 Prohibition became reality when it was signed into law, and this destroyed their young bulk winery business. Chuck's father Charlie grew up in Rutherford attending school in the small wooden Liberty Schoolhouse; later he would use wood from this old school in the construction of his own home and it would inspire the name of their second label, Liberty School. In 1941, Charlie purchased seventy acres in Rutherford, the site of Caymus Winery and tasting room.
Fast forward to the 1960s; Chuck remembers a much different Napa Valley then – a childhood often accompanied by his dog, a gun or a fishing pole. And it is with a certain element of nostalgia that he talks about his formative years. Farms were planted to prunes and walnuts rather than wine grapes. He recalls a number of farmers 'just getting by' and remembers at times his mother telling his father to get a real job like some of her family had at Mare Island (a shipyard to the south of Napa in the city of Vallejo) – with job security and benefits.
Chuck also remembers people's perspectives were often just limited to their immediate surroundings and neighbors – a product of the times whereas today there is a greater perspective fueled in part by technology and ease of travel. It is this broader perspective that Chuck has brought to Caymus over the years which would ultimately fuel the growth and expansion of Caymus Vineyards to areas much further afield than Napa Valley.
Perhaps Lorna's prodding paid off – both she and Charlie approached Chuck in 1971 about helping them begin a winery – putting to use their family's decades of farming knowledge and time in the wine business. Chuck remembers his father's words being something like, "your mother and I want to start a small winery – would you be interested in being a part of this?" Chuck decided he would, an extremely pivotal decision that would change the course of his family's history. At the time he was already attending Napa Valley College, but he stopped going to classes and started pruning grapevines alongside his father and their one employee.
By this time the family had already replaced some of their fruit crops with wine grapes and were selling the grapes to Inglenook Vineyards, among others. They planted their original Cabernet Sauvignon from cuttings from the now well-known Fay Vineyard in the Stags Leap District. Unlike many wineries that outsource their vineyard management duties to vineyard management companies, Caymus continues to employees their own vineyard workers.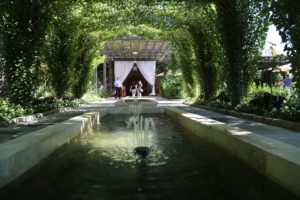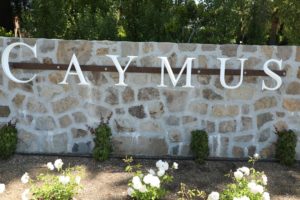 The early 1970s was certainly a different time in Napa Valley to be starting a winery as compared to today. Chuck remembers being worried about telling his friends that he and his parents were starting a winery and was afraid they would think this wasn't going to amount to much or would not be a viable business. He recalls one of his friends on the football team even drove out into the vineyard to find him and demanded to know why he gave up playing football for pruning vines. How times have changed; in 1971 there were approximately 20 wineries in Napa Valley who are still in business today and today there are over 1,100 individual producers in Napa Valley making wine commercially (referenced from a list we continue to maintain).
Caymus produced their first wine in 1972 from grapes that were being sold to Inglenook. They did not yet have a full-time winemaker – Chuck's father Charlie handled the winemaking for the first several vintages with advice from friends including André Tchelistcheff.
Noted Napa winemaker Randy Dunn was hired as their first winemaker in 1975 and made the wines at Caymus through the 1985 vintage. Randy also made the first three vintages of his own wines (Dunn Vineyards) at Caymus – the 1979, 1980 and 1981 and then each year trucked them up to his property on Howell Mountain to age.
The name Caymus is not a family name derived from the owner's last name as you commonly find used at other wineries, rather it is taken from the name of a group of Native Americans who lived in the Yountville area. Much later this name was used for the Mexican land grant known as Rancho Caymus, which was given to George Yount in 1836, after whom Yountville is named. Yount planted the first vineyard in the Napa Valley sometime in late 1838/1839, near Yountville on site of what is now the Ghostblock Vineyard.
Caymus Vineyards, Rutherford Estate EXTERIOR

Caymus Vineyards, Rutherford Estate HOSPITALITY CENTER

HOSPITALITY
In 2019 Caymus Vineyards tore down part of their production facility at their Rutherford property. This was part of a multi-year upgrade plan. As of our latest update to this review most of their production has been moved off site and out of Napa Valley. The barrel room is still being used for aging wine and is now an impressive visual part of any visit to their hospitality center.
In January 2023 a new and much larger hospitality space opened which features several side room-lounges, a wine bar which overlooks the beautiful barrel room and several other lounge type seating spaces. Tastings continue to also be hosted outdoors, weather permitting. The main hospitality building entrance was changed from the west side of the building to the north side; the rotating circular entrance with the winery name embedded in gold in the concrete makes a grand entrance. A much larger paved parking lot was added and the driveway (entrance and exit) was moved about 500 feet further north on Conn Creek Road.
Tastings are generally by appointment and are hosted either inside or weather permitting, outside at any of a number of tables or chairs. As of our latest update to this review, the reservation fee is not charged up front. If someone purchases the equivalent or more than the cost of the tasting fee, the tasting will not be charged.
If you plan on visiting during busy summer weekends or weekdays it is highly recommended, you call or reserve online several weeks in advance to make your appointment. NOTE: if you plan to visit Caymus Rutherford during harvest, especially on weekends in September, advance notice of at least several months is recommended and often longer in advance. These seated private tastings tend to fill up extremely quickly.
Seated tastings are held in one of their semi-private rooms; the host leads the group in the tasting and discusses the winery, wines, history and family heritage. It is very personal, and the conversation will flow as the group dictates. You will taste through at least three wines including a current release of their Special Selection.
Not only are Caymus wines represented, sold and tasted here but so too are several of the other brands produced under the Wagner Family of Wines. A sizable wine shop is located next to the main entrance with several doors that open into the cellar room. This shop features a selection of the various wine brands produced as well as shirts, hats and other winery wear.
Because the winery is so popular on the weekends sometimes parking is valet only on Friday through Sunday. And during some busy days (especially later in the day), sometimes potential visitors may be turned away and or asked to return later or another day because they are completely full. Even when completely full, weather permitting – there is enough outdoor space for people to spread out on so that it often doesn't feel too crowded.
During the spring and summer months visitors can explored the beautiful vegetable and flower gardens. A gardener is employed on site but in reality, Chuck is the property's 'landscape architect' – helping decide what should be growing where. Arrive early and take a few minutes to walk around the grounds and or pose for photos in front of their sign. Also visit Chuck's memorial to his father; a small plaque is located here along with two French prune trees, a tribute to the crop that used to be widely planted in Napa Valley.
SELECT WINES
The Wagner Family of Wines includes Caymus Vineyards, Emmolo, Conundrum, Mer Soleil, Red Schooner, Sea Sun and Bonanza. The labels are creative and some very easily recognizable including the grey ceramic bottles used for the Mer Soleil Chardonnay. Two wines can only be purchased at the winery and have no distribution in the United States: Zinfandel and Pinot Grigio. The vintages we tried were both quite well balanced.
The 2021 Emmolo Sauvignon Blanc is made from 72% Suisun Valley grapes and 28% from Napa Valley. It is medium yellow in the glass; offers aromas of honeysuckle, freshly mowed grass, kiwi, gooseberry and as it opens more, notes of lemon/lime. The bouquet smells fresh. It is crisp across the palate but not overly lean and 'green', but there is plenty of acid and brightness, especially noticeable on the finish. Mouthwatering. Offers flavors of green apple and a lemon/lime nuance. While drinking this we immediately though of pairing it with freshly shucked oysters while sitting at Hog Island Oyster along Tomales Bay in Marin County.
Incidentally Emmolo is named after Jennie's maternal great grandfather Salvatore Emmolo who founded a grapevine and rootstock nursery located at 1085 Galleron Lane in Rutherford; the Emmolo's have been involved in the local nursery business since the 1920s – we've found references in old newspaper ads to a La Fata & Emmolo Vineyard Nursery as early as 1922. And then later references starting in the 1930s to Emmolo Bros Nursery owned by four brothers, Giuseppe, Vincent, Victor and Sam. Emmolo Nursery was later owned and operated by Salvatore Emmolo's son, Frank, Jennie's grandfather. And in later years it was known as the Emmolo MacLean Nursery.
An old sign from this nursery hangs on the wall next to the main entrance to their Rutherford hospitality space. The nursery not only provide rootstock to local vineyards but also shipped to other states. And in addition to grapevines they also sold a variety of fruit trees and assorted flowers (plants and bushes). The brand Emmolo was originally started by Jenny's mother Cheryl. And it should be noted that the Emmolo sparkling wine is an ideal palate cleanser after drinking through some of the bigger red wines.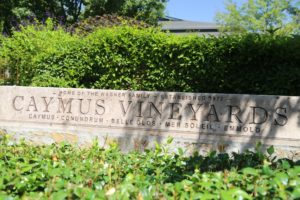 The 2020 Sea Sun California Pinot Noir (Monterey and San Benito counties) is medium ruby in the glass; the bouquet is immediately savory with aromas of mushroom, black peppercorn, earthy notes and raspberry. However, the palate is not as savory as the aromatics with flavors of ripe fruit including cherry and raspberry. Its texture is soft across from start to finish; the wine lingers with supple and enticing tannins and a perception of sweetness including vanilla. One of the staff told us this wine is simply a crowd pleaser.
The 2014 Conundrum White Wine (their 25th anniversary vintage) is a blend of Chardonnay, Sauvignon Blanc, Sémillon, Muscat Canelli, and Viognier. It shows a deep golden hue in the glass. Immediately upon opening the wine – it is appealing on the bouquet with tropical notes including honeysuckle and stone fruit (apricot). On the palate it is creamy and rounded with noticeable residual sugar. Flavor lingers for quite some time on the finish.
The 2013 Conundrum California Red Wine is extremely dark in the glass with bright aromatics of darker fruit including blackberry and blueberry tinged with notes of vanilla. This wine drinks smoothly with fine grained tannins anchoring a flavorful finish – plum, cherry and sweet vanilla. This is an easy drinking every day red wine.
The 2019 Walking Fool Red Blend (primarily Zinfandel but also with Petite Sirah and Grenache, all from Suisun Valley) is dark ruby in color; the bouquet is layered and diverse. It features aromas of dark baking spices, a five-star spice nuance, plum and dried herbs, sage and old cedar plank. The bouquet is somewhat savory although if given enough time it opens to aromas of mocha and chocolate. Offers flavors of plum, cloves, old cedar box and a spicy plum note on the savory finish. The tannins are darker and show a light gravel-like texture.
The Walking Fool label features an image of Jenny's great, great grandfather Charles Glos who immigrated to the U.S. from Germany in the 1870s. He homesteaded 150 acres on Howell Mountain and was a farmer. He also used to walk everywhere including to wineries lower in the valley where he used to work; as a result, his neighbors gave him a nickname, calling him the 'walking fool'. The label shows him carrying a wooden yoke with a pail on each end. Remarkably the family still has his original yoke.
The 2019 Caymus-Suisun Grand Durif (Petite Sirah) is inky dark in color with purplish tinges on the rim of the glass – it is opaque; the bouquet offers layers of aromatics including of chocolate brownies, black licorice and violets. Ripe fruit aromas are well represented including blackberry and boysenberry. This is a temporary tooth staining kind of wine! The palate is bursting with intense flavor including ripe plum and blackberry. The tannins are earthy, drying, gripping, dense and chewy. Their persistence is certainly noticeable. This wine also lingers with notes of dried tobacco.
And international project is a wine called Red Schooner (first release was 2015). This is an *extremely* unique wine for a Napa based winery. It is a non-vintage red wine with the grapes chilled and then shipped from the foothills of the Andes Mountains in Mendoza Argentina (where they are grown) to California where they are then processed. Once it is bottled and released, it is labeled as "Red Wine of the World" and given a release number designate, IE Voyage 1, Voyage 2 etc. As a side, this is also a great use of their winery during the non-peak months – as the bulk of the harvest in Mendoza is during February and March which is a time when normally there is no active harvest related wine making in California.
The Red Schooner Voyage 2, simply put is mouth filling deliciousness. The bouquet is ripe yet elegant and shows a mineral component, graphite, cigar smoke and some briary characteristics. The palate offers flavors of freshly pressed blackberry juice. Ultimately the fruit dominates the aromatics, especially as the wine has time to breathe. It is soft through the palate with just a kiss of tannins showing more oak than grape tannin. This wine finishes quickly.
Another international project is the Caymus Red Schooner Transit Australia (where each vintage is also assigned a number). The grapes for this wine are sourced primarily from Barossa Valley and McLaren Vale regions of Southern Australia. The blend changes each year; Transit 1 was a blend of mainly Shiraz with a small amount of Cabernet Sauvignon and Transit 2 was as blend of Grenache, Shiraz and Mourvedre.
The 2018 Caymus Vineyards Napa Valley Cabernet Sauvignon was sourced from vineyards in eight of Napa Valley's sub appellations. This wine is dark ruby in the glass with purplish tinges on the rim; it offers a pleasant union of both ripe fruit aromatics and baking spices including clove, cardamom and notes of Graham cracker. Fruit forward, the bouquet shows blackberry and boysenberry. The palate is opulent and rich with ripe fruit including blackberry jam, boysenberry, hints of chocolate. This wine finishes with flavors of black licorice, a sweetness of ripe fruit, dried tobacco leaf, dry gravelly tannins, parchment paper and the dryness/flavor one has if one would be so bold as to pick up a rock from a dry riverbed and lick it.
The 2013 Caymus Vineyards Napa Valley Cabernet Sauvignon reveals ripe and dark fruit (black currants, black cherries); it is extremely aromatic. This wine is made in a riper style yet is nicely balanced for being young and drinks very well just by itself. The palate is soft and supple throughout including the finish with delicate grape and oak tannins showing more in the front of the palate rather than the back.
The 2005 Caymus Vineyards Napa Valley Cabernet Sauvignon is a dark wine in the glass with generous fruit aromas which carry into similar flavors (black cherry & plum) on the palate. This wine is well balanced, with good acidity and structure – yet it retains a smooth elegance. This wine can be consumed now and or certainly aged.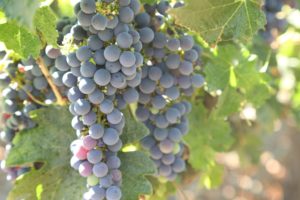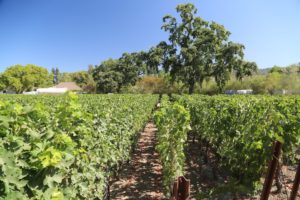 The "Special Selection" is their premium Cabernet Sauvignon – typically it is not on the tasting menu at the bar but you can purchase it at the winery or online or may be able to try a sample if they have a bottle open. This wine was first produced in 1975 when Chuck and his father noticed that several barrels tasted better than the rest, so they separated and bottled those barrels separately from the rest. They still do so today; this wine has earned high praise from consumers and critics alike.
The Special Selection focuses on only the highest quality lots from the vineyards – which then in turn receive additional barrel aging. when creating this wine, the winemaking team will taste through numerous lots and separate barrels into three categories: those that will be sold as bulk, those that go into their Napa Valley Cabernet Sauvignon and those that are exceptional and will be used for the Special Selection. To date, the Special Selection has been made every year except three years in which the wine was not high enough of quality. And this is the wine that has earned Caymus the unique distinction of being named the top Wine of the Year two times by the Wine Spectator magazine for the 1984 and 1990 vintages.
The 2011 Caymus Special Selection Cabernet Sauvignon is deep ruby in color; this wine is holding its color very well 12 years post vintage date at the time of our tasting (from a Magnum). And we might add its aromatics as well; the generous bouquet is deep, dark and ripe. It offers scents of dark plum, blackberry and boysenberry complimented with some barrel influences including chocolate, mocha and assorted darker baking spices. This wine shows flavors of dark cherry, ripe plum, prune juice, chocolate and chalky tannins so rounded you might be tricked into thinking you are licking velvet. This bottling lingers with a sweet tobacco and toasted oak spice. This wine doesn't show like a 2011 vintage Napa Valley – which was a significantly cooler and wetter year than normal.
The 2018 Caymus Special Select is deep ruby in color; the bouquet is sweetly and dark fruited including notes of blackberries, ripe dark plum, black licorice, cherries at the peak of ripeness and mulberry. This wine is both fruit and barrel forward. And there are notes of chocolate and a persistent woodsy spice. It is also ripe on the palate offering flavors of blackberry, boysenberry and chocolate. We thought we were being clever when we noted this wine as: bottled opulence. The tannins are moderate and persistent with a grainy textural grip.
In 2007, Caymus created what may well be the largest wine bottle ever – a 570-liter behemoth (Special Selection) commissioned for Crystal Cruises. This single bottle holds over 60 cases of wine.
And in 2018 singer Mariah Carey included a mention of Caymus Vineyards in her song, GTFO and in the music video she is shown drinking a glass of wine, presumably a Caymus Cabernet Sauvignon. The lyrics surrounding the mention are:
"Who was the knight in shining armor?
I could've sworn you'd love me harder
Might as well down this Caymus bottle
I ain't the type to play the martyr."
—
During our visit with Chuck, he reflected on his 50+ years in the business. He told us he still enjoys it (with a spark in his eye); he loves the fun of the wine business, the competition and the fact they have been able to adapt and grow as times have changed. He started working in the vineyards and it is the vineyards that still excite him – especially unique sites featuring differences in weather, soils, and topography.
He hasn't come far physically from where he grew up; the small home he was raised in and where his parents lived is located next to the walkway from the parking lot to the hospitality center. Walking into this house is like walking into 'rural America' from the 1950s or 1960s. It smells homey, pictures of family hang on the refrigerator and furniture from when it was lived in still decorates the home. A giant avocado tree (one of the largest we have seen in Napa Valley) towers above this tiny home with a number of fruit trees growing nearby.
For more information about their wines, heritage and hospitality, visit: www.caymus.com
OTHER WINERIES/BRANDS
Today Caymus owns 70+ acres in the Rutherford appellation and manages several other Napa area vineyards. However, this is just a small part of the entire 2,400 vineyard acres under the portfolio of vines that they manage in California. These are predominantly vineyards they have developed and planted – and all are managed by their own employees. These include sizable vineyards in Monterey, Santa Barbara and neighboring Solano and Sonoma County. Along with the winery in Rutherford they operate two other wineries: in Monterey County (Mer Soleil which is a production facility, no hospitality) and in Solano County, Cordelia Winery (no hospitality) along with Caymus-Suisun (focuses on hospitality).
For a number of years Caymus produced a second label called Liberty School (which reached a sizable production) before they sold it to the Hope family in 1996. This family since incorporated this label into the Hope Family Wines portfolio along with several other brands – and can be sampled at their tasting room in Paso Robles at their own winery, Treana.
Caymus-Suisun
This winery is owned by Chuck Wagner and his daughter and also winemaker Jennie and her brother Charlie. This hospitality center opened in early May 2022, auspiciously 50 years since Caymus was founded in 1972. This property was the site of an old dehydration plant; it is about a 30–40-minute drive from downtown Napa. The center was designed by the prominent architectural firm Bohlin Cywinski Jackson, founded in 1965 in Wilkes-Barre, Pennsylvania (still where their headquarters are located). This firm has designed a number of the Apple stores, Pixar Headquarters, Seattle City Hall and even a home for Bill Gates. And more locally they designed a small home just outside of Calistoga.
The Wagner family owns or leases nearly 1,000 acres in Suisun Valley of which about 600 are planted to grapevines. They oversee the farming of the vineyard acreage. Chuck also owns the nearby Victorian-style Armstrong House (built in 1885) located on nearly 15 acres. Guests entering the property will drive down a long gravel driveway past several large metal water tanks (used in case of fires) and past an old barn employees refer to as the German Barn. Eventually this barn will be renovated and house tanks and other winemaking equipment.
Guests will park and be greeted at reception (a separate building from the primary hospitality center). This building contains an espresso bar (Charlie's contribution as while working in Australia he noticed wineries would often have this setup for guests), with a drink included with the purchase of every tasting fee. And in another room next door is the retail shop, an uncluttered space focusing on a variety of wines bottled under several of the Wagner Family brands. Worth checking out here is a floor to ceiling stained glass window just outside the retail wine shop; its colors and shapes represent various vineyard ownership in Suisun Valley (the panels in yellow represent the Wagner owned sites).
The hospitality center is contemporary with a very clean look that we have noticed in several of Bohlin Cywinski Jackson's designs. It is built with floor to ceiling glass, made from the clearest glass available on the market, imported from Germany and also the same grade of glass used at the Museum of Modern Art in New York City. In fact, the glass is so clear that during a visit soon after they opened an employee described to us his fellow colleagues already had 'glass wounds' from walking into the glass windows. And we also almost did this several times. A beautiful feature of this design is the interplay between the indoor space and outdoor with large retractable glass walls that open taking full advantage of the Suisun Valley breezes.
The hospitality center offers three primary spaces. One on the east side of the building is for more private tastings complete with indoor and outdoor seating including hanging chairs with views overlooking head-pruned Petite Sirah vines. And an impressive cassette collection from 1983 housed in this space will trigger nostalgia for those old enough to remember what these are used for. The space in the middle of the building offers by the glass service and the space at the west end of the building including an outdoor area overlooking numerous palm trees is used for tasting through multiple wines. These mature date palm trees were transplanted here from Coachella Valley.
Incidentally the first wedding proposal happened here on May 16, 2022, among the beautiful rose buses and palm trees.
Gardens surround part of the hospitality center and include seasonal vegetables along with a number of fruit trees. Employees are allowed to give guests some of the produce grown on the property.
As of our latest update wines from eight different Wagner owned brands were available for purchase. A tasting includes both Suisun Valley grown grapes and wines made from grapes grown outside of the valley. Breezes are very common in Suisun Valley and often are stronger in the afternoons. Tastings compensate for this by using stemless wide bottomed glassware. Still, one has to be careful and may need to move inside if the breezes become too strong.
Caymus-Suisun has brought more exposure to Suisun Valley and arguably will help introduce visitors to the region who otherwise would not come here for wine tasting. The Wagner's have beautified part of the valley including planting numerous trees along nearby roadways. The valley is planted to a variety of agriculture (not just wine grapes). Suisun Valley was established as an American Viticulture Area in 1982, only a year after its neighbor, Napa Valley. A visit here perhaps feels like what Napa Valley used to be, less known, still centered on farming rather than farming + tourism, few wineries, agricultural diversity and less traffic.
Cordelia Winery is a major warehouse and production facility located on nearly 180 acres – just south of the 80 freeway in Fairfield (about a 45-minute drive from Caymus Vineyards in Rutherford). A solar array helps provide power to the operations and a rainwater harvesting system is also on site. This is where the both the Caymus Napa Valley and Caymus-Suisun wines are produced (about a 10-minute drive from the Caymus-Suisun hospitality center).
Mer Soleil is a beautiful site nestled up against the mountains of the Santa Lucia Highlands on the west side of the Salinas Valley (a prominent agricultural region on California's Central Coast). Their vineyard was first planted in 1988; today Chuck Wagner's son Charlie oversees the property. And like at least a few other area wineries we have visited over the years in this part of California, they have diversified the agricultural products on their property to not only grapes but also lemons (another nearby producer we visited grows avocados). This part of the valley is generally frost free.
While Mer Soleil Winery is not open to the public, a once-a-year event, the Santa Lucia Highlands Sun, Wind & Wine Gala is held every May; tickets typically begin selling in early February and sell out fast. The event features wines from numerous producers making wines from the Santa Lucia Highlands and is paired with food from local restaurants and music, culminating in a silent auction that benefits a local charity. The event is held inside the barrel room at Mer Soleil with an adjoining tent set up outside specifically for this event.
Winery

Santa Lucia Highlands Sun, Wind & Wine Festival

Caymus has been involved in several international ventures over the years. For 16 years they ran a table grape growing operation in the Sonora Desert in Mexico. At its height, they developed and managed 400 acres of these grapes – shipping the grapes back to the states for consumption. Ultimately, they sold this business.