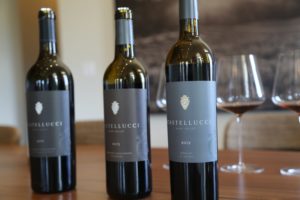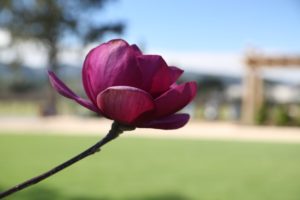 Castellucci Napa Valley was founded with their 2012 inaugural release. The story starts when as a child, Antonio Castellucci moved to Argentina from Calabria, Italy. Eventually he moved to San Francisco in 1971 where he did not yet speak English. Taking a class in real estate to both learn English and become savvy in the art of property development – he soon founded (in 1972) what would become a highly successful San Francisco Bay Area based real estate company (Home Realty Investments). Branching out to the Napa Valley he and his wife Rita initially purchased property in Carneros (which included a vineyard and a second home).
Castellucci Wines is a family run business operated by brother and sister, Maria and Marco – both of whom grew up in the San Francisco Bay Area and now live in the Napa Valley.
The family owns 50 acres of vineyards in the Napa Valley from Spring Mountain to Rutherford (next to the Silverado Trail and Zinfandel Lane – and a potential site for a future winery) and a vineyard in St. Helena (home of their Merlot). Rather then hire an outside vineyard management company to manage their vines, Marco oversees several employees and manages the vines in house. They continue to sell grapes to select wineries. Maria oversees the business operations of both their wines and their two St. Helena B&B's.
Before Castelluci Wines was founded, Antonio randomly met long time winemaker Jac Cole at an event in the Napa Valley. Jac has enjoyed a well-regarded career in the Napa Valley – formerly winemaker at Spring Mountain Vineyards and Charles Krug among others. Today he consults for several Napa wine brands and also consults for Corona del Valle Winery, based in Mexico's Baja California. Antonio was impressed with Jac's pedigree and invited him to become their winemaker; Jac has been the winemaker since their inaugural release of 2012. Rather then release wines within the typical two to three year release window of many wineries, they elect to hold on to the wines – giving them additional age.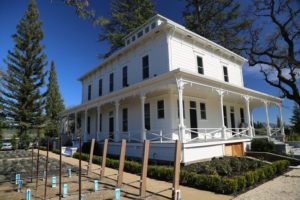 Looking to add a white wine to accompany their red wines, they turned to Clarksburg, located along the Sacramento River in Yolo County for sourcing both Chenin Blanc and Viognier. Finding that the Chenin Blanc stood on its own decided to produce a 100% varietal Chenin Blanc (rather then blend in Viognier) – the first two vintages are labeled white wine (as they ordered the labels prior to the final decision on blending).
The 2016 Lucia (meaning 'white' in Italian) White Wine is pale straw color yellow in the glass; the aromatics are inviting including a floral nuance along with pineapple. Superbly balanced on the palate with a pleasing texture – rounded but not overly soft helped in part by the lively acidity. Notes of citrus, mineralities and intense flavor linger for some time. Drinks very well by itself. And in an interesting wine making historical footnote, as an amateur winemaker Jac made Chenin Blanc back in the 1960's and entered it in a competition at the Sonoma County Fairgrounds and earned a medal for his efforts.
The 2012 St. Helena Merlot is dark ruby color in the glass – shows a very elegant and delicate bouquet – with notes of red cherry, currants and aromas of cedar box and dust. Shows flavors of red cherry on the palate along with mouth watering acidity. Lingers with a slight red cherry tartness, a touch of chocolate and well integrated polished tannins.
The 2013 Rutherford Cabernet Sauvignon shows a ripe bouquet with a sweetness of fruit, cherry liqueur along with notes of brown sugar, chocolate and other dessert spices. Very pretty aromatically. Shows great acidity – a wine that leaves you salivating. Packing layers of flavor – the wine finish with moderate structure.
One can almost smell the soils of their Spring Mountain vineyard in the 2012 Spring Mountain Cabernet Sauvignon. Dusty initially as it breathes reveals floral aromas with higher toned fruits. Shows both red and dark fruit on the palate, lively and youthful with flavors of both red and dark cherry. Features a richness of flavor complemented by a long fine-grained tannins.
A hallmark of Jac's wine making style we noticed on all the Castellucci wines we tried and that we wrote down for each wine is: balance + acidity. The wines are seamless in their presentation – no harsh edges and in their youth, are very approachable. And all wines are 100% varietal from single vineyards.
The Casteluccis purchased the historic Ink House and 1.25 acres located just south of St. Helena in 2014 and sold it in 2021 to Jean Charles Boisset and Gina Gallo (who are the current onwners). With this acquisition made as a possible quick real estate investment, as they began to dig through the layers of history they realized they had something special on their hands. The house and property are listed on the National Register of Historic Places – the home was built in 1885 by Theron H. Ink and came with a coveted permit to operate as a Bed & Breakfast. After several years of carefully restoring the home with the help of Howard Backen at Backen, Gillam & Kroeger Architects along with the beautiful interior design work of Sarahliz Lawson Design, the Ink House opened in January of 2018. Sarahliz's work has been featured in a variety of publications including Luxe Magazine, Conde Nest Traveler and Travel and Leisure – this was her first project with Backen, Gillam & Kroeger Architects.
Features 6 unique and luxurious rooms including the Elvis Room upstairs, where Elvis Presley stayed in 1960 during the filming of Wild in the Country (the Inn was a private home at that time). If Elvis were alive today he wouldn't recognize this room with its tidy era upgrades – although he would recognize the homage to himself hanging on the wall. And guests of the inn need to walk up to the uppermost floor with a glass of Castellucci wine in hand. This visually stunning space offers plenty of windows surrounding the room offering 360-degree views of the valley.
The Inn sits on the old Helios Ranch (originally 50 acres). The grounds are carefully manicured, with even with a small demonstration vineyard planted on site, a fruit orchard and 200 lavender plants.
Guests who stay here have the opportunity to enjoy one on one tastings with Jac and or private tours of their Spring Mountain property. For more information about the Ink House visit: www.inkhousenapavalley.com
And as of 2018, the Castelluccis began remodeling the former Zinfandel Inn on nearby Zinfandel Lane. With just 3 rooms, and located away from the highway – after the remodel completed, this is now a very private luxury experience for guests.
Total production of Castellucci Wines is slightly more then 1000 cases annually. Locally you can find the wine at The Charter Oak in St. Helena and Bistro Don Giovanni just north of the city of Napa. For more information and to join the Castellucci Club, visit: www.castelluccinapavalley.com
The Ink House