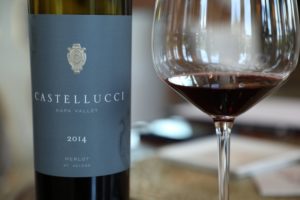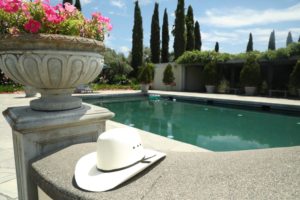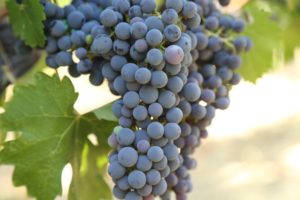 Castellucci Napa Valley was founded with their 2012 inaugural vintage. The story starts when as a child, Antonio Castellucci moved to Argentina from Calabria, Italy. Eventually he moved to San Francisco in 1971 where he did not yet speak English. Taking a class in real estate to both learn English and become savvy in the art of property development – he soon founded (in 1972) what would become a highly successful San Francisco Bay Area based real estate company (Home Realty Investments) which manages more than 60 properties and 350 rental units in San Francisco. He and his wife Rita initially purchased property in Carneros which included a vineyard and a second home.
Castellucci Wines is a family run business operated by brother and sister, Maria and Marco – both of whom grew up in the San Francisco Bay Area and now live in Napa Valley.
The family owns more than 50 acres of vineyards in Napa Valley from Spring Mountain, Rutherford and St. Helena (home of their Merlot). In late 2021 the family acquired the gorgeous Villa Mille Rose in Oakville from the previous proprietor and philanthropist, Maria Manetti Shrem. This stunning estate features 6.5 acres of vineyards, a rose garden and an olive orchard.
Rather than hire an outside vineyard management company to manage their vines, Marco oversees several employees and manages the vines in house. They continue to sell grapes to select wineries. Maria oversees the business operations of both their wines and their various properties. And in addition to helping oversee her family's real estate holdings, Maria is also an author. In 2023 she published a children's book titled, Vivienne in Paris.
Before Castelluci Wines was founded, Antonio randomly met long time winemaker Jac Cole at an event in Napa Valley. Jac has enjoyed a well-regarded career in the Napa Valley – formerly winemaker at Spring Mountain Vineyards and Charles Krug among others. Today he consults for several Napa wine brands and also consults for Corona del Valle Winery, based in Mexico's Baja California. Antonio was impressed with Jac's pedigree and invited him to become their winemaker; Jac has been the winemaker since their inaugural release of 2012. Rather than release wines within the typical two-to-three-year release window of many wineries, they elect to hold on to the wines – giving them additional age.
Select Wines
The Castellucci wines are grown and harvested to be balanced. The red wines we have tried over the years all have a savory sensibility and a freshness, even some of the older bottlings. They are crafted to be enjoyed in their youth but with a simultaneous nod to the future. With proper cellar aging, their wines age wonderfully.
When interested in adding a white wine to accompany their red wines, they turned to Clarksburg, located along the Sacramento River in Yolo County for sourcing both Chenin Blanc and Viognier. Finding that the Chenin Blanc stood on its own decided to produce a 100% varietal Chenin Blanc (instead of blending in Viognier). The first two vintages were labeled white wine because they ordered the labels prior to the final decision on blending.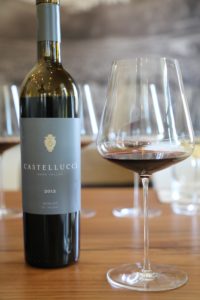 The 2016 Castellucci Napa Valley Lucia White Wine is pale straw color yellow in the glass; the aromatics are inviting including a floral nuance along with pineapple. Superbly balanced on the palate with a pleasing texture, this wine is rounded but not overly soft supported in part by the lively acidity. Notes of citrus, mineralities and intense flavor linger for some time. It drinks very well by itself. And in an interesting wine making historical footnote, as an amateur winemaker Jac made Chenin Blanc back in the 1960s and entered it in a competition at the Sonoma County Fairgrounds and earned a medal for his efforts.
The 2022 Castellucci California Riesling Lucia (meaning 'white' in Italian) is medium straw in color; when the wine is cold the bouquet offers aromas of lemon/lime but as it warms in the glass it evolves to attractive floral notes of honeysuckle, jasmine and sweet citrus blossom, accompanied by pear, papaya and Golden Delicious apple. One would not be incorrect in describing these scents as elegant. This wine reveals flavors of green apple, lime and lemon juice and green apple. The palate is lifted and lean showcasing bright tingling acidity, especially on the mouthwatering and slightly tart finish. It is only 10.5% acidity.
The 2015 Castellucci Cabernet Sauvignon, Spring Mountain District Fern Rock Vineyard is deep ruby in color; the bouquet offers immediate aromatic satisfaction with a balanced union between both fruit characteristics and barrel influence. This wine shows scents of ripe dark plum, dark cherry, blackberry, dark tobacco spice, dried bay leaf, crushed pink peppercorn and a subtle hint of tonka bean. As the wine breathes it evolves to notes of darker baking spices. The palate offers flavors of spicy plum skin, blackberry and boysenberry. For a mountain site, the tannins are remarkably resolved; their texture is rounded and soft on the finish. This wine lingers savory with notes of dried herbs, dust and dark pepper. First, pair this bottling with a steak off of the BBQ and then a cigar. That will be a very good night.
The 2014 Castellucci St. Helena Napa Valley Merlot (from Zinfandel Lane) is medium to dark ruby in color; the bouquet offers aromas of raspberry, cherry color, red plums and a woodsy spice similar to old cedar along with dark pepper and tobacco spice. This wine smells savory. We noticed more barrel influence on the bouquet than on the palate. This wine offers bright red fruited flavors including of plum, cherry and cranberry. We tasted this 8 years post vintage and it is showing exceptionally well right now. It is perfectly balanced with a finish that lingers with rounded and supple lightly grained tannins and a note of white pepper.
The 2012 Castellucci St. Helena Merlot is dark ruby color in the glass; the bouquet is elegant and dare we say, delicate offering notes of red cherry, currants and aromas of cedar box and dust. The palate sports flavors of red cherry in parallel to a mouthwatering acidity. This wine lingers with a slight red cherry tartness, a touch of chocolate and well-integrated polished tannins.
The 2012 Castellucci Spring Mountain District Fern Rock Vineyard Cabernet Sauvignon initially offers a dusty note and one can almost smell the soils of this vineyard in this wine. The bouquet also reveals floral aromas with higher toned fruits. The palate showcases both red and dark fruit; this wine is lively and youthful with flavors of both red and dark cherry. The palate features a richness of flavor complemented by a long lasting fine-grained tannins.
The 2014 Castellucci Rutherford Cabernet Sauvignon is deep ruby in color; the bouquet is darkly fruited including of blackberry, boysenberry and plum. But there are also some other aromatics here: dark chocolate, mocha and a light cedar box. However, the fruit dominates. The palate offers ripe darker fruit, somewhat mirroring the bouquet including a flavor that reminded us of tasting a ripe Santa Rosa plum from the ground after it had fallen a day or two prior. The density of the tannins are felt but without any sharp edges. Their texture is grainy and well-integrated into the dry finish. We wrote savory to describe its lingering character.
The 2013 Castellucci Rutherford Cabernet Sauvignon displays a ripe bouquet with a sweetness of fruit, cherry liqueur along with notes of brown sugar, chocolate and other dessert spices. It is very pretty aromatically. This wine offers bright acidity and will leave you salivating. It packs layers of flavor but not overly robust tannins; rather, the wine finish with a moderate textural grip.
A hallmark of Jac's wine making style we noticed on all the Castellucci wines we tried and that we wrote down for each wine is: balance + acidity. The wines are seamless in their presentation with no harsh edges and in their youth, are very approachable. And all wines are 100% varietal from single vineyards.
Ink House Inn (no longer owned by the Castelluccis)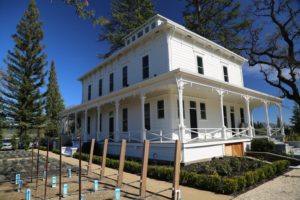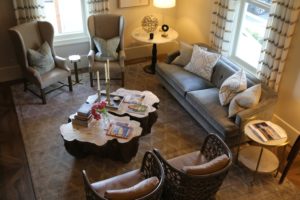 The Casteluccis purchased the historic Ink House and 1.25 acres located just south of St. Helena in 2014 and sold it in 2021 to Jean Charles Boisset and Gina Gallo (who are the current owners). Despite the change in ownership, we keep our notes here for historical reference. When the Castelluci's acquired the property, there was the possibility that it was going to be a quick real estate investment, but as they began to dig through the layers of history, they realized they had something special on their hands. The house and property are listed on the National Register of Historic Places – the home was built in 1885 by Theron H. Ink for a cost of $10,000. The uppermost cupola was removed in the 1940s but has since been added back to the house. The original well on site was built by Chinese labor.
An article about Inkwell House from the Napa Register, dated September 14, 1963, indicates, "Perhaps someday Napa Valley's Inkwell House will be the attraction it deserves to be, in the way the early American homes of New England are, as restored by the Colonial Dames". Those wishful thinking words came true some 50+ years after this article was published. After several years of carefully restoring the home with the help of Howard Backen at Backen, Gillam & Kroeger Architects along with the beautiful interior design work of Sarahliz Lawson Design, the Ink House opened in January of 2018. Sarahliz's work has been featured in a variety of publications including Luxe Magazine, Conde Nest Traveler and Travel and Leisure – this was her first project with Backen, Gillam & Kroeger Architects.
Theron was born in New York in 1831, was a schoolteacher for several years before migrating across the country on horse and wagon in 1852. He worked gold mines at Coloma Bar before settling in Napa Valley in 1853, working on Boon Fly's Farm on Carneros Creek in what is now the Carneros District of southern Napa Valley. From being a schoolteacher to a prominent landowner in northern California happened fairly quickly. His land holdings were significant; at the height of ownership, he owned approximately 10,000 acres in Napa Valley primarily in Pope Valley), Lake County and Marin County and raised a variety of livestock. He also served in public office and was elected to the Board of Supervisors in the Yount District for three terms.
He owned vineyards in Rutherford and St. Helena and eventually built a winery in 1886 which had a capacity of 150,000 gallons. He also owned a sizable livery stable in St. Helena. Ink Grade Road on Howell Mountain (and Old Ink Grade Road) are both named for Theron Ink, in homage to the road he used to use to travel between his property in Pope Valley and properties on the main floor of Napa Valley. And in homage to his vineyard holdings and winemaking, the Ink Grade brand was started by Gaylon Lawrence rooted in a vineyard on Howell Mountain that originally was owned by Theron Ink.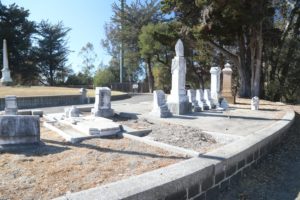 Ink died in 1893 in what was the Crystal Springs Health Resort on Howell Mountain and is buried in at Cypress Hill Memorial Park in Petaluma in neighboring Sonoma County. His wife Harriett P. "Jane" Goodrich outlived her husband by nearly 40 years and died in 1932.
This property came with a coveted permit to operate as a Bed & Breakfast. The Ink House features 6 unique and luxurious rooms including the Elvis Room upstairs, where Elvis Presley stayed in 1960 during the filming of Wild in the Country (the Inn was a private home at that time). If Elvis were alive today, he wouldn't recognize this room with its tidy era upgrades – although he would recognize the homage to himself hanging on the wall. This visually stunning space offers plenty of windows surrounding the room offering 360-degree views of the valley. Other named rooms pay tribute to people and place including the Theron Room, Harriet Room and the Helios Room.
And during his filming of this movie, Elvis also stayed at what was Casa Lual, built in 1953 and named after the first owner's daughter Lucille and husband Allen. This property at 200 South Coombs Street is now the Wine Country Lodge.
The Inn sits on the old Helios Ranch (originally 50 acres) and used to be site of a duck pond and the grounds used to often flood during heavy rains. During Ink's ownership a drainage system was implemented. The grounds are carefully manicured, with even with a small demonstration vineyard planted on site, a fruit orchard and 200 lavender plants.
The Ink House has had a number of owners over the years including at one time Napa Valley College president Dr. George Clark and his wife Lois. Subsequent owners included Ruby Kase (of Kase & Ferguson accounting firm) who added numerous antiques to the interior, the Castelucci family and now Jean Charles Boisset and Gina Gallo.
A stay here, simply put is not just time spent in a room, but through various ownership partnerships and connections, is a key to some of Napa Valley's most unique, coveted and enjoyable experiences.
And in 2018, the Castelluccis began remodeling the former boutique Zinfandel Inn on nearby Zinfandel Lane.
—
Total production of Castellucci Wines is slightly more than 1,000 cases annually. Locally one can sometimes find the wine at The Charter Oak Restaurant in St. Helena and Bistro Don Giovanni just north of the city of Napa. For more information and to join the Castellucci Club, visit: www.castelluccinapavalley.com