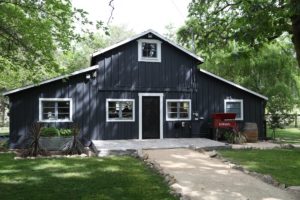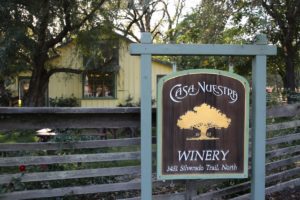 Casa Nuestra Winery (meaning "our house") was founded in 1979 and is located on the west side of the Northern Silverado Trail in an old ranch style farmhouse. This building was yellow for so many years until they changed to a much darker color in 2015. The winery and grounds are like a throwback to a different time where where wineries were functional and not flashy. Compared to visiting other more busy wineries in the valley, your heart rate drops several octaves once you pull into their gravel driveway.
For reference, Casa Nuestra is located just south of and across from Chateau Boswell. This is a small family owned winery and their total case production is only about 1500 cases. 24-25 cases per barrel – 750ml bottles – you can do the math. All grapes for their wines come from their own two vineyards, one in St. Helena and one in Oakville.
They have an eclectic variety of different grapes planted on their estate property, some of which date back to the 1960's (the old Chenin blanc grapes grow near the entrance to the winery – and date from 1961). This is one of those rare small production wineries in the valley who produce a plethora of different wines from varietals not often seen in the Nap Valley today.
After years of accepting visitors by walk-in, they now only accept visitors with prior appointments. Casa Nuestra specializes in making unusual types of wines (based on Napa standards), especially of various blends and specifically of field blends where several varieties of grapes are planted together in the vineyard and then are all harvested and fermented together. This type of practice used to be very common for home winemakers but is not as often found in commercial wine making in the Napa area.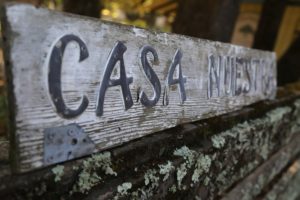 How many Napa wineries produce a Chenin Blanc, or a dry rosé blend of Merlot & Cabernet Franc? They also have a very nice 100% Cabernet Franc. One of their wines is named "Two Goats Red" named for the two goats that keep the weeds down in that particular vineyard! Did you know that there used to be large blocks of Riesling planted in the Napa Valley? Not anymore, and as a result it is extremely difficult to find a Napa grown Riesling – we are aware of at least 5 Napa vineyards & Napa producers still producing Riesling and this is one of them! They produce a delicious off dry Riesling from a vineyard planted in 1966. This wine has great acidity with notes of spice on the nose, with nice fruit flavors including pineapple and citrus.
The pourers affectionately refer to their tasting room as the "Hippy Room" lots of articles, Elvis memorabilia, some propaganda and other interesting items are hung on the wall. One note of interest is Elvis filmed part of a movie on location at this winery. Wines with the Tinto name from their Tinto Vineyard are very popular. If you like a very dry rosé, be sure to try their Rosado. You can only purchase their wines from the winery or from their wine club – no other distribution exists. Visit: www.casanuestra.com
Video by TastingRoomers.com