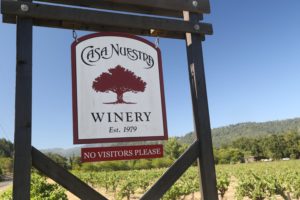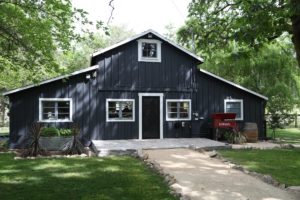 Casa Nuestra Winery (meaning our house in Spanish) was founded in 1980 (with a small production of Chenin Blanc and Grey Riesling as their first commercial vintage) and is located on a 40-acre property on the west side of the northern Silverado Trail. Small lots were produced in 1978 and 1979 but some were not commercially viable and were never released. The old ranch style farmhouse called the Douglas House (dates from the 1890s) was painted yellow for many years until the exterior was painted to a much darker color in 2015. The physical winery (built in 1978) is located slightly further west on the gravel driveway. The winery and grounds are like a throwback to a different time where wineries were functional and the hospitality spaces not flashy. One's heart rate drops several octaves simply by pulling off of the Silverado Trail onto their gravel driveway.
For reference, Casa Nuestra is located slightly south of and across from Chateau Boswell Winery. This small family-owned winery produces limited production wines – usually between 1,500 and 2,000 cases per year. All grapes for their wines come from their estate vineyard (22 planted acres).
Founder, Gene Kirkham is a former civil rights attorney in San Francisco (law degree from UC Berkeley in 1970) who also goes by the nickname, Happy Farmer. His mother Ellis Kirkham (married to Francis) first purchased property in the Napa Valley in 1955 (in Oakville) to use it as a summer getaway destination from the cool days in San Francisco. The property was originally planted to a number of mixed varietals in the 1920's including remarkably some Muscatine vines (only Spiriterra in the Napa Valley for a short while was producing commercial wines from this variety). For 25 years Casa Nuestra sold estate grapes to the Napa Valley Co-op based in St. Helena (now the location of HALL Winery). The Kirkham's finally sold their Oakville vineyard in the 1990's but before doing so they collected a number of cuttings, grafted them to roostock and then planted them on their St. Helena property.
Their vineyards have been farmed organically since they were originally planted; they do not use chemical fertilizers and pesticides. For the most part their vines are dry farmed (except in the case of serious drought years). Sheep are introduced into the vineyards during certain times of the year to keep the cover crop 'mowed'. The winery installed solar cells in 2005 (one of the earlier ones to do so in the valley) and these fully power the winery and tasting room.
An eclectic variety of different grapes are planted on their St. Helena estate property, some of which date back to the 1960s. The old Chenin Blanc grapes grow near the entrance to the winery and date from 1960; these are among the oldest grapes of this variety still growing in Napa Valley. We know of another Chenin Blanc vineyard in Pope Valley that is older.
This is one of those rare small production wineries producing a wide diversity of wines from varieties not often seen in today's contemporary Napa Valley.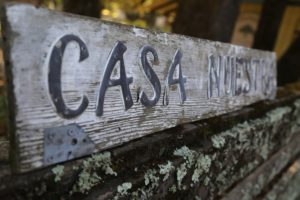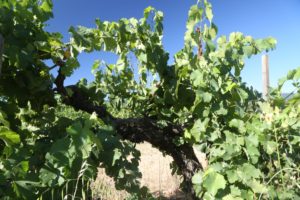 Casa Nuestra specializes in making unusual types of wines (based on Napa standards), especially of various blends and specifically of field blends where several varieties of grapes are planted together in the vineyard and then are all harvested and fermented together. This type of practice used to be very common for home winemakers but is not as often found in commercial wine making in the Napa area.
How many Napa wineries produce a Chenin Blanc, or a dry rosé blend of Merlot & Cabernet Franc? They also have a very nice 100% Cabernet Franc. One of their wines, "Two Goats Red" is named for the two goats who keep the weeds down in that particular vineyard!
Did you know that there used to be large blocks of Riesling planted in the Napa Valley? Not anymore, and as a result it is extremely difficult to find a Napa grown Riesling – we are aware of at least 5 Napa vineyards & Napa producers still producing Riesling and this is one of them. One of the latest Napa Valley crop reports shows 56 bearing acres of Riesling planted in the Napa Valley. Casa Nuestra produces a delicious off-dry Riesling from a vineyard planted in 1970.
Wines with the Tinto name from their Tinto Vineyard are very popular. If you like a very dry rosé, be sure to try their Rosado.
The hosts affectionately refer to their tasting room as the "Hippy Room" lots of articles, Elvis's memorabilia, some propaganda and other interesting items are hung on the wall. One note of interest is Elvis Presley filmed part of Wild In the Country in the early 1960's along the Napa River on what is now property owned by Casa Nuestra. During this filming Elvis spent approximately two months living in what is now the luxury Ink House south of St. Helena (where guests can stay in the restored Elvis Room). And during his filming of this movie, Elvis also stayed at what was Casa Lual, built in 1953 and named after the first owner's daughter Lucille and husband Allen. This property at 200 South Coombs Street is now the Wine Country Lodge.
Select Wines
The Casa Nuestra St. Helena Tinto is one of the most unusual blends from a Napa Valley based producer. The following seven varieties are harvested, fermented together and then also barrel aged together: Carignan, Negrette, Napa Gamay, Petite Sirah, Zinfandel, Alicante Bouschet (an unusual red variety in that the inside pulp is also red, not clear) and Grey Riesling. Grey Riesling, the only non-red variety among the bunch is also known as Trousseau Gris – perhaps this is the only planting of this variety in the Napa Valley. Incidentally another planting is at the Fanucchi-Wood vineyard off of River Road near the tiny community of Fulton north of Santa Rosa in neighboring Sonoma County. 333 cases were produced.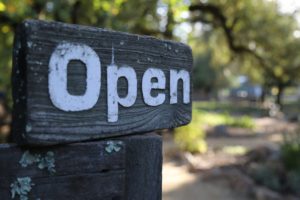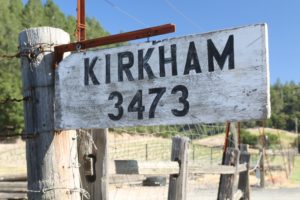 A positive message to consumers is printed on all their corks including this wine, simply stating, "Embrace Peace".
The 2014 Casa Nuestra Tinto St. Helena is remarkably dark red in color, almost maroon with purple tinges on the rim. Ripe, opulent but not over ripe, shows distinctive aromas of blackberry woven with blueberry, black licorice along with an appealing chocolate brownie characteristic and toasted cedar and mocha notes as the wine continues to open. A hedonistic showing, the palate is packed with flavor including blackberry and plum. Shows earthy slightly gravelly tannins lingering on the finish. Well integrated, the tannins complement the fruit rather than impart any harshness of texture. Shows darker spices on the finish including crushed black pepper along with plenty of fruit. This is a very enjoyable wine to drink by itself.
The grapes for their Riesling are planted across the Silverado Trail from the winery – on a hillside above the highway. They call this vineyard La Jolla del Norte – or in English meaning, the Jewel of the North. Only 7 rows are planted of Riesling. The 2016 Casa Nuestra Riesling (from old vines) is straw yellow color; initially offers aromatics of paraffin followed by honeycomb, melon, citrus blossom and a lemon lime nuance. Medium-dry the wine's slight sweetness is tempered slightly by the acidity. Light in texture, perhaps a little bit thin – features flavors of apricot and mandarin orange. A clean quick finish. We have always enjoyed dry or slightly off dry wines from this variety as long as these wines have good acidity. Reason being is we eat a lot of spicy foods, especially Thai food.
As recently as the late 1980s there were about 2,000 acres of Chenin Blanc planted in the Napa Valley. For a variety of reasons, this variety dropped off a cliff- both economics of farming a lower priced wine, wine style preferences had changed (it was common for growers to get high yields from their vines and produce sweet linear and uninteresting wines. One of the crop reports we found in 2018 shows merely 7 acres planted in the Napa Valley. Incidentally, Chenin Blanc when made properly, is one of the more ageworthy white wines.
The 2017 Casa Nuestra Dry Chenin Blanc Betty's Vineyard shows aromas of pepino melon, fresh cut grass, lychee and golden delicious apple. Also, a subtle hint of butter and a sweet note, perhaps caramel. With a soft and supple mouth feel this wine glides effortlessly across the palate like an expert ice skater out of a turn and heading for the open ice. A very balanced showing with flavors of guava and ripe apple – while there is no residual sugar, there is a perceived sweetness of fruit. Only 87 cases were made of this rare beauty.
After years of accepting visitors by walk-in, they now only accept visitors with prior appointments with priority given to their active wine club members. Consumers can only purchase their wines from the winery, through their wine club or online – no other distribution exists. For more information, including a look back at their history (in the Journals section of their website), visit: www.casanuestra.com
Video by TastingRoomers.com