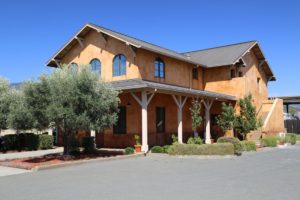 Carter Cellars was founded in 1998 by Mark Carter who is a long time resident of Eureka, California. Today Mark divides his time between Eureka and Napa often working with the wine at Envy Cellars which is where Carter Cellars is made. Envy is co-owned by Mark and winemaker Nils Venge. Having been around for over 10 years and having the connections that Nils and Mark have made in the valley, they have been able to secure fruit from some excellent vineyard sources (all Napa) including a vineyard with instant name recognition, the Beckstoffer managed To Kalon Vineyard in Oakville.
Mark also runs the romantic Carter House Inns in Eureka; the original Carter House is a beautiful Victorian mansion that he rebuilt in the early 1980's based on plans which detailed the original Carter House located in San Francisco (destroyed by the great 1906 earthquake and fire). The well received Restaurant 301 is located at the Carter House. This restaurant has won the much coveted Wine Spectator Grand award for a number of years. Mark would purchase wines for this restaurant and came to know a number of Napa's top labels and vineyards during the 1980's and into the 1990's. One of those vintners he came to know was Nils Venge. When Mark decided to make wine commercially who better to have as his winemaker than Nils. Nils made Carter Cellars first vintage in 1998.
For a boutique producer Carter Cellars produces a wide variety of various wines some showcasing specific vineyards or varietals. We spotlight a few of our favorites from a recent tasting.
Truchard Vineyard is located in the southern part of Napa in a much cooler growing region than up valley. Carter Cellars Merlot comes from this vineyard. The 2006 vintage is a winner – it is 100% Merlot and is a wine that is noticeably dark in the glass. The bouquet is fruit and floral driven with nice notes of blackberry and cherry which lead to a palate that has a very lush mouth filling entry. The entry is soft and the palate shows concentrated fruit throughout with a beautiful mid palate. There is noticeable earthiness and mineralities represented on the finish.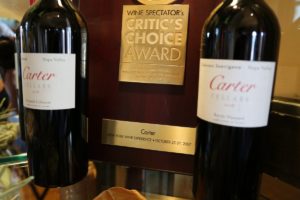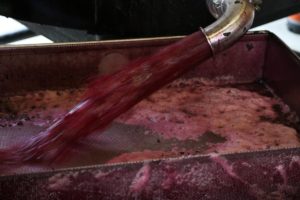 The 2006 Hossfeld Coliseum Block Red is a unique blend of Cabernet Sauvignon, Merlot, Petit Verdot and Petite Sirah. This wine shows notes of cedar, toast and earthiness on the bouquet. Big fruits show on the opulent palate including flavors of blackberry, dark cherry and blueberry. Good acidity. The finish shows great structure yet is balanced. Enjoy the power of its super long finish!
The 2006 Revilo Vineyard 100% Cabernet Sauvignon is a wine that definitely has an elegant side…but with some structure. Cocoa powder, vanilla, raspberry and red cherry show on the bouquet. Well integrated layered flavors showing more red fruit rather than dark fruit make this a good wine to pair with food.
Fruit from the Coliseum block was used in their first vintage in 1998 and is still being used in current releases. Their 2007 100% Cabernet Sauvignon is a very dark concentrated wine displaying some dark chocolate on the nose. Winemaker Nils Venge brought over some roast beef during our tasting and that was exactly what this wine needed to be paired with at such a young age. "Big fruit and big structure" (with mouth filling tannins) could easily be the motto of this wine!
The 2007 To Kalon 100% Cabernet Sauvignon was released in November 2009 but we had a sneak preview. This wine has an elegant bouquet – aromas of plum with notes of chocolate and cocoa. It shows sweet and sour cherry in the mouth – this wine has more of a lean mouth feel compared to some of their much bigger juicier wines but still shows a very well structured broadly grained tannins on the finish. This wine is so young. Age will integrate the flavors and turn this into a well balanced example of the long term benefits of aging wine from the To Kalon Vineyard.
This is a unique opportunity to taste extremely low production red wines from well-regarded Napa vineyards at a winery where you don't have a make an appointment or be on a tight mailing list. As of our latest update to this review, all of Carter Cellar's wines are produced in quantities of less then 350 cases with a total production of merely 1200 cases. All their bottles are individually numbered and half bottle sizes are available for most of the wines. You can taste their wines as well as the Envy wines at Envy Cellars, one of the few wineries located north of Calistoga that is open to the public (far northern reaches of the Napa Valley).
Mark and his wife Sherri are also founders of the Old Carter Whiskey Co – focusing on hand crafted small batch bourbon whiskeys. Batch 1 was released in early 2018.
Envy is located just down the street from the Old Faithful Geyser and the winery is surrounded by fields of vineyards. It is a bucolic location to enjoy good wines!
For more information or to signup for their wine club, visit: www.cartercellars.com and for more information about the Carter House Inn in Eureka visit: www.carterhouse.com