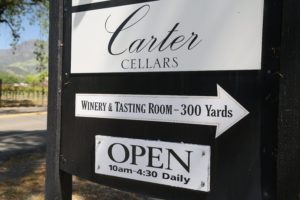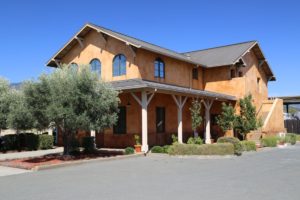 Carter Cellars was founded in 1998 by Mark Carter, a long time resident of Eureka, California. Today Mark divides his time between Eureka and the Napa Valley often working with the wine at Envy Cellars which is where Carter Cellars is made. Envy Winery is co-owned by Mark and winemaker Nils Venge.
Long time industry veterans, Nils and Mark have built strong relationships with growers over the years and are sourcing grapes from some of the valley's premiere vineyards. Some of these sites (all Napa) include vineyards with instant name recognition, IE., Beckstoffer's managed To Kalon Vineyard in Oakville and Las Piedras in St. Helena.
Carter House, Eureka
Mark also runs the romantic Carter House Inns in Eureka; the original Carter House in the Carter House Inns collection is a beautiful Victorian mansion designed after plans that Mark found in a thrift store in Eureka. The plans were for a home known as the Murphy House which was built in San Francisco and lasted until 1906 when the great earthquake and fire completely destroyed it.
Mark built the Carter House from scratch based on these plans and completed the home in 1982. A number of stately and colorful wooden mansions are also located in this same neighborhood including the grandest dame of them all, the Carson Mansion (which incidentally was designed by the Newsom Brothers, Samuel & Joseph – the same designers of the original Murphy House and architects of the Napa Valley Opera House). Unlike in parts of San Francisco where large mansions are lined up next to each other block after block, here the mansions stand out because they are surrounded by smaller less prominent homes and there is more space between the homes.
Carter Inns is composed of 5 Victorians (all within a block of each other) including the Hotel Carter, the Carter House, the Carter Cottage, the Bell Cottage, and Annie's House. The inn features 33 rooms.
Restaurant 301 is located on the ground floor of the Carter House. Features farm to table and locally sourced ingredients as well as seafood caught offshore. Restaurant 301 has won the much coveted Wine Spectator Grand award for many years. And for those wanting to enjoy a drink prior to meal – an elevated tiny bar across from the restaurant is the ideal place to do so. Features a happy hour with select very reasonably priced drinks. During our meal we enjoyed excellent food and exceptional service.
While purchasing wines for his restaurant Mark was introduced to a number of Napa's top labels and vineyards during the 1980's and into the 1990's. One of those vintners he came to know was Nils Venge. When Mark decided to make wine commercially who better to have as his winemaker than Nils. Nils made Carter Cellars first vintage in 1998.
Select Wines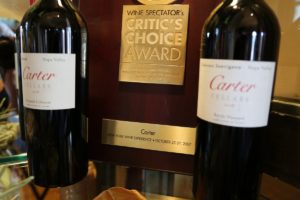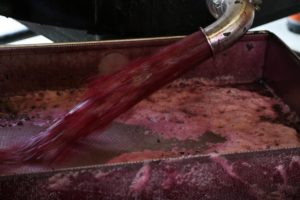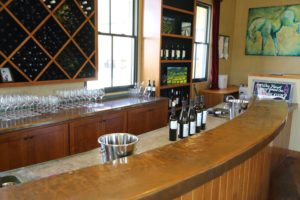 For a boutique producer Carter Cellars produces a wide variety of various wines some showcasing specific vineyards or varieties. We spotlight a few of our favorites from a private tasting held with both Nils and Mark at Envy Winery.
The 2006 Carter Cellars Merlot was sourced from the Truchard Vineyard in the southern part of Napa (a much cooler growing region as compared to Calistoga). The 2006 vintage is an intriguing wine – it is 100% Merlot and is a wine that is noticeably dark in the glass. The bouquet is fruit and floral driven with nice notes of blackberry and cherry which lead to a palate that is lush and mouth filling. The entry is soft but leads to flavors of concentrated fruit throughout with a beautiful mid palate. A noticeable earthiness and a minerality nuance shows on the finish.
The 2006 Carter Cellars Hossfeld Coliseum Block Red (named for a vineyard site that is roughly planted in the shape of a Coliseum based on the topography of the site) is a unique blend of Cabernet Sauvignon, Merlot, Petit Verdot and Petite Sirah. This wine offers notes of cedar, toast and earthiness on the bouquet. Big fruits show on the opulent palate including flavors of blackberry, dark cherry and blueberry. Good acidity. The finish shows great structure yet is balanced. Enjoy the power of its super long finish.
The 2006 Carter Cellars Revilo Vineyard (Revilo is Oliver spelled backwards in honor of the vineyard owner Reg Oliver – see El Molino Winery) 100% Cabernet Sauvignon is a wine that definitely has an elegant side…but with some structure. Cocoa powder, vanilla, raspberry and red cherry show on the bouquet. Well integrated layered flavors showing more red fruit rather than dark fruit make this a good wine to pair with food.
Fruit from the Coliseum block was used in the first vintage of Carter Cellars and is still being used in current releases. The 2007 Carter Cellars 100% varietal Cabernet Sauvignon is a very dark concentrated wine displaying some dark chocolate on the nose. Winemaker Nils Venge brought over some roast beef during our tasting and that was exactly what this wine needed to be paired with at such a young age. "Big fruit and big structure" (with mouth filling tannins) could easily be the motto of this wine!
The 2007 Carter Cellars To Kalon 100% Cabernet Sauvignon was released in November 2009 but we had a sneak preview. This wine has an elegant bouquet – aromas of plum with notes of chocolate and cocoa. It shows sweet and sour cherry in the mouth – this wine has more of a lean mouth feel compared to some of the much bigger juicier Carter wines. However this wine is still well-structured, featuring broadly grained tannins on the finish. This wine was so young at the time of our tasting. Age will certainly integrate the flavors; over time it will become a well-balanced example of the long term benefits of aging wine, especially from the To Kalon Vineyard.
—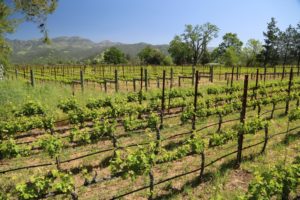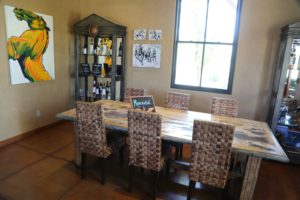 This is a unique opportunity to taste extremely low production and very highly regarded red wines (often scoring some of the top scores in the valley from respected wine writers) from a Napa producer that doesn't require interested parties to be on a wait list to eventually get on the allocation list to have a chance to buy wines if those ahead of you have not purchased all of their allocation. Tasting are by appointment and are hosted at Envy Winery, one of the few wineries located north of Calistoga that is open to the public (far northern reaches of the Napa Valley).
From the driveway in front of the tasting room or from the patio one can see the location of Old Faithful Geyser (a local natural geyser) and if timing is such, it will be spouting off its white spray high into the air. There are also excellent views of the nearby Vaca mountain range including the tallest mountain in the vicinity, Mt. St. Helena (sometimes capped with snow on its upper reaches during the winter).
As of our latest update to this review, all of Carter Cellar's wines are produced in quantities of less then 350 cases with a total production of merely 1200 cases. All their bottles are individually numbered and half bottle sizes are available for most of the wines.
Old Carter Whisky Co
Mark and his wife Sherri are also founders of the Old Carter Whiskey Co – focusing on hand crafted small batch straight rye and bourbon whiskies. Batch 1 was released in early 2018. Already in high demand several of the outlets that we visited in Lexington Kentucky that carry Old Carter Whisky including Justin's House of Bourbon – told us they sell out within several days once the product goes on their shelves although we did spot some at the nearby Dudley's on Short restaurant (excellent food by the way and service).
The roots of Old Carter Whiskey began when Mark and Sherri partnered with a friend Dixon Dedmond to resurrect an old bourbon brand Kentucky Owl – their first release was in 2014 – the Kentucky Owl Straight Bourbon Whiskey Batch 1. They sold that brand in 2017. The Old Carter whisky is produced at several locations within Kentucky. Until more recently all their release batches have been released in Kentucky only. Releases range from merely approximately 40 bottles to around 1500 bottles at a time.
And Mark is a partner with winemaker Mike Smith in Ancillary Cellars, a limited production premium brand that focuses on cooler climate wines from neighboring Sonoma County (Chardonnay and Pinot Noir).
For more information or to signup for their wine club, visit: www.cartercellars.com and for more information about the Carter House Inn in Eureka visit: www.carterhouse.com