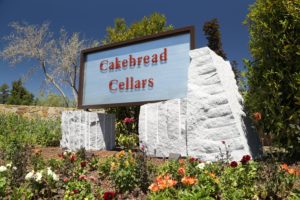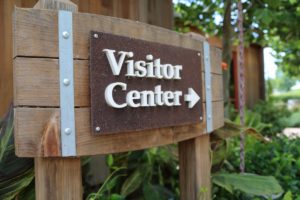 Cakebread Cellars, one of Napa's more well known and larger family run and operated wineries, is located slightly north of Robert Mondavi Winery on the east side of Highway 29. The driveway is somewhat hidden by trees and there is no obvious sign on the actual highway. During busy times of the year (usually summer and fall weekends) a parking attendant will often be stationed at the entrance to the parking lot to verify that guests have appointments as well as directing visitors where to park. Visitors must check in at the reception before joining any tours or tastings.
Founders, Jack and Dolores Cakebread are from Oakland where they owned a car repair business called Cakebread's Garage that Jack's father began in 1925. Jack was also a photographer and studied under the famed outdoor photographer Ansel Adams for about 9 years. His introduction to Ansel Adams was through a gift certificate to one of his classes that his wife Dolores gave him as a Christmas present. Jack and Dolores founded Cakebread in 1973 with a release of merely 157 cases of Chardonnay sourced from vineyards owned by Trefethen Winery and made this first vintage at Trefethen. Their first ever vintage of Cabernet Sauvignon was from 1974. In 1975 with not enough space at their new winery to handle their increased production, they processed their Cabernet Sauvignon from this vintage up at tiny Keenan Winery (on Spring Mountain, above St. Helena).
With their initial tiny production, Jack thought if he wasn't able to sell the wine he could always drink it. Fortunately the owner at the time of Groezinger's wine shop in Yountville (still there by the way, but now called Wine Country Connection), Phillip Faight purchased most of their inaugural vintage 1973 Chardonnay. Phillip was able to sell this wine to sophisticated wine drinkers, mostly from the San Francisco Bay area. As a result, word quickly spread about the quality of the 1973 Chardonnay and production soon increased rather rapidly.
Today their sons, Bruce (working at Cakebread since 1978, for more then 20 years as winemaker) and his brother Dennis (working at Cakebread full-time since 1987) oversee the overall winery operations. Both Bruce and Dennis also worked at the winery in their early years. Dennis is also the founder of Mullan Road Cellars, based in Walla Walla, Washington – a brand that sources from several area vineyards.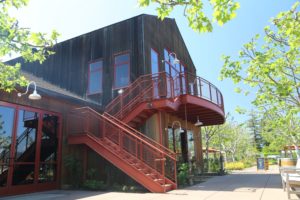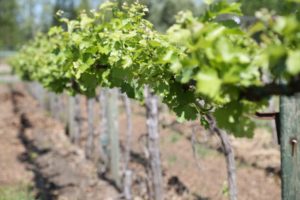 Wondering why Ansel Adams never photographed the Napa Valley? Ansel was awarded a contract to photograph the valley for The Treasury of American Wines book, but he gave the contract to Jack Cakebread instead. In an interesting twist of fate, Turnbull Cellars, located next door to Cakebread holds the largest private collection of Ansel Adam's works in the valley.
During a photo shoot for this book in 1972, Jack stopped to visit old friends Jack and Helen Sturdivant who owned the Sturdivant cattle ranch (site of the current Cakebread Cellars). The Cakebreads told the Sturdivants to call if they ever wanted to sell – merely hours after arriving back home in Oakland Jack & Dolores received a call from their friends who after thinking about Cakebread's offer decided they were in fact interested in selling their property. The rest is history – short on funds, Jack and Dolores offered to put a down payment on the property with the advance that Jack had received from the book he was working on. The offer was accepted with the caveat that the Sturdivants could live on site as long as they wanted. Jack and Dolores commuted from Oakland to Napa for many years until moving here full time in the early 1990's.
Cakebread produces premium wines (at a fairly sizable production for Napa Valley standards); the wines are found in many high-end restaurants nationwide and it is through this distribution that people often discover their wines.
Hospitality
We recommend the 90 minute in depth tour which provides an intimate look at the wineries' inner operations and ends with a sit down tasting. This educational tour provides a broad overview of various wine topics and would be especially beneficial for someone new to wine tasting. These tours and other events are among the best values for the price in the valley.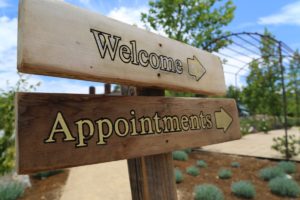 The tour guides are very informative and friendly – they invite questions from the group; this is an excellent opportunity to learn more about the wine business. Cakebread often holds food and wine pairing events, sensory seminars, as well as other educational events. Regular tastings are offered every 15 minutes daily – any visit to Cakebread requires an advance appointment.
During our most recent visit we had the chance to see the winery really in action – this is during harvest which is always the best time to a take a tour of a winery. Cakebread operates two completely separate wine making facilities; one for white wine and one for red wine. During harvest we saw employees zipping back and forth between the two on electric scooters and bicycles. Your tour will visit the white wine production facility only. Tour stops include their large and modern barrel storage facility, visits to the back of the winery where the wine presses are located and a stop in the vineyard.
One of the tour highlights is of course tasting the wine – and you do so on the second level of their hospitality center. The ceiling above the first floor is literally made from used corks – the most corks you will see in one place at any Napa winery. One of their employees told us he made a rough count and then calculated around 45,000 corks are here. The views from the 2nd level balcony are excellent – one looks east over a sea of vineyards. A tour also includes a view of the original winery where Jack Cakebread made his first vintage in 1973.
The Garden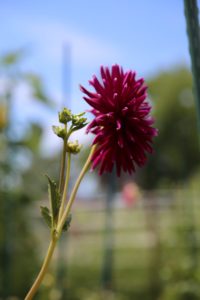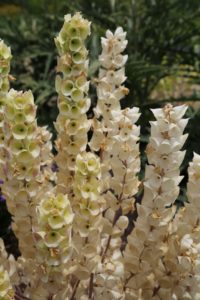 A rather sizable garden is located in the back of the winery originally founded by Dolores Cakebread; today it is a source for fresh vegetables and herbs used in their culinary program along with a number of flowers. Most Napa wineries don't have a full time chef and there are a handful that have just one, Cakebread has two full time chefs. With their fresh produce straight from the garden, trained chefs on site and excellent wine, Cakebread is the epitome of the Napa Valley lifestyle.
Vineyards
Over the decades, Cakebread has acquired approximately 1,600 acres with the majority located in the Napa Valley but also several vineyards to the north in Mendocino County. Nearly 600 acres are planted to vines spread out over 15 different vineyard sites. Perhaps the crowning hillside jewel of their vineyard collection is the Dancing Bear Vineyard high on the slopes of Howell Mountain offering some of the *most spectacular* views of nearly all of the entire Napa Valley spread out far below.
Select Wines
Their Chardonnay is very well known especially among the restaurant industry as that is Cakebread's key outlet for this wine. They make a number of Chardonnays; we tried the 2007 Cakebread Cellars Napa Valley Chardonnay soon after its release. It has nice aromas including tangerine, just a hint of toasted oak and crème Brule with good citrus notes on the palate. It offers appealing fruit with a slightly creamy mouth feel.
The Cakebread Chardonnays undergo sur lee barrel aging (the lees or sediment at the bottom of the barrels are hand stirred). Their Chardonnays are also mostly barrel fermented – rather than in tank; their reserve Chardonnay sees more aging than their larger distributed primary Chardonnay. In addition, the Reserve vintage is sourced from two premium sites in the Napa Valley – Cakebread's own vineyard and also the well-known Hudson Vineyard. The 2005 Cakebread Cellars Reserve wine is dark yellow – it is big for a Chardonnay with a pleasing rounded rich mouth feel and lingering notes of toasted oak. It undergoes some malolactic fermentation and is somewhat creamy and slightly buttery.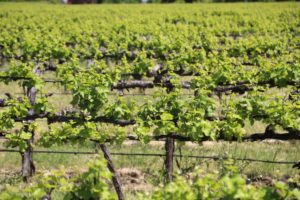 The proprietary Rubáiyat is a wine one will not find at any other Napa wineries. This blend is predominately Pinot Noir with often select other varietals rounding out the blend including Zinfandel, Syrah or Grenache. The 2006 Cakebread Cellars Rubáiyatis a blend of Pinot Noir, Zinfandel a splash of Syrah. The bouquet on this wine is decidedly spicy, more representative of a Zinfandel whereas on the palate it tastes more like a Pinot Noir with flavors of strawberry, raspberry and red cherry. This is a very fruit forward wine.
The 2005 Cakebread Cellars Cabernet Sauvignon is an excellent food wine – its well balanced between acidity, structure, and flavor. It is Bordeaux style in nature – the nose is elegant and somewhat floral with nice notes of blackberry which also follow through onto the palate. The mouth feel is smooth and rounded with firm yet soft tannins.
The Photo Contest
Cakebread has held an annual photo contest since 1992; this was created after customers began sending in photos of themselves enjoying Cakebread wine in various locations – back then entries were printed, today they are submitted in digital format. Entries need to include a photograph showing you wearing a Cakebread Cellars shirt or there needs to be a bottle of Cakebread Cellars wine in your photograph. Each picture needs to be accompanied by a 25 word description or less. Prior winning photographs hang on the wall next to their reserve room.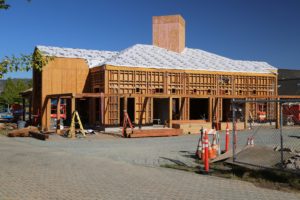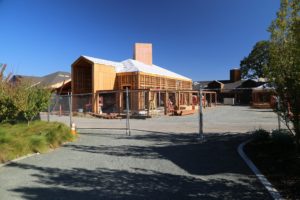 NOTE: In mid 2018 construction began on a major expansion of their hospitality center; the tasting room has been moved to the 'back' of the property (parking is now in the back of the property as well).
The new hospitality center will be under construction until at least mid 2019 with an estimated completion date of sometime in August or September of that year. Once completed there will be 9 individual rooms to host guests for private tastings.
We will keep a close eye on the progress of this and will revisit and provide a *major* and extensive update to this review once it is fully open.
In the meantime, visitors to the property must follow the driveway all the way around the back – where there is plenty of parking next to the entrance to the current tasting room (until the construction is completed).
The winery is very popular with visitors who arrive in limousines. For more information to to join one of their wine clubs, visit: www.cakebread.com
Exterior

Interior

Other