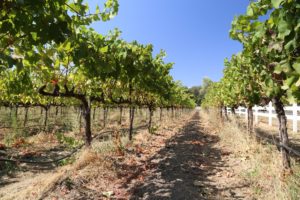 Ca' Momi Winery is run by three partners all of whom are Italian (and were raised in Italy), Dario De Conti (who we met with) known for his prowess around making delicious pizzas, Stefano Migotto (winemaker), and Valentina Guolo-Migotto (chef). Dario and Stefano share the wine making duties at their dedicated winery in a business park just south of the city of Napa. All fruit is sourced, mostly from vineyards within Napa but also from other parts of California.
Dario lived in Venice and made wine there before he moved to California. The name of the winery pays tribute to Momi dea Bionda – a friend and character from Italy – who used to guard watch on his own vineyard with a motorcycle, rifle and a blind dog. Ca' Momi's first vintage was from 2005 and in merely a few years they've increased production to their current total of around 20,000 cases. What's fairly unusual about this Napa producer are their prices; they aren't reflective of typical Napa pricing. The majority of their wine is typically under $50/bottle.
Also of note are their bottle closures. Most of their bottles are enclosed with "Nova Twist" (they are the first winery in the USA to use this). Nova Twist is a recyclable material, has no sharp edges and is easily removed – instead of the typical metal screw caps, Nova Twist is plastic. Two of their most popular wines are the white Bianco di Napa (a Chardonnay, Sauvignon Blanc, Muscat, Viognier and or Gewurztraminer) blend and the Rosso di Napa a red Zinfandel, Cabernet Sauvignon and Merlot blend.
Tropical fruit aromas from the 2009 Ca' Momi Bianco di Napa quickly envelop the glass – pineapple is the dominant aroma. The mouth feel is creamy and viscous. This wine holds good weight on the palate with lighter tropical flavors showing. It tastes sweeter than the residual sugar which is listed as only 0.5 percent. The finish is soft and quick. This is the ideal warm weather patio and pool sipping wine.
The 2008 Ca' Momi Pinot Grigio is sourced from vineyards throughout California. This wine has a clean bouquet – showing notes of pear and crisp red apple; it has good weight, flavor and alcohol. The finish is longer and more flavor filled than the Bianco di Napa. This is a crisp wine yet it retains a nice velvety mouth feel.
The 2009 Ca' Momi Chardonnay was sourced entirely from Rutherford. This is a creamy wine from start to finish with a slight touch of oak on the finish. Tropical notes both on the bouquet and the palate as well flavors of caramel and vanilla complement the fruit. The 2008 Pinot Noir is 100% sourced from the Carneros district (cooler growing climate next to the San Pablo Bay – just south of the city of Napa). This is a very delicate version of this varietal; it shows an elegant nose and pleasing red fruit flavors including tangy plum and red cherry. This wine is balanced and for under $20 it is has a good price to quality ratio.
The 2007 Ca' Momi Cabernet Sauvignon comes in under 14% alcohol and was one of those rare Napa Cabernet's priced under $20. The palate shows more red fruit than dark fruit – it is a soft wine with fine grained tannins anchoring the finish. Ca' Momi also makes a off dry non vintage Sparkling White wine and a Vodka.
Ca' Momi imports a number of Italian varietals (wines you don't see that often in Napa) to pair with their food selections. All the Italian wines we tried had good acidity, were balanced and were definitely food wines.
For several years Ca' Momi ran an Enoteca in the Oxbow Market in the city of Napa (opened in September 2010 and closed in late 2016). The focus here was on their Napa Valley wines, delicious Italian pastries, pizzas and pastas. With the opening of this small eatery and the focus on Italian foods it only made sense to offer Italian wines including a selection of dessert wines.
Opting to focus on one 'food space', they opened the Ca Momi Osteria in 2015 – located on First Street in downtown Napa. The focus of this restaurant is on using local and organic ingredients from regional small producers. As expected they have a healthy wine and spirits offering including from craft distillers and wines from both the Napa Valley and Italy. And they distill their own vodka using Napa Valley grown grapes.
Sometimes live music is held in the restaurant.
Private tastings can be arranged at their winery located in the south part of the city of Napa for up to 10 people. These are usually held with either Dario, Stefano or Valentina.
Ca'Momi teamed up with Marley family (Bob & Ziggy) to produce the Marley Family Rainbow Country White wine. Proceeds in part from the sales of this wine will support Farm Up Jamaica – a non profit group that supports organic Jamaican based farmers. This wine is 60% Chardonnay and 40% Sauvignon Blanc – a blend that is sold at a very reasonable price point on Ca'Momi's own website and in select retail outlets.
For more information or to join their Rebel Drinks wine club, visit: www.camomiwinery.com
This review has been identified as needing a **major** update.
Oxbow Enoteca (now closed)