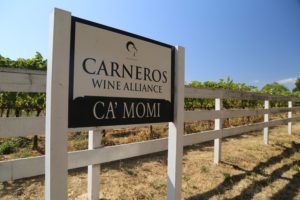 Ca' Momi Winery (pronounced 'ka momi') is a story that spans two continents, three friends and is connected by the threads of food and wine. Founders, Dario De Conti (who we originally met with many years ago) is known for his delicious pizzas and is a certified Pizzaioli, Stefano Migotto is the Director of Winemaking for Ca'Momi and his wife Valentina Guolo-Migotto is a chef; she also designed their Heartcraft wine label.
University of Padua
All three grew up in northern Italy, either in the Veneto region or in the Province of Padua. They met while attending the University of Padua, the second oldest university in Italy having been founded in 1222; its 800th year anniversary celebration was held in 2022. For reference, the oldest university in Italy is the University of Bologna founded in 1088 – which we have also visited. The University of Padua is the world's 5th oldest surviving university. Arguably the university's most notable alumnus was Copernicus and its most notable faculty member, Galileo Galilei was the chair of the mathematics department between 1592 and 1610.
The historical foundation of the University is Palazzo Bo located in the city center. Buildings on site originally dated from the 13th century and parts of these original structures were incorporated into newer construction dating from the 16th century. Visitors are able to take 45-minute guided tours of Palazzo Bo Monday through Saturday (closed Sundays). Highlights include a visit to the Great Hall where Galileo used to teach and his original podium, the Anatomical Theatre, the world's first permanent theatre of its kind having first opened in 1595 and the oldest in Europe. It was originally used for public dissections of the human body.
The University of Padua is also home to the oldest University Botanical Garden in the world dating back to 1545. The campus is spread throughout parts of Padua.
Torreglia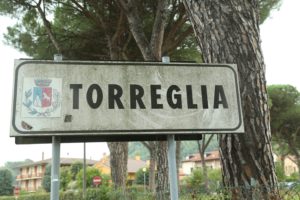 The name Ca'Momi directly reflects their Italian heritage – meaning in English, the House of Momi. The image of the house that appears on their labels is a real home and is owned by Stefano and Valentina located near the village of Torreglia. This small town is located at the edge of the Euganean Hills about 30 minutes by car from Padua or nearly an hour on the local bus. The town is surrounded by agricultural land including some vineyards and a number of homes similar in size and look to the Ca'Momi house.
Named in honor of the former owner of the house, Momi dea Bionda – a friend and character who used to keep watch on his own vineyard with a motorcycle, rifle and a blind dog. Incidentally their home is a short drive from the famous Luxardo (the makers of the Maraschino cherry), and a stop here should be on any visitor's short to-do list when visiting Torreglia. Luxardo is located a short distance from the center of Torreglia; originally founded in Zara, Croatia in 1821 their distillery was almost completely destroyed in WWII. Looking to continue the family business, several surviving relatives moved their operations to Torreglia in 1947. Luxardo maintains a tasting room open to the public.
Torreglia, Italy

Luxardo, Torreglia

—
Ca' Momi's first vintage was from 2005; their production has grown remarkably in a fairly short amount of time with distribution across 45 states. As of our last update, they produce around 50,000 cases per year.
And fairly unusual for a Napa Valley based producer are the prices of their wines; these are quality wines available at prices that won't break the bank. They are well-crafted wines made for everyday consumption
Stefano oversees their winemaking at their winery in a business park just south of downtown Napa.
Vineyards

Ca'Momi owns two vineyards on the Napa side of Carneros on Cuttings Wharf Road – located about a mile from each other. Ca'Momi was already familiar with both vineyards prior to their purchase as they had been buying grapes from each site. Cercando Vineyard (the northern of the two vineyards and means 'searching' in Italian) is planted to 9 acres of Chardonnay, Merlot and Pinot Noir and was the first vineyard owned by Ca'Momi.
And the Crescendo Vineyard (formerly owned by vintner Kent Rasmussen, meaning 'growing' in Italian) is 23 acres total, planted to 10.5 acres of Pinot Noir these are some of the oldest Pinot Noir in Napa Valley dating back to 1974 and are the oldest Pinot Noir vines in Carneros. The only Pinot Noir in Napa Valley we know that is older, is in the Haynes Vineyard in Coombsville, dating from 1966.
In addition, Ca'Momi also sources grapes from arguably Napa Valley's least known sub appellation, Wild Horse Valley and also select regions throughout California.
Select Wines
The 2017 Ca'Momi Chardonnay is pale yellow with aromas of dried straw, yeast and baking spices. Rounded but not overly creamy, this bottling offers flavors of pear and citrus along with baking spices on the finish including cardamom. A hint of sweetness shows towards the back of the palate; this is a highly flavorful wine that is balanced from start to finish. Not oak driven nor buttery.
The 2017 Ca'Momi Heartcraft Napa Valley Cabernet Sauvignon offers appealing aromatics including chocolate covered cherries, black licorice, rhubarb and a hint of cedar and leather. Also, floral nuances including violets. The palate reveals more dark fruit than red fruit accompanied by hints of tobacco, cedar and dark chocolate. A mild grip of rounded tannins makes this a wine easily approachable in its youth. It is a very good value to quality Cabernet Sauvignon.
Tropical fruit aromas from the 2009 Ca' Momi Bianco di Napa quickly envelop the glass with pineapple as the dominant aroma. The mouth feel is creamy and viscous. This wine holds good weight on the palate with lighter tropical flavors showing. It tastes sweeter than the residual sugar which is listed as only 0.5 percent. The finish is soft and quick. This is the ideal warm weather patio and pool sipping wine.
The 2008 Ca' Momi Pinot Grigio is sourced from vineyards throughout California. This wine has a clean bouquet and shows notes of pear and crisp red apple; it has good noticeable, flavor and alcohol. The finish is longer, and more flavor filled than the Bianco di Napa. This is a crisp wine, yet it retains a pleasing velvety mouth feel.
The 2009 Ca' Momi Chardonnay was sourced entirely from Rutherford. This is a creamy wine from start to finish with a slight touch of oak on the finish. It shows tropical notes both on the bouquet and the palate as well flavors of caramel and vanilla complementing the fruit.
The 2008 Ca'Momi Pinot Noir is 100% from the Carneros district (cooler growing climate next to the San Pablo Bay – just south of the city of Napa). This is a very delicate version of this varietal; it shows an elegant nose and pleasing red fruit flavors including tangy plum and red cherry.
The 2007 Ca'Momi Cabernet Sauvignon is under 14% alcohol and is one of the most affordable Napa Valley Cabernet Sauvignon wines we have tasted. The palate shows more red fruit than dark fruit; it is a soft wine with fine grained tannins anchoring the finish.
Ca' Momi imports a number of Italian varietals (wines one doesn't often fine in Napa) to pair with their food selections. All the Italian wines we tried had good acidity, were balanced and were definitely built to pair with food.
—
Ca'Momi was the first winery in the United States to use Nova Twist closures on some of their wines. Nova Twist is a recyclable material, has no sharp edges and is easily removed – instead of the typical metal screw caps, Nova Twist is plastic. Two of their most popular wines are the white Bianco di Napa (a Chardonnay, Sauvignon Blanc, Muscat, Viognier and or Gewurztraminer) blend and the Rosso di Napa a red Zinfandel, Cabernet Sauvignon and Merlot blend.
In 2018, Ca'Momi teamed up with Marley family (Bob & Ziggy) to produce a Marley Family Rainbow Country White wine. Proceeds in part from the sales of this wine supported Farm Up Jamaica, a nonprofit group which supports organic Jamaican based farmers. This wine is 60% Chardonnay and 40% Sauvignon Blanc; it was sold at a very reasonable price point on Ca'Momi's own website and in select retail outlets.
Private tastings can be arranged at their winery located in the south part of the city of Napa for up to 10 people. These are usually held with either Dario, Stefano or Valentina.
Fior di Sole
Fior di Sole, meaning in Italian, flower of the sun, is also owned and operated by Dario, Stefano and his wife Valentina. As of our latest update to this review, this winery produces some 3.5 million cases a year spread across thirty different wine brands from vineyards throughout California.
Creating custom brands is only part of their overall service portfolio; this includes brands built exclusively for independent retailers along with private label wines (worth perusing for someone who has the creativity and capital.
They also offer bulk wine sales and custom bottling. They are a one stop shop from sourcing grapes, to making the wine and bottling it and also offer brand development and marketing support. Some of their retail partners are quite well known including Total Wine & More, Grocery Outlet, Trader Joes, Bevmo!, Whole Foods, and Specs among others.
Wine Tech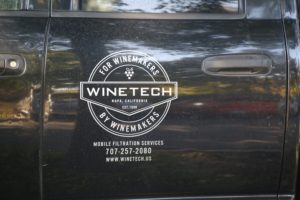 The wine industry has embraced mobile bottling services over the decades. But mobile services are not only restricted to bottling. Stefano and Dario operate Wine Tech a mobile filtration service for wineries.
Their services include a variety of filtration options including removing smoke taint, dealcoholizing, filtering lees and several wine adjustment procedures.
The company also sells filtration devices.
Indigo Eyes Wines

And Dario and Stefano are the winemakers for another label – Indigo Eyes. This wine is made in Napa Valley but none of the wines are actually from Napa Valley – rather they are all California appellation wines.
These distributed wines are available at a reasonable price point and are not sold direct to consumer; they are available at places like Grocery Outlet. These wines are distributed internationally; we have even seen some of these wines in Mexico and they are also available in select markets in the Philippines and Thailand, among other countries.
—
For more information or to join their mailing list, visit: www.camomiwinery.com
FORMER BUSINESSES
Enoteca Oxbow
For six years Ca' Momi ran an Enoteca in the Oxbow Market in the city of Napa (opened in September 2010 and closed in late 2016). The focus here was on their Napa Valley wines, delicious Italian pastries, pizzas and pastas. They also offered a selection of Italian wines including a several dessert wines.
Oxbow Enoteca

Ca'Momi Osteria
Opting to focus on one 'food space', the partners opened Ca'Momi Osteria in 2015 but unfortunately closed the space permanently in early 2022. We keep our notes here for historical reference. Ca'Momi Osteria was located on First Street in downtown Napa. The prior occupant was Naked Wines – the space was being used at that time for their offices and a tasting room.
The focus of the Osteria was to bring a taste of Italy to Napa Valley using local and organic ingredients from regional small producers. The partners travel to Italy several times a year, in part seeking out local and regional recipes. Some of the items on their menu were family sourced including the tiramisu, a special recipe provided from Valentina's mother. And other recipes date back several hundred years.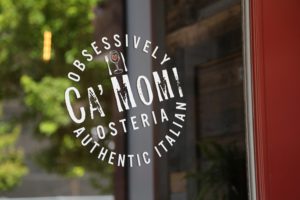 The Osteria was serious about their pizza – adhering to strict regulations and quality control and earning numerous Italian based certifications including The Verace Pizza Napoletana association and The Association Pizzaiuoli Neapolitans.
For several years they maintained a small microbrewery inside the restaurant, but this was converted over to a wine retail space by the end of summer, 2019. As expected, they maintained a strong wine and spirits list including from craft distillers and wines from both Napa Valley and Italy. And they distilled their own vodka using Napa Valley grown grapes.
Sometimes live music was held in the restaurant. Small plates were available as 'tapas' style.
And in late 2022, the space again became home to an Italian restaurant; this time to Scala Osteria & Bar, founded by the same ownership of Napa's long time Bistro Don Giovanni restaurant.