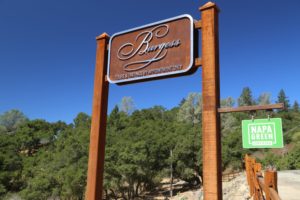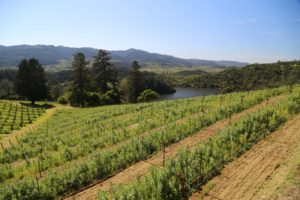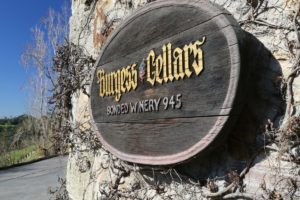 Burgess Cellars was founded in 1972 making this one of the older privately owned continuously operating wineries in Napa Valley. Entering their barrel room feels like walking back in time to some extent – this is not a flashy tasting room. Tastings are a personalized experience with the host (private for your party). A map in the barrel room lists approximately 20-25 wineries that were in existence in the Napa Valley in 1972. By our count some 40 wineries in 1979 are still producing today and by the late 1980's the numbers were starting to increase dramatically. How things have changed since then with now 1,100+ commercial wine producers in the Napa Valley (of which about 500 are physical bonded locations).
The winery is owned by the Burgess Family and was founded by Napa wine making pioneer Tom Burgess. Tom was a former air force pilot whose assignments included flying Project Gemini astronauts around. While he was stationed at nearby Travis AFB he would use his time off to explore the surrounding country including the still under-the-radar at the time, Napa Valley.
He never lost his love of flying – later he kept several planes at the nearby Angwin–Parrett Field and would often fly people over the Napa Valley – he also owned and flew an aerobatics airplane. Several photographs he took from one of his planes hang in the tasting room – with birds eye views of the several Burgess vineyard properties. We first met Tom a number of years ago – he led a very full life in addition to his contributions to the Napa Valley wine world – unfortunately he died in early 2017.
Two of his children took over the operations several years ago; Steven is the President of the winery and James is the vineyard manager. Founding winemaker, Bill Sorenson made the first vintage in 1972 through to 2012. In today's wine making world in the Napa Valley where winemakers often spend just a few years at a winery before moving onto another winery – it is noteworthy that Bill spent some 40+ years at one winery.
Burgess is perched on on the western side of Howell Mountain (but not in the appellation) on land that was originally homesteaded & planted with grapes in the 1880's. The winery is at an elevation of nearly 1,000 feet. The original winery foundation on site dates from when the winery was first built in 1885. In the early 1970's this land was still planted to grapes but to varieties that are now not often found in Napa, Grenache, Chenin Blanc etc. At that time, Burgess replanted the vineyards to Cabernet Sauvignon and small amounts of other Bordeaux varieties. The original winery changed ownership several times over the decades and from 1943 to 1971 was home to Chateau Souverain (now located in Sonoma County). Burgess is the 4th owner.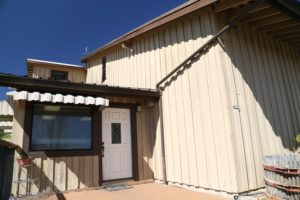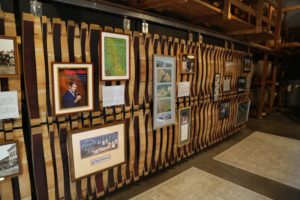 Several prominent winemakers who have certainly left their mark on the Napa Valley began their early careers by working at this property including Mike Grgich (of Grgich Cellars) who took his first winery job in the Napa Valley here in 1958 when it was still Chateau Sovereign. Several years later in 1964, Warren Winiarski of Stag's Leap Wine Cellars fame took an apprentice wine making job here.
The winery is located just off of Deer Park Road down a short narrow driveway. There are great views of the northern Napa Valley and the reservoir directly below their property. Walk out onto their deck for optimum viewing. Besides the 30 some acre vineyard on site called the Winery Ranch Vineyard, they also own a larger piece of land called Haymaker Vineyard on Howell Mountain higher up and east of the winery location (31 acres planted to vines including Petit Verdot, Petite Sirah, Malbec and Cabernet Franc – 1200 feet in elevation). In 1979 they purchased a sizable piece of property in what is now the Oak Knoll District (southern part of the valley) but sold that more recently to focus on their two mountain properties. They neither purchase fruit nor sell any fruit from their vineyards.
Their Tasting in the Cellar experience is conducted at the wine counter inside their barrel room; their focus is on several wines ranging from a lighter rosé to Cabernet Sauvignon. Their signature experience is the Mountainside Tasting, held in the Mountainside Tasting Room (with great views overlooking the vineyards) featuring several current releases as well as a rare opportunity to taste older vintages.
The 2016 Rosé of Syrah is a dry wine but features an intensity of fruit that perhaps might trick your palate into thinking it is slightly sweet. Aromas of watermelon – think watermelon candy for a perfect match on the aromas – as it breathes it reveals some citrus blossom notes – perhaps a lemon zest. Even very subtle hints of a white toast. Lively on the palate, it shows a sweetness of fruit – more watermelon with lesser flavors of strawberry. Good acidity and a clean finish. This Syrah is produced every year from the same rows.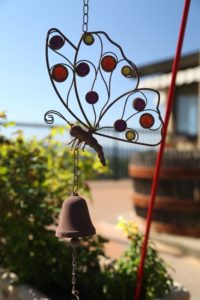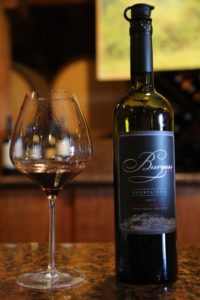 An unusual variety for the Napa Valley is Grenache. Burgess has made this wine for a number of years from a vineyard they no longer own in the Oak Knoll District. After they sold that vineyard they wanted to keep this wine in their portfolio – so they planted several rows on site in the Winery Ranch Vineyard. The 2013 Grenache Oak Knoll Vineyard is brickish red color in the glass – not overly dark. Very aromatic with a sweetness of fruit showing on the bouquet – strawberry notes, a subtle hint of caramel and a spice note. Displays a pleasing mouth feel with excellent acidity (mouth watering) – and tannins that are well-integrated and slightly astringent in nature.
With the change in winemaker, a proprietary red called the Mountaineer was introduced by Burgess in 2013. The 2013 inaugural vintage is a blend of Cabernet Sauvignon, Syrah and Petit Verdot. Fairly dark in the glass it shows aromas of blackberry and dessert spices. Big fruit shows on the palate but is complemented by good acidity. There is a richness and depth of flavor – showing both red and darker fruits.
One thing that really sets this winery apart from other Napa wineries is their Library Release program. Every year since 1979 they have released one of their Cabernet Sauvignon vintages of at least 10 years or older to the public. Trust us, this is a rarity to find in Napa. This gives one an excellent opportunity to taste older wine that has been aged properly. When you visit Napa wineries this is typically not the case as most wines that are available for tasting are typically only a few years old (the current releases).
This is an extremely unique opportunity to buy older wines *now* that are aged up to several decades old. Based on the age of these wines and considering their terroir, they are priced rather reasonably for Napa's standards. They currently produce between 12,000 and 20,000 cases a year depending on each vintage. They have select distribution in restaurants across the country. For more information and or to join their isit: www.burgesscellars.com