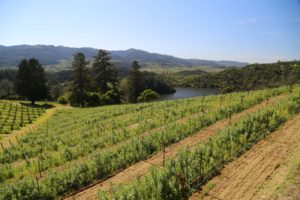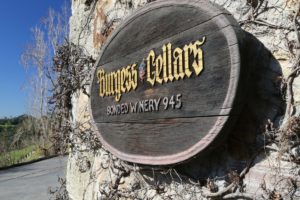 Burgess Cellars was founded in 1972 making this one of the older privately owned continuously operating wineries in Napa Valley. Burgess Cellars was owned by the Burgess family and was founded by Napa wine making pioneer Tom Burgess. Tom was a former air force pilot whose assignments included flying Project Gemini astronauts around. While he was stationed at nearby Travis AFB he would use his time off to explore the surrounding country including the still under-the-radar at the time, Napa Valley.
He never lost his love of flying – later he kept several planes at the nearby Angwin–Parrett Field and would often fly people over the Napa Valley – he also owned and flew an aerobatics airplane. Several photographs he took from one of his planes used to hang in the tasting room – with birds eye views of the several Burgess vineyard properties. We first met Tom many years ago; he led a very full life in addition to his contributions to the Napa Valley wine world – he died in early 2017.
Two of his children eventually took over the operations; Steven was the President of the winery and James was the vineyard manager. Founding winemaker, Bill Sorenson made the first vintage in 1972 through to 2012. In today's wine making world in the Napa Valley where winemakers often spend just a few years at a winery before moving onto another winery – it is noteworthy that Bill spent some 40+ years at one winery. It is also interesting to note that several vintages in the late 1970s/early 1980s were in part produced from purchased fruit from select hillsides around the valley including from Spring Mountain and Atlas Peak. The reason for this is that many of the old vines on the property were replanted in 1978.
A map that used to hang in the barrel room listed approximately 20-25 wineries that were in existence in the Napa Valley in 1972. By our count approximately 70 Napa wineries who were producing in 1979 are still producing today and by the late 1980's the numbers were starting to increase dramatically. How things have changed since then with now 1,100+ commercial wine producers in the Napa Valley (of which about 500 are physical bonded locations).
The 30 acre estate vineyard (next to the winery) for many years was called 1880 Estate Vineyard. Today it is known as the Sorenson Vineyard, renamed in honor of winemaker Bill Sorenson who crafted the Burgess wines for several decades until 2012. Burgess used to own a larger piece of land called Haymaker Vineyard on Howell Mountain higher up and east of the winery location (31 acres planted to vines including Petit Verdot, Petite Sirah, Malbec and Cabernet Franc – 1200 feet in elevation). They purchased this vineyard in 1987 and planted it to vines for the first time a year later. In 1979 they purchased the Triere Vineyard, a sizable piece of property in what is now the Oak Knoll District (southern part of the valley) but eventually sold that to focus on their two mountain properties. They neither purchase fruit nor sell any fruit from their vineyards.
Current Ownership
In September 2020 Burgess Cellars sold to Lawrence Wine Estates, overseen by Memphis based Gaylon Lawrence Jr., a principal investor in one of the country's largest agricultural businesses, The Lawrence Group (based in Arkansas). And the other owner of record in the sale was Carlton McCoy – Master Sommelier and current CEO of Heitz Cellar.
The deal included a majority of Burgess's assets including the brand, the winery and tasting room and the estate vineyard. However, the sale did not include the Haymaker Vineyard and this is still owned by the Burgess family. The Lawrence Group owns property in Florida, Illinois, Missouri, Arkansas and Mississippi and also is diversified into banking services. In Napa Valley, Lawrence Wine Estates also owns Heitz Cellar, Haynes Vineyard in Coombsville, Demeine Estates, Ink Grade wines and Stony Hill Winery.
Lawrence is also a majority partner in the ownership of most of Mare Island to the south of the Napa Valley. See our review on this website of Heitz Cellar for additional details including Gaylon's 'proprietor profile'.
Unfortunately merely several weeks after the ownership change, the Glass Fire burned through their property destroying the winery and several other buildings but leaving the vineyard intact. As a result, a number of older vintages, primarily from the 1970s and 1980s were destroyed. Hopefully the winery will be rebuilt in the future.
Historical Notes
Burgess is perched on on the western side of Howell Mountain (but not in the appellation) on land that was originally purchased & planted with grapes in the 1870's by George Fountain. The winery is at an elevation of nearly 1,000 feet. An original stone cellar foundation dates from 1884 when the property was first homesteaded and a winery built by Swiss immigrant Fulgencio Rossini originally from the village of Monte Carasso, Canton Ticino in Switzerland (close to where another Napa Valley winemaking family is originally from, the Pestonis). The Rossini's sold the property to Giovanni (John) and Elva Poncetta (also from a similar part of Switzerland). who in turn built a gravity flow winery here in the 1890s (still standing).
After the Poncetta ownership, the property changed ownership several times including being used by winemaker Peter Stark; from 1942 to 1971 it was home to Souverain Cellars owned by winemaker Leland Stewart (his mother's side of the family, Leland Stanford was the founder of Stanford University). Incidentally, the name Souverain was from a list of names sent to Lee by his printer – and in French means sovereign. The winery was started as a hobby and Lee knew very little about winemaking before founding Souverain Cellars. His primary job was as an executive with Armour & Company – a meat processing company that was in business from 1867 through 1983.
According to a Napa Register article from October 22, 1952 Lee and his wife Glen were intent on purchasing a vineyard in Ukiah but detoured back to the San Francisco Bay Area through the Napa Valley where they met a real estate agent – and by the day's end were owners of this property. He initially raised chickens on the property but soon produced his first vintage of wine in 1944 and sold it off as bulk wine to Charles Krug Winery (who incidentally had just been re-started that same year by the Mondavi family). In the early years he hired winemaker André Tchelistcheff as a consultant and Robert Mondavi was also a mentor.
Over the years, without much media fanfare, through his meticulous attention to detail, Lee produced wines with lower alcohol, higher acidity, aged using a judicious amount of oak resulting in balanced and premium food friendly wines that were built to age; his wines certainly earned numerous medals over the years including at the California State Fair and were served at the White House in Washington DC. Wines were produced from grapes from the property as well as from other vineyard sources around the Napa Valley and in Sonoma County. Souverain Cellars also produced wine bottled as Sherry.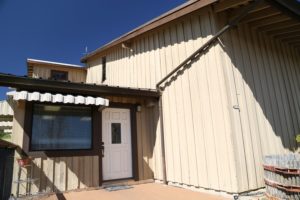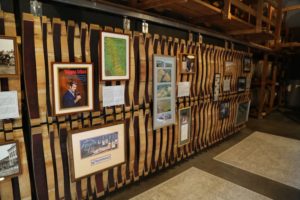 In a random historical twist of fate realized many years later through current Gaylon Lawrence ownership of both Burgess Cellars and Heitz Cellar – according to an article in the Los Angeles Times dated February 18, 1970 wine from Heitz Cellar (Grignolino) and wine from Chateau Souverain (Green Hungarian) were both available in the original Trader Joe's location in Pasadena which had opened merely three years prior in 1967. And while both wines were priced at or near $2/bottle – this was certainly no 'two buck chuck'.
Jerry Draper Junior whose family used to own La Perla Estate on what is now the Spring Mountain Vineyard property told us that the first grapes his family sold from their Spring Mountain property were to Lee at Chateau Souverain. Jerry personally delivered these grapes. And Jerry (who was in his late 90s at the time of our in-person visit) told us that he remembers Lee adding water to the grapes once they had been processed. Lee had a reputation for being notoriously thrifty.
In 1966 Lee expanded his physical operations for the first time in his history – adding approximately 2,000 square feet of additional cellar and bottling space. Note, that in 2020, the property sustained major damage from the Glass Fire including the winery itself which was destroyed; we will update our notes as the reconstruction takes place – and see below for information about Burgess's new home on the southern part of the Silverado Trail.
In 1970 Lee sold Souverain Cellars and the accompanying property to a group of four investors. Within about a year, this investor group sold the winery and property to Tom and Linda Burgess in June 1971 (Tom was only 33 years old at the time of his purchase and their son Steve was only 2 months old); for that year only, both Souverain and Burgess Cellars operated under the same roof. The name Chateau Souverain was later used but eventually dropped in favor of simply Souverain.
Since Lee's sale, Chateau Souverain has been housed in a number of locations and has had multiple owners. For several harvests in the early 1970s the Chateau Souverain wines were produced at what is now Rutherford Hill Winery – at that time the winery was called Souverain of Rutherford and was owned by Pillsbury. Pillsbury opened a second Souverain location in Sonoma County in 1973 called Souverain of Alexander Valley which is now the site of Francis Ford Coppola Winery.
Within a few years both their Napa location and Sonoma location were sold to separate owners. Lee stayed on as a consultant for Pillsbury; he finally retired in 1980 after nearly 40 years as winemaker. He died in 1986. In 2006 Chateau Souverain moved their operations to their current Alexander Valley location (the site of the old Italian Swiss Colony Winery). The brand Souverain is currently owned by E&J Gallo (Gallo Family Winery).
Several prominent winemakers who have certainly left their mark on the Napa Valley began their early careers by working at this property for Lee Stewart including Mike Grgich (of Grgich Cellars) who took his first winery job in the Napa Valley here for three months during harvest in 1958. Mike lived in a rustic cabin on the property. Several years later in 1964, Warren Winiarski of Stag's Leap Wine Cellars fame took an apprentice wine making job, also for Lee. And also winemaker, David Lett who would later take Chardonnay cuttings from Spring Mountain and plant them in Oregon; these were among the first ever Chardonnay vines in the Willamette Valley.
In the early 1970's this land was still planted to grapes but to varieties that are now not often found in the Napa Valley including Grenache, Chenin Blanc etc. At that time, Burgess replanted the vineyards to Cabernet Sauvignon and small amounts of other mostly Bordeaux red varieties.
Winery

Sorenson Vineyard (formerly 1880 Estate Vineyard)

Select Wines
The 2016 Burgess Cellars Rosé of Syrah is a dry wine but features an intensity of fruit that perhaps might trick your palate into thinking it is slightly sweet. Aromas of watermelon – think watermelon candy for a perfect match on the aromas – as it breathes it reveals some citrus blossom notes – perhaps a lemon zest. Even very subtle hints of a white toast. Lively on the palate, it shows a sweetness of fruit – more watermelon with lesser flavors of strawberry. Good acidity and a clean finish. This Syrah is produced every year from the same rows.
An unusual variety for Napa Valley is Grenache. Burgess has made this wine for a number of years from a vineyard they no longer own in the Oak Knoll District. After they sold that vineyard they wanted to keep this wine in their portfolio – so they planted several rows on site in the Winery Ranch Vineyard.
The 2013 Burgess Cellars Grenache Oak Knoll Vineyard is 100% varietal; the wine is brickish red color in the glass – not overly dark. Very aromatic with a sweetness of fruit showing on the bouquet – strawberry notes, a subtle hint of caramel and a spice note. Displays a pleasing mouth feel with excellent acidity (mouth watering) – and tannins that are well-integrated and slightly astringent in nature. We tasted this same wine 8 years post vintage date; its balance is what immediately stood out framed by a lovely tension and texture with flavors of raspberry and cherry cola. The tannins had integrated even better than when we first tried this wine. Well worth seeking out now that it has had some age.
The 2014 Burgess Cellars Red Blend Topography is an expression of both select red varieties but also different elevation sites ranging from the valley floor to hillside. This wine is dark ruby with sweet aromatics including black cherry, blackberry and hints of sweet dessert spices. Mouth watering across the palate with a sharpness of red fruit acidity including currant and pomegranate. Also some minerality notes towards the finish. Juicy and very bright with rounded and supple tannins. Easy drinking but with some complexities.
With the change in winemaker, a proprietary red called the Mountaineer was introduced by Burgess in 2013. Burgess Cellars Red Blend 2013 Mountaineer (inaugural vintage) is a blend of Cabernet Sauvignon, Syrah and Petit Verdot. Fairly dark in the glass it shows aromas of blackberry and dessert spices. Big fruit shows on the palate but is complemented by good acidity. There is a richness and depth of flavor – showing both red and darker fruits. This wine was also labeled the Mountaineer in the 2014 vintage and then in 2015, it was rebranded as the Alpinist.
The 2014 Burgess Cellars Red Blend Mountaineer is dark ruby in the glass offering aromas of red licorice, red cherry, blackberry and a higher toned red fruit aromatic sweetness. Also shows notes of rose petal. A liveliness is immediately noticeably on the palate with flavors of red cherry and currant. The bright acidity clearly shows on this wine but without being overly tart. The tannins are finely dispersed, chalk-like in their texture. A note of cigar smoke lingers on the slightly savory finish. We tasted this wine 7 years post vintage.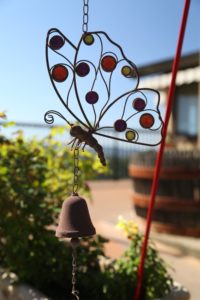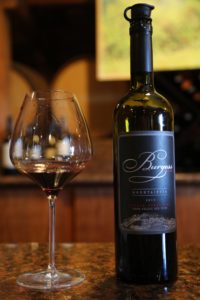 The 2014 Burgess Cellars Reserve Cabernet Sauvignon is a barrel selection of their finest lots of Cabernet Sauvignon from the oldest vines in the Sorenson Vineyard along with smaller percentages of various red varieties. Dark ruby in color, the bouquet offers aromatics of red fruits, rhubarb, cigar smoke and hints of dried herbs. The brightness of the aromatics are are complemented by the judicious amount of oak used during the aging – subtle hints of dessert spices show deeper into the aromatics, however the fruit is front and center. The tannins are certainly present, earthy and dusty in their approach. Medium grip. Overall, this is very balanced showing of Cabernet Sauvignon.
One aspect which really sets this winery apart from other Napa Valley wineries is their Library Release program. Every year since 1979 they have released one of their Cabernet Sauvignon vintages of at least 10 years or older to the public. Trust us, this is a rarity to find in Napa. This gives one an excellent opportunity to taste older wine that has been aged properly. When you visit Napa wineries this is typically not the case as most wines that are available for tasting are typically only a few years old (the current releases).
This is an extremely unique opportunity to buy older wines *now* which have been aged up to several decades. Based on the age of these wines and the pedigree of this property, they are priced rather reasonably for Napa standards. They currently produce between 12,000 and 20,000 cases a year depending on each vintage. Burgess maintains select distribution in restaurants across the country.
The original winery was located just off of Deer Park Road down a short narrow driveway. There are great views of northern Napa Valley and a reservoir directly below the property. Visitors used to be able to walk out onto their deck for optimum views.
Entering their barrel room felt like walking back in time to some extent – this was not a flashy tasting room. Tastings were a personalized experience with the host (private for your party). Their Tasting in the Cellar experience was conducted at the wine counter inside their barrel room; their focus is on several wines ranging from a lighter rosé to Cabernet Sauvignon. Their signature experience is the Mountainside Tasting, held in the Mountainside Tasting Room (with great views overlooking the vineyards) featuring several current releases as well as a rare opportunity to taste older vintages.
NOTE: these tasting experiences are no longer offered due to the winery burning down.
Burgess Silverado Trail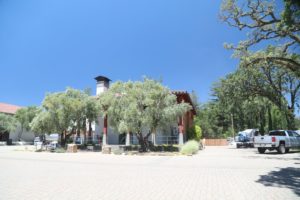 In mid 2021 Lawrence Wine Estates purchased 27 acres and the physical winery formerly used by Luna Vineyards on the south part of the Silverado Trail. This land was originally home to St. Andrews Winery, a second label for Clos du Val – who later sold it to Luna Vineyards.
Luna was founded by Napa wine veterans George Vare (since deceased and who we originally met with years ago), Michael Moone (at one point president of Beringer Winery) and lawyer Dick Lemon. They began operations on site of the old St. Andrew's Winery which was founded in 1980 (known for their Chardonnay) and at one point was owned by a subsidiary of Clos du Val Winery. John Kongsgaard was their founding winemaker, hired in 1996. Abe Schoener, founder of the Scholium Project which we visited years ago (was making wines in neighboring Solano County but has moved operations to Los Angeles), also helped make wine here for a short while.
Prior to the ownership change, the production facility was used for creating both Luna's wines as well as for select smaller custom crush clients. After the purchase, Burgess made some interior changes and brought in their own winemaking equipment including larger oak casks and several amphorae vessels. The winery is used to produce wines for Burgess Cellars, Stony Hill and also wines bottled under the brand, Ink Grade.
At the time of our last visit, the property will be planted to Cabernet Franc; a small block of Pinot Gris already grows on site. The idea is to create a small slice of agricultural diversity on the property with gardens, flowers and herbs. Often sheep and goats are kept on the property and are used to graze through the vineyards, keeping the cover crop in check – especially during Spring. Their benefits are specially helpful since the soils are not tilled among the vines.
The dark interior of the hospitality/tasting room will be renovated later in 2021 to be used in time for winter 2022. Plans call for a special sparkling/champagne room with caviar pairings. Tastings are hosted outdoors when the weather permits next to flowers and gardens. And unlike most wineries who pour new vintage wines, a tasting at Burgess often features older wines (during our most recent visit, all the red wines we tried were 6 to 8 years old).
The property comes with several coveted permits including being allowed to host up to 120 guests per day, 6 wine dinners per month and even being able to serve spirits to visitors.
Hospitality

Winery

The Heirloom Society offers three tiers of membership including Poppy, Alyssum and Lupine, each with different bottle amount shipments twice a year along with a variety of other discounts and winery perks. For more information and or to join their mailing visit: www.burgesscellars.com
Stay posted for updates to this review over the next few years as Burgess updates the cellar and hospitality spaces and also their agricultural footprint.