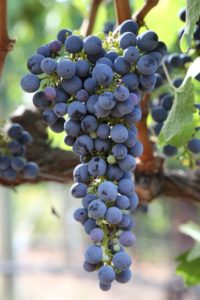 Bure Family Wines was started by the husband wife team of Valeri Bure and wife Candace. Valeri was a professional hockey player for a number of both Canadian and American hockey teams. Born in Moscow he eventually moved to North America to play hockey in 1991 – he enjoyed an 11-year career in the NHL. He also played on several Olympic winning medal teams.
Candace is an actress most notable for her roll on the popular TV Show, Full House. During his professional playing career Valeri was able to travel around the world during which his interest in food and wine kept developing. His teammates with Montreal introduced him to wine and soon his cellar became more than just a small collection – representing wines collected from his many travels. This has become even more of a passion since he retired in 2005.
During a trip to the Napa Valley he stumbled upon the beautiful estate winery of Chateau Boswell and met their winemaker (at the time) Josh Peeples (who we met with originally). Luc Morlet is their current winemaker. A friendship soon formed which became a partnership after Valeri decided to turn his passion into a commercial venture.
The Bures purchased a 2-acre hillside piece of land in St. Helena in 2011 which they use as a second home (their primary residence is in Los Angeles). And this tiny parcel has a small vineyard planted to Cabernet Sauvignon.
Valeri's great grandfather was from Switzerland who was invited to become the watchmaker for the Russian Czar and the royal family. His label that was stamped on every watch he hand made and was only slightly altered for use on their wine bottles. Look for the hockey stick clutched in one of the bird's talons in their logo. This is a nice tribute to both Valeri's long career as well as to his grandfather for his renowned watches.
As of the time of this review they focus on a Cabernet Sauvignon called the Majesty's blend; again this is a tribute to his families connection to the royal Russian Family. Their second wine is a white blend called Nuit Blanch with the 2007 vintage composed of 85% Sauvignon Blanc with 15% Semillon – both varieties sourced from Sonoma County.
We tried their inaugural release – the 2006 Bure Family Majesty's blend. It is composed of 85% Cabernet Sauvignon, 14% Cabernet Franc and 1% Merlot. The majority of the fruit comes from the cooler Coombsville growing region just east of the town of Napa. There are nice notes of earthiness, dustiness and cigar smoke on the bouquet. This wine is extremely soft up front with delicious fruit flavors including blackberry, black cherry and just a touch of vanilla. The dustiness that is on the nose picks up again towards the finish and the tannins are well structured yet in balance. This wine has bright fruit and lively acidity and will do well with additional aging. Both of these wines are produced in limited quantities with each under 200 cases.
The best way to acquire these wines is to join their mailing list. For more information, visit: www.burefamilywinery.com
This review has been identified as needing a **major** update.