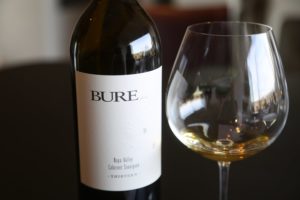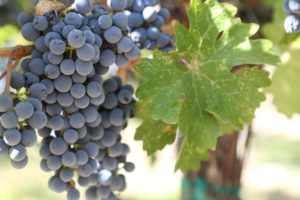 Bure Family Wines was founded by Valeri (Val) Bure and his wife Candace. Valeri was a professional hockey player for a number of both Canadian and American hockey teams. Born in Moscow he eventually moved to North America to play hockey in 1991 – he enjoyed an 11-year career in the NHL. He also played on two Russian Olympic winning hockey teams – winning both a bronze and a silver medal. He was not the first athlete in this family – his father Valdimir won 4 Olympic medals at three Olympics for Russia.
Candace is an actress most notable for her roll on the popular TV Show, Full House.
During his professional playing career Valeri was able to travel around the world during which his interest in food and wine kept developing. His teammates with Montreal introduced him to wine and soon his cellar became more than just a small collection – representing wines collected from his many travels. This has become even more of a passion since he retired from the world of hockey in 2005.
During a trip to the Napa Valley he visited the beautiful estate winery of Chateau Boswell and met Josh Peeples (who we originally met with to try the Bure wines). Josh introduced the Bure's to winemaker Luc Morlet who ultimately crafted a number of the Bure vintages. A friendship soon formed which became a partnership after Valeri decided to turn his passion into a commercial venture.
The Bure's purchased a 2-acre hillside piece of land north of the town of St. Helena in 2012 which they use as a second home (their primary residence is in Malibu, Los Angeles). This property is located on St. Helena bench-land – a part of the sub-appellation that is elevated from the valley floor at the edge of the Mayacamas mountain range. This is a premium vineyard neighborhood which includes neighbors such as Colgin's Tychson Hill, Grace Family Vineyards, Revana Winery and Vineyard 29.
And while they source most of the grapes for their wines from premium parcels both in Napa and neighboring Sonoma County, an approximately 0.6 of an acre of Cabernet Sauvignon is planted on this tiny parcel. Originally planted in 2001 using the Bosché clone budwood obtained from Dick Grace, founder of Grace Family Vineyards.
As of the time of this review they focus on several Cabernet Sauvignon wines called the Majesty's blend; until 2017 they produced two white wines, a Ritchie Vineyard designate Chardonnay and a white blend called Nuit Blanch – both wines sourced from Sonoma County.
Select Wines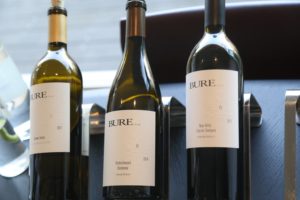 The Bure 2017 Nuite Blanche (translates into French as 'white night') is a blend of 85% Sauvignon Blanc and 15% Sémillon. A pretty bouquet includes aromas of honeycomb, baking spices, honeysuckle and citrus blossom. Clean across the palate with superb balance features excellent acidity. Shows a rounded texture that is slightly creamy but is not viscous. Flavors of tangerine and mandarin.
The 2014 Bure Malena Ritchie Creek Chardonnay (Sonoma County) is noticeably golden amber in the glass. The bouquet offers a diverse aromatic spread including notes of hazelnut, almond, honeysuckle, hints of butter and baking spices. Immediately intriguing is the wine's texture – almost saline, oily and briny – offers a noticeable viscosity and suppleness across the palate. But the texture is complemented very nicely with brightness of fruit and acidity. Flavors and a tartness of lemon lime linger on the finish for quite some time. Has held up very well 6 years after vintage date (at the time of our tasting). The name Malena came from combining the first two letters of each of the Bure children (Maksim, Lev and Natasha).
Their white wines can certainly be consumed in their youth but also have the characteristics of being able to age for several years.
The 2012 Bure Thirteen named in honor of the number 13 worn by Valeri during his professional hockey career. This wine was sourced from several premium vineyards – one near Dominus Winery and the other from arguably the most famous vineyard site in the country, To Kalon in the heart of the Oakville sub appellation. Ruby in color the bouquet is layered with aromas of tobacco, leather, a hint of green pepper and a sweetness of cassis and rhubarb. Offers flavors of dark cherry and blackberry with a noticeable density and concentration. We tasted 8 years after vintage date and the tannins while showing good grip were not course or heavy. Juicy with excellent acidity.
The 2016 Bure Estate Cabernet Sauvignon is an extremely limited wine – always made from their tiny estate vineyard. Shows berry fruits on the bouquet including blueberry and blackberry – the aromatics are ripe showcasing the purity of fruit yet also simultaneously elegant. Notes of violets. Supple and smooth across the palate – the wine is concentrated but with out the heavy grip of tannins. Fine grained. Noteworthy for its balance. Also somewhat savory on the palate. This wine has a very long life ahead of it.
The 2006 Bure Family Majesty's Blend is a blend of 85% Cabernet Sauvignon, 14% Cabernet Franc and 1% Merlot. The majority of the fruit for this wine came from the cooler Coombsville growing region east of the town of Napa. Shows pleasing notes of earthiness, dustiness and cigar smoke on the bouquet. This wine is extremely soft up front with plenty of fruit including blackberry, black cherry along with a slight kiss of vanilla. The dustiness that shows on the bouquet picks up again towards the finish. The tannins are well structured yet in balance. This wine has bright fruit and lively acidity and will do well with additional aging. Like all of their wines, this is produced in extremely limited quantities.
The Majesty's blend is named as a tribute to Valeri's family connection to the royal Russian family. The Bure family were originally from Switzerland; they were invited by the Russian Czar and the royal family to craft premium watches for the royal family including Valeri's great grandfather. The Bure's did so for more than 100 years for the Russian tsars including Nicholas II who was wearing one of their watches when he was executed in 1918.
A Bure label was stamped on every watch produced; architect, designer and artist Michael Roché slightly altered the Bure label for use on their wine bottles. A hockey stick is clutched in one of the bird's talons and a image of a watch in the other. This is a nice tribute to both Valeri's long career as well as to his grandfather for his renowned watches.
The best way to acquire these very limited production wines is to join their mailing list as nearly all their wines are sold direct to consumer – although one can find select wines at the French Laundry in the Napa Valley. For more information, visit: www.burefamilywinery.com