Brookdale Vineyards is one of those small Napa producers you may not have heard about due to their very limited production and historical lack of a tasting room in the Napa area. At one point they were tasting their wines at Silenus Vintners, a collective tasting room located just south of Yountville. Silenus is somewhat unique in that all the wines they taste in their tasting room are from wineries who make their wine on site, rather than being a collective which operates without a physical winery. Private tastings can be arranged.
Brookdale is named after a popular family run Kentucky based thoroughbred horse breeding farm. You will notice the small horse that appears on their label. Brookdale produces merely 500 cases each year of a single wine, a Cabernet Sauvignon. They own a small vineyard along the southern part of the Silverado Trail ("Three Daisies Vineyard") and they also source fruit from other high end area vineyards. The blend changes each year depending on what percentages the winemaker feels will produce the highest quality wine.
Brookdale Vineyard Management Company was founded by viticulturist Mike Seitz (1968-2003) in 2000. Tragically he died in a forklift related farming accident at a vineyard in the southern part of the Napa Valley. His wife and owner of Brookdale, Kristi Seitz has dedicated all vintages to his memory.
Their Cabernet Sauvignon is always made so that it is not extremely high in alcohol and is well balanced; as a result not one aspect of the wine dominates. This wine has excellent acidity which makes it ideal for pairing with food. The 2003 vintage which is a dark wine with a full bouquet and flavors that hint of dried violets and juicy ripe black cherries. This vintage received some very good ratings by wine writers and in addition, placed high in select wine competitions.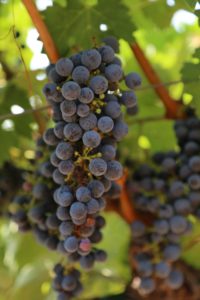 While Brookdale sources from a number of vineyards in the valley – they also own a small 3 acre vineyard right off the southern part of the Silverado Trail. The vineyard, "Three Daisies"
Kristi was also a partner in the unique Thirteen Appellations brand and co-owns the wonderful Soda Canyon Store at the corner of Soda Canyon Road and the Silverado Trail. This store (built in 1946, suffered severe fire damage in 2000 and was completely renovated) is popular with locals and tourists alike and is located merely several miles north of the city of Napa. Choose from wine, deli items, snacks and other Napa souvenirs. Their breakfast burritos are delicious as are their bagels. Tables are located inside the store, in the front of the store and for often a more intimate lunch or breakfast – behind the store in the grassy area. This is the only store north of Napa along the Silverado Trail until you reach the town of Calistoga about 18 miles north of here.
Brookdale's wines are available at the Soda Canyon Store and Cellar Collections in the city of Napa. Visit: www.brookdalewine.com
NOTE: This review has been identified as needing a **major** update.