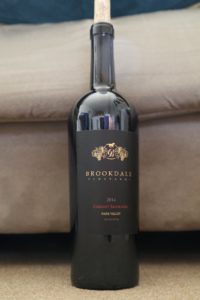 Brookdale Vineyards is one of those small Napa Valley producers one may not have heard about due to their very limited production and historical lack of a tasting room. However, at one point they were tasting their wines at Silenus Vintners, a collective tasting room located just south of Yountville. Silenus is somewhat unique in that all the wines they taste in their tasting room are from wineries who make their wine on site, rather than being a collective which operates without a physical winery. While no longer represented at Silenus Vintners, private tastings can be arranged to try the Brookdale wines.
Brookdale Vineyard Management Company was founded by viticulturist Mike Seitz (1968-2003) in 2000. Tragically he died in a forklift related farming accident at a vineyard in the southern part of the Napa Valley. His wife and owner of Brookdale, Kristi Seitz (who we originally met with) has dedicated all vintages of Brookdale to his memory; she eventually remarried. Mike would have been 50 years old in 2018. Time gets away so fast.
Brookdale is named after Mike's family horse training farm near Lincroft, New Jersey about 90 a minute drive south of New York City (dependent on traffic)- long since been converted into a state park, residential neighborhoods as well as home of Brookdale Community College (we will visit all of the above in 2020 to update to this review).
But the name also refers to the existing Brookdale Farm, located about 30 minutes from downtown Lexington, Kentucky about 1 mile outside of the small historic town of Versailles. Mike's uncle Fred Seitz founded this thoroughbred horse breeding farm in 1983. When one thinks of Kentucky several things come to mind, Bourbon, the Kentucky Derby and horses. This is definitely horse country, one clearly notices their presence immediately upon exiting the Lexington Airport towards the car rental facility – passing several statues of horses and jockeys. One might also refer to this land as horse fence country – as the landscape near Versailles is dominated by breeding and horse farms. And just down the road from Brookdale Farm is another well-known horse farm, Stonestreet Farm, owned by another winery with Napa Valley connections – Jackson Family Wines (Barbara Banke).
While Brookdale Farm used to primarily serve as a breeding farm, today it is mainly used for boarding and the sales of horses (although the Seitz family still breeds horses here). They attend all the major Kentucky based auctions as well as travel to New York and overseas to Europe and Australia to various horse sale events. Over the decades the farm has sold more then 300 stakes winners. We have visited the farm but have not yet taken a tour. Look for an update to this review in 2020.
In homage to the original Brookdale Farm in New Jersey and the Brookdale Farm in Kentucky, an image of small horse appears on the label of every wine bottle.
Versailles, Kentucky

Brookdale Farm, Versailles Kentucky

Brookdale produces about 500 cases each year of a Cabernet Sauvignon. This was their only wine for a number of years but more recently have introduced a Sauvignon Blanc usually sourced from neighboring Sonoma County. In addition to sourcing grapes from select vineyards, Brookdale also owns the Three Daisies Vineyard – originally planted by Mike in 2001. This vineyard is planted entirely to Cabernet Sauvignon; the grapes are hand-picked by friends and family every harvest.
Select Wines

Their Cabernet Sauvignon is generally made so that it is not extremely high in alcohol and is well balanced; as a result not one aspect of the wine dominates. This wine has excellent acidity which makes it ideal for pairing with food. The 2003 Brookdale Cabernet Sauvignon is a dark wine with a full bouquet and flavors that hint of dried violets and juicy ripe black cherries. This vintage received some very good ratings by wine writers and in addition, placed high in select wine competitions.
The 2014 Brookdale Cabernet Sauvignon is dark crimson in the glass – offers a rich aromatic expression dominated by fruit, it reminds us of a warm blackberry cobbler. Also aromas of ripe black cherry and black licorice are tinged with touches of toasted cedar, mocha and the smell of a recently opened bar of milk chocolate. Soft and rounded on the entry with good concentration. Firm but not muscular tannins anchor a long finish filled both darker fruits and to a lesser extent, darker spices. Drinks very well by itself.
The 2018 Sauvignon Blanc was sourced from the Russian River Valley in neighboring Sonoma County – pale yellow in color, using the Kelly-Moore paint chart for yellow hues, this wine's color would most closely resemble that of the Provincial Garden hue. Immediately offers beautiful aromatics – fresh cut grass (not overtly green), orange blossom, gooseberry, a lime zest and slightly under ripe white pineapple. Soft and supple, the wine glides in an ethereal manner across the palate with its pleasing texture. Shows plenty of flavor including red apple and mandarin. A nice sweet/tart balance with good acidity. Like the Brookdale Vineyards Cabernet Sauvignon, this wine drinks very well by itself – a crowd-pleaser especially served chilled on warm summer days. Throw in a pool + friends for optimum enjoyment.
Soda Canyon Store
Kristi was also a partner in the unique Thirteen Appellations brand and co-owns (with her sister) Soda Canyon Store at the corner of Soda Canyon Road and the Silverado Trail. This store (built in 1946, suffered severe fire damage in 2000 – from an internal fire and was completely renovated. Several parking spots are located on the south side of the store – with more parking on the north side.
Choose from wine, deli items, snacks and other Napa souvenirs. Their breakfast burritos are delicious as are their bagels. Tables are located inside the store, in the front of the store and for often a more intimate lunch or breakfast – behind the store in the grassy area. This is the only store north of Napa along the Silverado Trail until one reaches the town of Calistoga about 18 miles north of here. And unlike a number of delis in the valley which cater more towards tourists, Soda Canyon Store is often frequented by locals including vineyard workers and vintners. Refreshingly, the store nearly always is locked into XM Channel 58 or 59 playing old country music classics like Don Williams, Waylon, Jennings, Willie Nelson and others.
As expected, Brookdale's wines are available at the Soda Canyon Store and also at Cellar Collections in the city of Napa. And sometimes when the wines are indicated as sold out on the website, they are still available at the Soda Canyon Store. Private tastings of current releases can be arranged with Kristi. For more information, to join their mailing list or to purchase wine, visit: www.brookdalewine.com