Broman Cellars is located on Deer Park Road heading up to the tiny town of Angwin; the property is 11.5 hillside acres, of which about 2 acres is planted to Cabernet Sauvignon. In addition to their "estate vineyard" the Broman's source from prominent vineyards in the valley including Beckstoffer's Dr. Crane Vineyard in St. Helena and Georges III in Rutherford (bth part of Beckstoffer's Heritage Vineyards, the top vineyards in his Napa Valley portfolio, all with historical pedigrees) .
Bob Broman graduated from the University of California Davis in 1973 with a degree in Fermentation Science. His first winery job after graduating was working for the Martini family at Louis Martini Winery. After he worked at Concannon Vineyard in Livermore. He has over 40 years of winemaking experience in the Napa Valley – later working for prestigious wineries such as Stag's Leap Wine Cellars and St. Supery. In addition, in 1996 he began his own consulting company (Wine Production Specialists); he consults and has traveled to a number of wine regions world-wide including France, the Republic of Georgia, Italy and Chile. And he taught a winemaking course at Napa Valley College.
After many years of producing wines in the style demanded by the specific wineries he worked at, he decided he wanted to produce wines crafted in a style that he enjoys drinking/ His first vintage was in 1994, merely 150 cases of a Cabernet Sauvignon. They currently produce about 1300 cases which qualifies them as quite boutique but have plans to ramp up production closer to 5000 cases. Their focus is on three varieties – Cabernet Sauvignon, Merlot and Syrah. The winery is entirely a family run affair as Bob's wife Deborah and daughter Lisa are actively involved.
We began our tasting with the 2006 Broman Cellars Sauvignon Blanc sourced from the Melrose vineyard in St. Helena. This wine saw no oak aging, no malolactic fermentation and no sur lie aging. It is a fresh fruit forward crisp wine with flavors of Bartlett pear on the palate. This is an excellent summertime sipper, pool & patio winner!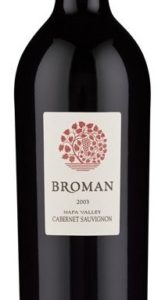 The 2003 Broman Cellars Cabernet Sauvignon was their current release at the time of this review. They are able to hold this wine back longer than many wineries which is great for the consumer as gains additional complexities by the extra bottle aging. The grapes for this wine are sourced from the highly regarded Beckstoffer Dr. Crane Vineyard. With over 1,000 acres farming in the Napa Valley alone, his name crops up in conversation rather often. Additional fruit comes from Beckstoffer's Georges III Vineyard in Rutherford. This is an elegant wine, the tannins are well integrated into the body and do not dominate the finish. Rich yet pleasing flavors are found on the palate and besides the central core of fruit there is hints of cocoa and chocolate. The finish is very soft and lingers for some time.
For more information or to join their mailing list, visit: www.bromancellars.com
Note: this is one of less then 4 active reviews on this site that we wrote based on tasting the wines at a consumer/trade tasting (versus actually meeting to taste through the wines) and is shortest review. We have been trying to meet up with the Bromans to get this review updated. If anyone can connect us with them, it would be much appreciated. This review has been identified as needing a **major** update.