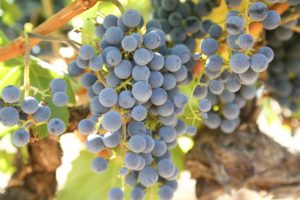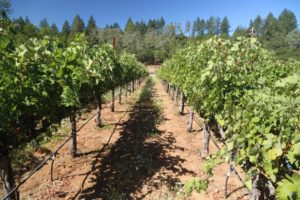 Broman Cellars was founded by Bob Broman in 1994 when he crafted his first vintage of Cabernet Sauvignon – this inaugural vintage was only 148 cases – production while still very small has grown to slightly over 1,100 cases annually with additional varieties and wines produced.
Winemaker, Bob Broman is from Walnut Creek (San Francisco Bay Area); he graduated from the University of California Davis in 1973 with a degree in Fermentation Science and was one of only 4 students in his graduating class for his major. His first winery job after graduating was working for the Martini family at Louis Martini Winery for one harvest. As his stepdaughter Lisa Broman Augustine told us, "Bob always says he learned the theory of winemaking at UC Davis but the practicality on the job winemaking at Louis Martini Winery.
After working the harvest at Martini in 1973, he worked at Concannon Vineyard in Livermore first as assistant winemaker and then later as winemaker. He has made wine for more than 45 harvests including spending significant time in Napa Valley – later working for prestigious wineries such as Stag's Leap Wine Cellars and St. Supery where he oversaw the construction of that winery in the late 1980s. In addition, in 1996 he began his own consulting company (Wine Production Specialists); he consults and has traveled to a number of wine regions world-wide including France, the Republic of Georgia, Italy and Chile. And he taught a winemaking course at Napa Valley College.
After many years of producing wines in the style demanded by the specific wineries he worked at, he decided he wanted to produce wines crafted in a style that he enjoys drinking. And as Lisa told us, in case no one buys the wine, Bob was sure he could, and would drink the wine and or share it with friends and family.
While the majority of their grapes are sourced exclusively from the Napa Valley – they also grow two acres of Cabernet Sauvignon. In 2002 Bob purchased 11.5 acres in Deer Park, a tiny community located on Deer Park Road which leads up to Howell Mountain. Grapes had never been planted on site – and one can see why when viewing their property. It is covered with a volcanic lava cap of rock and developing a vineyard was a time intensive and costly effort. The vines were planted by Nord Vineyard Services in 2003 and today are managed by Saviez Vineyard Management. The site is at an elevation that is out of the frost zone – above the frost of the lower elevation on the valley floor and some of the higher elevation sites on Howell Mountain which have experienced frost as late as late May. And the Broman's hold a coveted winery permit should they ever decide to build a winery on site.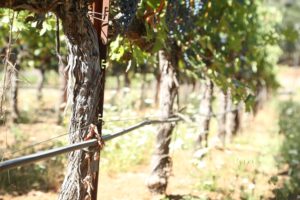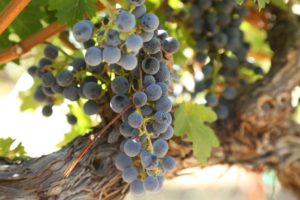 Their first harvest from this vineyard was in 2007 – the fruit generally goes into their Napa Valley Cabernet Sauvignon but during certain years when they feel the fruit is of exceptional quality, Bob will make a barrel selection and bottle a very limited production Broman Vineyard designate Cabernet Sauvignon.
The winery is a family run affair; Bob is the winemaker (with some harvest support from Lisa) and help from his wife Deborah and Lisa handles consumer relations as the Director of Sales and Marketing. Along with Elizabeth Marston, Kristen Spelletich, Chris Hall, Lisa was a founding member of NG: The Next Generation in Wine (a group of successive generation led wineries, created to promote and educate consumers about wine – and sell wines from their family-owned wineries).
Select Wines
Cabernet Sauvignon has always been their flagship wine – today the focus is on three wines including Sauvignon Blanc, a Proprietary Red Wine and the Cabernet Sauvignon.
The 2018 Sauvignon Blanc was fermented cold and very slowly. And this wine never sees any oak – Bob's goal is to preserve the freshness of this variety. Smells pretty and immediately invites one to take a sip. Offers aromas of red apple, pineapple, quince and citrus blossom. Very well balanced on the palate – not green or grassy and not to tropical either. The texture is very enjoyable – with a suppleness and a creaminess that extends across the palate. Very good acidity – lingers with green apple and a lime zest note – but not overtly tart. This is a wine to especially be enjoyed in the summer around a pool with friends.
Bob's winemaking style is perhaps 'old school' but tried and true. All grapes brought into the winery are sorted by hand (both Bob and Lisa's job). Bob then ferments wines as small micro-fermentations (one ton t-bins) with punch downs done daily during fermentation by hand.
Our first tasting of the Broman Cellars wine was the 2003 Broman Cellars Cabernet Sauvignon many years ago. Bob holds his Cabernet Sauvignon wines longer than many wineries – allowing additional complexities to develop both in barrel and in bottle. The grapes for this wine were sourced from the highly regarded Beckstoffer Dr. Crane Vineyard. With over 1,000 acres farming in the Napa Valley alone, his name crops up in conversation rather often. Additional fruit came from Beckstoffer's Georges III Vineyard in Rutherford. The 2003 Broman Cellars Cabernet Sauvignon is an elegant wine; the tannins are well integrated into the body and do not dominate on the finish. Rich yet pleasing flavors are found on the palate; besides the central core of fruit there are hints of cocoa and chocolate. The finish is soft and supple and lingers for quite some time.
The 2015 Broman Cellars Proprietary Red Wine allows Bob to be creative in the winery – the varieties and blend percentages change every year. The 2015 is about an equal percentage Syrah and Cabernet Franc. Medium ruby red in the glass, the bouquet is fairly fruit forward with hints of sage, old cedar box, other darker spices and a sweetness of fruit. Also red licorice. Easy to drink – with a very smooth palate – lingering softly with darker spices including notes of tobacco leaf.
The Broman Cellars 2015 Napa Valley Cabernet is 100% varietal, a blend of fruit from both their estate vineyard as well as a tiny vineyard along the Silverado Trail just north of Deer Park Road. This wine was aged for 32 months in barrel; this sounds long but the use of oak is very judicious with only about 1/4 of the barrel's new French oak and the rest 2-5 years used. Very pretty aromatics focused on both fruit and some secondary characteristics. Aromas of espresso and mocha and vanilla complement the fruit notes (blackberry and ripe prune). Very well integrated tannins on the finish – no sharp edges here, harmonious from start to finish. A pleasure to drink by itself.
The 2015 Broman Cellars Broman Vineyard Cabernet Sauvignon is entirely from the estate vineyard (only three-barrel production). Garnet in color, the bouquet features rich fruit aromatics, ripe but not over ripe. Slightly briary with pleasing aromas of blackberry along with a dusty nuance along with both a sweetness of darker fruits and baking spices. Well-layered on the palate, a complex showing featuring an increased intensity of fruit over their Napa Valley Cabernet Sauvignon. Like the Napa Valley Cabernet Sauvignon, this wine shows beautiful texture – noticeable but not harsh, the grain of the tannins is well-defined yet supple. Very balanced.
The wines are very selectively distributed in the following states: Arizona, Florida, Illinois, Nevada and Oklahoma and may be available at several retail locations within the Napa Valley including at Press Restaurant and the Oakville Grocery. The majority of their wines are sold through their mailing list – Lisa often travels, visiting key markets and also hosts wine events at client's homes (a very personalized experience in which friends gather, usually for dinners). For more information or to join their mailing list, visit: www.bromancellars.com