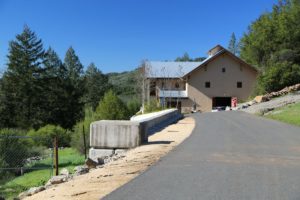 Bravante Vineyards dates from the early 1990's, is owned by George and Nancy Bravante and is located in the Howell Mountain sub appellation high in the hills above the main part of Napa Valley. The Bravantes have a long history developing real estate and agricultural land; they currently own and operate Bravante Produce in the San Joaquin Valley. They are growers and shippers of citrus and table grapes and also own and operate their own packing company.
Upon purchasing their Howell Mountain property in 1992 they soon planted the vineyards to a number of Bordeaux varietals as well as Sauvignon Blanc. 1995 was their first vintage. Two vineyards are planted on site, one is called Stone Ridge and the other is named Black Oak. They also have two acres of a Sauvignon Blanc Musque clone and will be producing a wine from this varietal in the next few years. 13 total acres are planted to vine and as with all other Howell Mountain vineyards they are at "elevation" – the winery is located at about 1700 feet.
Long time Napa Valley resident Duane Dappen has been their winemaker since right after the first few vintages. Duane has worked at a number of notable Napa wineries over the years including Grgich Hills Cellars, Storybook Mountain, Rombauer and Frank Family. In addition he also runs his own label, D Cubed which focuses on Zinfandel.
The only non estate wine Bravante makes is a blend of Sauvignon Blanc and Sauvignon Musque from the North Coast. Unfortunately the big frost that hit many of the northern California vineyards in 2008 also hit Bravante and they lost their entire Sauvignon Musque crop. Their 2008 North Coast Sauvignon Blanc certainly helps temper that loss. This wine has good weight and viscosity. It saw only 1/3 neutral oak during its aging (only 3 months on this oak). Pleasant notes of citrus blossom are found on the nose followed by a very rounded mouth feel with lingering rather concentrated flavors of pineapple and lemon on the finish. This is a wine that while it has a concentrated rich palate still maintains its liveliness as well as a good acid balance.
Their Merlot has long garnered attention and is the wine they have been known for, for a number of years. This is not a delicate Merlot by any means. Rather its a big mountain grown wine that expresses rich dark mountain grown fruit and more resembles a Cabernet Sauvignon than your typical Merlot. The 2006 vintage is a dark wine with big aromas including chocolate, blackberry and hints of sage. The wine is very concentrated, especially on the mid palate. The finish shows dusty expressive tannins which are broadly distributed; this helps maintain a very balanced structure.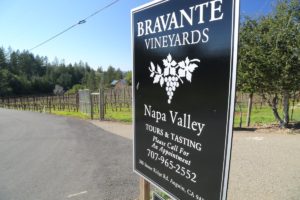 Two of Bravante's biggest wines are their Cabernet Sauvignon and Simpatico red blend. Howell Mountain is known for its big structure and bold tannins and these wines deliver in that regard.
The 2005 Cabernet Sauvignon is slightly blended with Cabernet Franc. This is a dark brooding wine that shows enticing aromas of crushed rock and mineralities on the bouquet. Notes of cedar, cigar and big black flavors including blackberry and black plum are spread evenly across the palate. The structure is anchored by broad long lingering tannins. For hillside Cabernet Sauvignon this is a wine that only helps add to Howell Mountains already excellent reputation. With big structure now and rich fruit this is a wine that should age and evolve well for many years.
The Simpatico is a wine they make every year for Auction Napa Valley. However they also make enough to release on a limited basis. The 2005 vintage shows intriguing spice notes on the bouquet including white pepper, along with blueberry and warm cherry pie. As the wine is allowed to breathe additional aromas of mocha develop. There is a lot going on in terms of flavor in this wine and the layers of flavor continue to develop towards the super long finish.
After a number of years of custom crushing their fruit at other local wineries they finally have their own winery on site. In fact it was completed merely 2 days before the 2009 crush! The winery is small but very functional with a number of tiny tanks used for their individual vineyard blocks. Visits are by appointment only and by 2010 tastings should be held in the smaller of their two caves on site. For reference allow at least 25 minutes to drive up to the winery from the town of St. Helena and be sure to get directions ahead of time as this is a winery located well off the beaten path.
Production is usually between 2500 and 3000 cases which allows them to have some National distribution. In addition you can find the wines locally sometimes at Sunshine Market in St. Helena. They do hold a certain amount of wines back each year and may have some library vintages available. For a limited production Howell Mountain based winery their pricing is very reasonable. Most of their distribution is through restaurants. For more information visit: www.bravantevineyards.com
Video by Cellar Angels: