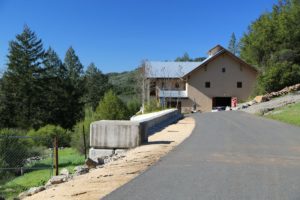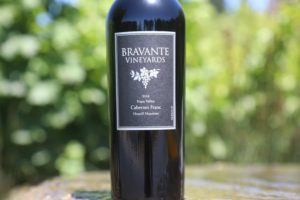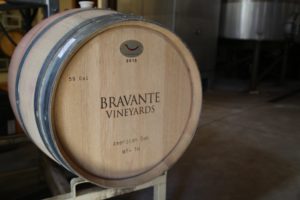 Bravante Vineyards was founded and is owned by George and Nancy Bravante. The winery is located in the Howell Mountain sub appellation high in the hills above the main part of the Napa Valley – about a 15-minute drive from the town of St. Helena. The Bravante's have a long history developing real estate and agricultural land; they own and operate Bravante Produce in the small town of Reedley in the south San Joaquin Valley (about a 35-minute drive with no traffic from Fresno) which they founded in 1992.
Bravante Produce has grown significantly over the years; the company farms approximately 3,000 acres of both citrus orchards (Bravante Family Orchards) and other tree fruits including cherries, peaches and plum pluots. In addition, they also supply a number of table grape varieties to market, farmed at the Bravante Vineyards Fowler property. With 14 different varieties; their grapes supply the market for a significant portion of the year – from May through December.
The company also operates their own packing facilities on 12 acres of land next to the Reedley water tower – the majority of the fruit processed here is from their own farms. Some 2 million boxes of product are processed every year. The packing facility includes some 40,000 square feet of storage the site also includes plenty of cold storage.
Their products are distributed around the United States including in Sprouts Markets and in numerous international locations.
And in early 2022, Bravante Produce introduced Bravante Citrus Direct, allowing farm to table' shipments of their citrus through the Bravante Citrus Direct website. Shipments within the U.S. typically take no more than 3 days.
Upon purchasing their first Howell Mountain property in 1992 they soon planted the vineyards to a number of Bordeaux varieties as well as Sauvignon Blanc. Several years later they sold this property and purchased what is now the home of their winery and one of their vineyards, the Stone Ridge Vineyard. This property is approximately 20 acres of which 10 acres are planted to vines including Cabernet Sauvignon, Merlot and Cabernet Franc. About a mile north of the winery, off of Keyes Road, is their second property, the Black Oak Vineyard planted with a very rare for Howell Mountain, Sauvignon Blanc (a Musque clone) and several other red varieties.
Both vineyards are at elevation – winery is at about 1,700 feet in elevation and the Black Oak Vineyard is slightly higher.
Their first vintage was in 1995 with the first releases coming in 2000 – a Cabernet Sauvignon and a Merlot. Until their own winery was built, they produced the wines off site – including at Frank Family Vineyards. They tend to hold their wines back a bit longer than most wineries with a focus on producing only wines from estate grown grapes.
Long time Napa Valley resident Duane Dappen was their winemaker from 2000 through the 2020 harvest. Duane worked at a number of notable Napa wineries over the years including Grgich Hills Cellars, Storybook Mountain, Rombauer and Frank Family. In addition, he also ran his own label, D Cubed which focused on Zinfandel. Duane is no longer the winemaker at Bravante Vineyards.
Select Wines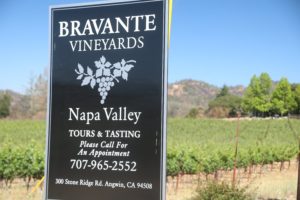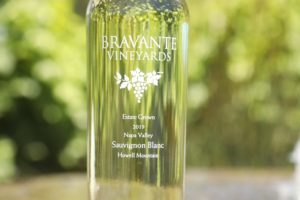 The 2019 Bravante Vineyards Sauvignon Blanc is pale yellow in color; offers bright aromatics including freshly cut grass, dried straw, lemon zest, citrus blossom and hints of vanilla much deeper into the aromatics. Mouth watering across the palate with flavors of mandarin and red apple. Quite rich and flavorful. Its slightly creamy texture is complemented nicely by its acidity. Shows a very subtle hint of pineapple sweetness on the finish. Very balanced. Should pair well with a variety of curries. The grapes for this wine are grown on a very rocky part of their Black Oak Vineyard.
The 2020 Bravante Vineyards Napa Valley Rosé Howell Mountain (made from estate grown Merlot) is salmon color in the glass; smells fresh with aromas of zesty citrus, freshly cut lawn, hints of mint, raspberry and Gravenstein apple. Rounded and very flavorful across the palate, shows notes of wild strawberry. Balanced with decent but not sharp acidity. Should pair well with raw or cooked oysters and a variety of shellfish. Or simply drink this wine by itself in the late afternoon by the pool in spring or summer. The wine is produced two ways including whole cluster pressing off the juice and also by saignée, bleeding off the juice from already fermenting wine in tank. The resulting wines are then blended together.
The 2016 Bravante Vineyards Cabernet Franc is deep ruby in color; shows a riper but not overripe bouquet filled to the brim with loads of fruit including blackberry, boysenberry and blueberry. But there is more that shows aromatically including mocha, brown chocolate, old cedar box, cardamom and a darker spice nuance. As it opens further shows a hint of wintergreen. But it's the fruit that dominates the bouquet. Offers red and darker berry fruits on the palate with flavors of cherry and blueberry. The tannins are supple and refined, lingering softly along with a darker spice nuance and a hint of cedar. Juicy. Good acidity. Spent 22 months in French oak – only 78 cases produced.
During our first visit to the property many years ago, we enjoyed a blend of Sauvignon Blanc and Sauvignon Musqué from the North Coast. Unfortunately, the big frost that affected many of the northern California vineyards in 2008 also hurt Bravante's vineyards; they lost their entire Sauvignon Musqué crop. The 2008 Bravante Vineyards North Coast Sauvignon Blanc certainly helped temper that loss. This wine has good weight and viscosity. It saw only 1/3 neutral oak during its aging (only 3 months on this oak). Pleasant notes of citrus blossom are found on the nose followed by a very rounded mouth feel with lingering rather concentrated flavors of pineapple and lemon on the finish. This wine has a concentrated and rich palate, yet still maintains its liveliness and freshness.
The Merlot has long garnered attention and is the wine they have been known for, for a number of years. This is not a delicate Merlot by any means. Rather it's a big mountain grown wine that expresses rich dark mountain grown fruit and more resembles a Cabernet Sauvignon than your typical Merlot. The 2006 Bravante Vineyards Merlot is a dark wine with big aromas including chocolate, blackberry and hints of sage. The wine is very concentrated, especially on the mid palate. The finish shows dusty expressive tannins which are broadly distributed; this helps maintain a very balanced structure.
Two of Bravante's most robust wines are their Cabernet Sauvignon and Simpatico red blend. Howell Mountain is known for its big structure and bold tannins and these wines deliver in that regard.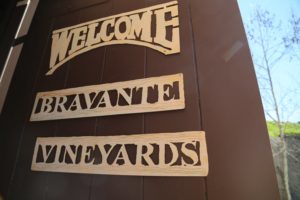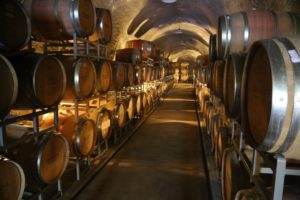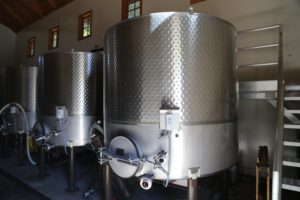 The 2005 Bravante Vineyards Cabernet Sauvignon is slightly blended with Cabernet Franc. This is a dark brooding wine that shows enticing aromas of crushed rock and mineralities on the bouquet. Notes of cedar, cigar and big black flavors including blackberry and black plum are spread evenly across the palate. The structure is anchored by broad long lingering tannins. For hillside Cabernet Sauvignon this wine only helps validate Howell Mountain's already excellent reputation. With big structure now and rich fruit this is a wine that should age and evolve well for many years.
The Simpatico was a red blend made every year for Auction Napa Valley with small amounts released to members. This wine is no longer made. The 2005 Bravante Vineyards Simpatico shows intriguing spice notes on the bouquet including white pepper, along with blueberry and warm cherry pie. As the wine is allowed to breathe additional aromas of mocha develop. There is a lot going on in terms of flavor in this wine and the layers of flavor continue to develop towards the super long finish.
—
After a number of years of custom crushing their fruit at other local wineries, they built their own winery next to their vineyards – completed just prior to the 2009 harvest. The winery is small but very functional with a number of tiny tanks corresponding to individual vineyard blocks. A small wine cave provides enough room for several vintages.
Visits are by appointment only and are held in the second of the two caves on site – a tiny hospitality cave setup for hosting visitors including tastings held at the tiny bar or the table on site. Visits are highly personalized. Allow at least 25 minutes to drive up to the winery from the town of St. Helena and be sure to get directions ahead of time as this is a winery located well off the beaten path.
Production is usually around 2,000 cases selling direct to consumer but also through select national distribution. Much of their distribution is through restaurants. In addition, you can find the wines locally sometimes at Sunshine Market in St. Helena.
For a limited production Howell Mountain based winery their pricing is very reasonable. And unlike a number of small producers, Bravante Vineyards holds limited amounts of wine back each vintage and makes available some of these wines for sale on their website. For more information, to schedule a visit to the winery or to join their wine club, visit: www.bravantevineyards.com
Lido Tasting Room, Newport Beach
This tiny tasting room is located in Newport Beach next to Balboa Peninsula and is surrounded by the Newport Harbor Shipyard which houses a diversity of sailboats and yachts due to its proximity to the nearby waterways. We have been to Newport Beach many times over the years and to a lesser extent, Balboa Island. A quintessential Balboa Peninsula experience is mid-morning sometime in Spring, after the fog clears, enjoying the fresh smell of saltwater while leisurely walking in the warm sunshine.
The tasting room is located directly across from Sabatino's Sausage Company (indoor and outdoor dining). In a nod to wine heritage, a small vine grows directly outside the tasting room and seems to be doing quite well in this maritime climate.
A parking attendant may be stationed on Lido Park Drive to verify the reason for visiting (since there are a number of private neighborhoods nearby). Parking is off of Shipyard Way or is metered on Lido Park Drive (with a short walk needed to the tasting room). Offers limited open by walk-in hours with reservations needed for all other times.
Video by Cellar Angels: