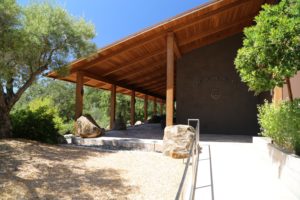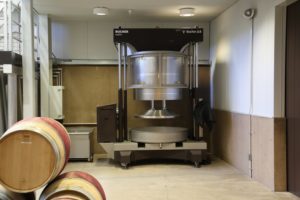 Brand Napa Valley is owned by proprietors Ed Fitts and Deb Whitman. Ed's background is in paper manufacturing – supplying a number of contracts including packaging to fast food restaurants. He sold his business in 2004. One of his manufacturing plants was located in Stockton California and during a number of visits to this plant he also had the opportunity to visit the Napa Valley. He became intrigued with the wines and the lifestyle and ultimately decided to buy property here.
In 2005 he purchased land on Pritchard Hill – three acres were already planted on site; their first wine was made from this small vineyard. His vision for the property increased as he came to know the land and his neighbors. This is prime terroir for growing Cabernet Sauvignon in Napa. Later he acquired several other acres from a nearby vintner. Today the property is 110 acres of which 12 acres are planted to grapes.
Their vineyards are located between 1100 and 1400 feet. They are above the fog line and the frost line; growing days are full of sunshine. The extremes in weather are narrower on Pritchard Hill then perhaps other parts of the Napa Valley – this region generally has a moderate climate.
The winery was completed in 2012, just in time for harvest and was designed by Architect Juan Carlos Fernandez (also known for designing the cave at Cade Winery in Napa and more recently, nearby Nine Suns). Brand is a beautiful winery blending both form and function. Ed enjoys horses and originally instructed Juan Carlos to build something in the general shape of a horse barn – tall with a sloped roof. He gave him further instruction – use buildings from old mining towns in parts of the Western USA for design inspiration.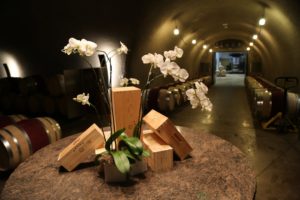 The landscaping surrounding the winery is "east meets west" – landscape architect Hoichi Kurisu has created peaceful surroundings – somewhat Asian inspired as well as incorporating parts of what makes Pritchard Hill unique – the use of large iron stained boulders. Two small waterfalls are located next to the winery. Hoichi says Ed reminded him of water – having the ability to flow around obstacles in the business world; these two falls are dedicated to Ed.
Through a winery club in St. Helena – Ed was introduced to highly regarded winemaker Philippe Melka. Philippe played an integral role in the physical design of the winery as well as matching the type and size of winery equipment to this particular property and its specific vineyard blocks. Philippe has certainly worked in a number of exceptional winery facilities around the valley through his consulting and wine making. Brand is ground zero for Atelier Melka – Philippe's own wine consulting company; he makes his own wines here.
All their tanks are small incorporating the latest fermentation technology – they were made in Bordeaux. One is used to seeing the red Bucher Vaslin press at premium wineries around the world – this one is not red but rather a custom color, the "Brand Brown".
The 2011 Vintage is 93% Cabernet Sauvignon and 7% Cabernet Franc. There is not much of this and or their succeeding vintages. Only 304 cases of this vintage were produced. The wine typically spends 22 to 24 months in French Oak barrels – of which 80-85% is new. The smell is the first thing that attracts one to this wine – it smells of the earth with layered aromas of seductive fruit and hints of darker chocolate and espresso. Also notes of toasted cedar.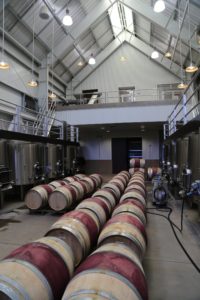 The beauty of this wine and perhaps a Philippe trademark is how seamless it is – from start to finish. Well integrated tannins linger in the front of the palate and then work their way backwards. The finish is clean, delicate and silky.
A number of Cabernet Sauvignons from the 2011 vintage show clear vintage characteristics – herbal and smoky notes on the bouquet – a leaner style of fruit on the palate with good acidity. Brand's vineyards were less affected by the cooler and rainy conditions than perhaps other parts of the valley experienced during that year. More sunshine and favorable wind conditions helped ensure even ripening fruit. In our opinion, their 2011's were some of the top wines in all of Napa from this particular vintage.
While they currently make one wine, they will be releasing a second wine as well as a second label. To join their mailing list and for more information please visit: www.brandnapavalley.com Appointments are for serious wine enthusiasts and collectors.