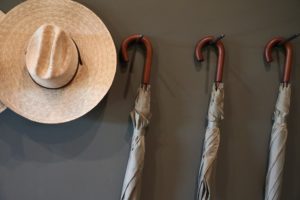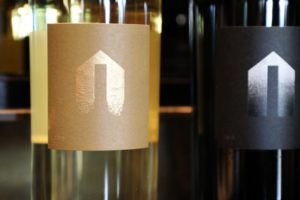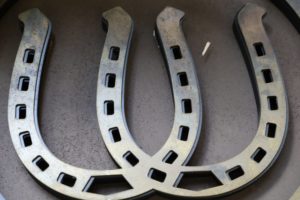 BRAND Napa Valley was founded by Ed and Deb Fitts. Ed's background is in paper manufacturing – supplying a number of contracts including packaging to fast food restaurants. He founded Dopaco, a company that specialized in providing packaging and paper products for nationally known fast food franchises including Burger King and McDonalds. He sold his business in 2004 although he stayed on for a while following the sale as the CEO. Dopaco operated a number of manufacturing plants in select locations in the United States. One of these manufacturing plants was located in Stockton California and during a number of visits to this plant he also had the opportunity to visit Napa Valley. He became intrigued with the wines and the lifestyle and ultimately decided to buy property in Napa Valley (after joining and being a member of the Napa Valley Reserve for many years).
In 2005 he purchased land on Pritchard Hill from the long time Pritchard Hill family (the Longs, reference nearby David Arthur and Montagna Estate). This is a part of Napa Valley that the Wine Spectator originally referred to as "the Rodeo Drive of the Napa Valley". Top wineries have estates here including Bryant Family, Chappellet, Colgin, Continuum, and Ovid, among others. And in fact, the Long's sold land to a number of these prominent nearby wineries.
Three acres were already planted on site; their first wine was made from this small vineyard. The inaugural vintage was from 2009 and the wines were produced at Vineyard 29 until BRAND's physical winery was built. Ed's vision for the property widened as he came to know the land and his neighbors. This is prime terroir for growing Cabernet Sauvignon in Napa. Later he acquired several other acres from a nearby vintner. Today the property is 110 acres of which 12 acres are planted to grapes.
In early 2019 Ed and Debbie sold the winery and property to husband and wife, James Bean (originally from Pennsylvania) and Christine O'Sullivan (originally from Southern Ireland). James and Christine are former Apple executives who met while working at Apple; James as the former vice president of retail operations (helping oversee hundreds of Apple stores in numerous countries) while Christine helped manage the release of the Mac OS X operating systems.
Both have since left Apple and have put down roots in Napa Valley; they were married at the Culinary Institute of America, are members of the Napa Valley Reserve and own several vineyards in the valley. BRAND was not their first acquisition in Napa Valley; their initial wine-related purchase was a vineyard on the valley floor south of St. Helena.
Their vineyards are located between 1200 and 1500 feet. They are above the fog line and the frost line; growing days are full of sunshine. The extremes in weather are narrower on Pritchard Hill than perhaps other parts of Napa Valley; this region generally has a moderate climate. The vineyards are divided into two sections – an upper and a lower site broken into 17 individual vineyard blocks containing a 'spice rack' of different rootstock and clonal combinations. The upper vineyard is primarily planted to Cabernet Sauvignon while the lower vineyard is planted to Cabernet Franc and Petit Verdot. Like most of Pritchard Hill, the vineyard preparations required significant work – based on the voluminous number of rocks that form the soils up here.
In 2020 they introduced a number of biodynamic practices to their vineyards while continuing to farm their vines completely organically.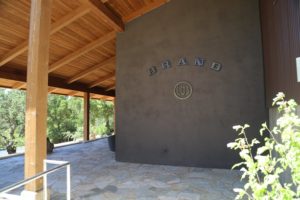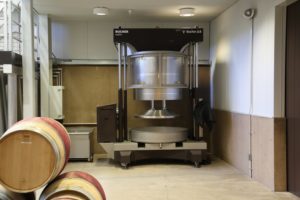 And the soils (or lack of) are classic Pritchard Hill and abundance of both small and large rocks featuring a rust colored brown look at time (both the soils and rocks) from the high iron content. The name BRAND is an appropriate name, tying in Ed's love of horses; he originally choose a double horseshoe as the logo with the rusted iron equating to the color of their soils and representing their own brand. Since the transition in ownership, BRAND's logo has been significantly rebranded including the design of their wine label.
The winery was completed in 2012, just in time for harvest that year and was designed by Architect Juan Carlos Fernandez (also known for designing the cave at Cade Winery on Howell Mountain and more recently, nearby Nine Suns). BRAND is a beautiful winery blending both form and function. Based on Ed's love of horses, he originally instructed Juan Carlos to build something in the general shape of a horse barn – tall with a sloped roof. He gave him further instruction; use buildings from old mining towns in parts of the Western USA for design inspiration.
The landscaping surrounding the winery is "east meets west"; landscape architect Hoichi Kurisu created peaceful surroundings utilizing both Asian influences combined with aspects of what makes Pritchard Hill unique – the use of large iron-stained boulders. Two small waterfalls are located next to the winery. Hoichi recalled that Ed reminded him of water – having the ability to flow around obstacles in the business world; these two falls are dedicated to Ed.
Through a winery club in St. Helena – Ed was introduced to highly regarded winemaker Philippe Melka. Philippe played an integral role in the physical design of the winery as well as matching the type and size of winery equipment to this particular property and its specific vineyard blocks. Philippe has certainly worked in a number of exceptional winery facilities around the valley through his consulting and wine making. Until Philippe and his wife Cherie built and opened Melka Estate near the town of St. Helena, BRAND was ground zero for Atelier Melka – Philippe's own wine consulting company and is where he made his own wines for several years.
Philippe grew up in Bordeaux, earned his degree in Geology at the University of Bordeaux and later his master's degree in Agronomy and Enology. His first wine position was at Château Haut Brion in Bordeaux. His first introduction to Napa Valley came in 1991 as an intern with Christian Moueix, proprietor of Chateau Petrus in Bordeaux and Dominus in Napa Valley. Philippe came to Dominus to study soils and then spent a few years as a traveling winemaker and ultimately settled in Napa Valley in 1994.
In what would become the start of a long and successful wine making career, his first two wine making / consulting jobs were in 1995 at Seavey Vineyards and at Lail Vineyards (both of whom he is still involved with today). He began Atelier Melka in 1995, a wine consulting company specializing in creating limited production premium wines for a variety of well-regarded brands – primarily based in Napa Valley. Atelier in French means an artist's studio or workroom (where specific skills are taught and passed down). But today he has plenty of help; Atelier Melka employs several talented, accomplished and highly respected winemakers.
All their tanks are small and incorporate the latest fermentation technology – they were made in Bordeaux. One is used to seeing the red Bucher Vaslin press at premium wineries around the world – this one is not red but rather a custom color, the "BRAND brown".
Select Wines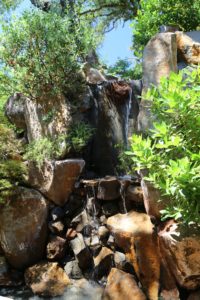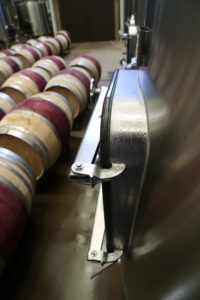 The Brand wines represent the mountain terroir of Pritchard Hill very well; these are muscular, texturally-driven and powerful wines which are built to age. They are not shy bottlings by any means. While they produced only one wine for several years, they now produce three red wines each year including BRAND Vineyard N°95 Cabernet Sauvignon, BRAND Proprietary Blend and their flagship bottling, the BRAND Cabernet Sauvignon.
The 2018 BRAND Napa Valley Vineyard N°95 Cabernet Sauvignon is a blend of 76% Cabernet Sauvignon and 24% Cabernet Franc. This wine is medium to dark ruby in color; our initial impression after smelling the bouquet is that its aromatics are focused on fruit rather than barrel influences, including dark berries and cherries along with a light note of cedar and chocolate. This wine is the most approachable in its youth of their three red bottlings; the tannins are gravelly and long lasting, accompanied by savory notes including of darker pepper and spicy plum.
The 2019 BRAND Proprietary Red Blend is 62% Cabernet Franc and 38% Cabernet Sauvignon. This wine is dark ruby in the glass; the bouquet offers aromas of damp earth, a darker dessert spice note and a sweetly fruited note deeper in the aromatics. Those expecting a lighter style Cabernet Franc led wine will instead discover a wine that is rich, complex and built with robust fruit and tannic power. This bottling offers flavors of plum and blackberry with a lingering note of toasted oak and cedar on the darkly fruited finish. The finish persists for an extended amount of time accompanied by plenty of grip and a dust/earth nuance.
The 2019 BRAND Cabernet Sauvignon is 100% varietal, harvested from both their best and highest vineyard blocks. This is their flagship bottling. The color is immediately noticeable; it is dark ruby and opaque. The bouquet offers aromatics of dark fruit along with chocolate and darker dessert spices. This is a robust and energetic mountain wine in its youth; while tasting this, we wrote savory several times to describe the palate. This bottling lingers with chewy tannins and a woodsy note. It needs to be paired with protein or aged for a few years to tame its memorable and long-lasting textural grip.
The 2011 BRAND is 93% Cabernet Sauvignon and 7% Cabernet Franc. There was not much produced of this particular wine and or succeeding vintages. Only 304 cases of this vintage were crafted. The wine typically spends 22 to 24 months in French oak barrels of which 80-85% is new. The smell is the first thing that attracts one to this bottling; its scents are of the earth with layered aromas of seductive fruit and hints of darker chocolate and espresso. It also offers notes of toasted cedar. The beauty of this wine and perhaps a Philippe trademark, is how seamless it is, from start to finish. Well integrated tannins linger in the front of the palate and then work their way backwards. The finish is clean, delicate and silky with a textural profile represented more of their vintage rather than their mountain terroir.
A number of Cabernet Sauvignons from the 2011 vintage show clear vintage characteristics including herbal and smoky notes on the bouquet; these wines represent a leaner style of fruit on the palate along with bright acidity. A number of wines from this vintage we have tried over the years have been a bit thin. However, BRAND's vineyards were less affected by the cooler and rainy conditions than perhaps other parts of the valley experienced during that year. More sunshine and favorable wind conditions helped ensure even ripening fruit. In our opinion, their 2011s were some of the top wines in all of Napa Valley from this particular vintage.
Brand also produces a very limited production proprietary white blend of Italian varieties grown on Pritchard Hill.
—
Appointments are for serious wine enthusiasts and collectors with priority given to active members of their mailing list. With little traffic allow about 30 minutes to drive here from downtown Napa. The final drive into the winery is on Long Ranch Road which provides a significant climb into the mountains above picturesque lake Hennessey. Parking is in a small lot behind a gate next to the entrance to the hospitality space. Unscripted seated tastings are hosted in their comfortable and cozy well-decorated hospitality space following a visit and tour of their cave and winery. Allow at least 90 minutes for a visit.
To join their waiting list for upcoming allocations, to schedule a tasting or for more information please visit: www.brandnapavalley.com
Grounds/Vineyard

Hospitality

Cave/Winery