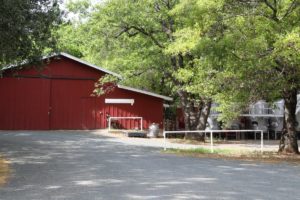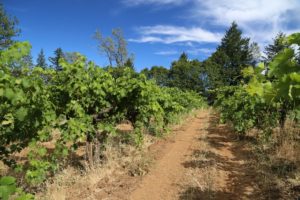 Black Sears is located high on the slopes of Howell Mountain at about 2400 feet in elevation. This is the highest vineyard on Howell Mountain which makes their winery among the highest in all of Napa County. Jerre Sears and his wife Joyce have lived on the property since 1980; they are one of the old "timers" of Howell Mountain. They are both psychologists by training but their purchase of the property was with the intent of growing wine grapes. The actual summit of Howell Mountain is within their 400 acre estate. This is a small family owned winery; the second generation has recently joined the operations. Daughter Ashley and her husband Chris have become involved in the day to day operations and are now instrumental in helping manage the vineyards.
If there is one area in the Napa Valley known for its Zinfandel, it would be Howell Mountain. Of course Howell Mountain deservedly receives much exposure for its Cabernet Sauvignon but this is Napa's "sweet spot" for growing Zinfandel and a number of vintners in the area produce a Zinfandel wine. Turley's well known Rattlesnake Ridge vineyard is not far from their property. Growing Zinfandel here is not a relatively new discovery either; this varietal was originally grown on "the mountain" in the 1880's.
Black Sears is no stranger to this varietal; when they purchased their property it was the only varietal growing on site – today they continue to source from these same original head pruned vines. Zinfandel comprises the majority of their vineyard; other varietals include Cabernet Sauvignon, Cabernet Franc and Syrah. The vineyards are mostly dry farmed and have been managed organically and bio dynamically for a number of years. Despite the vineyards being at such a high elevation they have never had a big problem with frost. They are well above the valley fog and during the critical growing season in Spring an inversion layer usually brings the warmer air up to the higher elevations as well the fact they have good wind flow based on the fact they are located on a ridge top.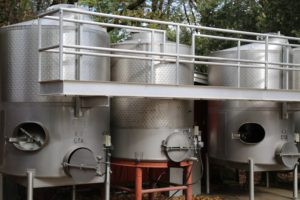 This used to be the site of an old apple orchard. The Sear's planted their property to the additional varietals over time starting soon after they purchased the property. They originally sold their fruit to a number of Napa wineries including Cornerstone, Turley and D-Cubed and today still sell the majority of their grapes. In 1997 they released their first commercially produced wine – merely several hundred cases. Today they are still small with a production of around 500 cases.
Ted Littorai was their winemaker since the first vintage and Thomas Brown took over in 2008 (Thomas also makes wine for a number of other clients just down the road at Outpost winery). Black Sears focuses each year on merely two wines, a 100% varietal Cabernet Sauvignon (several clones) and a Zinfandel.
Their Cabernet Sauvignon tends to age longer than most current releases on the market both in barrel (all new French Oak) and in bottle. The 2004 shows nice notes of all spice on the bouquet with a distinctive chalky almost dusty characteristic. The fruit is integrated well both on the bouquet and on the palate and shows more red fruit (red currant, red plum with notes of blackberry) than dark fruit. This is a wine whose softness fly's in the face of the often talked about big, huge tannic wines from Howell Mountain that you have to lay down a number of years before being able to enjoy them. The very balanced finish displays sweet fine-grained tannins.
These gorgeous photos courtesy of Black Sears

The 2006 Zinfandel shows a nose that is decidedly fruit driven including red plum, red cherry (think cherry pie), raspberry and well integrated notes of spice that become more prominent as this wine opens, including cinnamon and clove. It is a fairly soft wine throughout and doesn't have any overbearing peppery characteristics of a "bolder" Zinfandel. Notes of pepper and toasted oak are picked up more on the smooth finish rather than on the mid palate. This is not a heavy wine and should pair well with and not dominate any of a number of grilled meats.
The best way to secure their wines is direct – they maintain a mailing list and those on the mailing list receive the first offerings/releases. They are also distributed in select locations throughout California, New York and Florida. For more information visit: www.blacksears.com