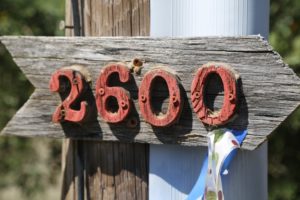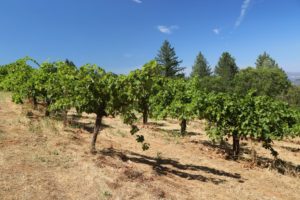 Black Sears is located on the slopes of Howell Mountain with the highest vines located at approximately 2,400 feet in elevation (the highest point of their property is just under 2,700 feet). This is the highest vineyard on Howell Mountain and also among the highest of all Napa County vineyards. For reference, the highest vineyard in Napa County is the Harris Blue Ridge Vineyard planted to Zinfandel; their highest vines are at an elevation of just over 2,700 feet and are located on the Napa/Solano County line.
The call of nature is strong up here and feels far removed from the valley floor. The views from Black Sears Vineyards on a clear day are special and spectacular; visually reaching down into Pope Valley and then across to the east into the central valley and beyond onto the high mountains of the Sierra Nevada range far in the distance. If conditions are right, one can actually see some of the snow-covered peaks of the Sierra Nevada mountains.
Jerre Sears (died in 2019) and his wife Joyce purchased 420 acres in 1979 and moved to the property in 1980; they were married on site two years later. Both are psychologists by training with degrees from the University of California Berkeley. Joyce grew up in Oakville (Napa Valley) and Jerre was raised in tiny Cottage Grove, Oregon located just south of Eugene. The name Black Sears comes from combining Jerre and Joyce's last names. When they purchased the property, it was an apple orchard with some Zinfandel vines. Their backgrounds were not in farming, but they began to farm and resuscitate the existing vines and planted additional varieties including Cabernet Sauvignon and smaller blocks of Cabernet Franc.
Today their vineyards are farmed organically and biodynamically and most of the vines are dry farmed with a few steeper rockier sections of the vineyard setup for drip irrigation – but rarely used. Compared to the valley floor, we have observed far less hillside vineyards being dry farmed. The water table is quite deep on the property and they maintain three wells between 600 and 900 feet deep.
Only about 27 of the 420 acres are under vine – with much of the property covered by forest land. Farmers initially, the Sears have sold or currently sell fruit to a number of prominent producers including Schrader, Robert Craig, Cornerstone, D-Cubed Cellars, T-Vine and Turley – several of which are their vineyard neighbors. They continue to sell the majority of grapes grown on site. Other crops are grown for their own uses include apples and various fruit trees. And there is a diversity of wildlife that either lives or comes through the property including black bear, bobcat and mountain lion. Images of these animals are sometimes captured on their trail cam.
The first vintage of of wine bottled under Black Sears was in 1988 using fruit from the property blended with fruit from long time Howell Mountain resident Mike Beatty's vineyard. Only several hundred cases were made at that time. Production has not grown significantly since then – currently only about 700 cases are produced annually, much of which is sold through their member allocation list.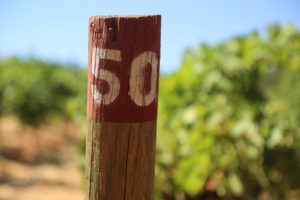 After several decades Jerre and Joyce decided to step back from the operations (around 2004 through 2006) with the intent of eventually selling the entire property. Their only child, Ashley and her fiancée at the time, Chris (now married) were living and working in Seattle. Neither of whom had any experience running a vineyard or a winery but fortunately both were interested in holding onto the land and continuing the legacy of the property. Ashley and Chris left their careers in Seattle and moved to Napa Valley, settling on top of Howell Mountain on the Black Sears property. They both became involved in the day-to-day operations and are now instrumental in overseeing the winery and vineyard operations as well as maintaining the overall property. During the transition in management Black Sears did not make a vintage in 2007.
Two prime vineyard neighborhoods in Napa Valley known for Zinfandel are Calistoga and Howell Mountain. Howell Mountain deservedly receives much exposure for its Cabernet Sauvignon but is certainly a sweet spot for growing Zinfandel and a number of vintners in the area produce a Zinfandel wine. One of Turley Cellars premium vineyards borders one edge of Black Sears vineyard. Growing Zinfandel here is not relatively new; this variety was originally grown on "the mountain" in the 1880s. According to old Napa Valley crop reports, in 1887 Zinfandel was the most planted grape variety in Napa; it was a very popular variety in the 1870s and 1880s.
Black Sears continues to source from the original head pruned vines first planted in 1975 from cuttings obtained from the historic Hayne Vineyard in St. Helena. Zinfandel comprises the majority of their vineyard. Despite the vineyards' elevated location the property never has a major issue with frost. The property is well above the valley fog; during the critical growing season in spring an inversion layer usually brings the warmer air up to the higher elevations – coupled with the benefits of excellent wind flow.
Winemaking/Select wines
Ted Littorai was their founding winemaker and produced the Black Sears wines until 2006. Ted's first Littorai wines were also produced at Black Sears (before he opened his own winery in Sebastopol in neighboring Sonoma County). Well-regarded Thomas Brown took over the winemaking in 2008 and produced wines for a number of other clients before moving his own production as well as Black Sears to a neighboring winery, Outpost. The small winery is located next to the red barn; a sizable cave was drilled into the hillside in 2000 and has served various uses over the years including for custom crush clients. Black Sears focuses each year on only three wines, a 100% varietal Cabernet Sauvignon (several clones), a Zinfandel and a tiny amount of Cabernet Franc, which is always produced in quantities less then 100 cases and is only available for their members.
The 2018 Black Sears Estate Zinfandel was aged for 18 months in 100% French oak of which 1/3 was new, 1/3 a year-old and 1/3 neutral. This wine is deep ruby and opaque in the glass. Want to make an impression at a wine party, bring a bottle of this Zinfandel. During our tasting of this wine, we noted the words opulent and hedonistic several times to describe both the bouquet and the palate. The aromas are diverse and layered; these include dark raspberry, black cherry, tobacco spices, chocolate, cardamom, clove, and an aroma that reminded us of our grandmother's cedar and velvet lined old jewelry box which she gifted to us before she died. The nose also offers aromas of licorice, bordering on anise and ripe plum. Given time in the glass, this bouquet continues to change and reveals additional scents. The palate is filled with fruit including raspberry, strawberry, dark cherry and ripe blackberry along with mocha, espresso and cloves. Its texture is noteworthy, offering a creamy feel from the entry through to the finish with densely woven but very rounded and almost chalk-like tannins. It rolls across the palate seamlessly. The finish lingers with dark licorice, boysenberry and mulberry. It is high octane but one doesn't feel the 15.8% listed alcohol percentage. For fans of ripe mountain Zinfandel, this is clearly a crowd favorite.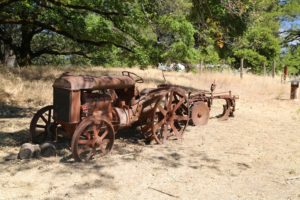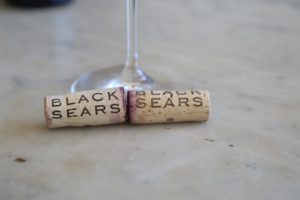 The 2015 Black Sears Estate Zinfandel is immediately intriguing due to its highly aromatic character; the bouquet is darker with spicy notes including pepper, an earthy/dusty nuance, floral notes including violets and scents which are slightly brambly. Balanced but big on the palate this wine shows excellent depth, structure and a perceptible savory note. While fairly high in alcohol (15.5) this wine tastes like a Zinfandel should and one does not feel the higher alcohol, it's not jammy or sweet. It features decent acidity as well. It was gged in 1/3 new, 1/3 once used and 1/3 neutral French oak barrels.
The 2006 Black Sears Estate Zinfandel shows a nose that is decidedly fruit driven including red plum, red cherry (think cherry pie), raspberry and well-integrated notes of spice that become more prominent as this wine opens, including cinnamon and clove. It is a fairly soft wine throughout and doesn't have any overbearing peppery characteristics often associated with a "bolder" Zinfandel. Notes of pepper and toasted oak are picked up more on the smooth finish rather than on the mid palate. This is not a heavy wine and should pair well with and not dominate any of a number of grilled meats.
Their Cabernet Sauvignon tends to age longer than most current releases on the market both in barrel (all new French oak) and in bottle.
The 2014 Black Sears Estate Cabernet Sauvignon is fairly dark in the glass; it shows sweet fruit aromatics, along with notes of sweaty leather, dust, chocolate, cassis, black currant and baking spice. There is certainly a savory component to the bouquet including dried herbs. Supple across the palate, this wine is very well balanced and has been so since its youth. Perhaps this is a product of the vintage as many of the 2013 wines we have tried from Napa Valley have not been so approachable in their youth. Both red and darker fruits show on the palate anchored by fine-grained tannins that are slightly chalky and chewy at the same time.
The 2004 Black Sears Cabernet Sauvignon shows pretty notes of all spice on the bouquet with a distinctive chalky almost dusty characteristic. The fruit is integrated well both on the bouquet and on the palate and shows more red fruit (red currant, red plum with notes of blackberry) than dark fruit. This is a wine whose textural softness is the antithesis of the often talked about heavy and robust tannic wines from Howell Mountain which often have to age a number of years before being able to enjoy them. The very balanced finish displays ripe and fine-grained tannins.
Tao Beer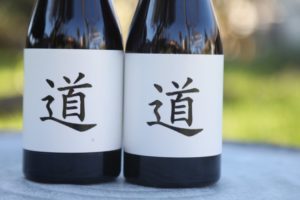 In early 2021 through a partnership between Black Sears and Pure Project (with three taprooms in San Diego County, one in Carlsbad and two in San Diego), a special ale was released called Tao. This sour ale is a beer-wine hybrid that was in part created using Cabernet Sauvignon and Cabernet Franc grapes from the 2019 harvest aged in oak from the Black Sears property.
Pure Brewing took the wort and then chilled it on a ton of pommace that Black Sears provided. The beer was then open fermented using existing yeast from the wine skins to create the initial ale. The skins were then pressed off and the beer aged for one year in oak barrels. This unique and extremely limited bottling was available for a short time only – directly from Pure Project.
This product is packaged as a hybrid between wine and beer with a screw cap and a cork. It is dark pink in color and spritzy with a very large helping of rustic funk. Earthy and mushroomy with flavors of cranberry and sour cherry. This is certainly a unique offering.
—
The best way to secure their wines is direct through their website; they maintain a mailing list and those on the mailing list receive the first offerings/releases. They are also distributed in select locations throughout California, New York and Florida. Locally, sometimes one can find select bottlings at the Oakville Wine Merchant. For more information, visit: www.blacksears.com
These 5 gorgeous photos courtesy of Black Sears