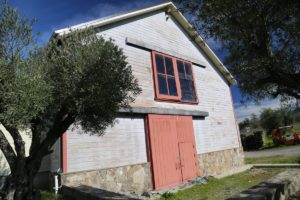 Beaucanon Estate is a private winery which has been producing beautiful Bordeaux styled wines in Napa since 1986. They are one of the older Napa wineries quietly producing stellar wines while remaining well under the radar of most Napa wine enthusiasts.
The de Coninck family of St. Emillon has a long history of operating wineries in the Bordeaux regions – 9 generations that date back to the mid 1740's. Jacques de Coninck originally came to the Napa Valley in 1978 looking at the possibility of growing grapes and starting a winery. Their first home in Napa was in the winery building that currently houses Provenance Winery on Highway 29. Today Beaucanon Estate is run by his children, brother and sister Louis and Chantal. Louis de Coninck is the winemaker. Everything about this winery is true to their Bordeaux roots, including the vineyard management and wine making. Rows are small and tightly spaced and terroir specific clones are used based on soil types. 94 acres of vines are organically farmed on site.
All their wines are estate grown – both red Bordeaux varieties as well as smaller amounts of Chardonnay and Sauvignon Blanc. Their winery and grapes are located on the Longwood Ranch – a part of Napa that has rich history dating back many years. Captain Salvador Vallejo, the brother of Mariano Vallejo (founder of Sonoma) used to own this property. An old Adobe building stood on site until it was burned down in 1970. A number of crops grew here over the years including prunes – it wasn't until the late 1970's that grapes were first grown on site.
They own three sizable vineyards in the Napa area of which they carefully choose the fruit they want and sell the rest to other wineries. Soil analysts from France initially surveyed their vineyards and made recommendations for where to plant certain varieties including specific rootstocks which would perform well. They use a several rootstocks for their Cabernet Sauvignon including a French Clone (337) which typically produces very small fruit with intense concentrated flavors.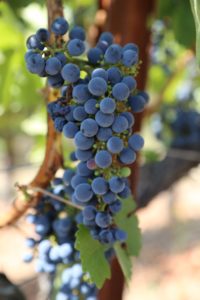 The philosophy of the de Conincks regarding wine pricing comes from Europe; a good wine should be enjoyed on a daily basis with food and be available at a reasonable price. This has carried through to all of their pricing. Even their Reserve Cabernet Sauvignons are priced where many of the local high end wineries start their pricing. Their reserve wines are made in limited quantities and are only produced during certain cool weather years as quality is of the utmost importance.
We tried several delicious wines including their 2006 Sauvignon Blanc. This wine has a very floral nose with hints of mint and other herbs. It is a crisp wine with flavors of honeysuckle and melon. Their Merlot is not your typical California Merlot, i.e. it does not have any jammy characteristics. It is a well structured deep red Bordeaux blended wine with an inviting and complex nose. Pleasing flavors of red cherry, blackberry and hints of oak follow through on the palate.
Their Reserve Cabernet is a gem. As of the time of this review we tried their current vintage, a 2000 which was already 7 years old by the time we tasted it. This wine can easily age another 10 years but was already drinking nicely. It has velvety tannins and traces of cherries on the nose as well as a touch of mocha and vanilla from the 2 years in French Oak.
Of interest, golf Pro Johnny Miller used to own the property where the winery is located today. Beaucanon now takes appointments for tastings and reservations can be made through their website.
Their wines are distributed internationally including in Japan. For more information visit: www.beaucanonestate.com
Note: This review has been identified as needing a major update.
Château Canon, Bordeaux France
Photos coming by 2020.