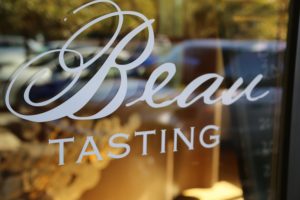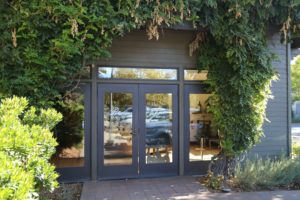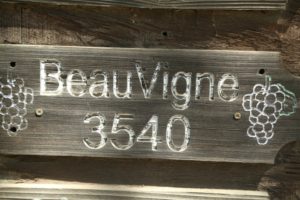 Beau Vigne Napa Valley (pronounced bo-veenya), meaning beautiful vineyard in French, operates a small tasting room in Yountville behind Washington Square near R&D Kitchen and next door to the space that formerly housed the AERENA Galleries & Gardens. Washington Square is a collection of small shops and tourism related businesses within walking distance of a number of hotels, restaurants and other tasting rooms. Yountville is small enough that if you are up for a walk you can make this tasting room and this part of town a destination for the morning or afternoon. One can access Washington Square from two entrances – the main street that runs through Yountville and also the driveway immediately after you take the turnoff into north Yountville from Highway 29. You can see the front of the tasting room directly from Highway 29 in either direction.
We have tasted Beau Vigne's wines a number of times at various tastings around the Napa Valley and beyond and were pleasantly surprised to discover that they opened this tiny tasting room in early July 2010. No appointment is needed. Both bar and table seating are available. And a smaller side room within their tasting room space, called the Aficionado Room allows for guests to enjoy a private tasting (good for 1 to 8 people). Guests can actually enter this room without having to go through the main tasting room.
Beau Vigne was started by Ed and Trish Snider with their first vintage dating from 2002 (who we originally spoke with when we created this review). Ed's family has deep roots in the Napa Valley – his grandfather Martin Garzoli arrived in Napa in 1913 – a Swiss Italian who grew up making wine. While working during the day farming in Napa and Sonoma, Martin would make home wine in the evenings. Ed is a native of the Napa Valley and used to coach football at St. Helena High. St. Helena is in the heart of the Napa Valley and children of vintners attend this school. As expected a number of his former students are now in the local and extended wine industry.
In 2018 Ed sold the winery to Arizona based individuals Don Dady and Jason Kyle. Jason used to be an NFL long snapper who played for 5 teams throughout his career including the San Francisco 49ers – Jason also is an investor and co-owner of Press Coffee Roasters with select locations within Arizona. And Don is the co-founder of Annexus, a financial company based in Scottsdale.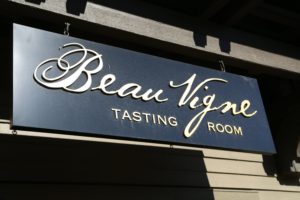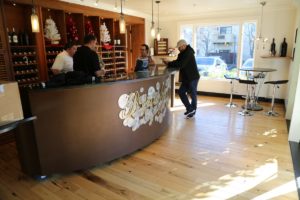 The vineyard source for creating their estate wines comes from the Stags Ridge Vineyard, a 10-acre vineyard at about 1650 feet high on the slopes of Atlas Peak (at the top of Soda Canyon Road). Eight acres are planted to Cabernet Sauvignon and one 1 acre is planted to Cabernet Franc and Petit Verdot. Today they also source grapes from select premium vineyards throughout the valley as well as in neighboring Sonoma County.
Well-known local winemaker Dave Phinney was their founding winemaker. Dave is much in demand as a winemaker – he made his mark with his own very successful winery, Orin Swift and before that worked at Robert Mondavi and Opus One.
Fine vineyards, fine winemakers and a fine name – Beau Vigne translated from French means "Fine Wine". All their productions are quite limited – discounts are given on certain wines when you purchase them directly from the tasting room.
The one white wine Beau Vigne makes is a Chardonnay. The 2008 Beau Vigne "Persuasion" is their only non Napa wine (sourced from the Russian River region of neighboring Sonoma County) and was aged entirely in new French Oak (about 25% new) – the lively very aromatic bouquet hints at the complexity of flavor to be found on the palate including tropical flavors – passion fruit, pineapple as well as melon. This wine has good weight; it is creamy without being too buttery.
The 2008 Beau Vigne Cabernet Sauvignon shows a bouquet that hints of pepper and is slightly earthy with aromas of wet rock. The front and mid palate are both elegant in nature and the entry is rather soft. However the finish has power and flavor that lingers for quite some time.
Their 2008 Beau Vigne Juliet Cabernet Sauvignon has a very appealing flavor profile; it is their most produced wine. One of the most intriguing components of this wine is how balanced it is for being so young. The nose is elegant showing a lot of fruit aromas (more black fruit than red fruit). Black Cherry and black currant are core to the flavor profile – the tannins are dusty and last for some time.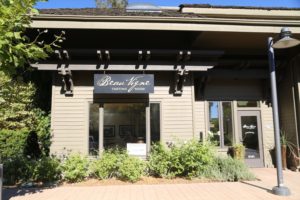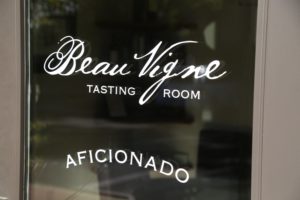 The 2007 Beau Vigne Reserve Cabernet has a bouquet that is slightly more restrained than the other 2 wines; the nose is rather elegant. Notes of black fig and red cherry show on the richly flavored palate – this is certainly drinkable now but should continue to evolve nicely for a number of years. It is a wine that is built to age. Again, this wine has Dave Phinney's signature trademark…balance.
For a powerful rich wine with well built tannins, try the "Cult". Usually only several hundred cases of this are made annually.
NOTE1: this review has been identified as needing a **major** update, especially in light of the ownership change.
NOTE2: We heard that Beau Vigne may be building a physical winery to handle their production, rather then custom crushing at other wineries. As of our last update, a building is definitely under construction on site of the old Van Der Heyden Winery property (along Silverado Trail just north of the city of Napa).
Total production is around 4,000 cases annually. For more information and or to join either their mailing list or wine club, visit: www.beauvigne.com